The Ten Best STEM Toys to Give as Gifts This Year
Experts and kids of all ages recommend these tech toys, which inspire year-round curiosity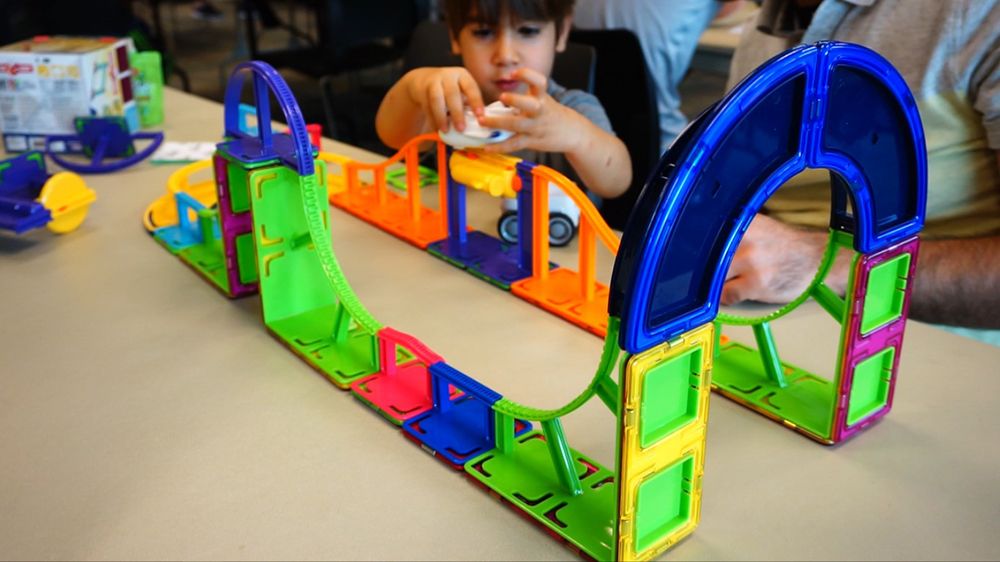 In the grand tradition of Black Friday deals, toys for grownups dominate the doorbuster lists: TVs, laptops, tablets, smart home devices. But there are just as many tech toys for kids out there now, and how to pick the best robot, app, game or playset for your budding scientist or engineer can be a dizzying task.
Monica Cardella and Elizabeth Gajdzik have you covered. At Purdue University's INSPIRE Research Institute for Pre-College Engineering, Cardella and Gajdzik work with pre-school, school-age, college undergrads, engineers and parents to test and rate science- and tech-themed products that companies submit for review each year. Highly recommended toys, games and books make it into the institute's annual Engineering Gift Guide; this year's edition includes 128 products, mostly released in 2018 and 2017.
Along with the now-expected mix of building sets and toys with lights and motors, Cardella says one emerging trend is the availability of a wider variety of STEM-related books.
"That's exciting for a couple of reasons: some kids are more interested in reading than in building," Cardella says. "Books are a way to reach them and get those kids excited in STEM. But also, for the kids who are more interested in building, having books that connect to those interests help them become stronger readers."
"I love to pair a book with a toy—for example, a book on the Curiosity [Mars rover] along with a rover toy," Gajdzik says. "It gets kids thinking about the engineers' thinking and design constraints, and then they can play with their own ways to design and code."
To help gift-givers find just the right present for their loved ones, Cardella and Gajdzik narrowed their list down to a roster of top recommendations—and a few honorable mentions for each age category.
Ages 3+
Honorable Mentions
Gears! Gears! Gears! Machines in Motion (Learning Resources, $39.99)
Grand City Station Railway Set (HAPE, $130)
PolyM Dinosaur Paradise Kit (HAPE, $49.99)
Ages 5+
Honorable Mentions:
Pattern Play 3D (MindWare, $34.95)
Gadgets & Gizmos Invention Kit (Lakeshore Learning, $49.99)
CatStronauts 4-book series, by Drew Brockington (Little, Brown Books, $7.99 each, paperback)
Engilina's Trains, by Andrew King (Little Steps Publishing, $24.95)
Ages 8+
Honorable Mentions:
Engineered! Engineering Design at Work, by Shannon Hunt (Kids Can Press, $17.99)
Chibitronics Love to Code Creative Coding Kit (Chibitronics, $85.00)
Kanoodle Extreme (Educational Insights, $14.99)
Best Overall STEM Toy
Turing Tumble is part Plinko board, part mechanical computer, and a whole lot of creative logic. Using a series of customizable switches, ramps, gears and other parts, players work through increasingly difficult design challenges to run the computer and arrange a set of red and blue marbles in a specific order at the bottom of the game panel. The challenges thoroughly absorbed players of all ages in INSPIRE's testing labs. "It was a huge hit with kids in the target range, but there were also undergrads asking us if it was weird that they wanted it for Christmas," Cardella says. Users can create and share their own unique puzzles and solutions on a Turing Tumble community website. (Turing Tumble, $69.95)
Having trouble seeing our list of STEM toys? Turn off your ad blocker and you'll be all set.
A Note to our Readers
Smithsonian magazine participates in affiliate link advertising programs. If you purchase an item through these links, we receive a commission.