Seven Wild Gadgets Unveiled at CES 2017
From a levitating speaker to vibrating jeans that help you navigate city streets, these innovations offer an interesting glimpse of the future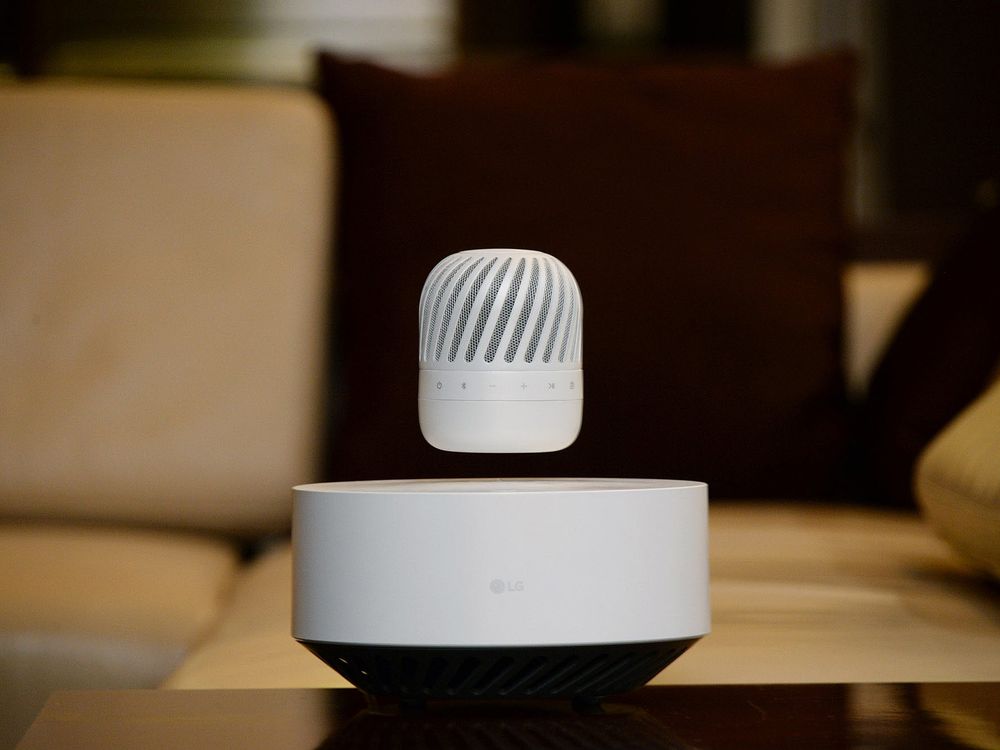 Last week, more than 165,000 people from 150 countries flocked to Las Vegas for the annual Consumer Electronics Show (CES). Now in its 50th year, the event showcases next generation technology to infiltrate every aspect of your life. And this year, the more than 3,800 exhibiting companies did not disappoint, introducing attendees to smart-everything from Bluetooth-enabled toasters to spaceship-like concept cars.
Though some of these products could improve quality of life (at least for those who can afford them), others seem just plain wacky. But this eccentricity is all part of technological evolution, Mark Hung, a vice president at Gartner Research, explains to the Associated Press.
"When an industry is nascent, you will see experimentation," he says. "Companies will throw things against the wall to see what sticks."
What do you think? Will any of these seven gadgets go mainstream?
Need Directions? Ask these Smarty Pants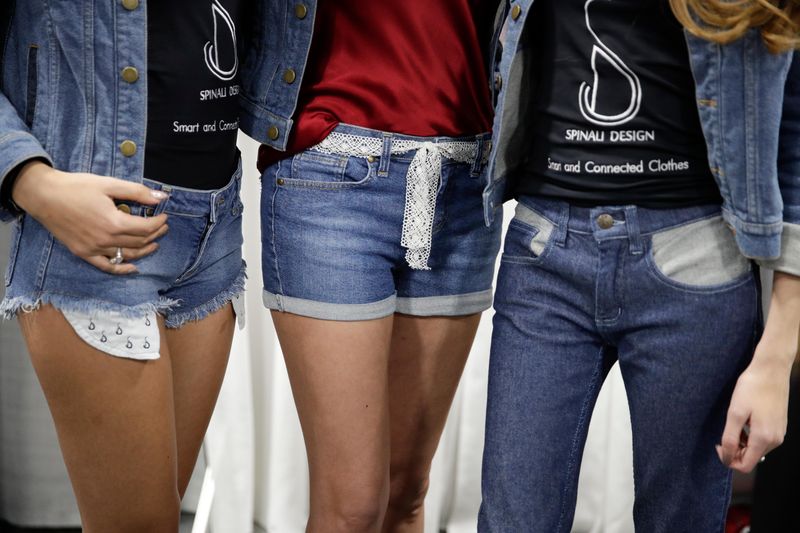 Most big-city dwellers know the annoyance: After walking a single block, out comes the smartphone—again—so you can check which direction to go. But French company Spinali Design, which specializes in smart clothing, is trying to make urban adventures easier (and more fashionable).
The vibrating sensors in the waistband of their "Essential Vibrating Connected Jeans" connect to your smartphone via Bluetooth and vibrate on the left or right side to give you directions. The pants run about $100.
Hooked on smart clothing? The company also offers a range of other clothing items and accessories, including connected dresses, bags and bikinis. They also have big plans for the future of the vibrating jeans, Ananya Bhattacharya reports for Quartz, hoping to integrate "security alerts, home support, [and] geolocation of your children."
Discreetly Pump While You Work
Despite the slowly increasing awareness for the need of private spaces for nursing mothers to pump milk, the act of pumping itself remains an awkward affair. "Even today's best breast pumps feel as outdated as a typewriter," write Geoffrey A. Fowler and Joanna Stern for the Wall Street Journal. But the company Willow is breaking the archaic mold of loud machines and awkwardly dangling bottles and cords with their new hands-free breast pump.
This wearable double pump runs on a battery and is easily positioned inside the user's bra as she goes about her daily tasks. The company says that the motor is quiet enough to be worn outside of the home—or even on a conference call, reports Laura Vitto at Mashable.
Each pump collects up to four ounces of milk at a go, automatically stopping when it reaches capacity. It also connects via Bluetooth to a smartphone app that tracks milk volume and pumping time—but the app isn't necessary to pump, Vitto writes. Such convenience doesn't come without cost, however. The pumps will likely run around $429 per pair.
Why Just Write a Sticky Note When You Can Print It?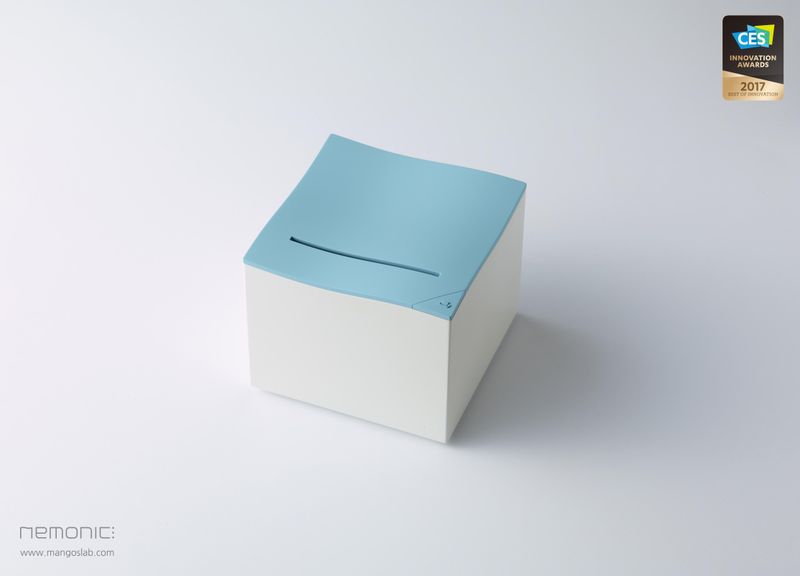 The Mangoslab Nemonic printer takes a simple idea—sticky notes—and makes it a lot more sleek and fun (and expensive). To use, just draw a message on your smartphone, and with the push of a button the stylish $120 printer will spit out a sticky paper version of your scribbled masterpiece. This device also works for photos or other graphics that need the sticky treatment.
One big plus is that no ink is required, reports the Wall Street Journal. The printer uses thermal technology to print on heat-sensitive paper. Each sticky costs only about 2 cents, so once you fork over for the device, you can print sticky notes with abandon.
Futuristic Laundry Folding
The most tedious part of doing laundry is by far folding. But for those with some extra money to burn and a bit of space in their closet, the startup Seven Dreamers has a solution: Laundroid. The size of a fridge, this (literal) black box uses artificial intelligence and image analysis to identify each clothing item and fold it just so.
Place clean laundry in the bottom drawer of the device and voila; Laundroid not only folds but sorts the clothes into stacks based on either type (towels vs. pants) or family member. That is, everything but socks—those are apparently too challenging for Laundroid to tackle. (The company doesn't share in detail, however, exactly how the device works.)
Though it isn't exactly a fast process (CNET reports that one T-shirt requires about five minutes to fold), Seven Dreamers estimates that the innovation will save over a year of time over the course of your life.
Pollution-Purifying Scarf
Air pollution is a global problem, causing a range of respiratory diseases and killing millions of people every year. And the situation is only getting worse. So the French company WAIR is trying to get more people to protect themselves by making pollution protection fashionable with their new air-purifying scarf. Available in three different designs and a range of patterns and colors, each of these scarves hides a multi-layer, battery-powered, air-filtering face mask, Laura Vitto writes for Mashable.
The tight fit ensures that most of the air the wearer breathes is filtered through the face mask. The air passes through three layers: an activated carbon filter, an electrostatic filter that catches larger particles and pollen, and a bactericidal filter. And, according to the company's site, the mask catches particles down to 0.1 microns, or supposedly 99 percent of airborne pollutants.
When you don't want to put it up over your nose, it can be worn around the neck like a normal scarf. "Style is important," Caroline Van Renterghem, founder and CEO of Wair, tells Chris Foxx at the BBC. "So I thought creating a protection that is also not scary looking would help encourage people to use it."
Falling for the Smartcane
This innovation may seem like just another object in the Internet of Things, but it may be more useful than it initially appears. The Dring Smartcane from the French startup Nov'in is geared toward the elderly and others with limited mobility. It activates when the handle is touched and can monitor movement, sending alerts over phone, text message or email to caregivers in case of a fall. The caregiver can then signal to the cane user that help is on the way.
The cane's algorithms can also track the user's habits to flag any changes in activity or walking patterns that may be a sign of greater problems.
Levitating Speaker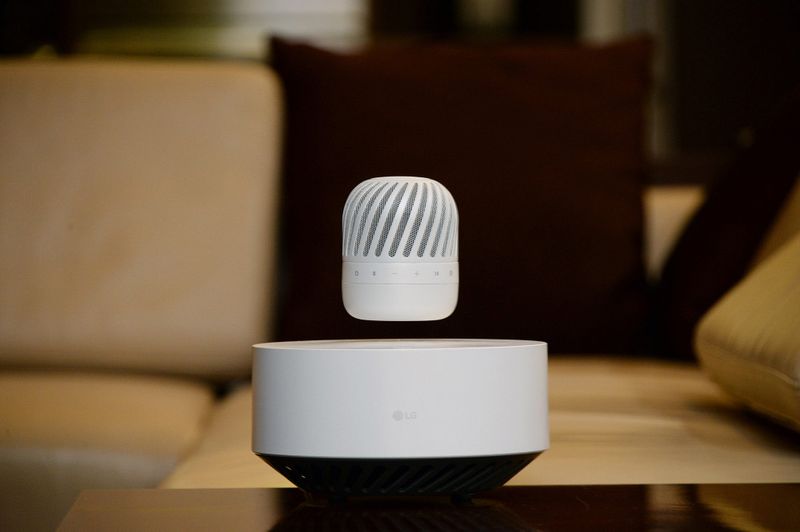 LG's new levitating speakers are one of the many technologies at CES that may make you ask the question: Why? The answer: Why not?
The cylindrical white speaker floats just inches above its subwoofer "Levitation Station" with the aid of electromagnets. With a single charge the device is supposed to deliver up to ten hours of playback. Once the charge runs out, the speaker slowly docks on the base to wirelessly charge while still playing your tunes of choice. The 360-degree speaker should also survive bouts with foul weather during outdoor use, according to a press release.
It's unclear whether the levitation actually improves sound quality, however. And this is not the first levitating speaker out there—with previous iterations ranging from UFO-shaped to Death Star-shaped devices. But LG's new gadget is out to send a message, says Brian Kwon, president and CEO of LG's Home Entertainment Company. "Our latest addition to our growing lineup of premium wireless audio devices is not only eye-catching but also communicates the message that LG is serious about bringing something different to the table."