Seven Ways to Revamp Deserted Spaces Under New York City's Highways and Elevated Trains
The Design Trust for Public Space reimagines neglected areas under the city's infrastructure
Under the train trestles and highway bridges of New York City, there are 700 miles of underused public land. It seems like a waste, in a city where square footage is a hot commodity. So, in partnership with the city's Department of Transportation, the Design Trust for Public Space released a report this June reimagining these spaces.
The groups came up with seven specific locations on public land—the Gowanus Expressway, Division Street in Chinatown, Southern Boulevard in the Bronx, Broadway Junction in Brooklyn, the Queensboro Bridge, Highbridge Park and Kew Gardens. Each of the sites had a different kind of public infrastructure that they wanted to upgrade: landing (where a bridge reconnects with the streets on the other side), park, trestle, highway, clover (the looping on-ramps of highways), clusters of train tracks and span bridges. The plans address future needs, neighborhood revitalization, sustainability and mobility.
Some of the projects, like the redesign of Broadway Junction in Brooklyn, are already underway, while others are still in the planning phase. "The goal was to create new systems that can be replicated across the country," says architect and Design Trust urban design fellow Susannah Drake.
Gowanus Expressway, Brooklyn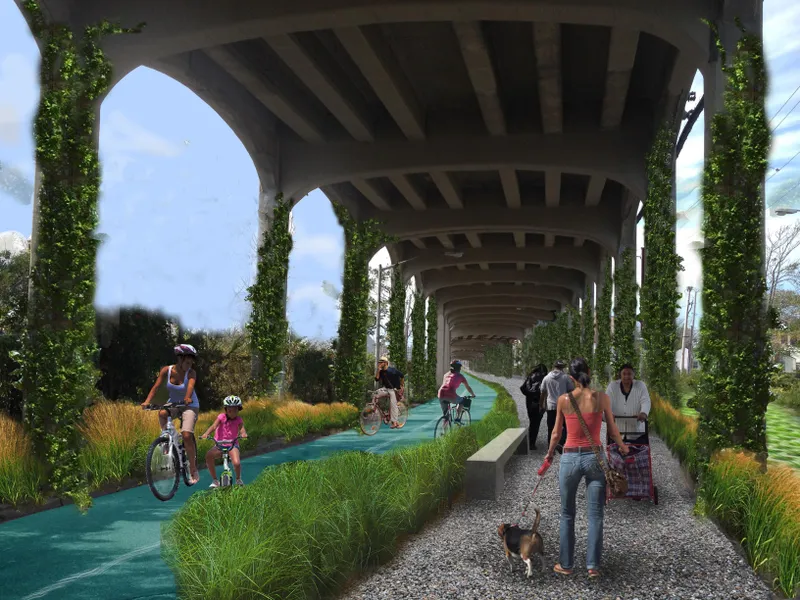 A bioswale is a piece of landscaping that's used to filter silt and pollution out of stormwater and other runoff. One of Drake's big projects is to build modular bioswales to manage runoff and to create green spaces in park-poor areas. The Design Trust focused on a stretch under the Gowanus Expressway in Brooklyn. This particular location faces dirty runoff that pours off the highways at high speed and a lack of light, but Drake's bioswales, using a variety of wetland plants to soak up contaminants, could mitigate pollution, make flood-prone areas like this one more resilient, and transform the neglected space into something more appealing to pedestrians. "I want to see them in every city," she says. "I want it to be the new ecological Jersey barrier."
Division Street, Manhattan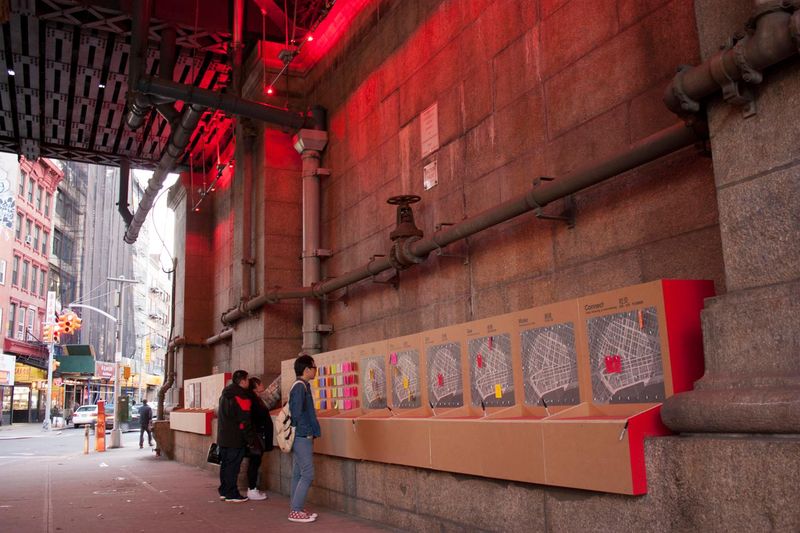 On Chinatown's Division Street, the landing under and around the Manhattan Bridge, where the bridge met the street, was dark, loud and dirty. The triangular park it formed was rarely used. After holding a neighborhood design workshop last summer, the Design Trust put in temporary benches and seats, which were used immediately—a positive sign. The photo shows a public information booth about the project. Future plans include green walls made of vegitation to reduce noise and improve air quality, and a lighted pedestrian plaza where people can gather.
Southern Boulevard, Bronx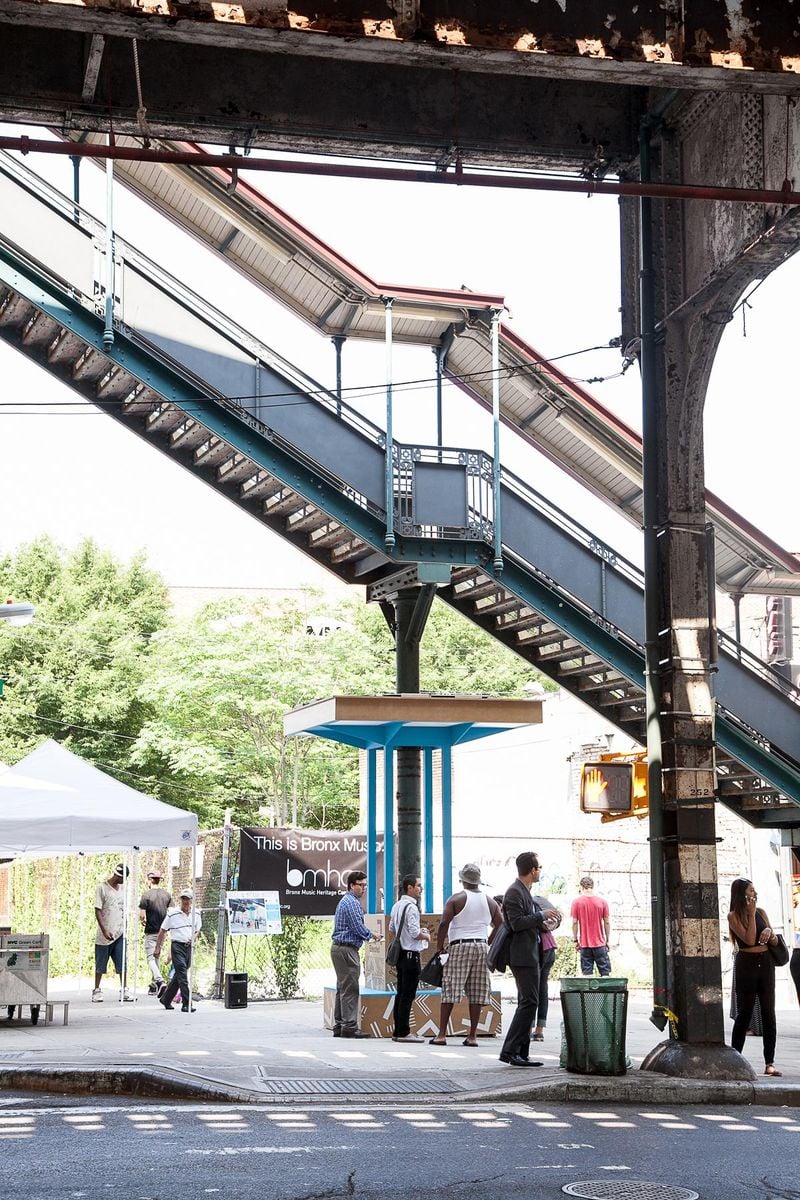 Southern Boulevard—a trestle, or train bridge, under the 2 and 5 line subway tracks in the Bronx—is incredibly noisy, because of frequent trains and traffic on nearby streets. "We wanted acoustical separation from the screeching trains for auditory relief," Drake says. So the Design Trust for Public Space installed the Boogie Down Booth, a lighted kiosk with benches and music piped in from Bronx-based artists.
Broadway Junction, Brooklyn

One of the biggest reasons people ignore public space is that they don't know they can use it. So for Cluster, the just-underway redesign of Brooklyn's Broadway Junction, the Design Trust looked at ways to guide people through the subway station to food vendors, playgrounds and planned green spaces. The designers color-coded the routes with painted walls and floors, so people would have clear visual markers. "A lot of times when you have these tangles of infrastructures it's hard to get your bearings, so we wanted to say, 'Hey, this is really exciting you should go here,'" says Drake.
Queensboro Bridge, Queens and Manhattan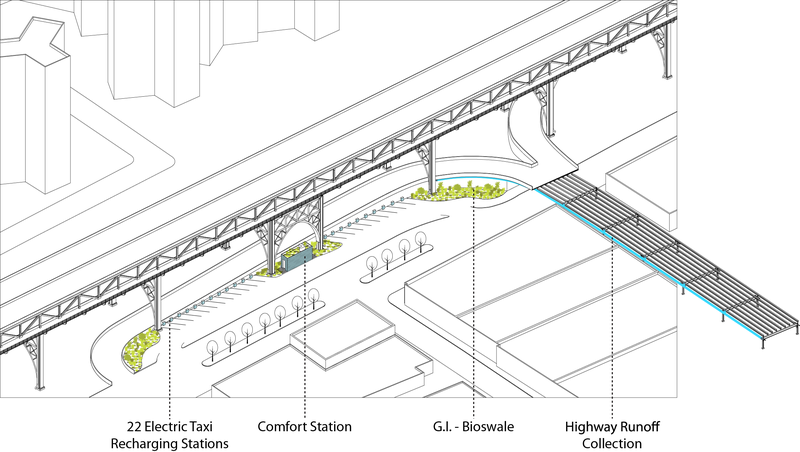 Under the nine-lane Queensboro Bridge, the Design Trust worked with the NYC Taxi and Limousine Commission to build a charging station for electric taxis. The commission's Take Charge: A Roadmap to Electric New York City Taxis report addresses Mayor Bloomberg's 2013 call for one third of the city's taxi fleet to be electric by 2020. Because there was a lot of space, but not a lot of people, putting in a large charging station didn't detract from other uses. The trust created a solar array to charge vehicles, and also put in a restroom and a snack stand. "We wanted to make it a place where you can recharge your body and your taxi," Drake says.
Highbridge Park, Manhattan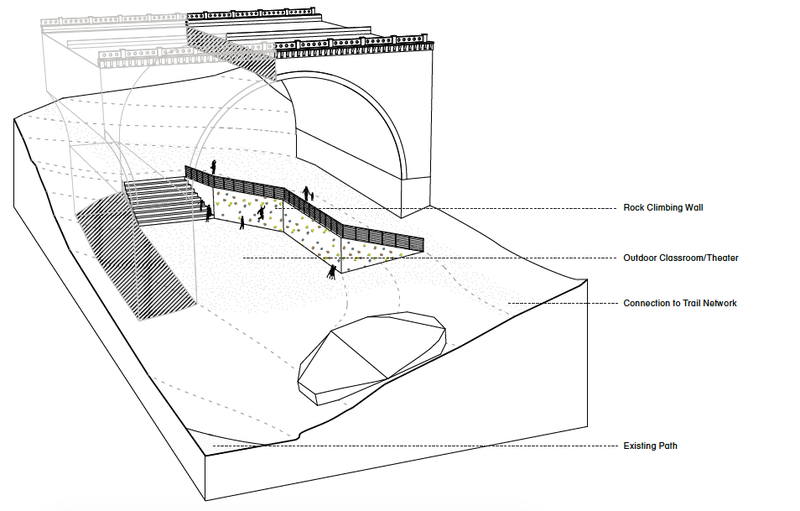 A stretch of Highbridge Park in Washington Heights, along the Harlem River, was isolated and forested, and had become a haven for illicit activities. The Design Trust worked with community initiative CLIMB: City Life Is Moving Bodies to turn the homeless encampment into a rock climbing wall and to lay out a plan for a web of hiking trails that would take advantage of the steep, wooded terrain. "It's different than a park where there would be ball fields," Drake says. "It's active recreation."
Kew Gardens Interchange, Queens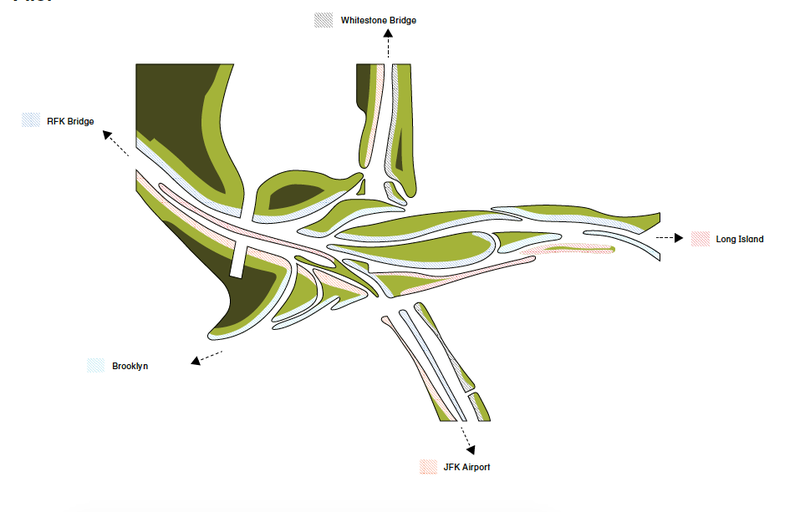 The cloverleaf of highways at the Kew Gardens interchange in Queens, built in the 1930s, contains green spaces, but they are isolated from each other. The Design Trust took this as a challenge to create wildlife byways in urban areas. "We were looking at making bat habitats and enhancing songbird habitat, because it's kind of on the flyway for the Northeast corridor," Drake says. They put in appealing vegetation, like milkweed for butterflies, and extended swaths of plants along the roadways to give wildlife a passageway around the roads.