The Professor With a Genius For Global Health
Rebecca Richards-Kortum and her students at Rice University are designing low-cost devices that can help mothers and babies in a big way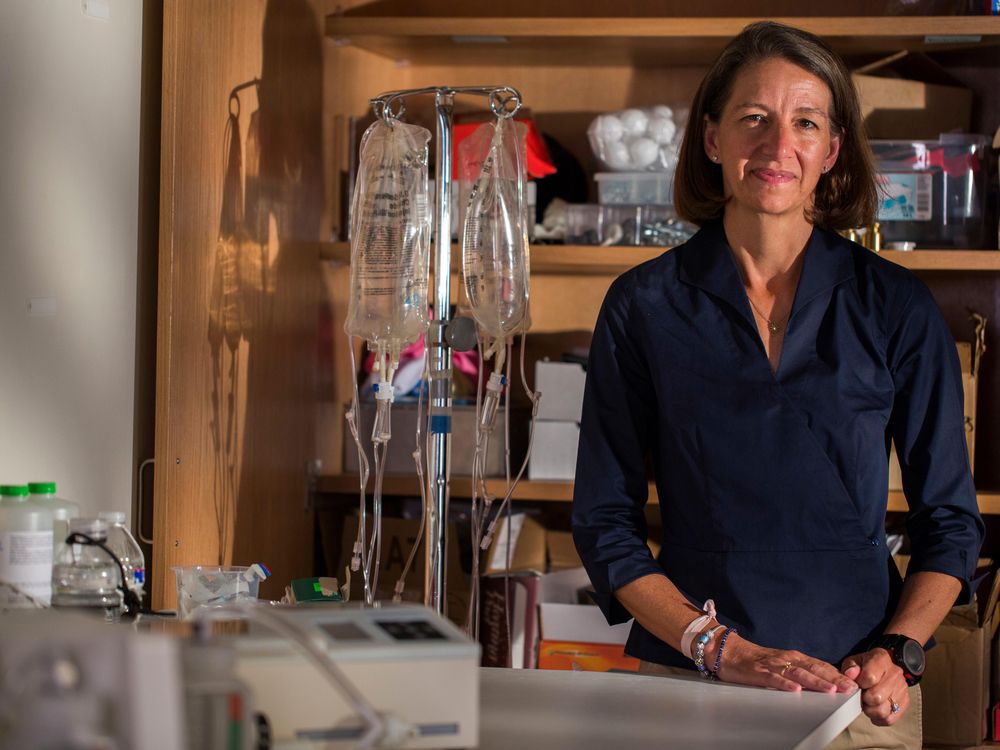 Innovative solutions to vexing health problems in developing countries are being hatched with startling regularity in a lab at Houston's Rice University.
That's where Rebecca Richards-Kortum, professor of bioengineering, has spent 12 years leading teams of students, doctors, scientists and healthcare workers here and around the world, with her colleague Maria Oden, in coming up with low-cost, high-performance technologies for resource-poor countries.
Accomplishing impossible goals while juggling multiple responsibilities is part of Richards-Kortum's DNA.
Besides teaching and lab work, she makes frequent research-related trips overseas. The 53-year-old mother of six—including two girls that she and her husband adopted from Ethiopia—is also a dedicated marathon runner. With warm inquisitive eyes and a soothing voice, it's not surprising that being a mother has had a decisive influence on the problems she undertakes. For example, she had been collaborating with Elizabeth Molyneux, a pediatrician and professor in Malawi, for years. Around 2009, Molyneux told her that many babies in Malawi are born prematurely and half of them had trouble breathing.
Globally, respiratory infections are a leading cause of death in children under the age of five. In Malawi—a landlocked country in southern Africa a little smaller than Pennsylvania—the survival rate for pre-term babies with respiratory distress was only about 25 percent.
American babies born with respiratory problems can be treated with a therapy available since the 1970s, called bubble Continuous Positive Airway Pressure (bCPAP). A stream of pressurized air delivered to the infant's air sacs keeps them open. The price of the therapy starts around $6,000—far beyond the reach of most hospitals in fragile societies.
Richards-Kortum assigned her senior bioengineering students the task of creating a bCPAP system that was affordable and could work in harsh environments. In 2010, they came up with a prototype called the Pumani CPAP device for $150. They have applied for a patent on the device. It used fish aquarium pumps bought at a local pet store to deliver the same pressure and flow as its more expensive counterpart at Texas Children's Hospital.
After a clinical evaluation, the survival rate for Malawi babies with respiratory distress jumped from 24 percent to 65 percent. An updated model that sells for about $800 is available from 3rd Stone Design, a San Rafael, California-based firm.
"It's being used in over 30 countries, including every government, central and district hospital in Malawi, where it originally began," Richards-Kortum says. "We chose the name Pumani because it means 'breathe restfully' in the local language."
Richards-Kortum is the founder and director of Rice 360° Institute for Global Health and the co-creator with Oden of its undergraduate curriculum, Beyond Traditional Borders. In addition to courses that include engineering, sociology and economics, students cut their teeth in design during an eight-week introductory project, before moving on to semester- and year-long design challenges.
At the end of the semester, they can apply for summer internships in the place that submitted the design challenge and get critiques about their early-stage designs from workers on the ground. Many students return home to pursue their studies and perfect a design that is suitable for clinical use, such as the Pumani CPAP device. This research has produced dozens of patents and has led to working relationships with hospitals in Rwanda, El Salvador, Brazil, Botswana, China and elsewhere.
Take jaundice, a disease that produces a yellowing of the skin. It occurs when bilirubin, a reddish brown substance that comes from the breakdown of red blood cells, builds up in the body. Many infants, particularly preterm newborns, are susceptible. If left untreated, the buildup of bilirubin can lead to a form of brain damage called kernicterus and even death. Doctors can treat jaundice with one of the many low-cost blue light LED devices available in Malawi.
But the real problem, according to Richards-Kortum, is diagnosing neo-natal jaundice in the first place, "especially in darker skin babies where it becomes more difficult to appreciate the yellowing of the skin." The current diagnostic technology usually relied on centrifuges or spectrophotometers that were too expensive for many hospitals in developing countries.
In 2014, Richards-Kortum's team came up with a jaundice diagnostic device called BiliSpec, a battery-powered reader with three LEDs and a photodiode that can determine the amount of bilirubin in the system. Hospital clinicians can take a drop of the baby's blood and apply it to a disposable piece of paper that separates the plasma. 
Once the strip is inserted in the reader, doctors can get a clear measurement of the jaundice-causing molecule in about a minute. The device, which costs less than $100 to make, was tested in a clinical evaluation on about 70 babies in Malawi, achieving U.S. performance standards. This August, Richards-Kortum was awarded funding to conduct large-scale clinical trials and lay the ground for the manufacturing of BiliSpec in Malawi.
Sometimes a breakthrough in one area can improve life in other parts of a hospital as well. Case in point: a syringe pump developed for the Queen Elizabeth Central Hospital in Malawi.
Because babies have a very small blood volume, any intravenous medications must be delivered at a precise rate. The voltage spikes and power outages in Malawi hospitals made their available devices impractical and ineffective. 
Richards-Kortum and her students came up with a low-cost ($500) pump that runs on a battery charge and is good for over 60 hours, even if the power goes out. A constant-force spring—similar to the kind found in an electric garage door opener—supplies the necessary energy for the plunger to work.
But the syringe pump helped expectant mothers, too.
Women who have high blood pressure during pregnancy, a condition called preeclampsia, are usually treated with injections of magnesium sulfate.
"If you don't have a syringe pump available, you have to get this drug injected intramuscularly," Richards-Kortum says. "It is extremely painful. So we're using the same syringe pump to deliver the magnesium sulfate in the maternity ward."
Not only does it control the rate of injection precisely to make the medication more effective, but it's a lot more comfortable for the mothers, too.
"I thought people might be more reluctant to embrace new technologies, but actually it's been 100 percent the opposite of that," Richards-Kortum says. "They are absolutely true partners in trying to move forward."
As life-altering as these inventions are, Richards-Kortum's most lasting contribution might be in training future problem-solvers and innovators—a distinction cited when she was named a MacArthur Foundation Fellow of 2016, and received a $625,000 "genius grant."
"There's a lot of power in having 18- and 19- and 20-year-olds who are at the peak of their creativity and who haven't been told you can't do it that way," Richards-Kortum says. "It's fun to watch."
Robert Lerose is a writer based in New York. His work has appeared in The Christian Science Monitor, Newsday, The Costco Connection, Hemispheres, and other publications.