Pet Tech Gears Up
Pet products are already a huge business. Innovations like pet GPS and remote feeding devices are making it even bigger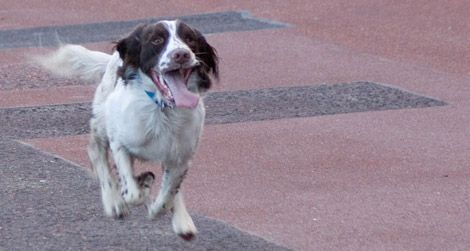 Usually when I write this blog, our dog Maz is lying somewhere nearby. He doesn't say much, but I've come to take his silence as approval. Some may scoff that such a cross-species mind meld is possible, but just the other day, as I read that a new study found that people typically spend more than $26,000 on a pet in its lifetime, Maz sensed a great disturbance in the Force and discreetly left the room.
Not that he needed to worry. I'm not likely to indulge him any less. And now that digital technology has been thrown into the mix, that's only going to ratchet up.
Take pet GPS. The recent tale of Willow, the calico cat tracked by a New York shelter—through an implanted microchip—to a Colorado family that last saw her five years ago was TV news gold. And while it turned out that Willow apparently didn't stroll across country, the story undoubtedly raised anxiety among pet owners that their own furry friends might one day take a road trip.
One of the hottest digital pet items is a collar attachment that allows you to track your animal in real time. The Tagg Pet Tracker—$200, plus another $60 a year in wireless charges—lets you create a virtual fence, and if your pet strays out of bounds, you receive a text or email alert. Then you can locate it on a map on the Tagg website or with an iPhone or Android app.
Another tracker, called Retriever, would go even farther. It also will tell you the last five places your pet has been—now that's obsessive—and it plans to connect you with other pet owners or services in the same area. It's expected to go on the market in December.
A tool for dog walkers, Pet Check Technology, keeps track of where and how long your dog is walked: When the walker picks up the dog, he or she punches in by using a mobile app to swipe a QR code. Then the GPS takes over and your dog's jaunt is tracked until the walker punches out by swiping the bar code again. Pet Check is being sold only to professional dog walkers now, but the assumption is that if walkers are smart, they'll share all the doggy data with owners.
Pets rule
Here's a little more evidence of burgeoning pet power: Nestle announced on Friday that it has begun airing in Austria the first TV commercial aimed at pets themselves. The ad for Beneful dog food includes a whistle sound, the squeak of dog toy and a high-pitched ping—all to draw your pet's attention to the screen—and make you think this must be some really special chow.
Other pet tech advances:
A leg up: Some truly remarkable things are being done with animal prosthetics these days. Check out this Wired slideshow, which includes Winter, the dolphin that inspired the recent film Dolphin Tale.
Closed door policy: A British quantum physicist has invented a cat door called SureFlap. It keeps strays from wandering in and snarfing food because it's activated only by your pet's microchip.
Smart pet tricks: When your dog gets within three feet of the battery-operated outdoor Dog Motion Activated Outdoor Pet Fountain, a motion sensor sets off a release of fresh drinking water. He moves away, the water stops. His friends are amazed.
See me, feed me: If you can't get home and don't want to feel guilty about cheating your pet out of a meal, there's the iSeePet360 Remote Pet Feeder. A webcam enables you to check in on your BFF, and then remotely release dry food into a bowl. He'll no doubt be quite grateful, even if he has no idea how this happened. 
Born to run: Running in circles isn't just for hamsters anymore. Now there's the Tread Wheel and your dog can jog to his heart's content without bouncing off walls.
Bonus: You don't want to miss AlphaDog, the latest robot hound funded by the Defense Department. This is a dog you'd want on your side.
Can you think of an invention you'd love to have for your pet?