Is Bridj the Next Phase in How People Will Get Around Cities?
A project in Kansas City will see if a ride-hailing service can work with a government agency to help bring public transportation into the 21st century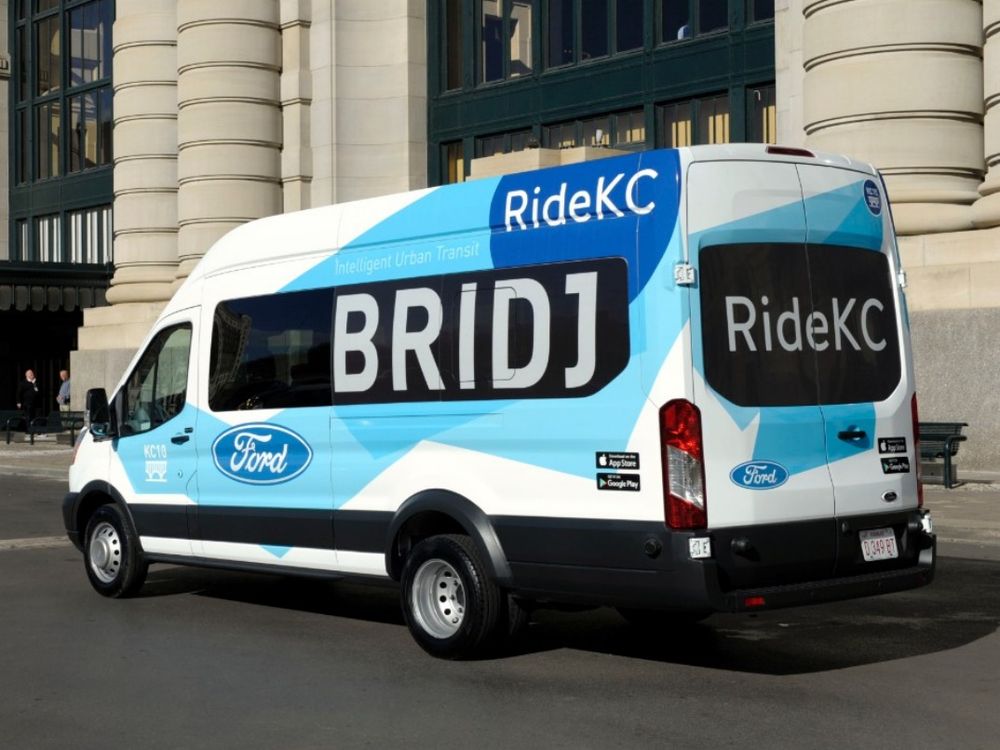 In the realm of disruptive innovations, it's hard to top ride-hailing services like Uber and Lyft. Seemingly overnight, they've replaced cabs, buses and subways as the ride of choice for a lot of people moving around cities. They're doing what true disruptors do—they're changing behavior.
But the concept that could shape the next phase of urban mobility comes from a startup that is considerably smaller and far less known.
It's a Boston outfit called Bridj and its approach is kind of a cross between Uber and shuttle buses, with a pinch of old-fashioned jitney cabs. The company is part of a new urban trend known as "microtransit," where multi-passenger vehicles have no fixed stops, but instead follow routes based on rider input. For Bridj, that means operating small fleets of passenger vans upon which people can reserve a spot with a mobile app. And those vans use real-time data to find routes that avoid the inevitable headaches that come with city traffic.
Matthew George, a young tech entrepreneur and Middlebury College graduate, founded Bridj in Boston in 2014. His vision is to collect tons of data about how people move around a city, then deploy a network of vehicles based on what that tells you. The company began operating in Washington, D.C. last year, but it's a project starting up in Kansas City next month that may be key to how urban transportation evolves.
Public-private partners
What makes that endeavor, called "Ride KC: Bridj," unique is that it will be done with the Kansas City Area Transportation Authority as a partner. Specifically, the people driving the Bridj vehicles will actually work for the transit agency. Ford is also a partner—it's providing 10 new vans, each with free WiFi and room for as many as 14 passengers.
This may not seem like such a big deal. But it's the first time in the U.S., a private ride-hailing operation—with a mobile app to order rides—will become tied into a city's public transit system. If it works, expect the model to be copied in other cities as a way to offer people a more modern and flexible transportation option, one that takes advantage of much of the technology that has made Uber so popular.   
One big difference from Uber is that Bridj vehicles can carry a dozen or more people. Door-to-door service for that many passengers wouldn't be very efficient. So, Bridj works a little differently. A person uses the company's mobile app to reserve a space on the van, and a route is mapped out based on who has ordered rides on that shuttle. Some people may have to walk a few blocks to get to one of that van's "pop-up" stations.
Once on board, riders are taken to one drop-off spot determined by all their requests. It might be a major public transit station or it could be a neighborhood where a lot of people work, say, at a university or a large medical center. The route may change from day to day, based on real-time data on traffic conditions, but the goal is to efficiently get people where they need to go.
No one knows yet if more people in Kansas City will use the service simply to hook into existing bus or streetcar lines—the city doesn't have a subway—or if more will take the shuttles all the way to work. That's what Bridj will be closely tracking during the year-long project.
One thing the company does know is that not many people in and around Kansas City take public transportation—U.S. Census Bureau data suggests that only 1 percent use it. It doesn't help that, according to Bridj CEO Matt George, research has found only 18 percent of the jobs in the metropolitan area are within a 90-minute commute on public transportation.
Filling gaps
That's a big hurdle. But the hope is that vans on demand will start filling gaps in the system, and ultimately encourage more people to stop driving their own cars. It's been suggested, in fact, that this kind of service could most benefit mid-sized, spread-out cities like Kansas City, where there can be a lot of miles between where most people live and where they work.
Each trip will cost $1.50, payable by credit card through the mobile app. That's the same as the basic fare on the city's buses. But, to entice people to try the service, the transit authority is offering riders 10 free trips.
Whether that's enough to get people to start changing their daily habits is yet to be determined. But it's clear those running the Kansas City Area Transportation Authority know it's time to try new ideas. While there may always be a place for some bus routes that haven't changed in 50 years, today's commuters—particularly the younger ones—expect much more. Much more personalization, more flexibility, more nimbleness.
In time, George suggests, a fleet of Bridj vans could go driverless. But that's getting ahead of things. The goal now is to show how technology and algorithms can change how a transit system can function, and make it work for everyone in a city, no matter where they live.
The new carpool
There's another ride-hailing study in the works, this one a joint undertaking of the University of California, Berkeley and the National Resources Defense Council. They are taking a close look at the claim by outfits like Uber and Lyft that they're good for the environment because they take cars off the roads. Critics say the contrary is true, that ride-hailing has led to more and more vehicles cruising city streets. 
Do ride-hailing services encourage people to use public transportation more or less often? Does access to rides on demand actually motivate people to give up owning a car? Do people find themselves biking or walking less now that it's easy to order a ride? The study will attempt to answer these questions.
The research will include both ridership surveys and rider data from Uber and Lyft, something those companies haven't shared before. It will also focus on cities where "pool services," such as UberPool and Lyft Line are now available. This feature, where people share rides at a lower cost, is a fast-growing part of the urban mobility mix, and researchers want to see what effect it may be having on how people are using—or not using—cars.