Las Vegas Gambles on a Future With Car Sharing for Everyone
Zappos CEO Tony Hsieh is investing $350 million in an ambitious redevelopment plan that includes a new model for getting around Sin City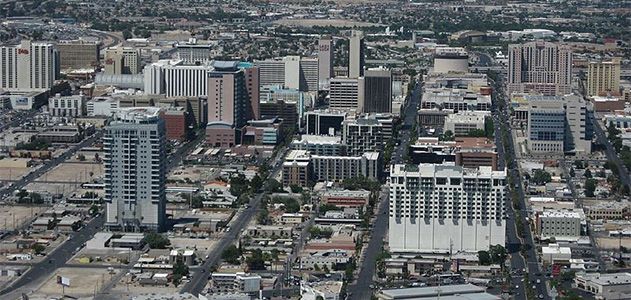 Give people free shipping and a yearlong window for returns, as the retailer Zappos did, and suddenly buying shoes online is a lot more appealing. Give them access to manifold transportation options in a place where good jobs, homes and entertainment are within walking distance, and going car-free just might take on new allure.
That's the experiment under way in Las Vegas, Nevada, where Zappos CEO Tony Hsieh is investing $350 million over five years in an attempt to re-energize the city's 1.5-square-mile downtown area. This for-profit investment plan, called Downtown Project, is focused on attracting technologists and artists to a part of town that has long had more empty lots, seedy bars and vacant buildings than hopeful startups or hip boutiques. The hope is that these creative types will "serendipitously" collide with one another in cafes, parks and co-working spaces, exchange ideas, and build great companies as well as a tight-knit community.
Three years into the project, Hsieh and his partners are now just months away from launching the most ambitious part of the plan: Project 100, a major new transit service incorporating shared electric cars and bicycles, shuttles, and chauffeured vehicles, all available for a flat monthly fee. Organized under Downtown Project as a separate company, Project 100 kicked off earlier this year with the purchase of 100 Model S electric sedans from Tesla Motors. By summer 2014 the company aims to build out a network of 150 to 200 shared bicycles, 150 shared cars of various sizes, 100 chauffeur-driven electric cars, and several Sprinter van shuttles that founder and CEO Zach Ware says will provide "the sort of shuttle experience you aspire to," although he's not yet sure what exactly that will mean.
All of this has the potential to shift energy use away from gas tanks if it enables people to cover fewer miles by car, says Susan Shaheen, co-director of the Transportation Sustainability Research Center at the University of California, Berkeley. Individuals who enjoy the cost savings, convenience and other benefits of a car-sharing service, she says, often end up deciding to "sell or postpone a vehicle purchase and use other modes of transportation more often."
Project 100's launch comes amid a growing number of bike- and car-sharing services worldwide. As many as 300 bike-sharing systems are in operation globally, and the world's largest program, in Paris, has 20,000 bicycles. In most cities, an operator provides bikes in exchange for ad dollars, and bikes are free for the first 30 minutes. Car-sharing services like Zipcar, meanwhile, have more than 2 million members, and Navigant Research, a market research firm based in Boulder, Colorado, predicts membership will grow to more than 12 million by 2020. Car2go, a car-sharing service from the automaker Daimler that lets members pick up and drop off its Smart Fortwo cars anywhere within a set area (rather than a specific parking space like Zipcar), now operates in 22 cities around the world. Its membership has grown from about 60,000 users in 2011 to more than 275,000 at the beginning of this year.
What's different about Project 100 is its plan to combine so many modes of transit and add hired drivers to the mix. Like Car2go, Project 100 plans to offer vehicles for one-way trips, so users can pick up a shared car at one location and return it at another. But whereas Car2go charges by the minute—38 cents in Austin, Texas—Project 100 plans to charge customers a flat monthly fee. Ware, who led Zappos' product development for 10 months before Hsieh tapped him to work on Downtown Project in 2011, says a set of local solar plants are slated to provide clean power for a charging station for Project 100's electric cars.
The service is on track to become one of the largest real-world deployments of what transportation scholars call Mobility on Demand. First articulated by researchers at the Massachusetts Institute of Technology's Smart Cities Research Group, the concept calls for making a variety of shared vehicles available for spontaneous use: ultra-compact electric cars and scooters that can be rented for short errands, for example, or bicycles that can be picked up in one neighborhood and dropped off in another. The whole system hinges on one-way rentals and prices that rise in response to higher demand.
Proponents of this type of service hope batteries in the electric cars will eventually be able to store renewable energy for the power grid. More immediately, the goal is to solve the so-called "first and last mile" problem of public transit, connecting residences and work places with transit stations to eliminate the need for personal cars.
Project 100 is looking to bridge even wider transit gaps in Las Vegas by extending its service all the way to the urban fringe. "We're starting with Vegas, but if you look at Phoenix, Raleigh, and lots of other cities in the United States, you have this urban core and then around it you have a residential area with mostly single-family homes and low-rise condos," Ware says. These outer neighborhoods are often poorly served by city transit lines and untouched by traditional car-sharing services, which tend to concentrate on densely populated urban cores and college campuses to ensure back-to-back bookings. "Project 100 is meant to not only increase the connectivity of the urban core itself," Ware says, "but also to increase the accessibility of that core to people who live one to two miles beyond it." 
It's a risky and potentially costly plan, says Ryan Chin, managing director of the City Science Initiative at the MIT Media Lab. Maintaining a small, densely populated area of operation ensures shared vehicles are never far from where they need to be to meet demand. But if shared vehicles and bicycles can be taken to far-flung residential neighborhoods and left there, Project 100 may need to pay to haul them back downtown for the next user.
Chin says this redistribution problem is shared across most existing car- and bike-sharing systems. Barcelona, for example, loses 17 million Euros a year moving bikes around to make its bike-sharing system work, Chin says. "They make the argument that it's a public good so it's okay to lose money."
"Car2Go claims it doesn't have a redistribution problem," he says. And earlier this year Daimler said the service was profitable in at least three cities. Nonetheless, if you don't have a redistribution problem, Chin adds, "then you probably have an underutilization problem."
For any on-demand system to work, Chin says you need to manage vehicles based on empirical knowledge about where people are coming from and where they're going so that you can be sure to have available options for transit and parking. " Refueling or re-charging cars is actually secondary to parking," he says. "Pick-up and drop-off are the biggest issues, so if people are going to be using the system to get from residential areas to the core, then you need to make sure that there's enough parking once they get there." 
That can also be expensive, according to Chin, especially since cities don't want to lose the profit they would get from paid parking just to help a for-profit company get more members. "They should probably be targeting moving those people in, closer to the core, instead of figuring out how to get people between that ring and the core," Chin says.
The local government agrees, and is working with Downtown Project to draft policies that will increase density downtown and encourage Las Vegas residents to avail themselves of alternative transit options. "Downtown Project's efforts fit into elements of the city's strategy for sustainable development," Tom Perrigo, sustainability officer for the city of Las Vegas, says. Perrigo notes that city agencies as well as the Regional Transportation Commission of Southern Nevada (RTC) have worked with Downtown Project to develop new infrastructure, including bus-only lanes that support express bus service, bicycle racks and electric vehicle charging stations, among other projects.
"With time, the City will develop a new form-based zoning code for Downtown that will provide standards that promote increased density and connectivity, new gathering spaces, and more efficient resource utilization," Perrigo says. 
For Ware and the Downtown Project team, the venture will be worthwhile if it gives rise to a more free-flowing community. "There's this friction in getting around that impedes peoples' ability to connect," Ware says. The Project 100 transit network is meant to eliminate that friction, in part by making transit options so ubiquitous that a ride can always be found within five minutes, and by offering mobility as a full-service package.
"What's happening in Vegas is an exciting and important experiment," says Dan Isenberg, executive director of the Babson Entrepreneurship Ecosystem Project, which is working to spur entrepreneurship in communities around the world, starting with Milwaukee, Wisconsin. "But I worry about the fact that it involves so many changes."
Moreover, when Hsieh's funding dries up, Isenberg says, "the real challenge will be how to make this self-sustaining." For now, Project 100's plan is to charge $50 per month for basic memberships affording access to the bike-sharing system, shuttles, and small electric city cars—enough to meet the occasional lunchtime transit needs of downtown workers. The next level, $150 per month, will add occasional use of the car-sharing system and drivers. Unlimited access will be offered for about $500 per month. That's still $250 less than a typical American driver pays for maintenance and gas every month, according to the latest AAA figures, but perhaps too high for the service to gain the kind of widespread adoption necessary to have a real impact on energy used for transportation citywide.
Ware hopes the model will "eliminate the idea of a tariff or fare from the decision to move." If all goes according to plan, downtown restaurants that might seem too difficult or distant to reach from the Strip today, for example, would become readily accessible options for members enjoying a night on the town.
With the exception of a few trucks and SUVs, intended for users who need to move furniture or head to the mountains for the weekend, the entire fleet of Project 100 shared and chauffeured cars will be electric. Ware says electric trucks and SUVs will be added if and when suitable options become available, and the company is testing small electric concept cars from Nissan that could be used for short trips around town. Charging will happen in a central hub, so users needn't worry about finding a place to plug in.
At this point, Project 100 has received only two of the 100 ordered Model S sedans (the rest are still being engineered by Tesla and Project 100 to enable the vehicle-tracking that Project 100 requires), and it is waiting for the local utility to connect the charging station to the grid. Ware is optimistic that neither the cars nor the grid connection will slow down the project for more than a few months, though, and he is already envisioning Project 100 expanding to other U.S. cities soon. "I don't want to over-design for Vegas," he says. "I think you can look at most cities in America and they're prime for this type of transportation."
"It's a big challenge," says Chin, "but if we're going to reduce our dependence on cars we're going to need non-automotive guys leading the way."