Keeper of the Keys
Pianist Jason Moran laces his strikingly original music with the soulful sounds of jazz greats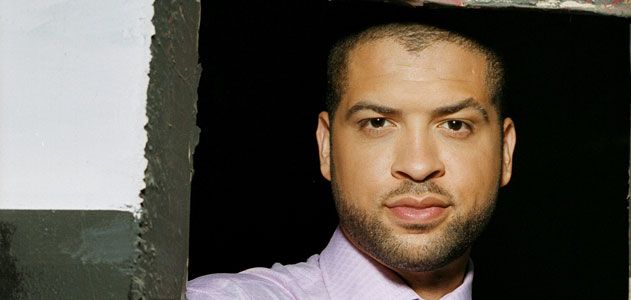 The great figures of jazz history did not typically have investment banker fathers or childhoods that included serious amounts of tennis and golf. Jason Moran did. Still, the acclaimed Houston-born jazz pianist feels a visceral connection with keyboard giants such as Harlem stride master James P. Johnson, Duke Ellington and Thelonious Monk. "I feel like I have strains of their DNA," Moran says.
The old stars would surely recognize their imprint on Moran's playing, but they might be startled—and likely delighted—by his originality. Ever since Moran, 32, emerged on the scene in New York City a decade ago, he has grafted elements of jazz onto other genres and sounds to produce strikingly personal works. One of his gambits is to take a sample of human speech—a Wall Street stock report broadcast in Mandarin, a Turkish phone conversation—and ingeniously match the phrasing and pitch to an implied melody and chord pattern. The technique owes something to Olivier Messiaen's experiments with bird song and the work of Brazilian composer Hermeto Pascoal, but Moran's spontaneity and swing stamp his pieces with an unmistakable jazz identity.
This isn't cocktail-party jazz. In performance with his trio, the Bandwagon, Moran's music swells and swarms unpredictably, skittering here, accelerating there, embroidering a composition by Brahms or Prokofiev, easing into a head-nodding rhythmic groove, or meditating on a pop standard such as "Moon River" or a riff borrowed from Bronx hip-hop pioneer Afrika Bambaataa. His improvisations suggest a raging curiosity, like a kid with a chemistry set who wonders what would happen if you mix this with that and—whoa—it blew up! Cool!
As challenging as his music can be, Moran has nevertheless caught on with critics and fans alike. He is a familiar presence at international jazz festivals, nightclubs and concert halls and is one of only a handful of artists signed in recent years by Blue Note Records, the famed jazz label, which has released seven of his albums in the past eight years. He has composed and performed extended works commissioned by New York City's Jazz at Lincoln Center, Minneapolis's Walker Art Center and Dia: Beacon in Beacon, New York. In October, Duke University is presenting an ambitious multimedia work by Moran based on Thelonious Monk's historic 1959 concert at Town Hall in New York City, and rehearsal tapes and photographs taken that year by W. Eugene Smith.
None of this seems to have gone to his head. Moran is the most accessible of artists, a thoughtful, down-to-earth spirit with an easy manner and a quick laugh. Relaxing in the six-room apartment he shares with his wife, opera singer Alicia Hall Moran, in Manhattan's West Harlem, Moran lays his success at the feet of his mom and dad.
"My parents took us to art museums all the time, they took us to see concerts," he says. "Whenever André Watts came to town to play with the Houston Symphony, we were in the audience." Moran's late mother, Mary Lou, a bakery owner, teacher and amateur cellist, started him on piano lessons at age 6. He says she was a demanding taskmaster, lurking behind him furiously scribbling notes with a stubby pencil. "I used to hate this piano so much sometimes," Moran says, pointing to the Kawai upright he still practices on. "My mom had a bowl of potpourri next to it, and at one point, I started throwing the flowers inside the piano, thinking they'd get in the strings and prevent the keys from working. They're still there."
Moran summons up his mother's presence in a piece titled "Cradle Song" on his most recent album, Artist in Residence. He plays the Carl Maria von Weber-composed lullaby, taken from one of the Suzuki Piano Method books he studied as a child, on unaccompanied piano; at the same time, we hear the sound of a closely miked pencil scratching urgently on paper ahead of the gentle melody.
Jason's father, Andrew, 58, now retired, is an art collector and photographer who has an eclectic record library of some 10,000 albums. Both he and Jason remember the exact one that ignited Jason's passion—at the age of 14. It was The Composer, by Thelonious Monk.
"For me, it was hearing the piano as I had never heard it," says Moran. "There was a clarity and direction, and in hindsight, I'd say it reminded me of what you'd hear in a hip-hop song—it's very roguish and attractive. I just listened to that record over and over again."
When Moran applied to Houston's elite public High School for the Performing and Visual Arts (HSPVA), he played Monk's "Ruby My Dear" at his audition. By the time he graduated, in 1993, he was known around Houston as a fearsome talent.
Andy Moran knew his son had promise, but he was also impressed with Jason's tennis trophies and his golfing skills—as a teenager he shot in the low 80s. Then McCoy Tyner came to town to visit HSPVA. Tyner, who had been John Coltrane's pianist, is generally regarded as one of the greatest players of the last half-century. "I picked him up at the airport," Andy recalls, "and I said, 'Mr. Tyner, I'm really glad you're coming down to hear the students.' And he said, 'Mr. Moran, I'll be honest with you. I came here to hear your son.' I was really like, Damn! McCoy Tyner! Telling me that! It was really a big thing for me."
Jason went on to the Manhattan School of Music, where he came under the tutelage of Jaki Byard, whose playing was at once cutting edge and steeped in tradition. It's an attitude Moran came to embrace fully, as have some of his peers. Pianist Robert Glasper, who followed Moran at HSPVA, says, "We're from the hip-hop generation, so we have this side of us that wants to push jazz to the next level. I don't want Thelonious Monk to come back from the dead and say, 'Y'all still playing that?'"
Moran sees his conceptual-art approach as one way forward, but he clearly wants his layered works to touch people as well as make them think. In "Cradle Song," which Moran dedicated to his mother, the furious pencil scribbling peters out about a minute before the end of the recording, leaving the pianist alone to conclude the piece. And then, almost imperceptibly, Moran slows down the music and quiets his playing to a whisper, ending in an aching silence.
Jamie Katz, the former deputy editor of Vibe magazine, lives in New York City.