Italy's 40-mile-long Lake Maggiore is known for its Borromean Islands, dotted with 16th-century palazzos and verdant botanical gardens, and its picturesque shoreline towns, including Verbania, Arona and Stresa. In 1918, Ernest Hemingway spent some days in Stresa recovering from World War I—an experience that would inspire his 1929 novel A Farewell to Arms.
Quieter than nearby Lake Como, Lake Maggiore has kept its identity alive despite being a popular tourism destination. Locals have a strong bond with the lake, shown in annual events like "People of the Lake and River," a festival that celebrates lake life through theater performances, educational workshops and chef-prepared local dishes. Recipes based on freshwater fish, like risotto with European perch, are a key part of local gastronomy. For this iconic dish, often cited as a staple in blogs about local food, rice is slowly simmered in a stock made with fish scraps and topped with fish filets cooked with butter and sage.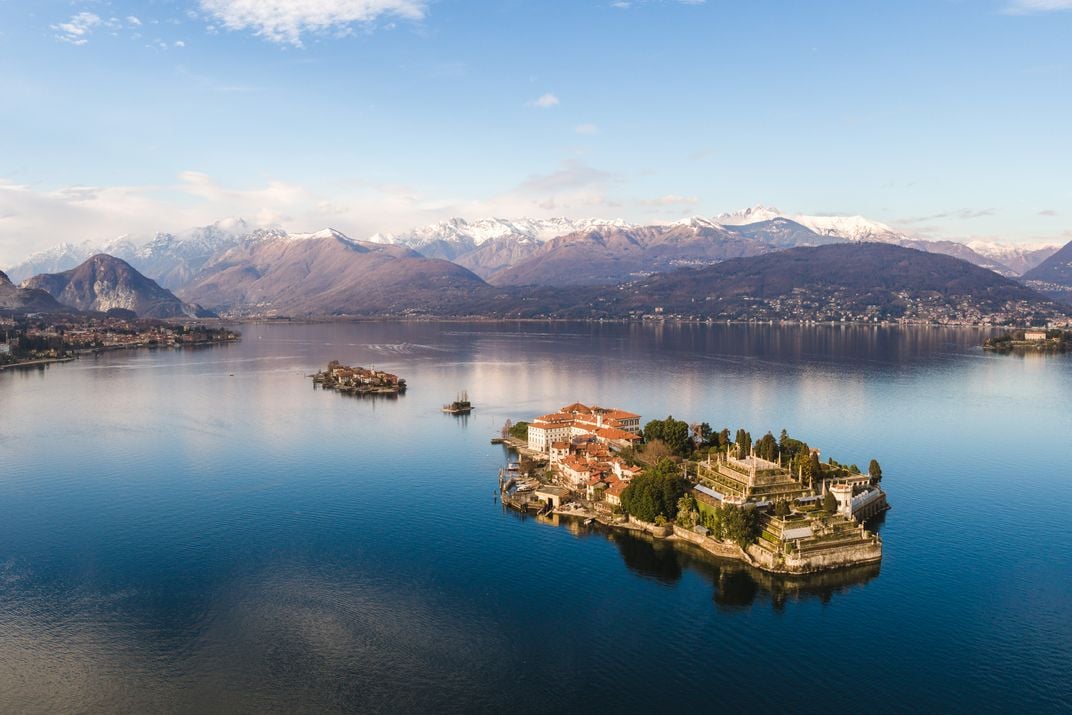 The landscape surrounding Lake Maggiore is not that different from what inspired Hemingway a century ago. Landmarks like the historic Grand Hotel des Iles Borromées, where Hemingway stayed, and the 13th-century cliff-side monastery of Santa Caterina del Sasso have kept their charm intact. But below the lake's surface, things are changing at a fast pace.
In recent years, the European perch (Perca fluviatilis) population has been steadily declining due to the combined impacts of climate change, pollution and overfishing. To counteract this trend, a team of local divers and filmmakers are reviving a lost tradition: turning carefully positioned tree branches into human-made fish nurseries.
An ecosystem in trouble
Lake Maggiore is part of the Ticino River Basin, one of the largest wildlife corridors in Europe. Stretching for 155 miles from the Alps to the Adriatic Sea, the Ticino River Basin is home to threatened species like the Adriatic sturgeon, the white-clawed crayfish and the Italian spadefoot toad. The habitats that make up the nearly 4,000-square-mile area are under threat from intensive agriculture and industrialization, and currently part of the Endangered Landscapes & Seascapes Program, a biodiversity restoration project led by the University of Cambridge's Conservation Initiative.
One victim has been the delectable European perch, a medium-sized freshwater fish with a yellow belly and dark stripes that plays an important role in the biodiversity of this wider ecosystem. The European perch eats invertebrates, including larvae and smaller fish like Alburnus arborella, a ray-finned fish in the carp family. Fewer European perch can result in more small fish, but also a decline in food sources at the base of the food chain, such as seaweed, aquatic plants and plankton, that many other species depend on, says Eugenio Manghi, a documentarian and author of a 1990s book on pre-Alpine lakes, in a phone interview. "Ecosystems depend on each part of the food chain to stay relatively stable," Manghi adds. "The decline of European perch is putting the ecosystem equilibrium at risk."
While fishing is no longer a driver of the local economy—only a handful of professional fishermen work today, down from more than a hundred in the 1960s—small-scale fishing is still a key aspect of life around Lake Maggiore. It's common for locals to fish on the lakeside or on small boats after work or on weekends. Popular catch are the common whitefish (Coregonus lavaretus), the common roach (Rutilus rutilus, known locally as gardon), the zander (Sander lucioperca) and the European perch.
"There is less European perch compared to when I started in the 1960s," says Giorgio Brovelli, a professional fisherman and president of a fishing cooperative in the town of Lesa. "In the 1960s, fishermen could get 66 pounds of European perch per day on average, while today they can get between 11 and 13 pounds at most."
The king of the lake
Viviana Guenzi, a Lake Maggiore native and author of a blog on local traditions, grew up in Meina, a small town on the west bank of the lake. Catching and cooking European perch, or pesce persico, as locals call it, has been a family tradition for generations. As a child, she would spend summer afternoons catching the fish with her grandfather. Her grandmother would then turn the catch of the day into delicious meals like pan-fried perch with butter and sage, pickled perch filets and the customary risotto with perch. "The persico is the king of the lake," she says. "[It] is part of our collective identity."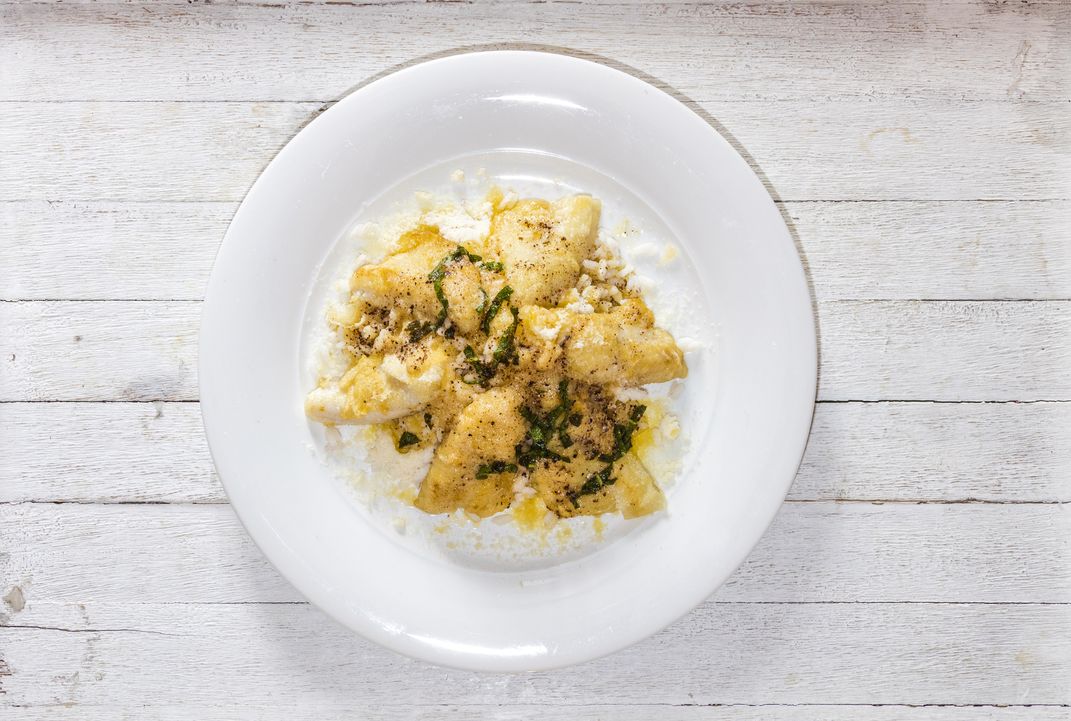 But, in recent decades, Guenzi has witnessed a change in the way people relate to the lake. "Up until my grandparents' generation people had a lot of knowledge and respect for the lake," she says. "Today, some kids cannot even recognize different fish species."
Beginning in the 17th century, fishermen on Lake Maggiore facilitated the reproduction of the perch by creating underwater fish incubators. These colorful fish reproduce by depositing gelatinous filaments full of eggs along aquatic plants, as detailed in a dissertation on European perch reproduction by wildlife manager Riccardo Lattuada.
The 60,000 to 120,000 eggs on each of these jellyfish-like strings, reaching up to 7 feet long, have the best chance of hatching if they are hanging on aquatic plants. "Eggs that are suspended have better access to oxygen compared with eggs on the lake bottom," says Pietro Volta, a senior researcher in fish ecology at Italy's National Research Council.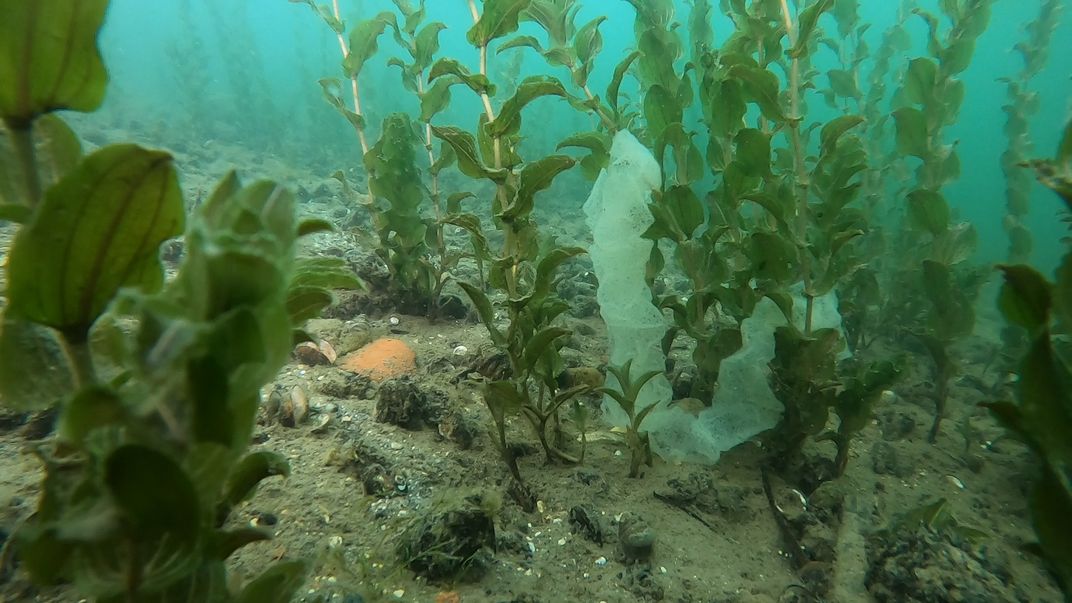 With this in mind, fishermen would place bundles of tree branches on the lake bottom to provide nesting spots for European perch fish.
"People understood that their livelihood depended on restocking the lake," Guenzi says. At the industry's peak, thousands of pounds of European perch were caught each day.
Local fishermen remember learning about this tradition from previous generations. "Both my grandfather and my father used to do it," says professional fisherman Brovelli. The fishers would gather in winter, before the start of the European perch reproductive season in April and May, and turn bundles of tree branches into underwater nurseries. As Brovelli explains, the bundles were plunged to the lake bottom and arranged into 30-foot-tall underwater huts, called legnaie. The structures, secured to the lake bottom with rocks at depths between 30 and 130 feet, provided a safe nesting spot for European perch, a species that specifically looks for aquatic vegetation and submerged wood to spawn. Brovelli remembers older fishermen installing up to 80 incubators in one year.
"This was a heartfelt tradition for the entire community," Guenzi says, adding that towns would throw festivals to celebrate the beloved winter ritual.
"The legnaie was a tradition arising from a deep understanding of local fish and the environment," says Stefano Ruffoni, a third-generation fisherman and owner of Ristorante Italia on the Borromean Island known as Fishermen Island (Isola dei Pescatori).
The fishers would use plants like laurel and vine, as they decompose easily and harbor microorganisms that can feed fish in the process.
Once installed, the nurseries required periodic checks and maintenance. As Ruffoni explains, those tending them would lift the bundles out of the water from time to time, cleaning them of mud and debris. "Fishermen would draw maps to remember where each legnaia was located," Brovelli explains, using lakeside churches or houses as landmarks. Archaeologists have found such maps dating as far back as the 17th century.
After Italy's industrialization in the 1950s and 1960s, the local economy shifted from subsistence agriculture and fishing to industry and tourism, leading to the abandonment of this centuries-old tradition.
"The European perch population started to decrease in the 1980s," says Pier Paolo Gibertoni, a marine biologist specializing in freshwater fish. Pollution from nearby factories coupled with both the arrival of non-native predators like the wels catfish (Silurus glanis), known locally as pesce siluro, and increased pressure by existing predators like cormorants played a role in the European perch's demise.
"The increase of human activity on lake shores led to a lot of materials being dumped in the lake," Gibertoni adds. As a result, mucilage, or sea snot—a gelatinous organic substance made of decomposed plants and animals—now covers much of the lake's aquatic plants, and the perch's reproductive habitat.
Reviving a fishing tradition
Matteo Felici, a Lake Maggiore native, grew up hearing about the legnaie from his grandparents. As a professional scuba diver and underwater filmmaker, he also observed the decline of European perch firsthand. "When I started scuba diving in the lake 20 years ago, there was more diversity," he says.
In 2017, together with two friends, blacksmith and fisherman Roberto Barbieri and skipper Paolo Ciapparelli, he bought and refurbished an old iron boat called La Pinta. A few months later, the trio founded the eponymous nonprofit organization La Pinta, dedicated to environmental conservation, sustainable fishing and advocacy for the lake.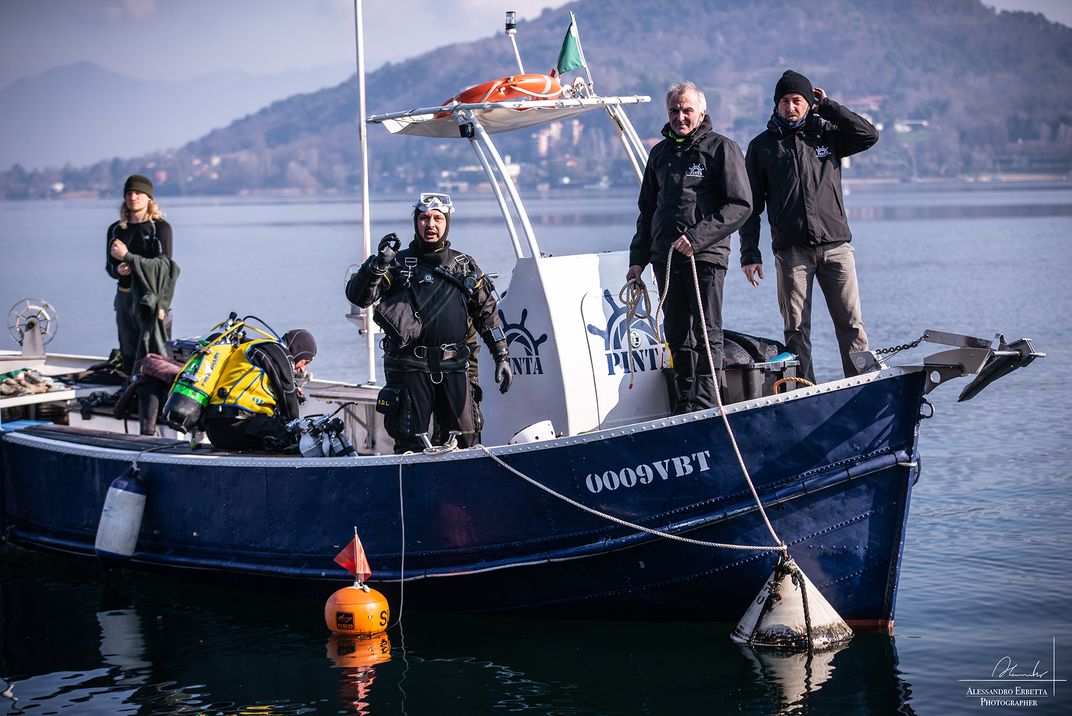 One of the organization's first missions was to revive the legnaie tradition. In March 2017, the team hoisted bundles of intertwined tree branches onto the deck of La Pinta and sailed out to a spot not far from the shore. Felici and other volunteers from a diving club in the lakeside town of Belgirate dove to a depth of 36 feet and installed the incubators on the lake bottom.
"During our first year we were experimenting," Felici says. "We initially installed the nurseries by plunging each bundle in the water, but we later learned that it is easier to tie it together with a metal structure and then submerge them."
Now, each legnaia is made of 24 bundles arranged in a pyramid-like shape reaching a height of about 6.5 feet. Like their predecessors, the team has also learned that certain plant species work better than others. As Giovanni Fasoli, a biologist and member of La Pinta, explains, branches of plane trees are especially good because they are long-lasting and provide nutrients for newborn fish.
During the first year of the project, La Pinta reported that nearly 100 percent of eggs found in its nurseries successfully hatched. In 2021, an estimated ten million eggs hatched in the three nurseries installed in Lesa and Arona. Data was gathered through weekly observations by scuba divers and footage taken with an underwater camera.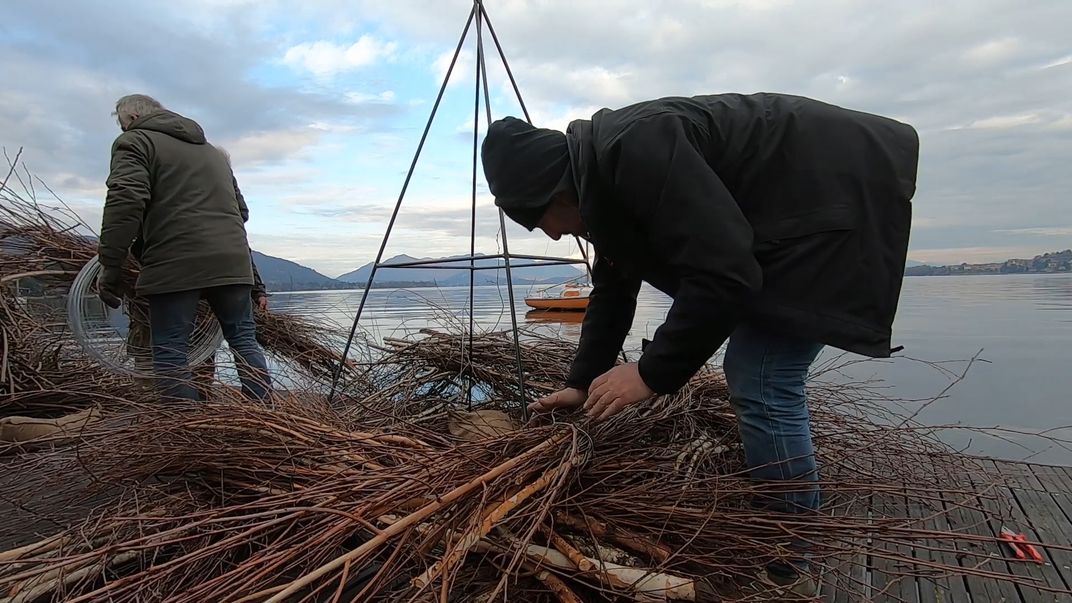 Felici and Fasoli are both filmmakers, and they were interested in recording the reproduction of the European perch on camera. "Our main goal was to film the hatching of the egg filaments, something that no one had done before," says Felici. They installed a 24/7 underwater camera thanks to technical help from Emanuele Coppola, an engineer and conservationist who has decades of experience filming the endangered Mediterranean monk seal. But along the way, they realized that the camera offered a glimpse into an often overlooked world.
The camera revealed that a small ecosystem started to form around the incubators. Pumpkinseeds (Lepomis gibbosus), northern pikes (Esox lucius), wels catfish and cormorants were all spotted swimming around the legnaie. "We realized that our cameras could help us understand the changing landscape of the lake in real time," Fasoli says.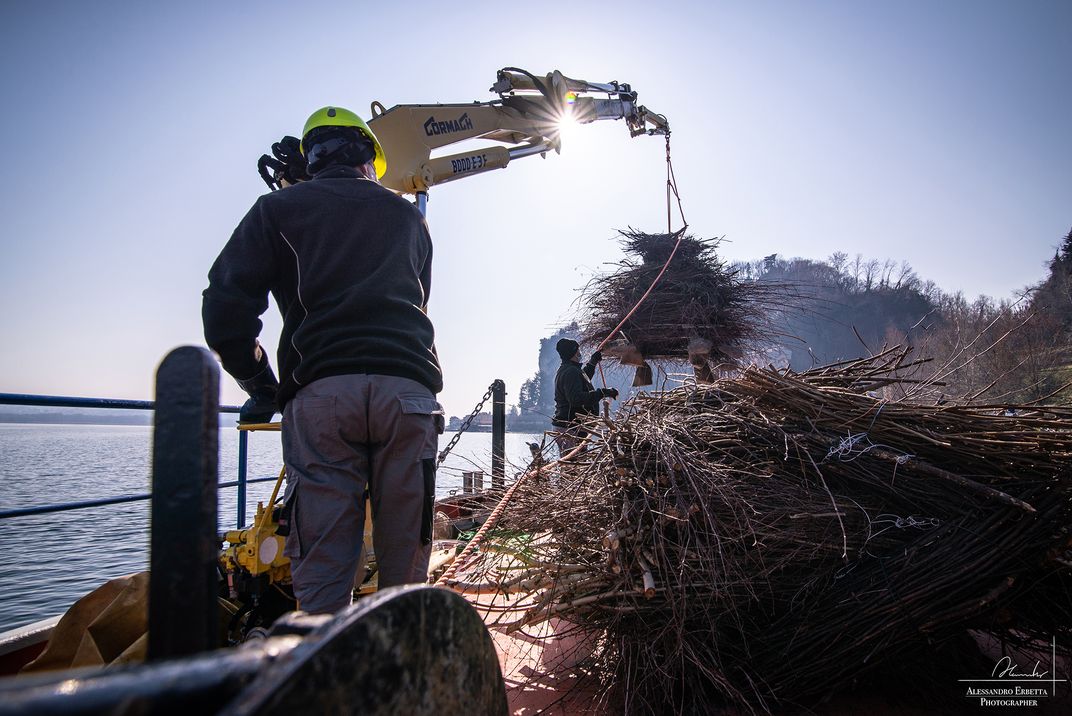 The team now runs two underwater cameras, nicknamed "persicams": one near Arona and one in the coastal town of Pallanza. Footage from the camera in Arona is streamed on the organization's YouTube channel 24/7, while videos from the camera in Pallanza are transmitted to a screen installed inside a former ferry ticket stall on the lakeside promenade.
"People think that underwater life in lakes is boring," Felici says. "But our cameras are showing just how rich life is under the surface."
The footage showing colorful schools of European perch, nosediving cormorants and looming wels catfish attracts a lot of attention. "People normally spend 30 seconds on an internet video, but users stay for an average of five minutes on our YouTube page," Felici says. "A lot of people, especially tourists, stop and watch the footage inside the stall."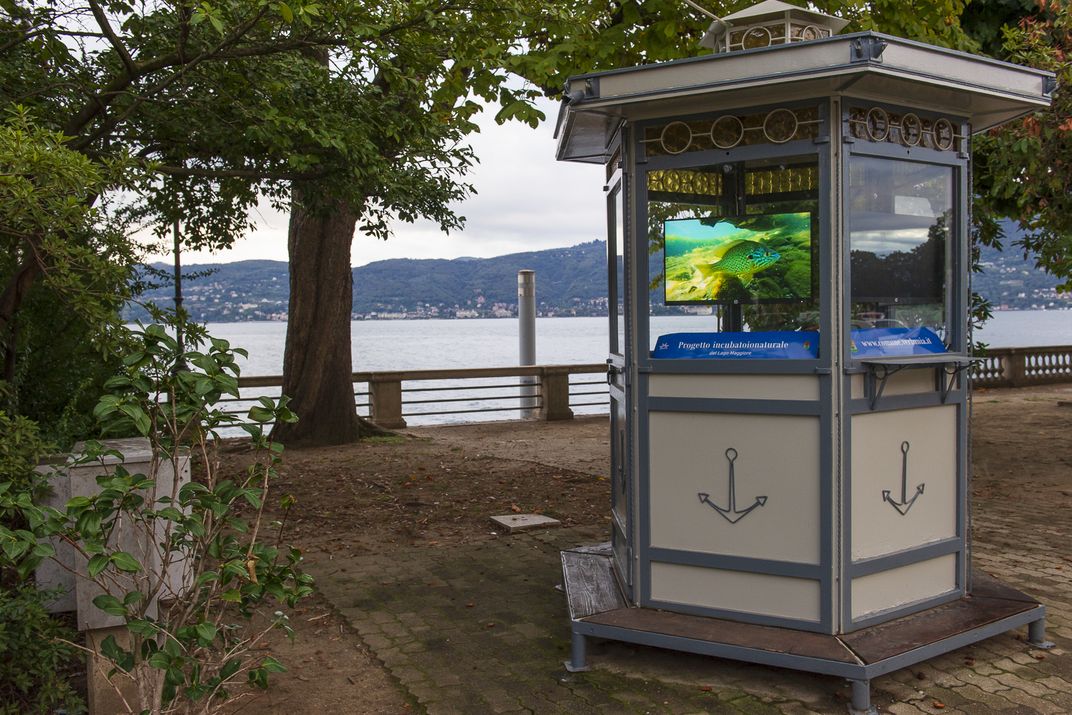 Felici and Fasoli are both used to observing underwater life during scuba dive sessions, but they find that the cameras offer a way to view aquatic species without human interference. This way, they can notice unusual behavior. Two years ago, pike, a normally solitary fish, were spotted looking for food near the incubators in packs of 20 fish, while some males appear to change color in order to look like females and get closer to them during reproductive season.
As interest in the project grew, the team secured a network of supporters and volunteers from local scuba diving associations. They now run 21 incubators in different locations around the lake, which have collectively facilitated the hatching of millions of eggs so far.
Gibertoni explains that, on top of offering an ideal habitat for reproduction, the legnaie can shelter eggs from attacks by wels catfish and cormorants. They are also creating a lively underwater ecosystem at a time when freshwater systems are losing oxygen at a fast pace due to climate change, Fasoli says; as oxygen levels drop, parts of lakes become unlivable for fish.
As news spreads, people near other lakes have shown interest in the revived conservation technique. A few months ago, the nonprofit arm of kitchen equipment manufacturer Fantini asked La Pinta to install two incubators in Lake Orta, a lake just west of Lake Maggiore that is being cleaned after decades of industrial pollution.
One of the team's goals is for every town on Lake Maggiore to take up this centuries-old tradition. The biggest challenge to date has been funding. With much of the team's effort covered by small contributions by local city councils and the Italian Federation of Sport Fishing and Underwater Activities, the team is now looking for private companies and crowdfunding to sponsor their work. "Right now, we count on ten scuba divers that maintain both the legnaia and the underwater cameras," Felici says, "but we would like to train more people before the reproductive season next spring."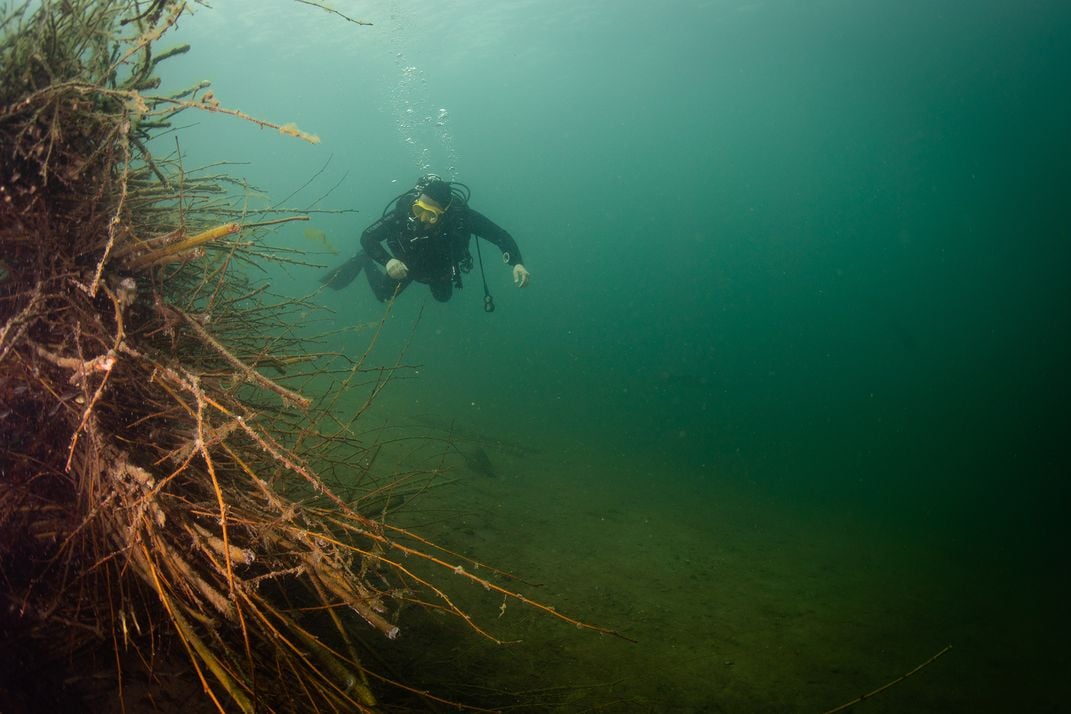 La Pinta is also partnering with institutions like Italy's National Research Council to share the hours of footage captured by the persicams with scientists. "It would be very interesting to collect data and look at them from a scientific perspective," says the National Research Council's Volta, adding that for now there is no official scientific data on the impact of the legnaie. "It could lead us to better understand the actual effectiveness of these structures and improve our knowledge on fish behavior."
La Pinta is also pushing for some changes in the way the fishing of European perch is regulated. Historically, European perch have reproduced between April and May, when waters reach a temperature of 53 to 57 degrees Fahrenheit. Authorities currently ban fishing from the end of March to May, but warming waters mean that fish are now laying eggs earlier than usual. "Sometimes local fishermen find fish full of eggs in February," Felici says. "We need fishing ban season to reflect this new reality."
The team is calling for a protected area—one with a commercial fishing ban—in the southernmost part of the lake, before it flows into the Ticino River. As Felici explains, Switzerland currently has four protected areas in the small portion of Lake Maggiore within its borders; two are completely closed for fishing, and two are only open to recreational fishing. "We need one in the southern part of the lake," he says.
Ultimately, the conservationists hope that their project can both protect the "king of the lake" as well as reconnect locals and visitors with the rich underwater life of Lake Maggiore.
"We grew up here, so for us, the lake is our treasure," Felici says. "It is our duty to know it and protect it."