Innovators to Watch in 2012
Here are young entrepreneurs whose innovative thinking has them poised for big things this year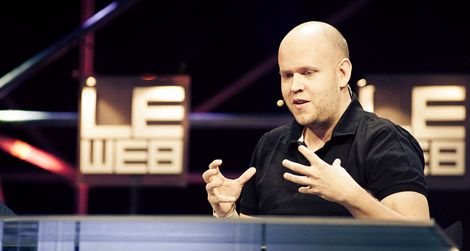 Most innovators aren't inventors.  We were reminded of that again last year during the swirl of coverage of Steve Jobs, who achieved his godlike status largely through his unique ability to distill, refine and, above all, execute the ideas of others.  As the new year begins to pick up speed, it's a good time to take a look at some young entrepreneurs whose innovative thinking, rather than pure invention, has them poised for big things in 2012.
(Read about great historians and food writers to follow in 2012)
Can't stop the music: The recording industry has been in a death spiral for awhile now, dating back to when Napster fed the notion among a generation that freedom to download music without paying is an inalienable right laid out in the Constitution, or maybe it was the Magna Carta. Whatever. Bottom line is that CDs are going the way of the 8-track. But all may not be lost, thanks to a Swedish computer geek-turned-musician-turned-Internet-innovator. That would be Daniel Ek, who launched Spotify in Europe three years ago when he was 25.
Earlier this month Forbes magazine called him "the most important man in music." That's probably  over the top, but Ek has devised a model that provides instant access to free music while pumping up struggling record labels through licensing fees. Spotify, which makes its money through advertising and user fees ($10 a month for mobile access to your playlists, $5 a month to avoid ads), didn't roll out in the U.S. until last summer, but raised its profile dramatically a few months later when it hooked up with Facebook. Ek knows that building a personal brand is a subtext of the Facebook experience and a person's taste in music is often a big part of that. So now, through Spotify, Facebook users see the songs their friends listen to and the playlists they compile, and with a single click, can give a listen. If Spotify goes mainstream in the U.S. this year, Forbes just may be right.
Return of the pin-ups: Often the shrewdest innovations are about carving out the right niche at the right time and so it appears to be with Pinterest, the hot social network of the moment. As someone who says he was a "maniacal" insect collector while growing up in Iowa, co-founder Ben Silbermann realized how passionate people can be about their hobbies or collections.  And he and his partners, Evan Sharp and Paul Sciarra, also recognized that posting photos has become as popular a means of self-expression on social networks as clever status updates and funny video links.  So they combined passions and photos in Pinterest, where members can "pin" up pictures–their own or ones found on the Web–of their hobbies or just quirky obsessions. They could be muscle cars or Amish quilts or Halloween costumes made of duct tape. Hey, it's your show.  Yes, a year from now Pinterest could be yet another Web sensation gone south.  But some analysts are already saying it's worth more than $150 million.
Power play: Wind and solar energy are clearly appealing alternatives to 50-year-old coal-powered plants pumping out pollutants. But clean energy sources still face a big hurdle: If the wind's not blowing or the sun's not shining, how do you keep the lights on? That's the key to wind and solar becoming core components of the power grid and it's why a lot of researchers are trying to find ways to cheaply and efficiently store energy that comes from renewable sources. Danielle Fong, chief scientist for an California company called LightSail Energy, is focusing on a process in which wind and solar power would be converted to compressed air. Then, when needed, it could be expanded to drive turbines that support the power grid. Fong's only 24, but based on her credentials, you have to think that she has as good a shot as anyone at solving this one. At the age of 12 she was taking college-level physics sources; at 17, she was studying nuclear fusion at Princeton.
Copy that: It's easy to get carried away with the potential of 3-D printers.  Imagine being able to download specs for a part you need, then printing it out in your home office. Or have your kids or grandkids use it to build toys they designed themselves.  The reality, though, is that it's likely to be years, maybe even a decade, before they're as common as PCs in our homes. But if it does happen sooner rather than later, Bre Pettis and MakerBot, the Brooklyn-based outfit he heads as CEO, will have a lot to do with it.  They've brought the cost of 3-D printers down to about $1,000 and just last week unveiled the MakerBot Duplicator, which prints objects in two colors.  But for Pettis, it's not just about building a business; he once was a teacher and one of his dreams is to bring 3-D printers into the classroom where they can really tap into kids' creativity.
When cheese says cheese: If most of us had seen what Alexa Andrzejewski did a few years ago while visiting Japan and South Korea, we probably would have dismissed it as slightly bizarre dining behavior and gone back to our meal we couldn't pronounce. But Andrzejewski, a one-time graphic designer, thought there was something to it. What she saw was people taking pictures of their meals with their cell phones.  She first thought about doing a picture book of exotic meals. But she ultimately concluded that she may have found a way to differentiate a business from all of the restaurant  mobile apps out there.  Why not provide diner reviews of specific meals and  build them around photos of the food so people could see what they'd be ordering.
That was the genesis of Foodspotting, a mobile app that shows you pictures of meals that are near where you are at the moment.  Or as Andrzejewki puts it, it's like gazing at the windows of a bakery, except you're staring at your phone.   Now the company is looking for ways to build its business by partnering with apps  that let diners know about deals and working with restaurants that want to promote their specials.  It also plans to release a new version of its app, one that suggests nearby meals based on your preferences.
Thanks for sharing: The latest estimates are that by 2050, 70 percent of the world's population will live in urban areas. Already, 21 mega-cities have populations of 10 to 20 million.  I'll go out on a limb and say we're going to need some pretty innovative thinking about urban life over the next decade if  we're going to keep cities liveable.  One person who's been giving this a lot of thought is Alex Steffen. He's the author of  Worldchanging: A User's Guide For the 21st Century, which was updated last year. He's also been  called a futurist and he is, but in a practical way.  Steffen's very big, for instance, on the growth of a culture within  cities where people share instead of own, whether it's cars,  sports equipment or power drills.  He also knows that it's going to take a lot more than putting plants and trees on rooftops to make cities sustainable and keep them from, as he puts it, "stealing the future."
Good reads: I'd be remiss if I didn't mention other bloggers  worth watching this year because of their insightful takes on all things innovative, starting with Dominic Basulto,  who works at Electric Artists in New York, but whose writing appears regularly at at Ideas@Innovation at WashingtonPost.com and at BigThink.com.  Another deserving a visit is David Dobbs' "Neuron Culture"  blog for Wired.com. And to stay on top of the latest tech, stop by when you can at the "Bits"  blog on the New York Times website.
Video Bonus: Salman Khan has made a big splash with his Khan Academy, built around low-tech, conversational educational videos.  Check out his TED Talk from last year on using video to reinvent education.