Indoor Mapping Lets the Blind Navigate Airports
A prototype system of an iPhone app and location beacons launched at San Francisco International Airport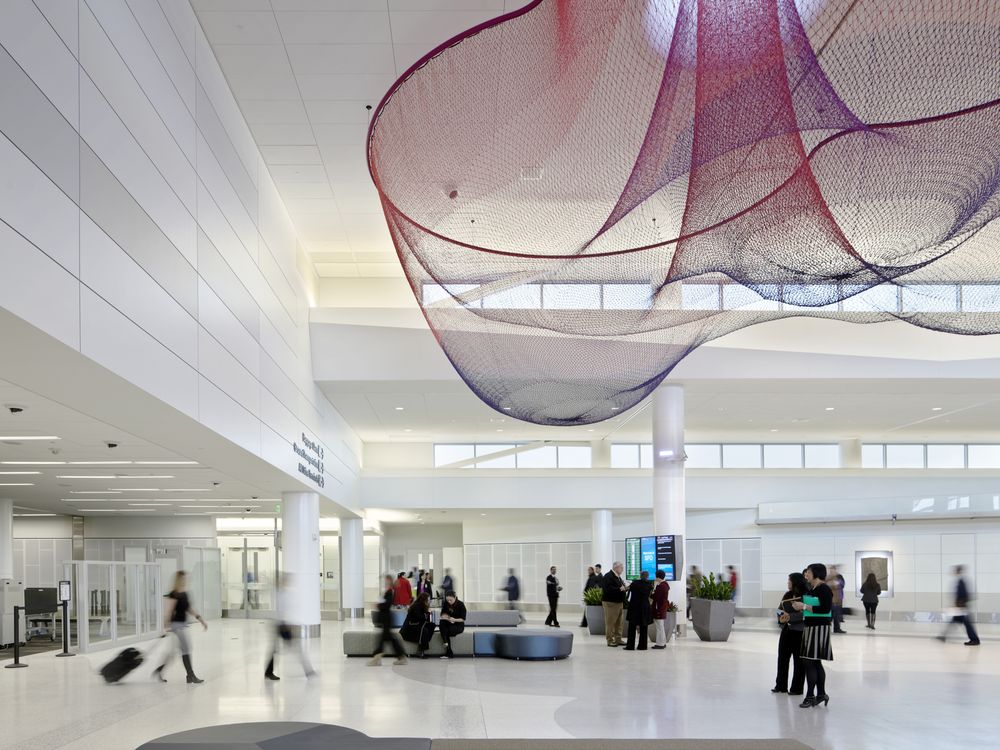 This summer, Bryan Bashin experienced Terminal 2 of the San Francisco International Airport (SFO), a hub he travels through with a fair bit of regularity, in an entirely new way. As he walked, he knew the location of every gate, newsstand, wine bar and iPhone charging station throughout the 640,000-square-foot terminal. "I noticed all these things that I didn't even know were there," he explains.
Bashin is blind. As Executive Director and CEO of LightHouse for the Blind and Visually Impaired, an organization that aims to make San Francisco more accessible, he had early access to a prototype indoor mapping system developed and deployed in collaboration with the mayor's office and the Austrian company Indoo.rs.
The system, the first of its kind in the United States, uses a network of strategically placed Bluetooth beacons and an iPhone app to allow blind and visually impaired passengers to navigate the terminal without an escort.
Indoo.rs installed a series of more than 300 iBeacons, low-power Bluetooth buttons about an inch across that last for years on a single battery, throughout the terminal. The Indoo.rs app, which is preloaded with a detailed map of the terminal, uses data from the phone's compass, accelerometer and nearby beacons to triangulate a traveler's location within about five meters.
According to Markus Krainz, Indoo.rs chief technology officer, the development team worked hard to ensure the software was completely intuitive for blind users. The app uses audio to let a passenger know where he or she is, and it can work either actively (you want to get to your gate) or passively (here's what you happen to be walking past). It also employs the same gestural cues—a triple-tap brings up a menu, for instance—that other accessible apps, such as BlindSquare, do.
Indoo.rs's map contains more than 500 points of interest throughout the terminal, adding a level of fidelity to navigation that a blind passenger might never have had otherwise. Previously at SFO, a blind passenger would be paired with an escort, whose job it was to guide him or her through security and to the gate—basically from Point A to Point B.
Now, says Bashin, a blind passenger can move independently from curb to gate. "I can point my phone down a corridor, and it will tell me what's down that corridor," he explains. "This is the first time in my life that I can be in the baggage area and know which carousel I'm standing at."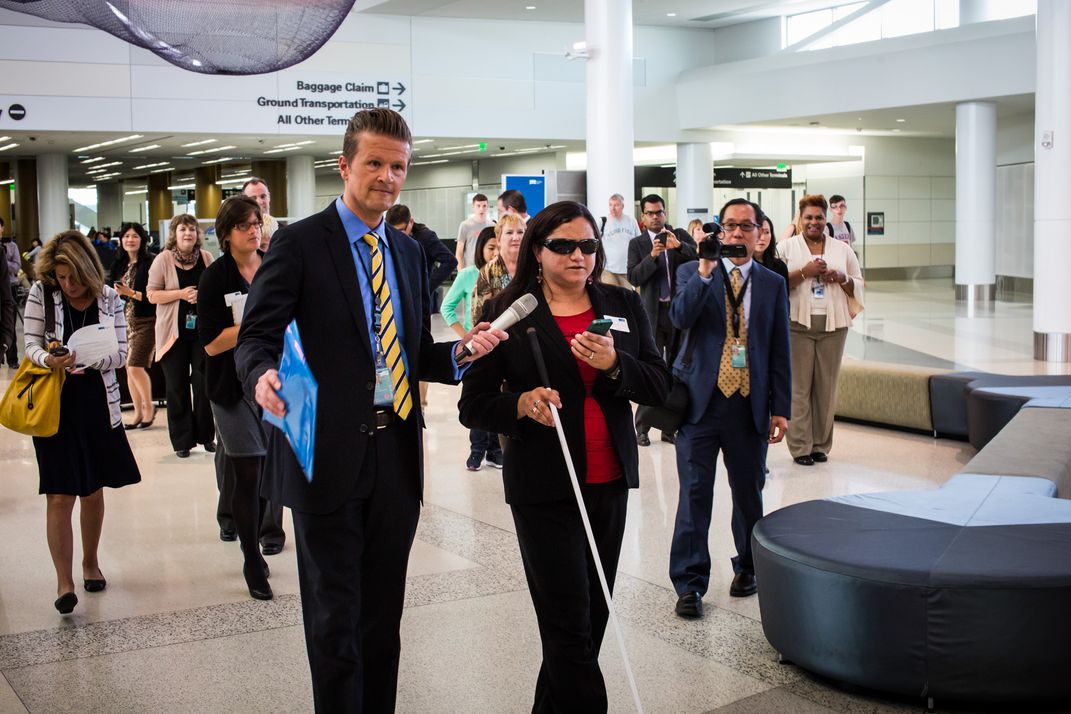 For now, the beacons only cover indoors at Terminal 2, but Bashin says the mapping should expand to include curbside navigation and eventually the airport's other terminals.  
The app is the first to provide this type of wayfinding information indoors. Other mapping apps, including both BlindSquare and Seeing Eye GPS by accessibility software company Sendero Group, need clear sky to work. The apps tap into GPS satellites to announce directions, points of interest and intersections. Step inside, and the satellites can no longer see you, rendering the apps useless.
SFO, LightHouse and Indoo.rs will continue to test the system over the next month and hope to deploy it to the public in the fall. 
In the meantime, Indoo.rs is continuing to refine the app and has many upgrades on the horizon. For example, the app will one day sync with flight-status read-outs. Some additional features will even appeal to sighted travelers—though things like finding a charging station are already a boon. Non-English speakers, for one, can expect the app to provide live translations of signs.
Of course, the Indoo.rs system isn't limited to airports. Both Bashin and Krainz see a lot of utility for this type of indoor mapping in other large, maze-like structures, including government buildings and malls. Indoo.rs has installed similar systems at events, retailers and corporate offices throughout Europe, and its competitors are also testing beacon-based indoor navigation at Heathrow Airport and large retail outlets like Macy's. 
But, according to Krainz, the SFO installation is one of the largest and most ambitious yet. For Baskin, it's only the most recent example of how technology for the blind is pushing innovation forward. Edison's original phonograph, for instance, was intended, in part, to be a reading tool for the blind. But more than anything, he says, "it's empowering."