How to Enjoy National Relaxation Day
Some folks say this should be declared National Relaxation Day. Here are some products that claim to help you get your mellow on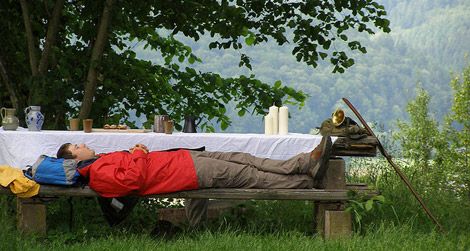 I'm willing to bet that International Pancake Day blew right by in March and you didn't have the decency to chow down a short stack. And I'll go out on a limb and wonder aloud if anyone reading this actually hugged a tree last Arbor Day, let alone planted one.
But today, my friends, you have a chance to make things right. For today is National Relaxation Day.
You could go old-school chill—you know, kick back with a green tea and watch a few hours of C-Span. Or you could try a fresh way to get your veg on.
You might start with a tall glass of Vacation in a Bottle (VIB). It's one of the new "relaxation drinks" being ballyhooed as the next big thing in the beverage business. The key ingredient in VIB is L-theanine, an amino acid that studies have shown produces supposedly relaxing alpha waves in your brain. Other brands contain melatonin, the hormone that maintains your body's circadian clock, but also can make you sleepy. In fact, one of those brands, Drank, goes so far as to promote itself as a purveyor of "Extreme Relaxation"—an interesting concept, not to be confused, I suppose, with comatose.
Up until a few weeks ago, another chill product, Lazy Cakes, was out there dangling the promise of extreme relaxation. (Its package also warned that the brownies might cause "excessive use of the word 'dude'.") But in late July the FDA sent the company a letter describing the little taste treats as "adulterated," because melatonin has not been approved for use in food.  That's harsh, dude.
Maybe it's better to stick with technology. Apps, as we know, can now do almost anything, short of getting my dog to eat with a fork. So it's not surprising they offer many pathways to your inner mellow. Here's a sampling:
If you can't gear down with any of the above today, picture yourself curling up in the Cradle Chair. Don't know about you, but I think I could stay there a few months.
At the very least, listen to this.
And here's a bonus: A recent study found that people who are relaxed are more likely to overpay for things. (Including, just perhaps, relaxation products?) So get mellow and stimulate the economy.