How Pokémon Go Can Save Lives in a Hurricane
Players could mobilize by donating blood, filling sandbags and evacuating threatened areas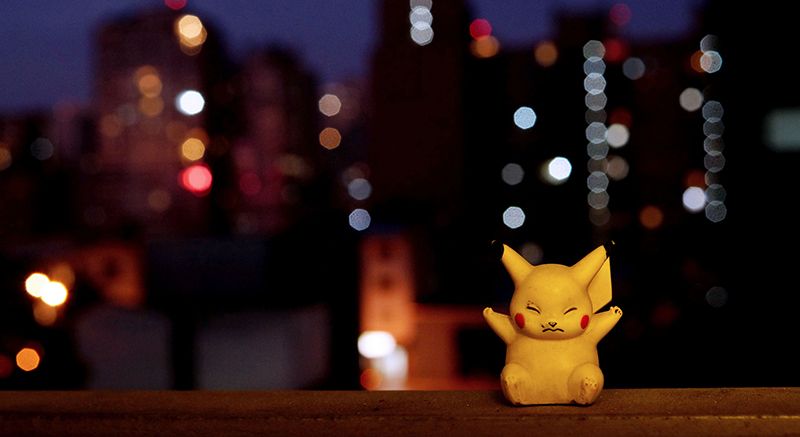 Twenty years ago, when millions of people were displaced by a storm like Hurricane Matthew, we'd see convoys of temporary trailers being towed into stricken areas to shelter the newly homeless. We'd hear appeals for donations from charities like the Salvation Army and the American Red Cross. And we'd be impressed with stories of neighbors and rescuers pitching in to help the unfortunate.
In the near future, information technology may provide new, more effective ways to organize disaster response. We've already seen the power of Twitter to coordinate political revolution, and we've seen the Pokémon Go augmented reality game motivate tens of thousands of people to get outdoors and chase imaginary monsters. What if, in response to crises, augmented and alternate reality games like Pokémon Go switched into a mode that rewarded players for donating blood? Delivering water bottles? Filling sandbags? Offering temporary housing? Or evacuating areas threatened by storm, wildfires, floods, tornadoes, or other hazards?
Author and game designer Jane McGonigal popularized the notion of gamification, in which players can get points, badges, or other rewards for ordinarily mundane tasks. According to McGonigal and others like Ian Bogost, gamification can motivate us to recover from personal setbacks including injury, depression, or distress, and improve our lives by forming new habits or skills. For example, Duolingo allows people to learn a language online while translating online documents and websites. Students earn skill points as they complete lessons or translate web content, and the complexity of sentences increases as the user progresses. Other games use competition and peer pressure among neighbors to reduce electricity consumption when appeals to saving money and the environment don't work.
So gamification can work in our private lives. But what if we combined gamification and the sharing economy to coordinate the manpower of gamers for the public good in response to disaster? Already Airbnb's disaster response unit allows hosts to open their homes to storm victims. Uber has offered free rides to facilitate evacuation of areas during emergencies like the Boston Marathon bombing and the Dallas police shootings. In this way, the sharing economy taps into the empathetic human impulse to do meaningful and pro-social work in response to need. Maybe all Pokémon Go players need is a little nudge in the direction of emergency response tasks when disaster strikes.
Such an emergency response system would be a logical extension of the emergency broadcast system. If you haven't cut the cord, you're probably familiar with the EBS regularly interrupting television and radio programming. And we all know about the alerts that get pushed out to our mobile phones to warn us of dangerous weather (or, as recently occurred in the New York City area, an alleged terrorist on the run). While these broadcasts go over public airwaves, they have always been delivered to our private communications equipment—temporarily seizing control of private property for a public purpose.
What the EBS system doesn't do is facilitate or coordinate a response. A more appropriate emergency system for the social media age is one that does not merely push messages—but that also mobilizes communities, to collect intelligence from them or to take other action. Already apps like Google Maps, Waze, and Swift.ly collect real-time information on traffic flows and incidents. These kinds of apps would just need augmented reality disaster response modes that encourage coordinated emergency actions, helping create community resilience. We could call it an Emergency Interaction System.
That might sound a little techno-utopian, but there are precedents. Emergency response organizations like the Red Cross already have extensive experience using table-top simulations and simulation learning tools to train personnel and prepare adaptive responses. If the Red Cross integrated these simulations with networked sharing-economy apps and augmented reality games, it could mobilize and coordinate an extraordinary group of volunteers and private resources on a scale that might rival official government efforts.
A new app called SwingVoter Go is an example of serious game inspired by Pokémon Go. The game seeks to motivate people to become more engaged in the 2016 election by inspiring gamers who don't live in swing states to influence voters who do. It prompts you to pick any battleground state, like Florida or Pennsylvania, and use Facebook to find people in your social network from those states that you can engage in election-related conversations. SwingVoter Go provides "lures" that you can share on social media to draw undecided voters into a conversation with you with the goal of influencing them to vote for a particular candidate. If successful you increase the collective score of the game as well as get one step closer to becoming a "swing master."
In a similar way, an emergency interactive disaster response system could use social media and augmented reality to connect people with needs to those who want to help. By building a "Red Cross mode" into existing apps, emergency response tasks could appear instead of Pokémons or other lures, and players could earn hero points for finding or distributing emergency supplies, providing transportation to shelters, making charitable donations, or helping clean up. Players could opt out, but building an emergency mode into existing apps would solve the problem of distributing the software ahead of time so that it could be mobilized at a moment's notice.
Of course, potential catastrophes will require more than human resilience. An Emergency Interactive System does no good if it doesn't function in an emergency, so technological infrastructure must also be adaptive to stress. We've already noticed a degradation of mobile phone signals at crowded venues like music concerts or sporting events, when uploading data-intensive videos and photos can overwhelm mobile phone towers. During massive events, relying on normal tower signals will only exacerbate the disaster—especially in cases that affect the towers themselves. For example, since the loss of service that accompanied hurricanes Katrina and Sandy, several measures have been taken to help make cell phone towers and service more resilient to disaster. Nevertheless, each new catastrophe seems to expose some previously unknown vulnerability, at the worst possible time. What we need from the Emergency Interactive System is a more resilient way of connecting people to one another, so that they can check in on loved ones and participate in recovery efforts.
Fortunately, smartphones are already equipped with the capacity to connect via mesh networks that could allow our disaster response players to drop in and out, bypassing mobile phone towers. For example, FireChat is an app that allows text messaging independent of Wi-Fi and mobile data. The app gained popularity in 2014 when hundreds of thousands of protesters in Hong Kong used it to communicate and coordinate without being intercepted by the Chinese government. Like many other peer-to-peer data sharing apps, FireChat can use Bluetooth connectivity to send messages between devices within about 200 feet of each other—perfect for dense crowds that typically overtax towers.
A new version called FireChat Alert even allows emergency responders to broadcast text messages during a crisis. Originally developed in collaboration with the U.N. Office for the Coordination of Humanitarian Affairs, FireChat Alert is being tested in a Philippines pilot program to improve communication during and after typhoons. While the app is currently a one-way broadcast medium only, it proves the potential to adapt private, mobile technologies for public purposes, even without existing data towers.
By combining advances in augmented reality games with the sharing economy and mesh networking, we could be poised on the threshold of a revolution in disaster response that empowers the public to follow their natural helpful instincts in response to all kinds of crises, without getting in the way, and even when our electricity, internet, and cell service fails.
Thomas P. Seager is an associate professor of engineering at Arizona State University, working on improving the performance of civil infrastructure during disaster.
Susan Spierre Clark is a research assistant professor of sustainable engineering at Arizona State University, where she investigates interdisciplinary approaches to critical infrastructure resilience.

This article was written for Future Tense, a Zócalo partner. Future Tense is a project of Arizona State University, New America, and Slate. A version also appeared on Slate.com.