How the Most Popular Sailboat Ever Was Invented
The Sunfish taught millions of Americans to seize the breeze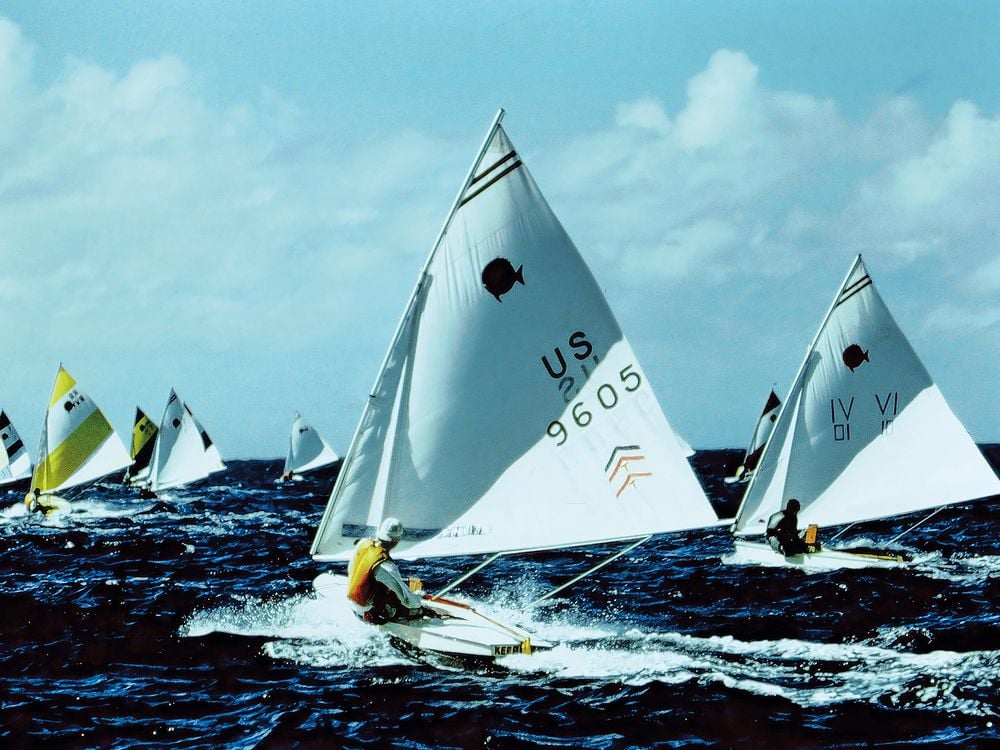 It's the platonic ideal of the sailboat, unmistakable in lakes and coastal waters across the country, with its colorful, equilateral triangle sail pulled taut in the summer breeze. It's also the most popular sailboat ever made, with more than half a million built since the first launch in 1952.
The design of the Sunfish came from Cortlandt Heyniger and Alex Bryan, friends whose company, Alcort, was building a rescue paddleboard for the Red Cross. On a whim, Bryan added a simple sail to the wooden board to create a basic but elegant sailboat. As legend holds, his wife, Aileen Bryan—née Shields, a sailing scion and racing champion—tried sailing the craft and wanted a little more room to maneuver, as she was then pregnant. So Alcort's first employee, Carl Meinert, designed a cockpit for the Sunfish, drawing the first mock-up in dust on the floor of Alcort's woodshop in Waterbury, Connecticut. The first Sunfish was built in the early 1950s.
The first models were wood and measured just under 14 feet long. They sold for less than $200—roughly $2,200 in today's dollars—and could be launched right from the beach without a dock, making the Sunfish an accessible and affordable fixture at vacation houses across the United States.
The Sunfish also opened up the world of sailboat racing to those who could not afford yachts and club memberships: 1963 saw the first North American championship for Sunfish racers, and the first Sunfish World Championship was held in the U.S. Virgin Islands in 1970. The boat's simplicity meant winning was truly a testament to one's skills; as one Sunfish dealer told the New York Times in 1970, "Racing one puts a lot on the man." Or woman, adds Lee Parks, a two-time winner of the women's North American national championship: "Unlike some other classes, the Sunfish class is male and female. It's multigenerational. Anybody can sail them." In 1977, Fortune magazine named the boat one of America's 25 best-designed products. The Sunfish designers were inducted into the Sailing Hall of Fame in 2021.
Sunfish enthusiasts, whether casual sailors or serious racers, are known for their sportsmanship. According to Parks, "Every event you go to is like a family reunion."