How an Italian Immigrant Rolled Out the Radio Flyer Wagon Across America
Three generations and more than 100 years later, the company is still flying high
It is just a wagon. But with a little imagination, there are no limits to what it can become. Robert Pasin, president and CEO of Radio Flyer, once explained it: "It can be anything the child imagines it to be—it can be a spaceship, a train, a race car, a submarine."
That kind of versatility has certainly given the iconic, fire hydrant red Radio Flyer some serious staying power. As of next year, the company will have been around a full century, with roots stretching back to the early 1900s when the future founder of the company, Antonio Pasin, arrived in America.
Antonio was born in 1898 to a family of cabinetmakers that lived in a small town outside of Venice. Like many at the time, he dreamed of greater opportunities. So at the age of 16, his family sold their mule and he used the funds to travel to America.
Settling in Chicago, he worked a series of odd jobs—washing celery for a vegetable distributor, toting water for a sewer-digging crew, working with road crews and constructing pianos—to save money for woodworking equipment.
"He did whatever work he could. He didn't have any money. He didn't know anybody," his grandson Robert Pasin says.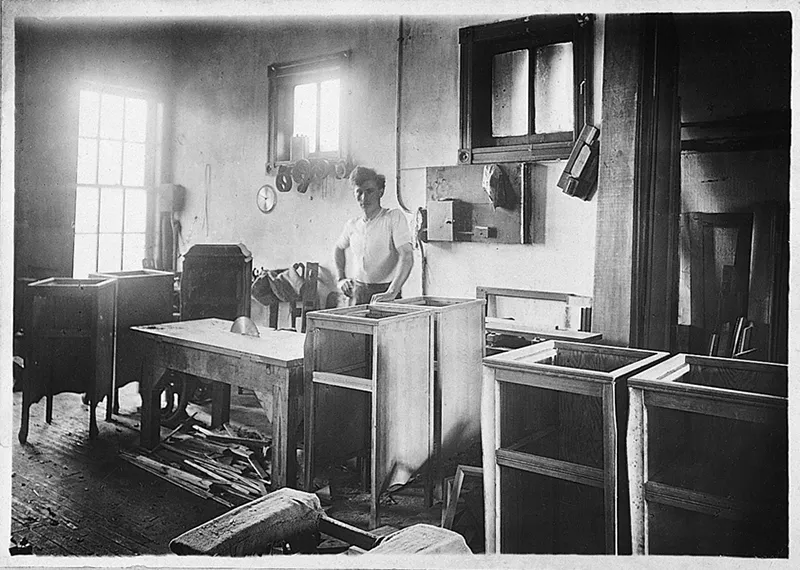 By 1917, Antonio saved enough money to rent a one-room workshop, where he began building phonograph cabinets and a variety of other objects upon request. He also built sturdy wooden wagons to haul around tools.
"As people were buying phonograph cabinets they would say, 'hey, can I get one of those wagons?'" Robert says. "And pretty soon he was selling more wagons than phonograph cabinets."
The popularity of the wagon as a toy grew from there. "Like any entrepreneur he went with what sold well," he says. "And the wagon ended up being the bestseller."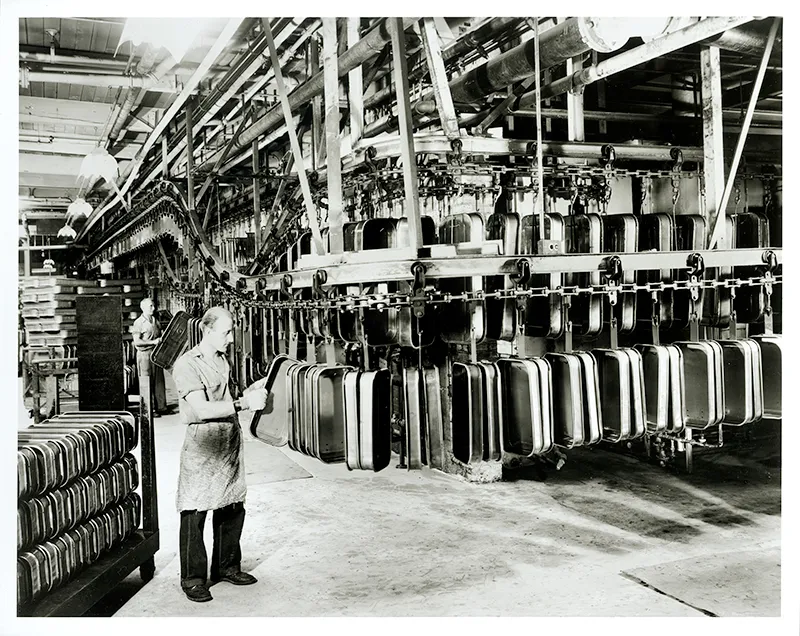 Antonio dubbed his sturdy wooden creations Liberty Coasters after the iconic "Mother of Exiles," the Statue of Liberty. As demand increased, he hired several employees and eventually renamed his wagon Radio Flyer, capturing the two obsessions of the time: radios and airplanes.
For a simple wagon, the Radio Flyer was innovative in its design. Antonio integrated the relatively new methods of automotive assembly lines and metal stamping to keep costs low and production rolling along. In the late 1920s, the metal wagons sold for just fewer than three dollars—roughly 40 dollars in today's economy. This approach to manufacturing earned Antonio the nickname, "Little Ford."
One advertisement from 1973 deems the Radio Flyer the "only wagon that outsells Ford station wagons."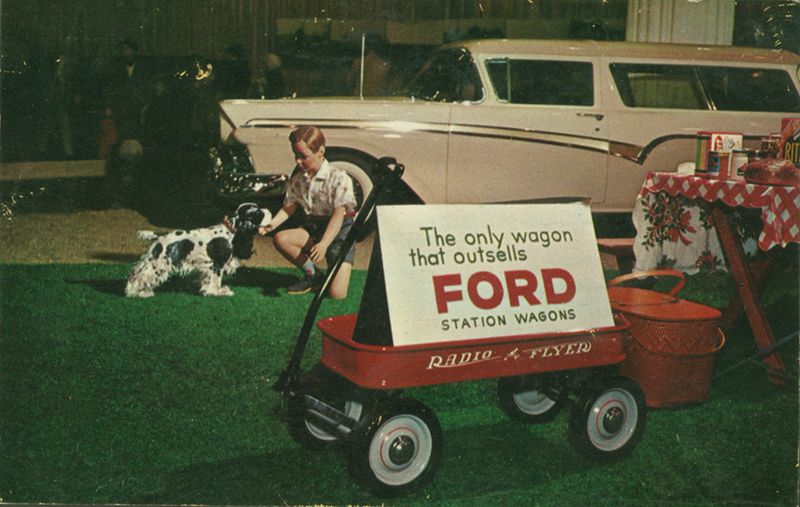 The flashy red color became a mainstay for the Radio Flyers early on, but no one really knows why. "Some people say it was because my grandfather was Italian," says Robert, explaining that Ferraris and spaghetti sauce, both Italian staples, are red. Over the years, the company has tried many colors, but red always zoomed ahead of the others in sales.
Times weren't always easy, however. "I enter so many ventures in business with more nerve than capital," Antonio once said.
As the Great Depression rippled through America, the company struggled, but survived—"something that a lot of toy companies didn't do," says Gary Cross, a historian specializing in consumption, leisure and childhood at Pennsylvania State University. Even in the depths of the downturn, the company sold around 1,500 wagons a day.
Its survival, however notable, isn't necessarily surprising. "Even people who were unemployed and saw their wages decreased felt the need to preserve a certain kind of normalcy with their children," says Cross, "and that meant gifting them."
Despite the depression, Antonio had his sights set on the 1933 Chicago World's Fair. He took out a $30,000 loan to build a 45-foot-tall structure of a boy atop a wagon, determined to make a statement.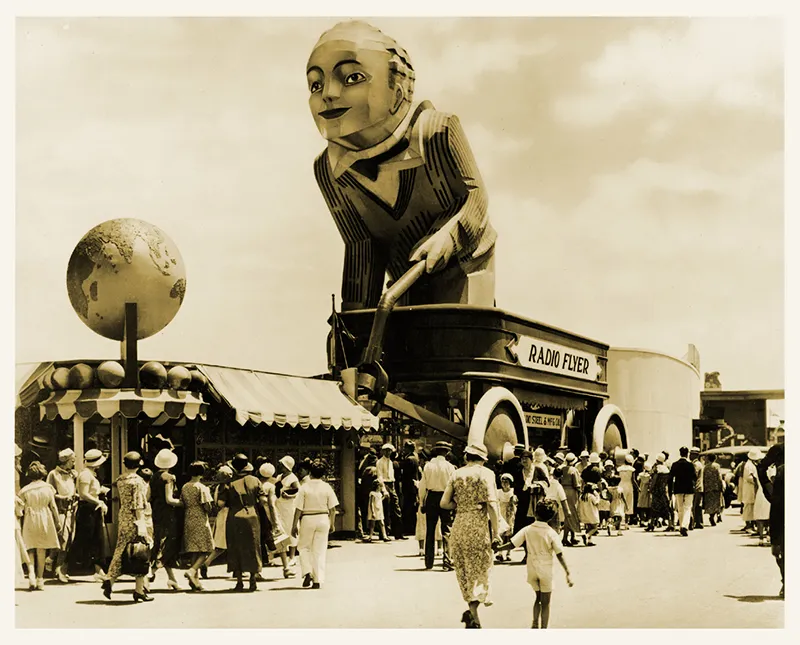 Antonio's wife, Anna Pasin, who passed away a few weeks ago at age 107, described this as the only time she ever saw Antonio nervous, Robert explains. "He made a big bet financially," he says. "When he first came here as an immigrant he really didn't have anything to lose, but when the World's Fair came about he had a business. He had a family."
The massive art deco structure housed a kiosk, inside of which Anna helped work a mini assembly line putting together tiny steel wagons that sold for just 25 cents each—$4.56 today. They sold more than 100,000 of the trinkets.
"That was just a brilliant brand-building idea, because the World's Fair was such a huge deal," Robert says. Whether visitors left with a tiny wagon or not, they undoubtedly saw the impressive structure, and so couldn't have left without some knowledge of the Radio Flyer.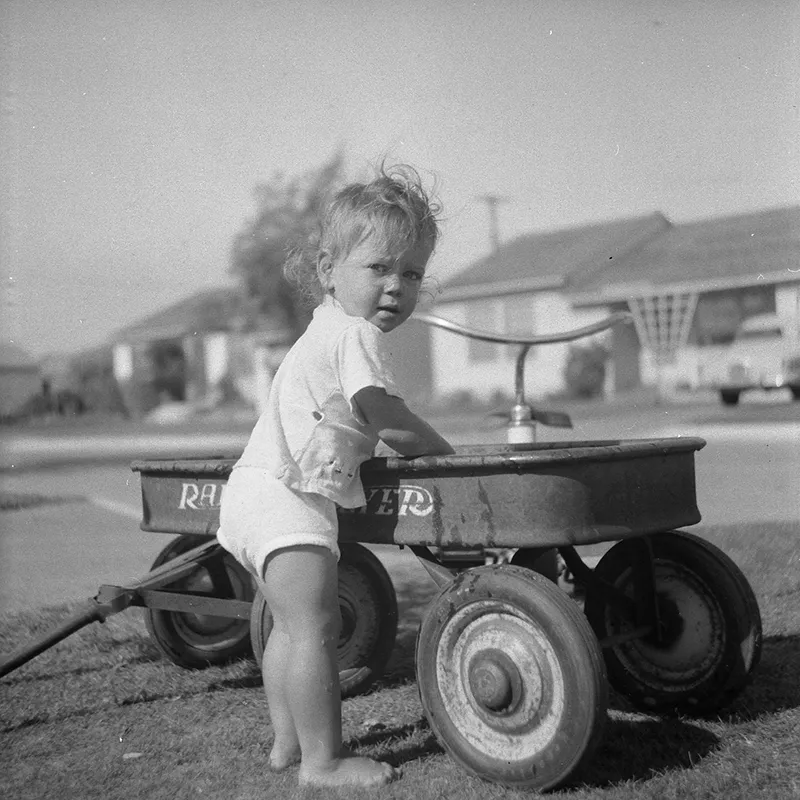 Fast forward to the 1950s, when Sputnik and "I Love Lucy" came on the scene. It was during this time, when fear of communism loomed, that the little red wagon cemented its status as an American icon. The company touted the wagon as a hardy American toy.
"Sooner or later you'll have to buy the kids a big red coaster wagon. (This probably is a factor in their growing up to be 100% pure red-blooded American)," reads a 1953 ad in the Logansport Pharos-Tribune.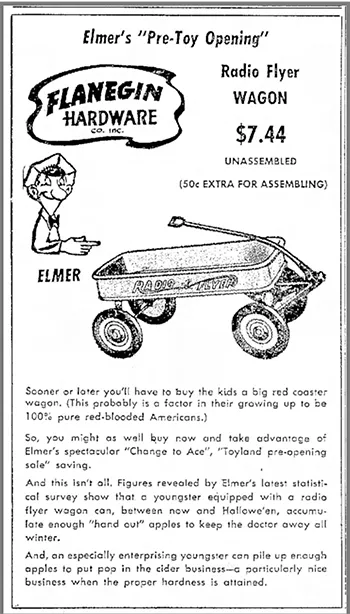 From 1942 to 1945, the company shut down its production of wagons and made five-gallon steel gas cans for the war effort. As men returned home at the end of World War II, housing was short and the 1944 G.I. bill subsidized mortgages, allowing many to flock to the suburbs. The sale of wagons surged during the subsequent baby boom, and Radio Flyer branched out into gardening wheelbarrows to meet changing demands.
But no one remains on top forever, and when Little Tykes and Step2 introduced plastic wagons in the early 1990s, Radio Flyer faltered. These flashy, cheaper wagons could take on a wider range of designs than the company's classic metal-stamped variety.
Antonio died in 1990 at age 93. When his son, Mario Pasin, passed the business down to Robert in 1997, growth was at a standstill and the company was only marginally profitable.
"As a company at the time, we weren't talking to consumers as much as we should," says Robert. "We weren't asking moms what they wanted in products." So the popularity of these plastic wagons caught them off guard.
The group began exploring ways to push their company into the 21st century. They prided themselves in the quality of the on-site stamped metal products and didn't have the means to produce other items. At the time, they didn't even have a product development team, according to Robert.
"It was a crisis situation," he says. The group had to find designers and manufacturers to create a product that could compete in an already competitive market.
The first plastic Radio Flyer was too small and foundered. The second and third similarly tanked. "Finally the fourth and fifth versions were the real winners," Robert says.
Robert's biggest challenge has been reinventing the company, which he's done by focusing exclusively on children's toys, expanding product development and moving manufacturing abroad. "But it's also been the biggest accomplishment," he says.
By 2014, the company's revenue was nearly $111 million, squeaking it onto Inc.'s 2015 list of the fastest growing private companies in America for the fourth year since 2009.
Today, Radio Flyer boasts a plethora of products, including the newly released mini Tesla for kids and a wagon customers can trick out with various sun canopies and seat cushions.
Though these flashy iterations are important for the company to keep pace with the times, nostalgia is key to the allure of the wagons. People give their kids what they fondly remember from their childhood, Cross explains. "What you remember is stuff from the time that you were six or seven years old."
And that is the perfect age for a little red wagon.