How Brains Make Money
A new breed of scientists says that if you want to understand why people make financial decisions, you need to see what's going on inside their brains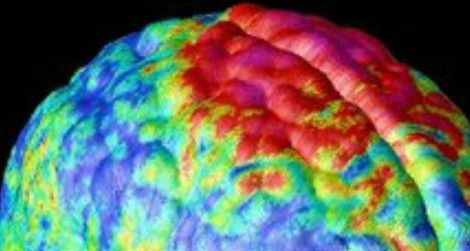 You and I would look at Wall Street and see the epitome of capitalism, a place where the marketplace, while more manic than in times past, still drives decisions.
But a group of scientists gathering today for a conference in Miami would see it differently. They would argue that if you really want to understand why investors and traders behave the way they do, you need to look inside their brains.
Meet the neuroeconomists, pioneers of sorts in an emerging field based on the notion that financial decisions have their roots in neuron connections. They're building a science around using brain scans to try to figure out what's going on when people choose to chase rewards, or conversely, avoid risk. They're also hoping this will help them understand why people make irrational choices, even when the reasoning part of their minds seems to know better.
My brain says you disgust me
Josh Fischman, writing in the Chronicle of Higher Education details some of the observations neuroeconomists have made during their brain imaging experiments. For starters, they say that when people reject what they feel is a lowball offer, a part of their brain associated with disgust, called the insula, gets active. In fact, it's more active than the part of the brain linked to reasoned calculation, suggesting that in that situation, a person's negative emotion–to make sure the cheapstake doesn't win–trumps a more rational one.
Scientists have also analyzed the brain's response when someone feels they've spent too much for something. The region of the brain called the striatum, often linked to rewards, gets particularly active when people overpay because they're afraid of losing something.
In short, based on what their brains reflected, subjects in the research seemed to be more motivated by the fear of losing than the joy of winning. And that, neuroeconomists contend, could help explain why people will hold on to losing stocks too long–they want to avoid acknowledging a loss.
Still other researchers, such as Brian Knutson at Stanford, found that investors with the greatest appetite for risk had a high level of brain activity in the same section that lights up in an animal when it finds food. These investors tended to experience boosts in their dopamine levels, usually associated with anticipating something pleasurable. And it's that kind of brain reaction, says Knutson, that can lead to risky behavior.
"By deconstructing why investors get excited, and why they do what they do" Knutson told Bloomberg's Nikhil Hutheesing. "we will be able to design tools that help people make better decisions."
Reading minds?
Not everyone's buying into this. In fact, plenty of economists are dubious about how much this approach will really teach us about financial risk and reward. Reading brain scans is hardly a precise science and skeptics say MRI images are so open to interpretation that a researcher can see what they want to see and end up drawing simplistic conclusions about something as complex as human decision-making.
Yet major organizations, such as the National Institutes of Health and the National Science Foundation, haven't been skittish about investing millions of dollars in neuroeconomics research–although their interest is skewed more toward addictive behavior and why people make bad choices when they clearly understand the benefits of avoiding them.
It may even be able to provide insight into how elderly people make decisions. Says Elisabeth Nielsen, of the National Institute on Aging:
"We're very interested in decision-making and aging. And that's not just health decisions but choices about insurance plans and how to manage your retirement savings. Are changes in choices related to the underlying neuorophysiology? Or is it the environment? You won't know unless you get input from different sciences and that's what neuroeconomics brings to us."
Why, brain, why?
Here's other recent research on how our brain affects our behavior:
Video bonus: Enough with the ants. Neuroscientist Adam Kepecs explains what rats can teach us about confidence.
More from Smithsonian.com
Brain Science: 10 New Studies That Get Inside Your Head