How the Zamboni Revolutionized Fun on the Ice
The story behind the most efficient—and intriguing—piece of hardware in all of sports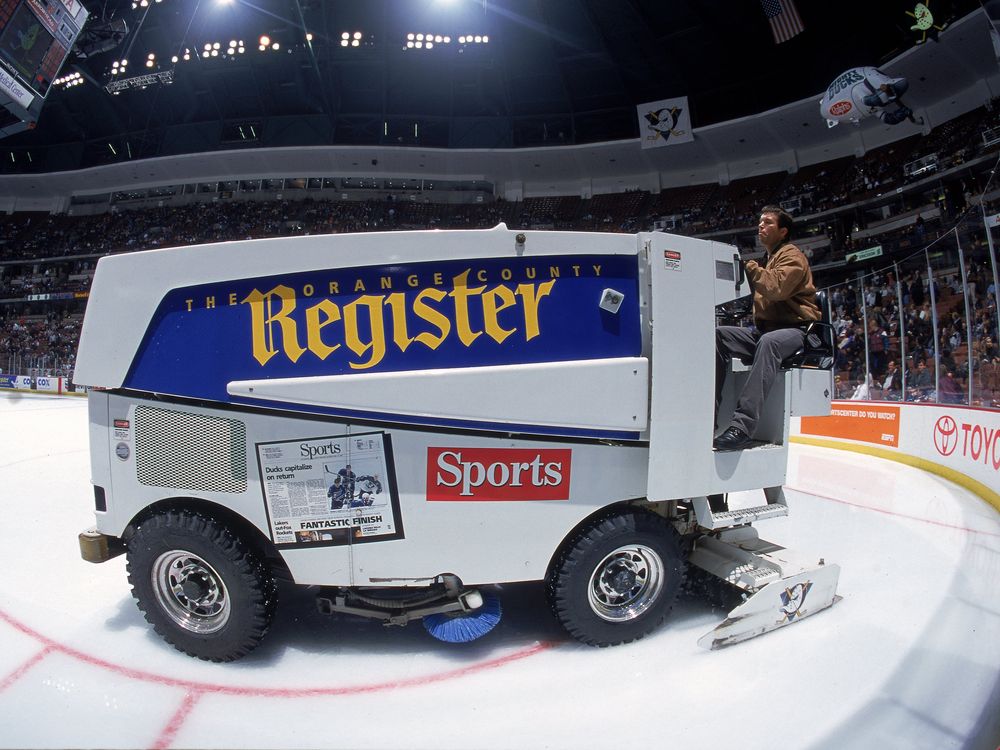 It's a lumbering presence before it comes to life—but once it does, it's the most beloved piece of maintenance equipment on earth.
The Zamboni was the brainchild of Frank Joseph Zamboni, born in 1901 to Italian immigrant parents in Utah and raised in Idaho. At 15, Frank was pulled from school to help on the farm, kick-starting his career as a machinist: Frank kept the tractors and balers in tune and worked as a mechanic at a local garage.
"Growing up around farm equipment," says Richard Zamboni, 91, Frank's son and the president of Zamboni Company USA, "[Dad] had to figure out how to keep things running."
The Zamboni family left farming in 1920 and relocated to Hynes, California, south of Los Angeles. George, the oldest sibling, opened an auto repair shop and employed his brothers as mechanics. They pooled their savings in 1921 to send Frank to a one-year electrical engineering program in Chicago. Upon Frank's return, he and his brother Lawrence started an electrical component and servicing business. Drawing from their farming background, they also found success drilling wells and installing water pumps for local dairies.
That's when the Zamboni family got into ice. In the 1920s, agricultural products shipped by rail and relied on massive ice blocks for refrigeration. Producing those 300-pound slabs was an industrial enterprise, and in 1927, Frank and Lawrence built an ice-making plant to service the local agricultural industry.
By the mid-1930s, however, electric refrigerators were entering American homes, and commercial refrigeration entered rail cars. Frank and Lawrence sold their ice-making plant in 1939 but stripped the refrigeration equipment from it so they could open a skating rink across the street.
Iceland Skating Rink opened on January 3, 1940, at the height of World War II. It was an instant hit. "People were looking for a happy distraction, and ice skating was very popular at the time," Richard says.
The skating business was profitable but tricky. Rink ice was only three-quarters of an inch thick and easily damaged. At Iceland, resurfacing was labor-intensive, involving manual tools like planers, hoses and squeegees. Richard Zamboni remembers the effort from his boyhood; he says that each resurfacing took five people around an hour and a half to complete—"and when they finished, you had five employees standing around with nothing to do until the next resurfacing."
Realizing that time was money, Frank Zamboni began designing a self-propelled resurfacing machine. In 1942, he bought a farm tractor and experimented with modifications, testing them at the rink whenever he had the chance. In 1949, after multiple prototypes, Frank took to the ice with his Zamboni Model A and resurfaced his 20,000-square-foot rink in ten minutes. In the world of ice sports, it was a maiden voyage on par with that of the Wright Brothers at Kitty Hawk.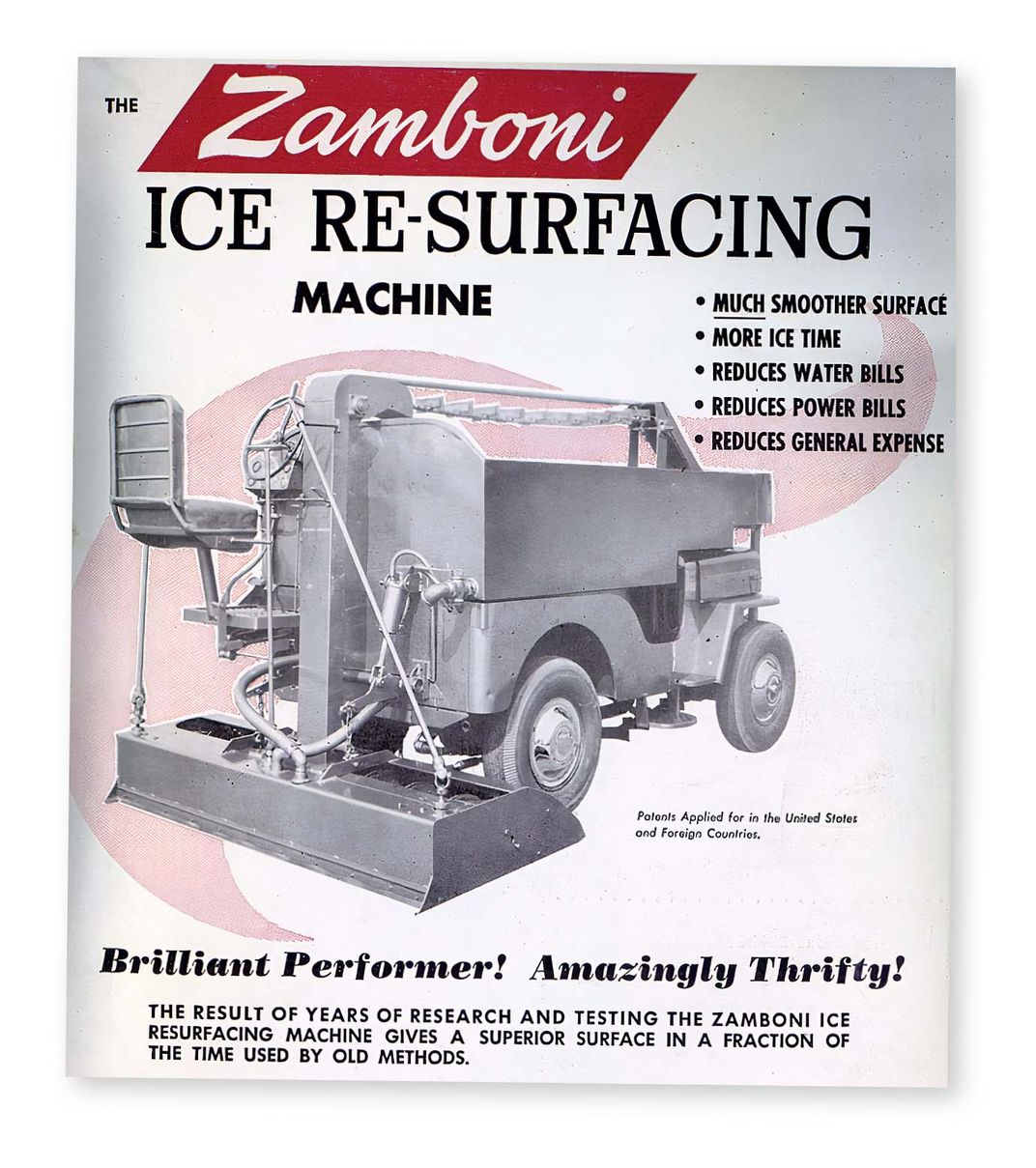 The basic principles of a Zamboni have remained unchanged. A conditioner, mounted behind the rear wheels, contains a blade that shaves the ice, an auger that collects those shavings, a vacuum that sucks up dirty water, and sprayers that lay down a fresh coat of water, filling the cracks. Behind all that is a squeegee. In a single pass, the machine can complete what was once a five-person process.
In 1954, the Boston Bruins became the first NHL team to purchase a Zamboni, and by 1957, the NCAA had determined that all new rinks would accommodate the machine. In 1960, Zambonis made their first appearance at the Winter Olympics. Of the six machines to debut there, two were custom-built electric models. The company's first production electric model came in 1978.
"The electric machines are, without a doubt, the future of the industry," says Mike Zamboni, Frank's great-grandson and a manager at the company. Zamboni now produces more electric machines than internal combustion.
The Iceland Skating Rink remained in family hands until 2022. It's now known as L.A. Kings Iceland, a practice facility for the NHL franchise—though public skates, lessons and birthday parties are still on offer. Frank's original Model A, fully restored, is kept on permanent display.
To date, more than 13,000 Zamboni machines have been sold around the world. Prices range from $100,000 to $200,000, depending on bells and whistles. All are hand-built to order in one of the company's three manufacturing facilities: in Paramount, California (the original); Brantford, Ontario (the birthplace of Wayne Gretzky and the densest arena market in the world); and Osterfarnebo, Sweden.
Though Frank Zamboni went on to invent other things—a milk tank and pasteurizer, an artificial turf roller, a track cleaner for NASCAR—it's his ice refinisher that ensures his immortality. He is enshrined in five sporting halls of fame, including U.S. Hockey, World Figure Skating and U.S. Speedskating. Not bad for someone who didn't even like to skate.
Why does the Zamboni retain such a fascination for kids of all ages? Because it's an elephant ballerina. It's a tank that shoots rainbows. It's that goofy uncle at a wedding who's a terrific dancer. The Zamboni looks like it should be towing a payload of rubble. It seems made for smashing.
Instead, it glides on tiptoes. It arrives not to batter and crush but to make flawless that which is battered and crushed. It enters from the wings. In its path: ruin. Tailing behind it: perfection. It has the looks, shambling grace and timing of a great comedic actor. Leave them wanting more, the machine seems to know. Scene stolen, the Zamboni exits the way it came, leaving the feature act to lament, "I've got to follow that!?"