A Harvard Student's App Could Bring 911 Into the Future
With just one click, RapidSOS sends GPS and medical information to emergency dispatchers
Charles Martin was clearing snow off his roof when he fell off a ladder outside his rural Indiana home, shattering his femur and his wrist. He had his cell phone with him, but because service was spotty he couldn't get through to 911. He lay in the driveway for two hours, freezing and in pain, before his wife, Susan, came home and called 911 from their landline.
After seeing the 911 system fail his family, and his dad nearly freeze to death, Michael Martin made it his goal to modernize the outdated emergency response system, and to make sure that 911 calls were traceable from a cell phone and would never fail or drop, even with weak service.
The 911 system was developed in the late 1960s, when the Federal Communications Commission and AT&T designated the number to route to the nearest emergency dispatch center through telecom. It pegged the call to the landline it came from so the dispatcher would have a reference point. But this has become a problem now that 70 percent of 911 calls come from cell phones; almost all of the calls have no location data. "The system was never designed for mobile calls, which means that there are millions of calls that can't be managed," Martin says. "When you call from your cell phone, the 911 dispatcher can't tell where you're calling from."
Martin, who has a background in startups and venture capital funding at places like Braemar Energy Ventures, and is finishing up business school at Harvard, has come up with a solution. He is bringing 911 into the 21st century with an app called RapidSOS, which will be widely available starting this fall.
After his dad's fall, Martin met Nick Horelik, an MIT nuclear engineer who had worked at a suicide prevention hotline, at a party. Horelik had seen similar, heartbreaking fails in the 911 system, so when Martin started talking about his idea he jumped on board. "I finally found someone who could make the vision a reality," Martin says. "Nick's specialty is developing code to simulate and run nuclear reactors, basically code that can't fail."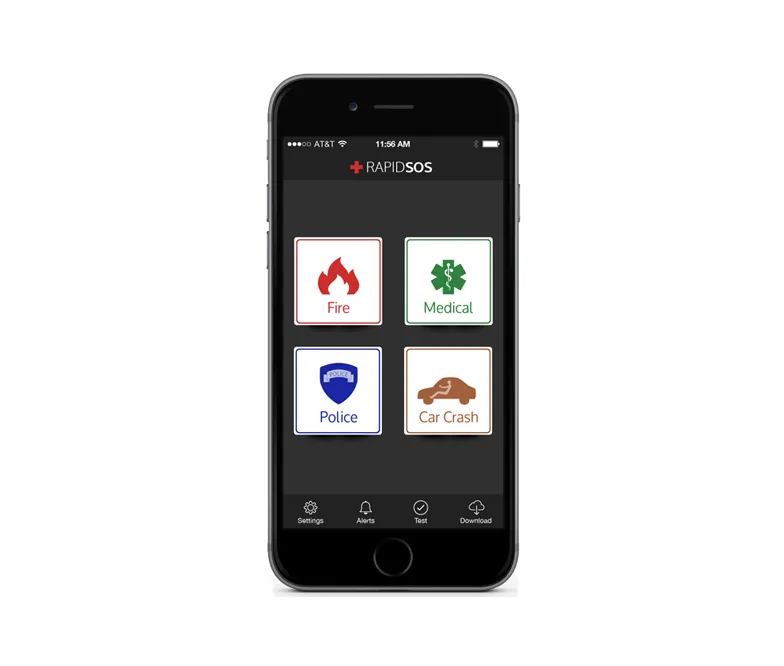 A fail-proof product was exactly what was needed. Martin and Horelik pulled in people from the telecom and emergency medicine worlds to figure out a way to re-route the system. They built an app that virtualizes a landline call exactly where you're standing and then updates your location if you move. You hit one of four buttons within the app, which alerts EMS to the specific type of emergency you're having: medical, police, fire or a car accident. You can also set it up to contact your family or loved one, too. It sends GPS and medical information to 911 dispatchers, so even if you can't talk, they know where you are once you've hit the button. It works within the bounds of the current EMS systems in the country, which means that no one on the dispatch side has to disrupt their program or retrain their staff.
Martin says the EMS community was happy to work with his team because they'd been facing the same frustrating situations from the other side. Medical professionals, including Christy Williams, the chief 911 program officer for the North Central Texas Council of Governments, came on board to support and test the app. When he started talking to police and fire departments, and 911 dispatchers, he heard horror stories of hikers with broken legs dragging themselves down dirt roads because they didn't know how far they were from town and dispatchers listening for an hour after a woman tossed her phone under the couch while her husband beat her.
But rectifying those issues wasn't as simple as sending out GPS coordinates. Because the current 911 system is so rooted in dated technology, it was harder than they through to hack it. "We thought it would be like Uber for ambulances, but it's not that easy," Martin says. For instance, not every dispatch has Internet access, so the system couldn't be web based, and they wanted it to work even when phone batteries were low.
Since last fall, the RapidSOS team has tested different versions with 25 EMS partners, making sure the app works in tunnels and parking garages, or anywhere that GPS signals or Wi-Fi might be weak. "This is a product that fundamentally can never fail, so we wanted to test it everywhere," Martin says.
In April, the team won $120,000 in funding from two Harvard contests for entrepreneurs. They won the Business School's New Venture Competition, and 24 hours later they took home grand prize at Harvard Innovation Lab's President's Challenge. "The President's Challenge encouraged students from across Harvard to apply their knowledge and come up with creative solutions to the world's most pressing problems," wrote Harvard Innovation Lab director Jodi Goldstein in an email. "RapidSOS has a strong value proposition with a great, simple business idea that solves a clear problem. It's disruptive with large-scale impact resulting in a completely new system spanning industries and borders."
Based off that support, and a successful Kickstarter campaign that raised just over $60,000, RapidSOS is running a pilot program with 44 dispatch centers in Texas starting June 1. Then they'll have a full commercial rollout at the end of the summer. You currently need to download the app to connect to the system, but Martin says that eventually they'd like to have it come native with any operating system.
"We're really confidant the product works, now we're working on the user experience," he says. "We want to make sure that the app itself isn't too difficult in a panic situation."