Is Fungus the Material of the Future?
Scientists in the Netherlands have found a way to make slippers and other household objects using fungi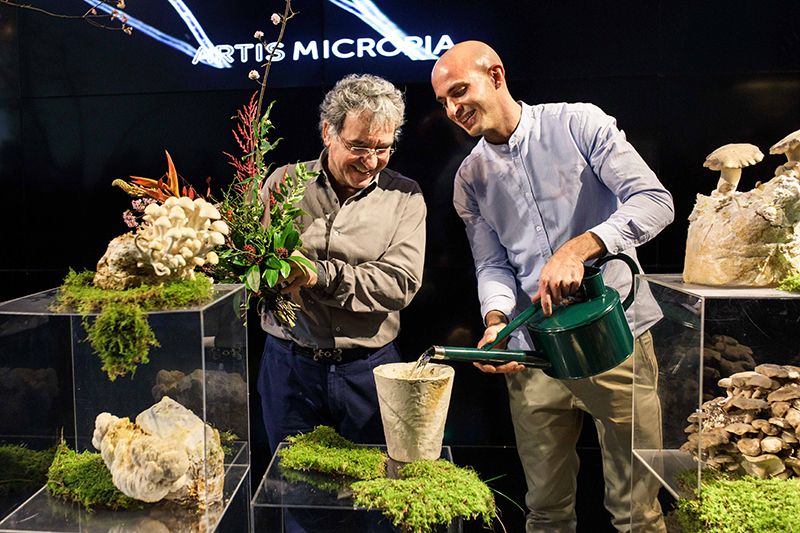 Fungus and slippers are two words that most people don't want to read in the same sentence. However, scientists in the Netherlands are one step closer to changing people's perceptions by creating everyday objects like chairs, lampshades and slippers using fungi—specifically oyster mushrooms (pleurotus ostreatus).
Not only are fungi readily available in nature, but they're also sustainable and have the potential to replace less environmentally friendly materials, such as plastic. Which begs the question: Is fungus the material of the future?
This is exactly what designer Maurizio Montalti asked himself during his studies at the Design Academy Eindhoven in the Netherlands. For his 2010 thesis, Montalti wanted to find a new approach to human burials, so he began studying the degradation of human remains and what happened when he introduced fungi as a facilitating agent for decomposition. Soon he began employing his approach to manmade materials.
"It became apparent that fungi are the great recyclers of the natural world," says Montalti. "As a student, I started cultivating an interest in a new way of producing materials that no longer relied on the exploitation of certain resources."
Realizing fungi's hidden potential, but not having a background in biology, he contacted Han Wösten, a professor of microbiology at Utrecht University in the Netherlands. In the years since, they have developed a method of growing fungi in a controlled environment that makes it a sustainable alternative to materials like plastic, rubber, wood and leather.
In February, they showcased their findings to the public as part of an ongoing permanent exhibition at Micropia in Amsterdam, the world's only museum dedicated to microbes. Called "A Fungal Future," the exhibit includes an array of everyday objects they've created, including vases, chairs, lampshades and slippers. By allowing visitors to interact with each piece by picking it up and discovering that it's both firm and light, their hope is that people will walk away with a better understanding of fungi's potential as a sustainable material.  
"Many people still have negative ideas about fungus, and that's the whole educational part of this project we want to tackle," Montalti says. "I think as a society we really detached ourselves from the acceptance [of fungus] because of the whole cleaning mania that developed in the 20th century, which brought good gains, but also caused us to live aseptic lives and regard fungus as something dangerous."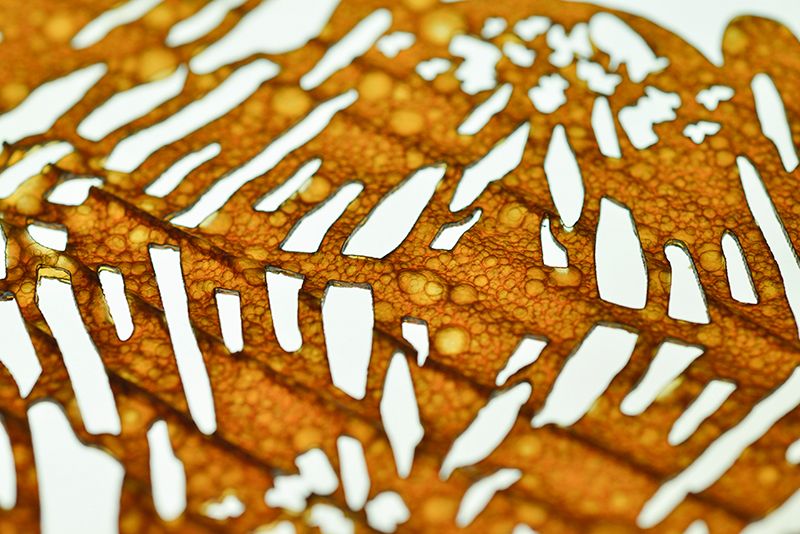 In actuality, Montalti and Wösten have found fungi to be the exact opposite, and have found a way to take fungi's mycelium, the vegetative network of long branching filaments (hyphae) that is invisible to the naked eye, and nurture it in a controlled environment where it can be formed into specific objects using molds.
According to the museum, mycelium (plural: mycelia) is an important part of the ecosystem, since it breaks down organic material along with toxic substances, such as pesticides, and also filters water. (Interestingly, the largest known single living organism in the world is a "humongous fungus" living in eastern Oregon's Blue Mountains, stretching approximately four square miles.)
"We can make pure mycelium [in the laboratory] by taking fungus and letting it degrade straw, sawdust, [or other agrarian waste], resulting in mycelium with a measured strength similar to [the synthetic plastic polymer] PVC, while another strain has the strength of polyethylene, which is used to make plastic bags," Wösten says. "At the same time, it glues the sawdust or straw particles of the substrate together."
Once enough mycelia have formed, Montalti and Wösten take the mass and put it into a plastic mold, which retains humidity and forces it to take on a specific shape.
"At this point, I'm no longer the designer," Montalti says. "Rather I'm a choreographer orchestrating and guiding the fungus."
The pair often uses oyster mushrooms in their work, something one would expect to find in the produce aisle of a supermarket more so than a laboratory. Not only do oyster mushrooms thrive on dead plant materials, but they're also nontoxic, unlike other mushrooms. 
Once the fungi have filled out the mold—a process that typically takes several weeks, depending on the size of the mold—the formed object is fired in an oven, which kills the fungi and prevents further growth. "Most people don't want a living fungus in their homes," Wösten jokes.
Montalti first learned about mycelium after attending a workshop led by Eben Bayer, co-founder and CEO of Ecovative, a company in Albany, New York, that develops and produces sustainable packaging and building materials using mycelium. (Ecovative's clients include Dell computers and Gunlocke, an office furniture manufacturer.) Bayer began working with mycelium as part of a school project in college to find a replacement for the toxic adhesive used in building manufacturing. In 2006, he and his business partner, Gavin McIntyre, applied for a patent and eventually began commercializing their product. In the time since, they've introduced dozens of designers and artists around the world to mycelium and its potential as a sustainable material, even going so far as marketing GIY (grow-it-yourself) kits that consumers can use at home.
"There are about 30 or 40 different designers and artists around the world who are doing projects with mycelium," Bayer says. "It's really exciting and now we're trying to figure out how to best support them because we think mycelium can really help the world."
One aspect that Montalti and Wösten are currently grappling with is the longevity of their products. Due to fungi's natural qualities, the objects aren't meant to last forever, a reality that the pair is in the process of trying to resolve. As an example, Montalti points to some of his earliest creations from 2012 that include bowls and vases. These initial objects remain in his studio and are "still fully solid and unchanged."
"At this stage, [mycelium] is still an experimental material and by definition it is susceptible to degradation," Montalti says. "It's good to consider that all objects and applications realized so far are fully natural and therefore degradable by definition. This doesn't mean that such items or artworks are subjected to quick decay, unless the conditions for such degradation to occur are created [such as a change in humidity or temperature]. What we're really working out is improving the mechanical properties of the materials, because that will be the turning point. I personally can't imagine owning a shoe that only lasts a few months; a shoe should last a few years if not more."  
Currently the pair is experimenting with different finishes by using various coating systems that are applied to objects near the end of production, while also examining what humidity and temperature levels spur degradation. In addition to household products, they're focusing on producing architectural materials using their developed method, such as panels, ceilings and flooring. 
"For the future, our aim is that, 20 years from now, you can buy anything you need for a construction project using fungus," Wösten says. "So [materials made of fungus] would replace things like plastic, stones and bricks. This way if you're going to remodel again, you can easily reuse these materials by breaking them into smaller pieces, reintroducing fungus, molding it, and then selling it again as a new product."
Perhaps fungus really is the material of the future.