Christopher Gray's Scholly App Is Bringing Millions of Dollars to College Students in Need
The entrepreneur's new digital platform has helped applicants land $50 million in scholarships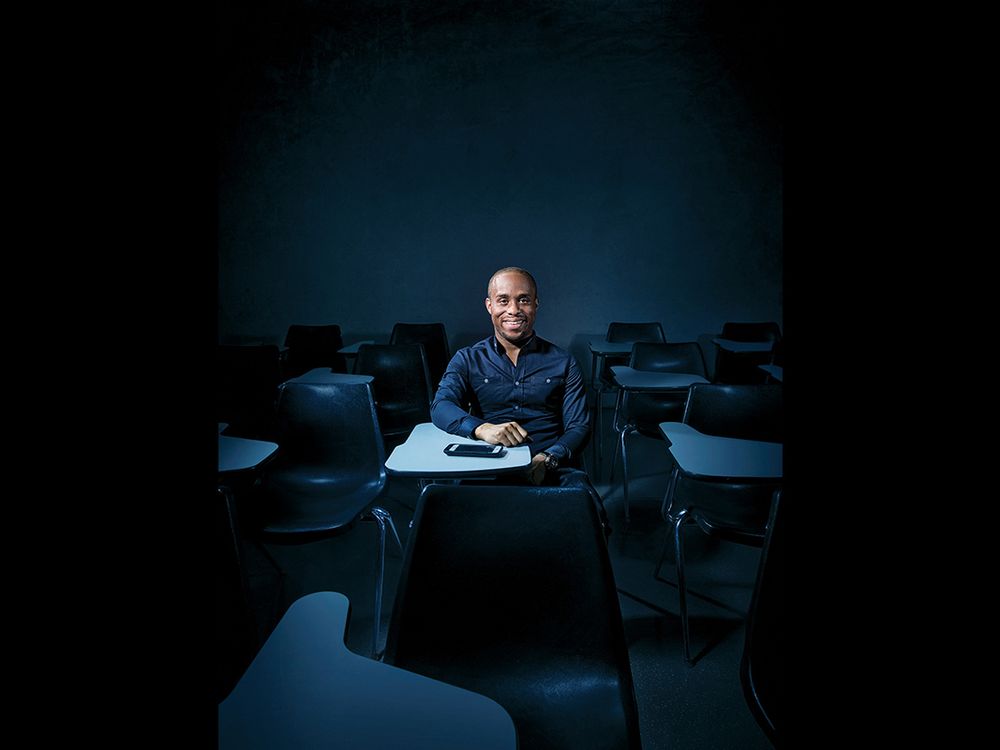 As an 8-year-old in Birmingham, Alabama, Christopher Gray was an avid fan of Batman, the comic-book champion born without special powers who invented his own superhero-training regimen. "He had a moment where everything fell apart," Gray says. "He lost his family, lost everything. He had to overcome that, overcome those fears, by using everyday things around him."
The eldest of three siblings raised by a single mother, Gray was no stranger to struggle. But, he recalls, he always found his role models through reading—"I was," he admits, "extremely nerdy." "Milton's Paradise Lost," he recalls, "didn't so much focus me on religion as force me to think outside the box, to ask questions." His wildly eclectic reading list ranged from The 7 Habits of Highly Effective Teens and Snowball, the biography of Warren Buffett, to Malcolm Gladwell's Outliers, the quirky primer on achievement. "That one really helped me identify my potential."
As he neared high-school graduation, Gray realized he faced daunting odds. His mother had just lost her job at a call center in the 2008 recession. No one in his family had ever gone to college. 
The internet, he hoped, would quickly yield sources of funding for an outstanding student from Ramsay High School—a highly regarded magnet with a 95 percent graduation rate. Gray's quest, beginning in his junior year, stretched on for seven frustrating months. "The process was stressful," he remembers. With no computer at home, Gray headed to the public library, where he waited an hour or more for 30-minute access to a handful of desktops. 
It all paid off. He recalls vividly the instant he was notified about his first grant: a Horatio Alger scholarship for $20,000. "I stepped out of class to take the call. I ran back in and gave my teacher a big hug. That was the moment college became a reality for me." 
Gray landed a whopping $1.3 million in scholarships. He chose Drexel University in Philadelphia, where he majored in business administration. ("I'm covered until my PhD," he says.) 
Many—perhaps most—teenagers would have collected their degrees and moved on. But Gray recognized a systemic crisis. Each year, he learned, some $100 million in scholarships go unclaimed. "You have students drowning in debt and scholarships that go unawarded. The system is broken." 
At Drexel, students began asking Gray for assistance in finding grants to help them stay in school. The idea for the app he dubbed Scholly was born: "I realized there was a big market." 
Gray's big break came in November 2015, when he talked his way onto ABC's "Shark Tank," where aspiring entrepreneurs try to convince a panel of financiers to back their business. Gray secured $40,000 in capital. Within hours after the episode aired, the Scholly site was bombarded with requests, 80,000 in a few hours. Since then, 850,000 users have downloaded the app—and it has connected students with $50 million in scholarships. 
Today, Gray, who is 25, works out of offices in Philadelphia. Even given the demands of heading a start-up, he makes time for yoga and running. And, he says, "I still read comics. Batman, Iron Man. I like heroes who are strong leaders and intellectuals as well." 
Scholly's success, Gray says, is based on its patent-pending algorithm and "a lot of elbow grease." Scholly employs eight parameters to match student and scholarship: information including gender, state and race, but also more customized data because so many grants are specialized. "For returning students, vegetarians, left-handed students," he quips.
Even the algorithm, he says, cannot distinguish scams: Staffers weed out scholarships that could be yours if only you supply a Social Security number. Graduate students—the "Scholly Squad"—do the sifting. "They're the quality assurance people." 
Karen Starks, on the faculty at the School of Social Work at the University of Alabama—who mentored Gray during high school—also volunteers at South Gwinnett High School in Georgia. Out of her own pocket, she recently purchased the Scholly app for all 600 seniors in the school. When she observed students logging in to the app for the first time, she says, "You should have seen their faces when they started seeing that they qualified for 20, 30, 40 scholarships—some students got over 150 hits right off." Scholly, she says, is "changing what students think that they can achieve. They have proof that says: There may be help out there; I can reach that goal."
Edmund Ford, a high-school math teacher and a city councilman in Memphis, Tennessee, learned about Gray when he tuned in to "Shark Tank." "I wanted Memphis to be the first city in the nation to have Scholly for its school system," he says. Ford organized a successful citywide fund-raising drive. Now, he says, "Every senior has the opportunity to download that app."
Gray has met with Bill Gates, been honored by Oprah Winfrey and invited twice to the White House. And Steve Case, the AOL co-founder, has awarded a $100,000 competitive grant to Scholly. "The most important thing for Chris," he says, "is to help young people dealing with the issues he faced."
Gray plans to build out the app to help students not only locate grants, but also apply for them. He has teamed up with actor Jesse Williams, the "Grey's Anatomy" star, who had also seen the "Shark Tank" pitch. "Scholly was born out of Gray being a poor kid trying to figure out how to give himself a chance at having a chance," says Williams, a former high-school teacher who now serves as Scholly's brand ambassador.
Not long after Gray's app launched, Courtney Howard, then a sophomore at Howard University, in Washington, D.C. needed aid to remain in school. She invested in Scholly. (The one-time fee is now $2.99.) Howard secured a grant for sophomores majoring in communications. "Scholly worked for me," she says. "Twenty family members attended my graduation. I'm a believer."