England Is Going to Test Roads That Actually Charge Electric Cars
Highways of the future may have special lanes that recharge the batteries of electric cars as they go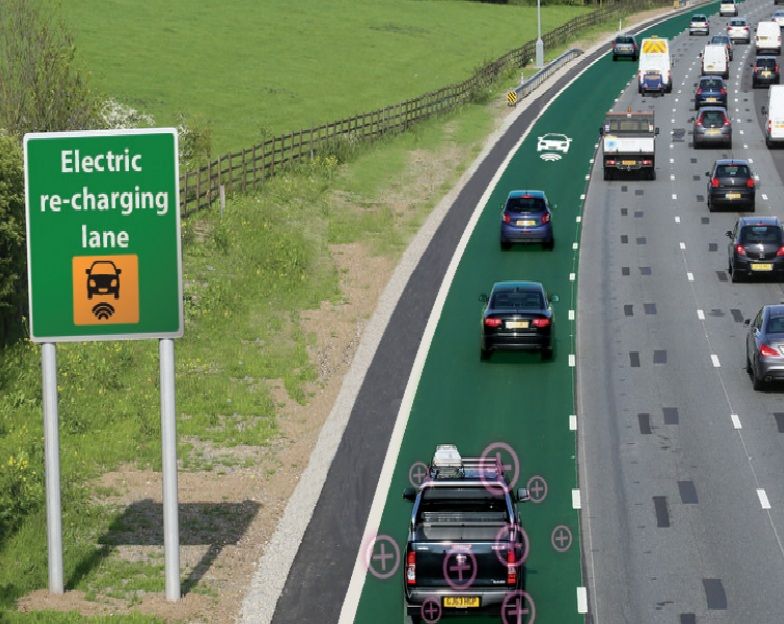 Nothing scares drivers of electric cars more than the thought of running out of charge in the middle of nowhere. There's even a term for this fear: "range anxiety."
To quell range anxiety, and hopefully encourage more drivers to choose electric vehicles, England is testing an under-road charging system that would recharge batteries while cars drive.
"The potential to recharge low emission vehicles on the move offers exciting possibilities," said Transport Minister Andrew Jones in an official statement. "The government is already committing £500 million over the next five years to keep Britain at the forefront of this technology."
Trials, slated to begin later this year, will involve installing charging systems underneath mock roads designed to replicate real highway conditions. In these "dynamic charging" systems, coils are buried beneath the asphalt of special charging lanes, offering contactless charging to vehicles fitted with charging "receivers." 
"The technology would allow drivers of ultra-low emission vehicles to travel long distances without needing to stop and charge the car's battery," says Daniel Wood of Highways England, the governmental agency overseeing highway building and improvement in England. The location of the test roads and other details about the charging systems are not yet known, as Highways England has not yet decided on a contractor to work with, Wood says. 
By British standards, an ultra-low emission vehicle is one that produces 75 grams or less of carbon dioxide per kilometer from its tailpipe. This can include 100 percent electric cars, such as the Nissan Leaf; plug-in hybrids that can operate for long distances using only electric power, like the Toyota Prius Plug-In Hybrid; and extended-range electric vehicles that can go further on a single charge, such as the BMW i3.
The trials are expected to last 18 months. If they are successful, Highways England will begin on-road trials.
"Timings very much depend on the results of the trials, so it's not possible to say when we would expect the technology to be in use on our roads," Wood says.
Dynamic charging systems have already been tried in several parts of the world. In Gumi, South Korea, a 7.5-mile bus route offers on-the-go charging to electric buses. The route has been successful—the buses don't need to stop for plug-in charging—but some experts say the system is still likely more expensive than alternatives, such as charging buses via overhead wires. Volvo plans to build a 300- to 500-meter test road in the city of Gothenburg later this year. Plans to experiment with similar technologies in the U.S. have petered out for financial reasons. The English tests should go some way towards determining whether such plans are feasible, financially, on a large scale. 
But as the number of electric vehicles on the road continues to skyrocket—even though few electric cars have ranges greater than 100 miles—there will be serious financial incentives to make dynamic charging technology work. In the UK, more than 9,000 ultra-low emission vehicles were registered in the first quarter of 2015, a rise of 366 percent from the year before. Just three years earlier, in 2012, there were only about 1,000 such vehicles registered. The British government officially encourages consumers to opt for electric cars, co-sponsoring an advertising campaign called "Go Ultra Low" along with various industry players. The U.S. is a far bigger market, with nearly 84,000 electric vehicles sold between January and November of 2014, an increase of 26 percent over the previous year.
New software also stands to calm range anxiety. Earlier this year, Tesla founder Elon Musk announced a software update to the company's Model S that would give drivers real-time updates on how far they could drive before going out of range, taking factors like wind and rough terrain into account. It would also alert drivers before they went "out of range"—too far past a charging station without being close enough to an upcoming one.
Software like this could work in combination with electric roads, giving drivers more options for charging besides just pulling over and plugging in. So maybe the end of range anxiety is near.