Doctors Can Study 3D Printed Models of Your Organs Before Surgery
In a new era of personalized medicine, advanced models are better preparing surgeons for what they will encounter in the operating room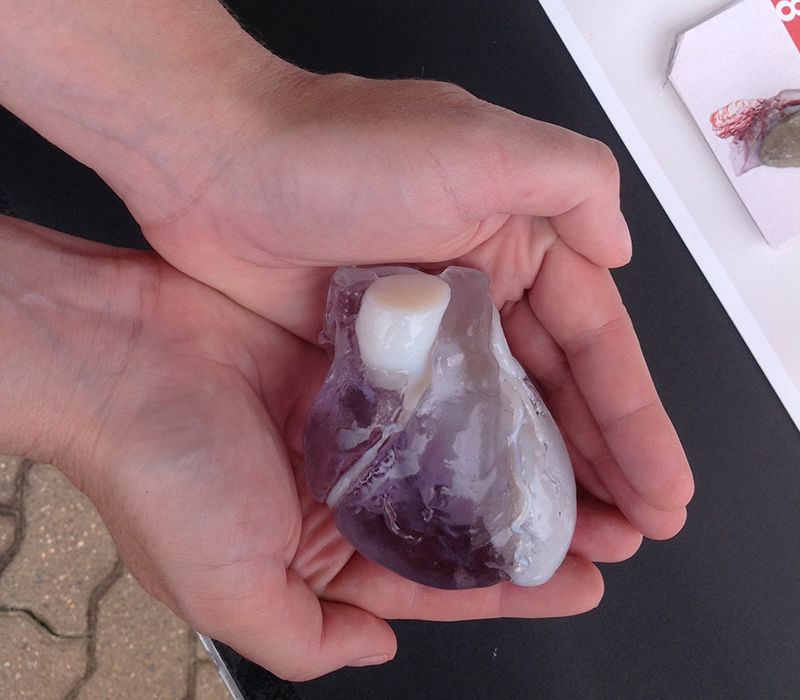 Beth Ripley ran down the hallway toward the cardiologist with a fresh heart in her hands.
Showing it to him, he took it and began to turn it over, inspecting and probing it. The cardiologist recognized immediately that months of planning had to be cast aside. Back to the drawing board.
The heart in question was a full-sized 3D model of the patient's actual ticker, hot off the presses at Brigham and Women's Hospital in Boston, Massachusetts. Ripley, a radiologist, along with attending radiologist Mike Steigner, had created the model for the cardiology team after digital models had proved ineffective for visualizing the surgical approach. Once the cardiologist got his hands on a mockup based on the data from the CT scans, the problem was clear as day.
Just by looking at the model, he realized that the approach to the procedure would probably have to change from a minimally invasive catheterization to a full-blown open heart surgery. In effect, his team had dodged a potential complication that was unforeseeable without the physical model.
Ripley and Tatiana Kelil, another Brigham and Women's radiologist, are part of a new effort called 3D Print For Health, started only five months ago. It's a labor of love, conducted in their spare time in an effort to stimulate discussions within the biomedical 3D printing community. They are also working with multiple surgeons and radiologists at Brigham and Women's Hospital, studying how detailed 3D models of patients' real anatomies can help reduce complications from surgery and treatment, and also improve patients' ability to be their own best advocates.
"We wanted to build a place for patients and researchers to share ideas about how we can best use 3D printing in medicine," Ripley says. "In the hands of the right people, it can be an extremely powerful tool." 
The team is motivated by their patients, and the desire to make a real difference for them. Sometimes that means helping the patient better understand their disease or pathology; sometimes it's helping a surgeon develop a tightly choreographed play-by-play for an upcoming procedure.
"We asked surgeons what kept them up at night," Kelil says. "Did they need help visualizing a patient's anatomy, or communicating a procedure to a patient? We don't want to print a model just because it's printable—it has to have utility."
Brigham and Women's isn't the first medical institution to use 3D printing in this way. Medical supply companies are using 3D printed anatomical models to design better prototypes of devices, including heart valves and prosthetics; the National Institutes of Health maintains a print exchange where models are freely available for download. What makes the Brigham and Women's Hospital efforts different is that they're designing and running studies of how pre-procedure printed models make a difference in reducing surgery time and complications.
The team is focusing on two procedures in conjunction with other physicians at Brigham and Women's Hospital—a minimally invasive aortic valve replacement and a robotic-assisted kidney tumor resection where every second counts after the vessels are clamped. Having a 3D model of a patient's aorta prior to surgery allows doctors to choose a valve that fits exactly; for a kidney, the model gives surgeons better visualization of tumor location, minimizing tissue damage from reduced blood flow to the organ during surgery.
"With minimally invasive valve replacement, interventionalists don't get to open your chest and physically measure the valve to make sure it fits," Ripley says. "Currently, the only way to measure that is with a 2D image, but even with the best images it's not always easy."
Working closely with James Weaver and Ahmed Hosny, experts in high-resolution 3D printing at Harvard University's Wyss Institute for Biologically Inspired Engineering, the team is investigating how accurately the digital data translates into physical models, as well as how to make the best use of existing scans to reduce patients' exposure to unnecessary additional radiation.
Dentists have been doing it for years. When you lose the crown of a tooth, they fabricate a replacement; anything less than a perfect fit can damage the surrounding teeth and underlying bone. With 3D printing, the team sees personalized medicine taking off in the mainstream.
"We're really interested in creating patient-specific treatments," Hosny says. "We want to create the most appropriate solution for you, and ideally that means taking measurements, sending them off to a medical device manufacturer and getting back something that's an exact fit for each patient."
And, the group thinks that medical 3D models have applications in common ailments, not just for rare or complicated procedures. 
They've created an array of models showing effects of the "Top 10 Killers" to demonstrate how 3D printing would be useful for approaching cardiovascular disease, cancer, COPD, trauma, stroke, Alzheimer's, diabetes, pneumonia and flu, kidney disease and suicide. At the recent National Maker Faire in Washington, D.C., attendees milled around the display table, picking up brains and feet and hearts, while Ripley, Kelil, Hosny and Weaver took turns explaining the process of producing models and their potential benefits for healthcare.
The team hopes their efforts will lead to patient-specific treatment. As a case in point, they refer to Steven Keating, a researcher at MIT, who in 2014 was diagnosed with a large brain tumor. Keating was active in working with Weaver and Hosny to visualize the tumor in 3D, while his surgeon, Ennio Chiocca, asked them to print a specially textured replica.
The 3D models were incredibly helpful in helping Keating to better understand the scope of the tumor and provided powerful visual aids for communicating his diagnosis to his family, friends and fellow scientists. His experience has also helped raise awareness within the general public as to the educational power of biomedical 3D printing.
Ideally, the group envisions a patient being able to take scan data to a doctor and have a model made of that organ or tissue—for any procedure. At the moment, most insurance plans don't cover the cost of producing models, but Kelil says if we continue to prove its utilities in diagnosis, treatment, and cost reduction, that might change in the near future. The heart Ripley produced cost about $200 in materials and labor.
At a minimum, if a patient is interested in obtaining a 3D printed model, they should ask for the digital images right away, Ripley advises. Those images may come in handy down the road.
"Patients should have access to their own data," Kelil says. "It's their own anatomy."
Joseph Madsen, associate professor of neurosurgery at Harvard Medical School and the director of the epilepsy surgery program at Boston Children's Hospital, also recently took advantage of a physical model of a patient's brain he would operate on. He was able to do a dry run of the surgery, which was a complicated follow-up procedure, on the model.
"We're not quite there yet for routine use in surgery, but we have to keep working on it every day," Madsen says. He thinks it will take some time for the practice to mature.
Madsen has a special understanding of the 3D modeling world: As a high schooler, his very first lab advisor was a computer science graduate student in Utah who was experimenting with computer animation. At the time, in the early 70s, this was a profound new use of computing power, in a time when computers were still slow behemoths. Nearly two decades later, Madsen's advisor, Ed Catmull, co-founded Pixar Animation Studios.
"Ed had the vision of 3D objects that could be used in entertainment, and it still took 20 years between that and the production of Toy Story," Madsen says. "What's important is the vision for how the application [of 3D printing] is going to be made. It's what you do with it, how you manipulate it. I'm very much in favor of the extension of the technology, but it'll require a lot of really thoughtful evaluation and utility from surgeons."