A Detroit Startup Is Trying to Shake Up the City's Housing Market
Two real estate developers are giving longtime residents a stake in their neighborhood's revitalization
In Detroit, many of the brick mansions built in the boom days of the auto industry have fallen into neglect and disrepair. Even just a few blocks from the construction site for the new Red Wings stadium, houses are gutted and crumbling. But in those rundown historic homes, Andrew Colom and David Alade, two college friends with an interest in urban planning and social justice, saw an opportunity.
Alade who was working on Wall Street had seen renters priced out of the neighborhood where he grew up in Jamaica, Queens. Colom, who has worked in real estate in Mississippi, thought that more equitable urban development could be a way to revitalize communities. Two years ago, the two Columbia University graduates decided that they would renovate houses, turn them into affordable housing and shake up the traditional housing model in the process.
Detroit, which had been flatlined by the housing crisis, was the perfect place to start. Alade and Colom moved to Detroit last year and formed Century Partners, a small-scale real estate development company focused on the city's historic North End and Boston Edison neighborhoods, with historic homes and easy access to midtown. With more than $1 million in funding from friends and families, they bought and renovated 30 housing units and started renting them out. Real estate is relatively cheap in Detroit, so with some startup capital they set up a self-funded neighborhood association, which will provide affordable rent to residents while also giving locals the opportunity to share in the profits. When the developers bought houses from individuals, they offered them cash and a share in the partnership.
"So homeowners who are longtime Detroiters, when they sell to us, they remain a stakeholder in the development," Colom says. According to Wayne County Auction, the city's annual asset disposition channel, home prices have gone up by three to five percent since Century Partners started developing there, Alade adds.
"A year and a half ago, we found one street to try our model, which was Atkinson Street, the same area where the 1967 Riots started but [an area that is] also next to one of the most prestigious neighborhoods in Detroit, and its oldest suburb, Boston Edison," Colom says. "We bought houses through the Wayne County Auction, but we also made purchases from people with long ties to Atkinson Street. We not only purchased the house from them with cash, but we also gave them a percentage of the sales price as equity in our fund, allowing longtime Detroiters to benefit from the infusion of investment into their neighborhoods in the near term with cash but also in the long term with equity."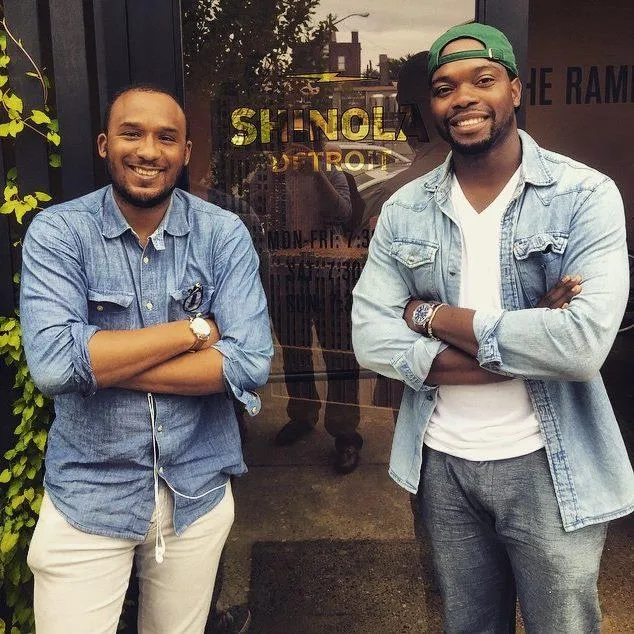 Century Partners turned large historic homes into the kind of houses people could share with their friends, and refitted smaller apartments, so young families could move in. Colom says they quickly gained support from the community, but they have had a harder time convincing banks that a non-traditional housing model can work.
"Our biggest challenge has been getting access to the type of institutional financing that would allow us to replicate our program within Detroit, first," he says. "I think many of the non-profits and CDCs [community development corporations] in Detroit are still thinking in an older mindset, where they had to do the heavy lifting of development themselves. But now there is enough for-profit interest that I think the best way for them to improve the city is to help bridge and direct that development through financing instead of developing real estate themselves. If they would encourage small developers by helping them get the financing, Detroit could have 100 homes renovated in 18 months by real estate investors who lived in the neighborhoods."
Colom and Alade are part of a bigger picture shift in the housing market of Detroit. The city doesn't have much multi-family housing, and it has been struggling to find the best ways take advantage of outside funds and grants earmarked for revitalization. JP Morgan Chase and the Kresge Foundation, for instance, have given money to boost the city's economy. But slowly, due in part to auctions and the low prices of homes, people are moving to the city and rebuilding the disheveled houses.
Colom believes the revitalization of the neighborhood will have positive impacts on education, crime rates, art and transportation. It already feels like the positive change is taking hold, he says, and that getting renters into the homes has made the neighborhood feel more vibrant.
"David and I helped turn a decades-long flight of investment away from Detroit's neighborhoods back directly into them," Colom says. "We brought the revitalization directly into the neighborhood in a way that demonstrates how incredibly far Detroit has turned around, and how much further we have to go."
Century Partners is hoping to grow in Detroit and work with other small-scale developers to revitalize different neighborhoods. They want to show that their model works, and that it makes sense, especially in cities like Detroit that don't have a lot of high density housing.
"For me the most exciting thing has been bringing the homes back to life, some of them over 100 years old, and giving them another 100 years of life," Colom says.