Designing Classrooms For the 21st Century
By being a "Pinterest for teachers," room2learn provides ideas for improving classroom layout and functionality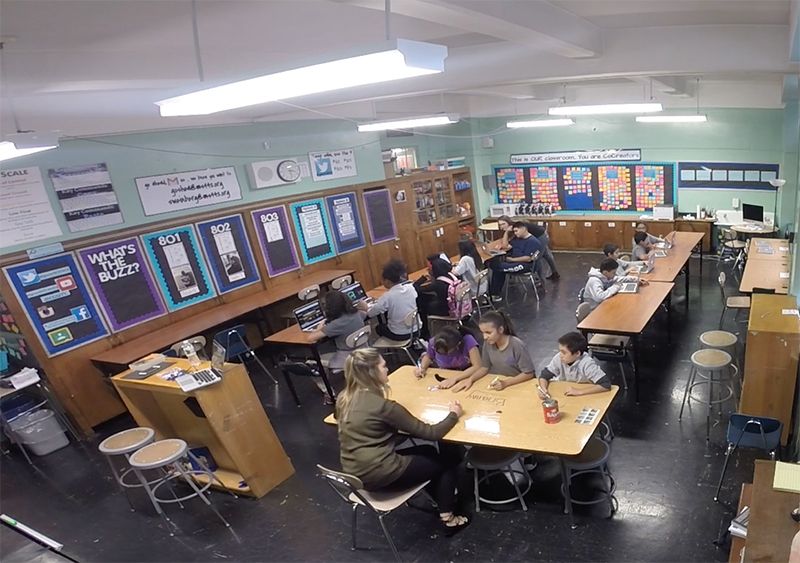 Room2learn is a bit like a Pinterest for classrooms. The peer-to-peer site offers both small-scale and big-picture ideas for rethinking those traditional rows of desks in classrooms.
There are simple ideas for converting traditional wall space to writing surfaces for wipe-off markers or chalk, and there are blueprints for reconfiguring desks. Users can bookmark favorite designs or upload their own images and written ideas, whether they are classroom-tested or still in the early concept phase. Like other social media sites, a tagging system allows users to search designs, and categories help users navigate by specific need—anything from reconfiguring a small classroom to repurposing old furniture.
Founders Grace O'Shea and Jane Zhang have distinct but complimentary backgrounds. O'Shea is a public school teacher from Brooklyn, and Zhang is a student at the Harvard Graduate School of Design. In the fall of 2015, a love of better classroom design brought them together at the Harvard Graduate School of Education hackathon called HIVE HackED. Their project, room2learn, won first prize in the HackED pitch competition and also went on to be a finalist at MIT's Global IDEAS Challenge. Since winning the HackED prize, Zhang and O'Shea have enjoyed further developing the site thanks to the 12-week Venture Incubation Program (VIP) at the Harvard Innovation Lab. The program gives them access to peer support and mentors, as well as the equipment in Harvard's i-lab.
"People think of entrepreneurship as this risky thing, and it is, and it's challenging on a daily basis," Zhang says. "But at same time, when everyone around you is doing something similar and when you see other cofounders solving problems, it becomes a safe space. There is no shortage of people I can approach with legal or financial questions."
Room2learn is truly collaborative, and in that spirit, Zhang and O'Shea are running a contest until September 16. Teachers are encouraged to share their own classroom space hacks and design modifications on Twitter using #HackYourClassroom. Winners will receive prizes for their classrooms.
During a recent video chat, O'Shea and Zhang further elaborated on the future of room2learn and crowdsourced classroom design.
You first met and began working together at the Harvard hackathon. Walk us through that process.
Jane Zhang: I was one of two students from the School of Design out of 50 or 60 total participating in the hackathon. I know this EdTech niche is an important place for designers to be involved. I think it's where we can add our strengths, and part of my goal is to have more designers and spatial designers in education.
Going in, we didn't know what we were building or that we'd tackle issues in classroom spaces. To find our projects, we used design methodology, brainstorming ideas and writing on Post-it notes different topics and challenges we care about in education. We put those up on wall, and because of the section on classroom spaces, we came together physically to work on that.
Grace O'Shea: Looking at all the topics across the board, I was attracted to space concerns for the exact same reasons that interest Jane. Coming from a progressive elementary school, I'm especially interested in social and emotional learning. No one is talking about physical design of classrooms. It's a huge white space. We both beelined there.
How did the idea for room2learn evolve after the hackathon?
O'Shea: By the end of the hackathon, we'd thrown up a quick prototype on [the free website builder] Wix, and then we shared with other participants designs and images of what we could offer.
After I went back to my classroom in Brooklyn, Jane met with our CTO, [Massachusetts Institute of Technology computer science student] Fernando Trujano, to build a prototype to give to the staff at the school where I taught, as well as some of our many visitors.
Zhang: The original site looked much different—for example, there was no school design section, only classrooms, on the original site. Even this [current] site is still a work in progress, being built and expanded as we see how people use it. The tags are now organized into sections, which was some of the biggest feedback that came out of interviews with dozens of teachers. We also spoke with administrators and designers and watched how they navigated the site.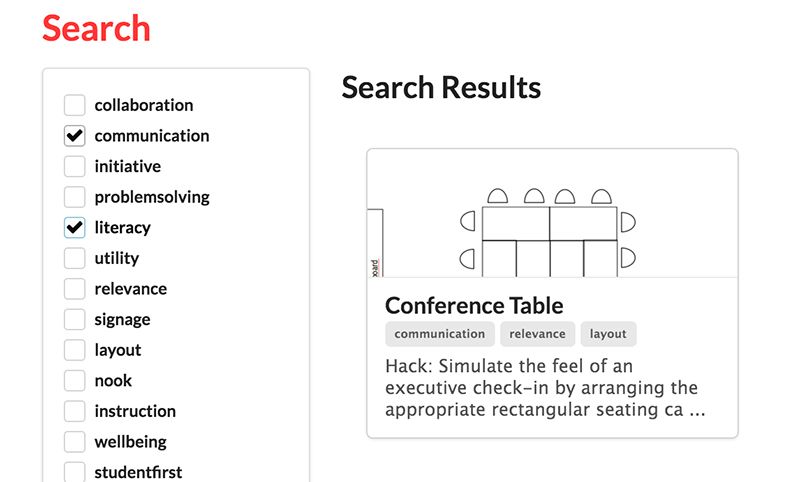 How do you recruit testers and users?
O'Shea: We looked within our existing networks in large school systems, and Jane worked with the graduate school of education at Harvard. Twitter is another huge lever for us and is one place we look to recruit teachers from all across the U.S. We've been able to tap into certain hash tags and find teachers already sharing millions of pictures of classroom layouts, especially as they gear up for back to school.
What's your elevator pitch?
Zhang: Learning has changed; classrooms haven't. We bridge designers and educators for the 21st century.
O'Shea: We get a lot of traction when we say that as much as we teachers want to teach 21st century skills like collaboration and communication, there's only so much we can do when every student is facing the back of another student's head.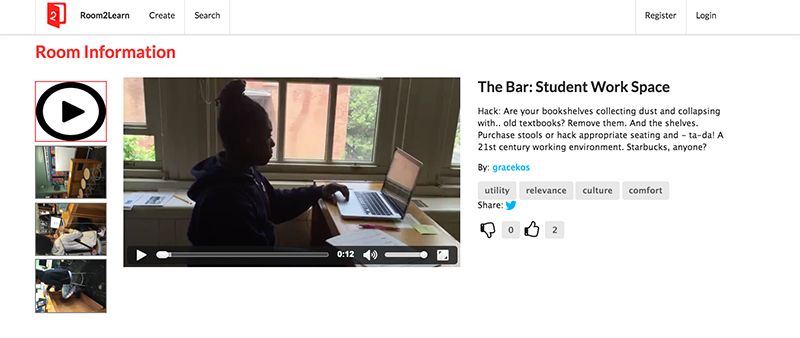 As a teacher, which design posted to the site have you found to be the most compelling, Grace?
O'Shea: For me, the most compelling designs are the one that support and promote student initiative. I think schools are moving away from "managing a classroom" and towards "facilitating learning experiences." [This happens] on the group and individual level, and physical space design plays a big role in this shift. I think supporting student initiative, or self-directed learning, requires that teachers build systems that support individualization, flexibility and choice into the classroom infrastructure. 
I'm particularly proud of a flexible seating option, made by removing the shelves and disposing outdated textbooks to create a student work bar.
I also love to explore the various signage options. Classroom signage is meant to support student learning and, with Google now, content signs just don't cut it for me. Scaffolding to allow students to screenshot and email supports student independence with accountability, and that's something I love to develop in the classroom.
Jane, as a designer, which design on the site have you found to be the most interesting?
Zhang: I find the Hazelwood State School compelling as a collaborative and landscape-oriented design. It is a school in Glasgow designed by Alan Dunlop and built specifically for students with complex special needs. The building and surroundings were designs for tactile experiences, both with the wall materials and natural plant life around the school. The different areas of the school are also segmented by color.
What's next for room2learn, and for you as individuals?
O'Shea: One group we're focusing on is our teacher-users. They're important because they're in the classroom day in and out. They know best how to use their classroom space, and we're recruiting them now. We're trying to start a social movement and want to be a lead generator, to make room2learn a place where people come to be inspired and share expertise.
We're working with schools here in Boston as a design consultancy, specifically to match space to student needs, such as increasing interaction in the classroom and making entryways more welcoming.
As a society, we've spent 100 to 150 years building schools, and we [at room2learn] want to determine where we can add the most value. Do we come into existing institutions with low-cost, high-impact hacks, or what if we reimagine spaces entirely?
Zhang: Just in Boston, most of the public schools are around 50 years old, and that's about the shelf life of a school building. With room2learn, we see ourselves as curating resources, and we're working to figure out how to leverage all this knowledge and community and make the most impact.
O'Shea: I'm happy and appreciative that my teaching will continue, if in a more formal fashion. It was a hard decision not to go back to my classroom this year but it was an important one in terms of impact.
That, and we look forward to everyone on Twitter using #HackYourClassroom.