Comedienne of Manners
Novelist ZZ Packer uses humor to point up some disconcerting signposts along America's racial divide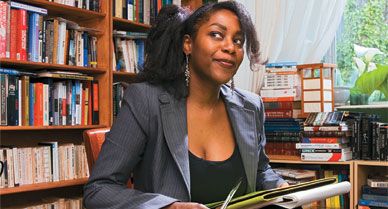 When ZZ Packer was 27, the New Yorker published her short story about a troubled black girl at Yale in its 2000 debut fiction issue. That same year, her tale about racial strife on a Brownie troop camping trip was chosen for The Best American Short Stories 2000.
Packer's skillful writing and the fresh view of the African-American experience presented in her two stories prompted so much literary buzz that publishers were soon bidding against one another for the privilege of bringing out her first book, a short-story collection titled Drinking Coffee Elsewhere. Published in 2003, the book was greeted with breathless reviews and was nominated for the 2004 PEN/Faulkner Prize.
"This is the old-time religion of storytelling, although Packer's prose supplies plenty of the edge and energy we expect from contemporary fiction," a reviewer in the New York Times enthused, while O magazine called her writing "acerbic, satirical, hilarious, nuanced, as fiercely unsentimental and deliciously subtle as Jane Austen."
Packer, now 34, was born in Chicago, where her mother worked for the Social Security Administration and her father owned a lounge and bar. Her given name is Zuwena (Swahili for "good"), but early on she tired of explaining how to pronounce it and opted for the nickname ZZ. When she was 5, the family moved to Atlanta, seeking a better life in the city known as the black mecca. But seven years later her parents divorced, and ZZ's mother moved back to her hometown of Louisville, Kentucky, with ZZ and ZZ's younger sister, Jamila.
Several of Packer's characters are from that seldom-written-about group known as black nerds—youngsters who love to read, do well in school and have to find a way to fit into a white-dominated arena of achievement. It's familiar territory for Packer, a tall, ebullient woman who took Advanced Placement classes in high school, planned on a career in science and won a scholarship to Yale.
By her junior year in college, Packer decided to abandon science for literature, to the initial dismay of her practical-minded parents. After receiving her B.A. from Yale in 1994, she was accepted first into the graduate Writing Seminars program at Johns Hopkins University and then into the Iowa Writers' Workshop.
Packer's rise to prominence, though fast, required resilience and years of hard work. Ronnetta Fagan, an attorney and aspiring novelist from Houston, Texas, who attended a writers' workshop that Packer taught in San Francisco, remembers Packer displaying a large binder filled with rejection letters, including some 17 that the New Yorker sent her before finally accepting a story. "It helped me understand what I'd gotten myself into," says Fagan, "but it also encouraged me."
Another ingredient of Packer's success is her willingness to tackle uncomfortable issues of black and white. "The more race is not supposed to matter, the more it does," she says. "It's one of the conundrums of living in America today. And as a writer, I tend to be excited by dilemmas and problems."
Packer uses humor to reveal the often unconscious prejudices, fears and hopes in play on both sides of the racial divide. In one of her stories, an African-American fourth grader's long, straight hair gives her almost magical authority over her curlier-haired peers, who "listen to her reverentially, as though whatever she had to say would somehow activate their own follicles." In another, whites watching the Million Man March in Washington, D.C. wear expressions that "fit into two categories: the 'Don't mug me!' smile or the 'Gee, aren't black folks something!' smile."
"ZZ is a great humorist," says fiction writer and poet Stuart Dybek, one of Packer's teachers at Iowa. He credits her with using identity politics as fodder for a new kind of comedy of manners. "She offers a unique, empathetic but really frank and ultimately very shrewd take on race," he says. "She's going to be one of our important writers."
Pulitzer Prize-winning author James Alan McPherson, who also taught Packer at Iowa, is struck by her humanism. "We've all been categorized and had our sensibilities restricted to one little category—our sex, race or whatever," he says. "She's not that way at all." Her characters "always have a larger sense of themselves than their categories...they're human, with all the flaws as well as virtues. As an older black writer, it makes me feel good when people like her come along."
For six years, Packer has been at work on a historical novel, tentatively titled The Thousands, about what she calls "the forgotten masses of blacks who went West" after the Civil War. It is told from the point of view of three characters: a white officer commanding a black cavalry regiment in the Indian Wars, a young black soldier and a woman who joins the Army disguised as a man. The highly regarded British literary journal Granta ran an excerpt in its spring 2007 issue and named Packer one of its "Best Young American Novelists." 
Packer, who lives in Pacifica, California, with her software-executive husband, Michael Boros, and two young sons, is still wrestling the novel into its final form. "I've become a better writer than I was when I wrote the beginning," she says. "Writing the novel has taught me how to write the novel." Is she worried about the high expectations her early success has engendered? "You can't think about that every day," she says. "You have to plow ahead. Now I respect bad novelists," she adds with a laugh, "because at least they've finished."
Tessa Decarlo wrote about artist Caroline Mytinger's 1920s trip to Papua New Guinea in the April 2006 issue of Smithsonian.