Can This Invention Save Cameras?
With the Lytro camera, you no longer have to bother with focusing an image. Plus, your photos become interactive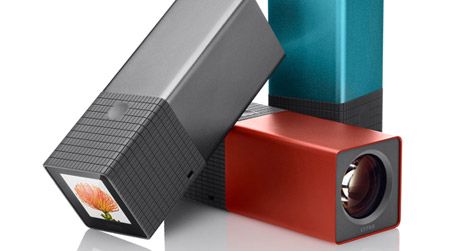 Every once in a while a story comes along that seems as likely as cats and dogs playing poker. Last week the Wall Street Journal ran an article suggesting that Kodak was on the brink of bankruptcy. That's right, Kodak, the company once so iconic it was able to equate its brand with stopping time, aka the "Kodak moment."
It's not like Kodak slept through the digital revolution. Heck, one of its engineers invented digital photography in 1975, although back then they called it "film-less photography." By 2005, Kodak was the top-selling digital camera brand in the U.S.
No, this is a case of death by smartphone. According to the latest estimate from Samsung, 2.5 billion people–that's a third of the world's population–now have digital cameras and most are in cell phones. Last year more than one out of every four photos taken in America was with a smartphone. And by last summer–less than a year after its launch–the iPhone 4S was the most popular camera for uploading photos on Flickr.
So if a digital camera that's not a cell phone hopes to survive these days, it better be able to do some pretty snazzy techno-voodoo.
Enter the Lytro. Not only does it do away with the whole matter of focusing a shot, but it also turns photos into playthings.
Allow me to explain. Shaped like a stick of butter, the Lytro deals with light in a truly innovative way. It captures far more data–including the light's direction and angles–than a conventional camera, all of which is stored in the photo. The result is that there's not just one version of an image, but many. Each person who views it can shift the focus, creating a different picture. In short, your photos on Facebook or Flickr or wherever else you want to post them, become truly interactive.
This sounds very cool, although given the quality of most Facebook photos, your choice would often come down to shifting the focus from this head to that head. Still, the notion of what inventor Ren Ng calls "living pictures" could dramatically change how we try to capture images, knowing that within each photo there can be way more than meets the eye.
Two versions of the Lytro will be available when it hits the market soon, a $399 model that holds 350 shots and a $499 version that holds 750. Neither of these early models will be able to shoot video nor can your images be loaded on to anything other than a Mac at this point. And as Joshua Goldman noted in a CNET review, you can't do much real photo-editing yet and there's no wireless way to transfer images to your computer.
But hey, we finally have a genuine point-and-shoot. Let's all say cheese.
Cream of the crops
Face it, the new Facebook Timeline has upped the ante on how we present our visual selves. Now we have that big honkin' space at the top of the page for a cover photo to celebrate the wonder of us.
That's why it's good there are mobile apps out there like Snapseed ($4.99), the iPad App of the Year last year. You can crop photos, rotate them, you can adjust brightness and contrast, all by tapping and sliding your finger. And you can filter into special effects–you can go Drama or Vintage, with sepia tones, or even Grunge, in the event you're feeling post-apocalyptic.
Image conscious
Here's more camera and photo news:
Video Bonus: Check out CNET's Brian Tong's Lytro demo in which he shows you how you can use it to photograph dinosaurs.