Can Starbucks Do for the Croissant What it Did for Coffee?
The company is betting that it can replicate baking the pastry on a massive, industrial scale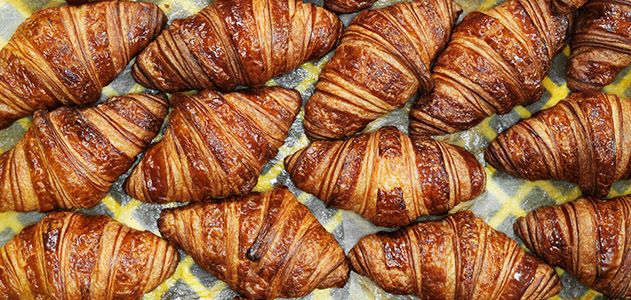 "Is the food still lousy?" a friend once replied when I texted her to ask if I could bring her something to eat from Starbucks. She wasn't (just) being snide. She was reflecting a truth universally acknowledged: you could customize your drink any which way in every one of Starbucks' 11,000 stores in the United States but you couldn't get a decent muffin or scone or slice of cake to go with it. And the croissants! Big bready things, pre-softened and pre-staled by their plastic-wrap imprisonment, with an unpleasantly greasy feel on the tongue, zero flakiness, and a strange and unwelcome sweetness in place of the wheaty, slightly sour flavor a real croissant should have.
"Even Starbucks, with all its size and cash, can't get a respectable piece of pastry into its store," says Maury Rubin, owner of City Bakery, maker of what I think are the best croissants in New York City. "Not that they don't know better. But that's the beauty of great pastry. It doesn't want to travel. And it wants to be made in small batches."
We were discussing the news that had electrified anyone who knows good pastry: last June, Starbucks paid $100 million for La Boulange, a San Francisco bakery with pastries and food that people definitely find respectable. The goal was nothing less than serving La Boulange-quality croissants and other pastries to Starbucks' 40 million customers in its 8,000 company-operated stores in the United States. Sandwiches, soups and salads wouldn't be far behind.
Starbucks had bought other companies before: Tazo tea, Teavana, Ethos water, Evolution Foods. But they make packaged goods, which can be shipped in bulk cartons and even sold at supermarkets. This was a new kind of gamble, far more audacious than single-serving coffee machines or bottled Frappuccinos. Starbucks, which had become Big Coffee and said it would never get into the food business, looked to be taking a hulking first step to becoming Big Bread. It wouldn't be easy. Frappuccinos and Evolution juices get stacked on pallets and have long shelf lives. Fresh baked goods go stale, fast. Good ones, as Rubin pointed out, are hard to make on a large scale. Maybe impossible.
And thus Starbucks' gamble raises a larger question: Are decent baked goods only the province of the artisan, and beyond the reach of a giant corporation, however committed to craftsman-themed propaganda? Or could Starbucks lift pastry and decent-food awareness to the level it raised coffee consciousness?
Purists can and will argue for hours about the influence Starbucks has had on American coffee, but there's no arguing that more people now pay more attention to coffee, and know good coffee from bad, than they did before Starbucks. With this one, large purchase Starbucks had the potential to do the same for pastry and bread. And Howard Schultz, Starbucks' CEO and mastermind of its growth, tells me in his office in the company's Seattle headquarters that he has found the man who can make the leap.
***
Pascal Rigo is a hardy, bluff, athletic, French-born baker who says he's on record as telling a French newspaper in 1996 that living the American dream would mean baking for Starbucks. He declared this very un-French seeming ambition seven years after coming to America and 16 years before getting a call from Schultz.
Why would someone who grew up as the very definition of an artisan baker—an apprentice starting at age 12 in a bakery in a Burgundian village, baking the villagers' Sunday roasts and hunters' quail—be drawn to mass production, and with a brand the French surely associate with invasive American hegemony? In a word, scale. From the start, "I would look at something," he says, "and think of multiplying it by 100,000."
Rigo has the jaunty air and open smile of a man who expects to like you and you to like him too. He came to America on something of a lark, to help sell Burgundy wine. But soon enough he settled into the business he was born for. After building large-scale bakeries in northern and southern California and winning coveted customers like Thomas Keller, of the French Laundry, and contracts to supply Trader Joe's, Rigo opened La Boulange in San Francisco, where he could live a larger-scale version of the village baker he grew up training to be: living over the store, waking up when it was dark, befriending the neighbors, welcoming regulars.
La Boulange appeared in 1999 in Pacific Heights, the richest neighborhood in the city, like a vision from Paris: a cheery, unmistakably French storefront of turquoise enameled wood, with pine trestle tables and bentwood chairs and French women helping you. And the pastry case! Shapely croissants, burnished square pains au chocolat, flaky half-moon apple turnoversblue with crimp lines incised on the rounded edge, pastel-colored button macarons, irresistibly rustic with coarse-ground almond meal to give shells texture. (I know people who drive 90 minutes each way just for a box of lemon macarons with lemon-curd filling.) There was even my own favorite—chouquettes, hollow cream-puff shells baked until crisp on the outside but like a popover within, sprinkled with big rock-sugar crystals that crunch wonderfully in the mouth. Marking this as a full-service bakery, there was bread: a brittle-shelled, soft-crumbed baguette that tasted of just flour and air, with the mineral tang of water rather than the sourdough tang Californians put into their baguettes; the enriched square white loaf called pain de mie, ideal for sandwiches; a slightly Americanized whole-grain loaf, light and flecked with a few seeds.
La Boulange was the real France. Not the best pastry you could find if you trekked down every street in Paris, but pastry and bread of uniformly high quality, in a place you would dearly love to have in your own neighborhood. Rigo also kept an eye on price. "I want people to taste my pastry," he told me when I visited him one early morning at the original Pacific Heights store. "How can people taste my pastry if they can't afford it? We don't just want to sell to lucky people in life. We want to sell to everybody. We've got the cheapest baguette you can find"—$1.50.
It wasn't long before several of the prematurely retired tech billionaires who litter the streets of Pacific Heights dropped in with offers of capital. Rigo did want to expand, but on his own terms. "It's hard to stay genuine as you grow," he says. That meant keeping control. He got the opportunity with a like-minded compatriot, Sebastien Lepinard, who after becoming a regular at the store became a friend. By 2011 the two men had opened 19 La Boulanges throughout the Bay Area, all of them with those Parisian jewel-toned enamel storefronts. Only the original Pacific Heights location did its own baking; the other outlets got their goods from a 20,000-square-foot central baking plant Rigo built near the San Francisco airport. "There are good chains and there are bad chains," he told a business reporter. "We are going to be a good chain." Rigo, then, was the right man for Schultz to call.
Starbucks, Howard Schultz tells me in his big, handsome, earth-toned corner office, "didn't start thinking we'd acquire a bakery. We wanted to build an alliance with someone who understood the supply chain." But then they tasted La Boulange's "croissants, cookies, danishes, the breads ... It was all mouth-watering. When you meet a star, someone so stunningly capable and with so much insight, passion, and innovation—Pascal blew us away." An emissary arranged a dinner, one that Rigo cooked in his own house to avoid the inquiring eyes of local business people. The main course was halibut—disastrously overdone, Rigo says, because, the conversation was so excited from "hello."
***
The La Boulange plant may be close to the airport, but the company won't be sending pastry by air freight. Instead it plans to work with other plants that already bake on an industrial scale to make and ship pastries to Starbucks all over the country. Showing another factory how to use the recipes and techniques La Boulange wants for its new Starbucks line means making them un-learn before they can learn. The La Boulange team plans to visit 70 plants once its team has identified which ones are in the right locations. Only by making onsite visits can they "look them in the eyes," in the words of Nicolas Bernardi, the French-born manager of La Boulange's marketing and product development, to see if the managers are the kind who "want to grow and learn" or the kind who are content to just "vomit products."
 In a very—very—unusual plan, each pastry will be fully baked and individually wrapped in a clear-plastic package and sent frozen to each store in boxes they call "cartridges." (Standard frozen pastries and breads arrive unbaked.) Stores will defrost only what they need for a few hours of service, and heat each pastry in one of those breakfast-sandwich Turbo-chef ovens, to order. That's right: every single pastry and piece of bread will be served warm. It's a huge change. And it requires a staggering amount of sheet metal: Rigo says the introduction of his pastries into 439 Bay Area stores last April required "the largest refrigerator roll-out in the history of the world." Guinness might not agree. But it's a lot of appliances: by the end of next year, Starbucks plans to have La Boulange products in at least 3,500 stores all over the country. That's a lot of croissants.
***
The glory of a croissant is the dough, not the filling—though of course there are the batons of chocolate and the almond paste in twice-baked croissants studded with flaked almonds people love (and that are often a way of masking stale or boring croissants). A true croissant has tang and texture. The butter stays in the pastry, not on the baking sheet or your placemat. The flakes stay on each piece you break off, not on your lap. Perhaps nothing in the baked-good kingdom is as deeply satisfying as a warm croissant with a tender, airy interior and a crisp exterior.
Croissant greatness is given to few. City Bakery, in New York City, makes croissants that are high, wide and handsome, with the right balance of flake and integrity, bread and air. And the ideal medium-scale bakery of the kind Rigo and his team want so ambitiously to recreate all over the country is in the East Village of Manhattan.
Between the one City Bakery and six smaller Birdbaths, Maury Rubin's eco-friendly mini-satellites with interiors constructed of found and recycled materials, and deliveries on bicycle-powered rickshaws, Rubin bakes 500 croissants a day. And he doesn't think it's possible to make more and be any good at it. "There are exactly two things about croissants: how to make them, and how to make them consistently. It's very hard to do something simple when you're doing more and more of it all the time."
I wanted to see how Rubin does it, so one morning I went behind one Birdbath location in the East Village, where he has his main production facility. It's semi-industrial—emphasis on the "semi."  There are big mixers and a "sheeter," a machine that looks like an old laundry mangle with two ironing boards projecting from either side. These are standard for any industrial bakery. But at crucial stages, the process is all "eye and feel," as Rubin says. Hector Gonzaga, who began work as a potwasher at City Bakery in 1993 and who has mixed the dough for the past 15 years, measures the liquid for the initial, butter-less dough, and judges with his eye and his hand how much ice he should put in to keep both the dough and the soon-to-be-added butter cold. He sections off the dough and roughly shapes it into big, flattened balls to chill before big, half-inch-high pats of butter are placed on top and the folding begins with a pass through the sheeter. After the first fold, Gonzaga transfers the dough onto a huge work table and leads several workers bearing long plastic rolling pins in what looks like a wild medieval flogging, to be sure that the nearly frozen butter spreads evenly and doesn't "break into icebergs."
The thought of losing Gonzaga—"I've had two rollers in the 22 years of the bakery," Rubin says—makes Rubin involuntarily swallow.
Next comes the rolling and stretching of the cut triangles into the crescents that are croissants—all done by hand. And then there's the last pass, the one that determines whether all that care results in a sodden, greasy interior—the baking. If the first five minutes are done at too low a heat, Rubin says, all the work that came before can be ruined, as I find out when I greedily grab a beautiful-looking pain au chocolat off a cooling tray. The outside looks crisp and browned and beautiful, but the pastry is too soft: the butter melted before the blast of initial high heat could convert its water to steam and force apart the meticulously folded and chilled layers of dough. The layers are indistinct; it's a greasy mush. "You can never get those five minutes back," Rubin says in anguish.
If an underbaked tray of pains au chocolat will gnaw at him for days, how can Starbucks hope to produce hundreds of thousands of good croissants a day at dozens of plants across the country? The La Boulange plan to oversee full baking itself is a step toward answering Rubin's doubts. He would even, he says, welcome the possibility: "If every Starbucks had respectable pastry, you would raise the entire level of what people know about good pastry. Very quickly." I ask if that would be good for him and his business. "A rising tide of pastry knowledge is very, very good for me," he says. "It's good for all living creatures."
***
It all looks easy in Rigo's own shiny new plant, where the smell of butter as you step through the heavy plastic straps after donning hairnets and booties is intoxicating. There are custom-built machines that would make Rubin weep, both because he could barely imagine they exist and because they would hasten the demise of lovingly trained artisans like Hector Gonzaga. Particularly a machine that squirts almost-frozen butter into a long, perfect, flat sheet over a long rectangle of dough and then, with unbelievable mechanical grace, folds the dough over the butter into continuous business-letter thirds. Anyone who has struggled to do this by hand will recognize this as a miracle of modern machinery.
As La Boulange makes use of the machine, though, it's not the usual story of craft ruined by mechanization. Several key steps are still done by hand. In the most important sign of his philosophy, Rigo puts on brakes. "You can achieve an incredible result just by slowing down the throughput by at least a third," he says. "It drives the technicians crazy." Whether the "partner manufacturers" will take anything like this amount of care and be willing to adapt and slow down their longstanding practices is an open question.
That same question becomes more open in the test kitchen on the second floor of the La Boulange plant, just upstairs from a jaunty restored Renault deux-chevaux delivery truck. Here Rigo and Robert Cubberly, a chef Rigo met when he ran Le Petit Robert, a bistro next to the original La Boulange, are making soups, sandwiches, and salads they intend to be served in every Starbucks.
Cubberly has qualifications beyond having run a valued neighborhood restaurant: after selling his share in the restaurant to his neighbor, he worked in the kitchens at Google, pumping out, he says, 1,000 lunches in 90 minutes. For Starbucks offerings, anything hot must require no more than a minute in the same ovens to heat the pastries.
Within those restrictions, he has put together an impressive set of menu options, packaged in clear plastic that fits into familiar Starbucks cases, with gaily colored labels: an impressively beefy and deep-flavored onion soup, an excellent turkey curry salad using Diestel Farms turkey he says he wants to be able to use in at least 1,000 stores (it's antibiotic- and nitrate-free, and has a pure, strong flavor), little plastic pouches of sandwich spreads like red pesto and sun-dried tomato. Sandwiches are warm piadinas, fillings folded as with quesadillas into a wrap of the northern Italian flatbread, enriched with oil like pillowy flour tortillas, heated in the oven. Or they're make-your-own, using fillings from plastic boxes in the cooler that have various cold cuts and sliced cheese and lettuce, with pouches of the spread of your choice, on slices of white or wheat bread that the server heats to order.
This is reinvented quick-serve food, tantalizingly within grasp of the dreariest little Starbucks tucked into a corporate corner: high-quality soups and salads, sandwiches you build yourself using good ingredients and as much or as little mayo or condiment as you like, on fresh-toasted bread. Cubberly says that everything is realistic for quantity and at decent prices—they want to keep lunches at an average of $9-$12 a head, sandwiches $4-$5.
The sandwiches are a marvelous idea and allow the kind of choice and un-soggy freshness that few quick-serve chains can match. But just unwrapping everything and methodically spreading one side of bread with an opened pouch of red pesto, as Rigo happily does in the test kitchen, takes up of a lot of counter space—space that's always at an elbow-jostling premium in Starbucks. This is something most customers will need to do back at their offices, if a new series of table-space wars aren't to break out across the country.
It seems too much, too soon, particularly because the soups and piadinas will be served warm, and threaten to waft the same kind of distracting food odors that led Schultz to say he would abolish breakfast sandwiches when he took back the reins of Starbucks in 2008, after a seven-year hiatus. (Those smells still waft in many stores; before he bought La Boulange, Schultz's main achievement toward his promise to improve Starbucks food was to remove flavorings and artificial ingredients. The pastries remained awful.) In his office, Schultz makes clear to me that he intends that Starbucks never be confused for a restaurant. When I present this skeptical view to Rigo, he insists that this future is coming fast. It will be interesting to see which view prevails.
***
Part of that future is already here. Just before the Bay Area rollout of Starbucks' new pastries, while the coffee chain's management teams are testing La Boulange goods in a pilot store on Spear Street, in San Francisco's business district, I try a fruity, not-too-sweet banana bread, infinitely lighter than any cake I've ever had in a Starbucks. I try a square of savory croissant filled with tomatoes and mozzarella, like a mini-pizza. I try a blueberry muffin with the distinct taste of honey and the barely discernible tang of yogurt, again far lighter than the usual Starbucks muffin, though with a bit of the overly aggressive blueberry flavor the standard muffins share.
Then, for the head-to-head trial, I go to a La Boulange store in the early evening, where I deliberately buy a croissant and pain au chocolat just before closing, and I go to another Starbucks down the street. The wait at Starbucks is about three minutes for the heated croissants—a wait I don't think I'd like and wonder if millions of customers will put up with—and the store is nearly empty.
But then I break open the Starbucks croissant, fresh and soft, and the theoretically identical croissant from La Boulange. The La Boulange croissant is drying and already a bit stale, much harder to chew and less satisfying to eat. I see why Rigo says that the process he's developed for Starbucks will change his own process at the La Boulange stores, where he plans to install ovens and serve many pastries warm.
Is aggressive muscling in on what was the territory of the handmade and the artisan the road to mass-produced hell? Rigo is doing all he can to preserve some soul in what is almost exclusively a soulless process. Still, skepticism is called for. All the new freezers, refrigerators and ovens will use a lot of electricity. And those individual plastic packages? Far less wasteful, Rigo says, than the unsold half-boxes of muffins and croissants that thousands of stores throw out at the end of every day.
Claims that big can be good, incessant talk about sustainability and relationships and corporate responsibility, grating greenwashing—all of it sets the teeth on edge of anyone in the local-everything movement. Anyone who can afford full-page ads about putting people first, or television commercials with idyllic scenes of farms and homemade Sunday suppers, has the resources to hide unsavory facts that don't jibe with a carefully and expensively told story.
Big can make a difference, though. The La Boulange rollout might not help the cause of, say, animal welfare, as did McDonald's refusal to buy pork from farmers who imprison sows in gestation crates. But it could show large-scale companies that have produced baked goods as mediocre as Starbucks' that, with some tinkering and slowing down, they can produce dramatically better products.
More important, it can create demand for better food from millions of customers, who won't want to go back to bad pastry—and will go to local bakers and restaurants that do what Starbucks and La Boulange do, but better, if only because they do it on a small, handmade scale, and can (and should) charge more for it. There might be casualties along this road, as there were when Starbucks first rolled across the land, bulldozing mom-and-pop coffee shops in its path. But now the third wave of expensive, worth-it coffee is flourishing in many cities, partly as a result of people understanding from Starbucks what coffee can be, and then wanting to go further.
The same can happen with sandwiches and pastry. A better croissant really can be good for all living creatures.
Corby Kummer is a senior editor at The Atlantic and author of The Joy of Coffee and The Pleasures of Slow Food. He has won five James Beard Journalism Awards for his food writing. Follow him @CKummer.