Can Solar Survive the Solyndra Swirl?
Following the collapse of the ballyhooed solar firm, these are dark times for renewable energy. But big players are betting it's treehugger fantasy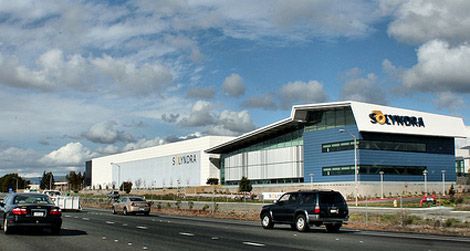 "Solyndra…
I once made a loan to Solyndra
And suddenly I found
How hideous a loan can be."
–Sung to the melody of "Maria" from West Side Story
Okay, that's not quite how Stephen Sondheim wrote it, but as company names go, Solyndra is a pretty sweet sound. Until a few weeks ago. Now it's the dirtiest word in the clean energy business. It's also a sure bet that Barack Obama doesn't break into song when he thinks about it. On the last day of August, Solyndra declared bankruptcy, laid off 1,100 workers and walked away from a $535 million government loan.
A quick refresher: Solyndra was a California outfit that devised an innovative solar panel and the first renewable energy firm to land a big loan guarantee from Department of Energy as part of the 2009 stimulus package. President Obama hailed it as one of the companies "leading the way toward a brighter, more prosperous future."
Instead, in the past few weeks we've seen congressional hearings—with another coming Friday—charges of scandal, countercharges of political hypocrisy and flurries of fact-checking and mythbusting.
A week ago there was another public event in Washington that kinda got lost amid the Solyndra swirl. Big-name CEOs—Bill Gates, General Electric's Jeffrey Immelt, Xerox' Ursula Burns, to name a few—said the federal government needs to continue investing in research to develop energy sources because most companies no longer are willing to sink money into ventures that may not pay off for years and years.
It's a forward-thinking sentiment, but what we don't know, and won't for awhile, is whether it will survive the Solyndra stigma.
Clean breaks
That said, there's still an unusual collection of big players placing bets on renewable energy.  Among them:
A Mightier Wind
Wind power, meanwhile, has managed to stay out of the headlines. But recently there was news from Japan about a new kind of turbine that could be a game-changer. Called a wind lens, it encircles the turbine blades with a brim. Its inventor says it can generate two to three times more energy than the conventional model.
Bonus: Have you hugged an infographic today? Here's your chance.