Can a Chatbot Help You Prepare For Death?
They're being designed to tee up end-of-life conversations, prep documents and provide spiritual counseling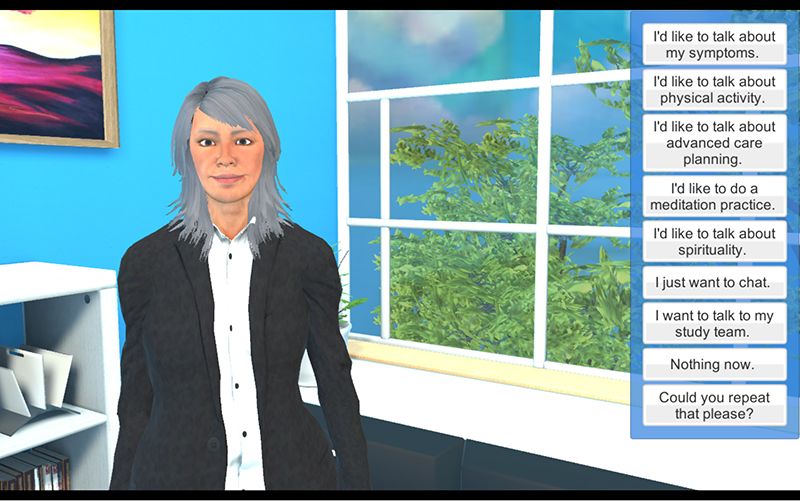 Welcome to the conversation no one wants to have.
It's the talk about death—specifically one's own death and the difficult decisions surrounding it. There's the matter of organ donation, albeit that's one of the easier choices for most people. Beyond that are tough questions about the conditions under which you would want to be kept alive—or not. Or who would be the person to make those decisions if you're incapable of doing so.
Ideally, this is a discussion had with a family member or close friend, and at a time free of stress or urgency. But that rarely happens. It's not just because it's such an unpleasant and personal subject. There's also often concern about how the other person might respond. Maybe they won't be very empathetic, or even worse, maybe they'll be judgmental.
But what if, at least initially, you didn't have to talk to another human about this?  What if your "end-of-life" conversation was with a machine?
Chatbot therapy
That's an idea that a team at Northeastern University in Boston is exploring.  They've begun a trial in which they're introducing terminally ill patients to chatbots—computer programs able to converse with humans.
Lead researcher Timothy Bickmore thinks that not only is this a way to get people to address the subject sooner, but it also could help make their last days more bearable.
"Patients tend to be referred to palliative care much too late," he says. "Something like a third of patients moved to a hospice die within a week."
Instead, says Bickmore, people with a short life expectancy could use technology with artificial intelligence to help prepare themselves logistically, emotionally, even spiritually for their deaths.
To test that theory, the research team is providing 364 patients expected to live less than a year with tablets loaded with a specially-designed chatbot.  The idea is that at least once a day the person would check in with the program.
It's not a digital assistant like Alexa or Siri; there's not a verbal exchange. Instead, after a voice greeting, the chatbot provides a choice of responses on the touchscreen. The interaction is meant to be closely scripted to keep the conversation focused and avoid the communication breakdowns that can occur with even the most intelligent machines. Plus, that protects the patient from revealing too much personal information.
That said, chats can cover a lot of ground. The chatbot can see if the person wants to talk about their symptoms or what he or she is doing to stay physically active. But it presents the option to expand the conversation beyond the person's physical condition, too, perhaps to discuss "end of life" planning.  The program doesn't actually generate documents, but it does enable family members or caregivers to see when a patient is ready to talk about it.
Spiritual counseling
There's also an opportunity to talk about spirituality. That may seem an odd topic to get into with a machine, but Bickmore notes that an earlier pilot study found that just wasn't the case.
"We designed it to be like an initial conversation a hospital chaplain might have with a patient," he explains. "We were concerned that we might offend people with a spiritual conversation. But they seemed perfectly comfortable. There were even a few people who said they preferred having this conversation with a non-emotional character, as opposed to divulging these feelings to a human stranger.
"That was a little bit surprising," he adds. "We actually felt we could have pushed it a little further. We discussed if we should make it possible for the chatbot to pray with them. We didn't go there, but I think we could have."
If a person chooses to converse with the chatbot about religion, the discussion can evolve over time since the machine remembers previous responses on the subject. "The program is very adaptive," Bickmore says. "For instance, if it determines that you're a spiritual humanist or a Catholic, then all subsequent conversation is tailored around that belief system."
Included in that counseling role with the latest version of the program is an invitation to learn about meditation—both as a spiritual experience and a potential way to reduce anxiety and pain. If the patient is interested, the chatbot becomes a virtual meditation guide, all to appropriate background music and calming images.
Conversation practice
Haje Jan Kamps has also embraced the idea of using a chatbot to encourage people to deal with the logistics of dying. His impetus, however, was more personal.
A few years ago, when he and his wife lived in the U.K., his mother-in-law suffered a serious stroke in the U.S. She survived, but Haje says that during her treatment and recovery, he spent a lot of time talking to doctors and nurses about how unprepared many Americans seemed to be when it came to the details of death.
"I'd ask them 'Why don't people plan for this stuff," he recalls. "And they would look at me and say, 'Sure, it would be great if they did, but they just don't.'"
Kamps saw both a great need and an opportunity. He worked with another entrepreneur, Colin Liotta, to create an end-of-life planning chatbot. They named it Emily.
Emily is designed to have two purposes. The first is to actually help people fill out the appropriate paperwork—a formal organ donation statement, a health proxy document naming the person who will make your medical decisions if you can't, and an "advance healthcare directive" outlining the extent of medical treatment you want to receive if you're incapacitated. The documents are customized for the state where you live, although the tool currently provides coverage for fewer than 20 states.
The second goal is to encourage people to have the end-of-life discussion with another person.
"The idea is to have this conversation with a robot first," Kamps says. "You learn the vocabulary. You learn how to structure a conversation about the end of life. And that means that it can become relatively straightforward to have that conversation again with a loved one." 
For now, Kamps and Liotta see the audience for Emily—currently a free service—as one that might seem counterintuitive. They're promoting it to people between 25 and 45 years old, a group that wouldn't appear to be much interested in spending time thinking about death.
But Kamps points out that many in this demographic already are comfortable communicating with chatbots. It's also an age range, he says, when people start making big life decisions—starting a family, buying a house.
And, to his way of thinking, it only makes sense to start thinking about a will and end-of-life planning at the same time—with the understanding that a person will probably want to consider updating the documents every so often.
"To me, these are core decisions," he says. "Why wait?"