Bjarke Ingels Makes the Impossible Concrete
The star architect is mapping out a new daring plan for the Smithsonian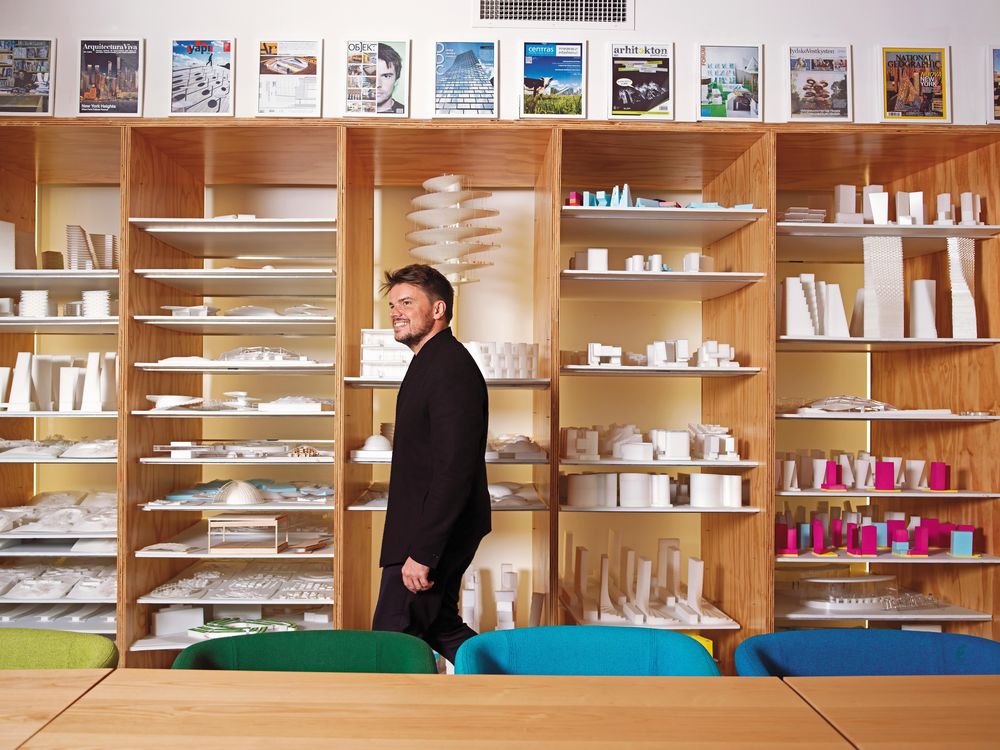 The architect of the future is running late—not just a few minutes sorry-to-keep-you-waiting behind schedule, but so catastrophically, are-you-really-still-here? late that when Bjarke Ingels finally shows up, it's with a raspy plea for sympathy: "I bought a houseboat, and I lasted three days before moving to a hotel," he says. "My voice is hoarse from the cold and damp. All the systems are failing. It's like an old house with the added complication of floating on ice water. I've got a new appreciation for solid ground." For a design star who spends much of his time figuring out how other people will live,
he seems a little sheepish about wimping out on his romantic return to his hometown of Copenhagen. (Though he spends much of his time on airplanes, he alights most often in Denmark and at his home in Brooklyn.) 
Ingels, the chief visionary of BIG (Bjarke Ingels Group), has a creative obsession with time. He walks, thinks and talks at a speed that, in his slow-moving profession, has made him both famous and frustrated. At 42, he is no longer architecture's Superboy—he first earned fame in 2009 with a manifesto in the form of a comic book called Yes Is More—but his designs have a kind of manic vigor: an apartment tower in New York that swoops like a black-
diamond ski slope; a mountainous power plant in Copenhagen that you can, in fact, ski down; proposed "pods" and "portals" for Elon Musk's Hyperloop, a quasi-supersonic transit system in the Emirates. His buildings swirl, step and twist, and you get the feeling he would ideally like them to levitate. 
The design of his Copenhagen office discourages stillness. Architects and other employees work across a factory floor so vast they must all put in their 10,000 steps a day just finding each other to chat. The reception desk, a green painted I-beam hung from the ceiling, sways when you lean on it, making sign-in a slightly vertiginous experience. A great steel hook hangs from a gantry as if waiting to pluck up the lazy. 
Yet Ingels knows that an architect in a hurry is like a bird trapped indoors. Among the projects on his overflowing docket is a master plan to overhaul the Smithsonian Institution in Washington, D.C., an agglomeration of museums and research organizations that has accumulated over 170 years and is approaching its next phase with all due deliberation. A yearlong design process and consultation with several dozen Smithsonian officials and curators yielded a draft plan that was then distributed to a vast assortment of federal agencies, commissions and conservation groups. These "stakeholders" sent back hundreds of mutually contradictory worries and recommendations. Now the firm is painstakingly sifting through that commentary. 
"Architecture and urbanism span decades, while the political environment changes every four years," Ingels says over a (quick) morning coffee. "We have a timeline out to 2034. I hadn't turned 40 yet when we won the competition. Now I can see my 60th birthday on that timeline." 
Ingels' restlessness may have something to do with the fact that he discovered architecture relatively late and hit success early. His childhood passion, aside from an early love affair with Legos, was not building but drawing, especially comic books. At 10 or so, he drew a James Bond villain's redoubt, complete with a hidden submarine port in the basement, but that was as close as he got to an interest in architecture until two years into his studies at the Royal Danish Academy of Fine Arts. He moved on to the Barcelona School of Architecture and emerged in 1998 having already won his first professional competition. 
Futuristic techno-fantasies out of Ian Fleming still rattle around in Ingels' brain and emerge in conversation. Some of the ideas he floats in meetings could have sprung from a child's doodle pad. So it seems somehow perfect that he met his girlfriend, the Spanish architect Ruth Otero, at Burning Man, the off-the-grid bacchanal in the Nevada desert that's become a pilgrimage site for the denizens of Silicon Valley. Like some of the tech world's stars, Ingels runs his business as an extension of himself: The reception area of his New York office—the once small Danish studio has grown to 480 employees spread between Copenhagen, New York and London—features a
Bjarke- Ingels action figure posing on the windowsill. In the architecture world, where every project involves hundreds of mostly anonymous collaborators, Ingels' talent for self-promotion makes him a figure of some fascination. 
And yet despite the dogged pursuit of celebrity, he has avoided developing an architectural signature. Even the casual observer can recognize Frank Gehry's piles of crinkled tissues or Zaha Hadid's aerodynamic swoops, but Ingels gives each new project a chance to generate its own style. He is one of the world's pre-eminent "Baby Rems": big-thinking architects who did formative stints in Rem Koolhaas' Office for Metropolitan Architecture, in Rotterdam. Ingels' old boss has called him an utterly new kind of architect, "completely in tune with the thinkers of Silicon Valley, who want to make the world a better place without the existential hand-wringing that previous generations felt was crucial to earn utopianist credibility." The typically oracular Koolhaas seemed to mean that Ingels has elevated problem-solving to a philosophy, and indeed Ingels seems to thrive while wrestling with regulatory arcana. That's why no two of his buildings bear the same aesthetic stamp: Ingels believes in stylelessness, just as his mentor did.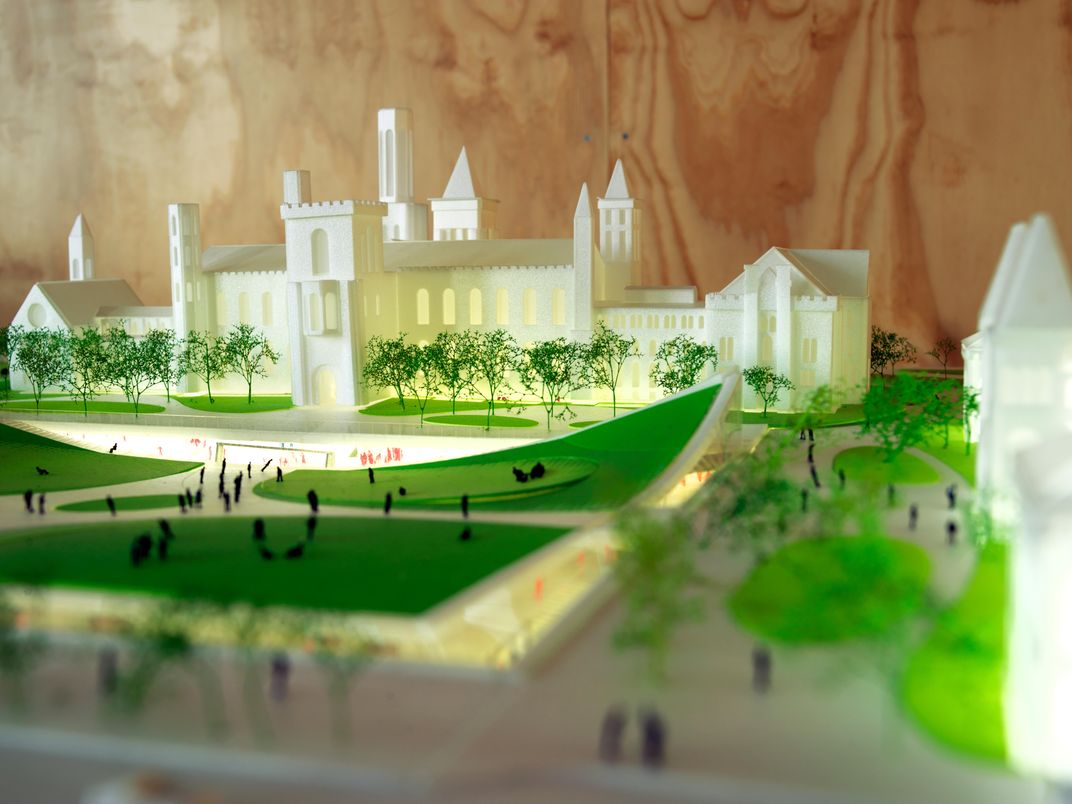 Instead, he focuses on the belief that beauty and pragmatism can join forces to sell each other's virtues. The sloping New York apartment building, known as VIA 57 West, rises from the Hudson River shoreline to a pointed peak, and its west-facing wall curves in a hyperbolic paraboloid—a Pringle-like swooping surface—that has made it a landmark visible to airliners making for LaGuardia Airport. But from the developer's perspective, the real gorgeousness of the design is that it maximizes the number of rentable apartments within especially restrictive zoning rules imposed by the building's narrow, awkward site. 
When Ingels talks about his projects, he tends to invoke apparently paradoxical catchphrases, like "practical poetry" and the more cryptic "hedonistic sustainability," the principle that is turning Copenhagen's power plant into a ski run and New York's anti-flood defenses into a shoreline park. (Construction will begin soon on the "Dryline," which will protect Lower Manhattan with a system of landscaped berms, contoured parks and barriers that can drop down like garage doors from the underside of FDR Drive.) The architecture world can be suspicious of anyone who talks as good a game as Ingels does, but by now he can point to the standing exemplars from his past rather than a wild-eyed future.
**********
To get a sense of how Ingels translates buzzwords into concrete and steel, I set off to visit several of his firm's Danish projects. My first stop is Billund, the sleepy company town in Jutland that Lego has wishfully dubbed "the Capital of Children." There, BIG's Lego House, a fusion of corporate museum, indoor plaza and community center, is rising near Lego's headquarters in the center of town, its interlocking stack of white blocks making it look like a mutant, climbable toy. Outside, two corner towers dissolve into a cascade of smaller bricks, like a wall that's been breached and transformed into climbable bleachers. When Lego House opens in September, visitors will tour a variety of color-coded "experience zones," where they can assemble plastic-brick sea creatures, then scan and launch their digital alter egos into a virtual aquarium. Less hands-on museum-goers can gawp at sprawling, fantastical jungles and cities created by amateur Lego virtuosos all over the world and rebuilt here at the mothership. 
BIG has Lego in the blood. In the Copenhagen studio, a range of miniature plastic mountains inhabited by tiny plastic people rises like an artificial version of the hive on the factory floor. It's a tangible demonstration of the Ingels approach: This is how you build Utopia, one studded brick at a time. "Giving children a box of Lego is an act of empowerment," Ingels says. "It provides them with the means to create their own world and then inhabit it through play. That's not a bad first principle." 
As a child, Ingels says, he learned to subvert the Lego system's apparent rigidity. "I had an obsession with pieces that had secret functionality, like the hinged pieces that have a smooth area without the studs on top, which allowed you to make a pocket door. I made things that looked like one thing and acted as another." Likewise, he says, Lego's "master builders"—like those who have their inimitable works rebuilt here at Billund—are like "hackers." "They take bricks conceived for one purpose and use them for something else." Ingels borrows my notebook and sketches a Roman arch constructed out of thin, two-stud Lego pieces stacked at the diagonal to form a continuous curve.
Lego represents a primal expression of Ingels' credo: Maximize creativity with limited resources. While some celebrated architects advance the profession by means of deluxe facades and upswept forms, Ingels believes in squeezing as much boldness as possible out of conventional construction and mass-produced materials. "Unless you have unlimited means, you'll be putting architecture together from elements that already exist," he says. The challenge lies in figuring out how to turn restrictions into a form of freedom. 
At the Smithsonian, the obligatory pieces of the project on the National Mall are oversized and don't fit neatly together. The Institution's iconic home base is the Castle, built in 1855 and now desperately in need of seismic reinforcement. Out back, two largely subterranean museums, the African Art Museum and the Sackler Gallery, snake beneath the Enid A. Haupt Garden, poking above ground only in the form of a pair of stodgy entrance halls. Two more institutions, the neo-Classical Freer Gallery and the fancifully Victorian Arts and Industries Building, flank the complex, which is laced by driveways and loading docks, turning the stroll from one to the other into an obstacle course. BIG proposed digging up the garden to slip an earthquake-proof pad below the Castle, demolishing the entry pavilions and the copper-domed kiosk of the temporary exhibition space called the Ripley Center, consolidating the disparate operations facilities, and bringing sunlight and some modern glamour to the underground rooms. "The Sackler and African Art Museums are basement-like, labyrinthine experiences. Nobody knows they're there, and there's no obvious invitation to go and explore," Ingels says. "We want to make them blatantly enjoyable." 
In pursuit of that goal, in November 2014 BIG produced a scale model and vivid renderings of a $2 billion renovation, showing the Enid Haupt Garden transformed into a gently tilted lawn elevated above glowing trenches. The grassy plane lifted at two corners to become the roof of an entrance hall, offering a peekaboo reveal of the existing museums. Ingels immediately got pelted with objections. In a Washington Post op-ed, former Smithsonian curator James M. Goode bemoaned the destruction of the garden and called its replacement "a wasteland of skylights reminiscent of a regional shopping mall." The Post's architecture critic Philip Kennicott was more skeptical than opposed: "The new plaza is like a 21st-century screen imposed on a garden; it will have to be 'on' all the time, always playing something, always doing something to entertain us," he warned. 
Chastened, Ingels and the Institution are backing away from the swaggering design, claiming that it was only ever meant to be a notional representation of some basic technical solutions. "We overdid it with visual representations," admits Albert Horvath, the Smithsonian's under secretary for finance and administration and CFO. The rollout, he says, offered just "one expression of how this could look. Now let's get consensus on the objectives." That's an odd order in which to do things—design first, itemize goals later—but in any case BIG's architects are busily un-designing their big idea, repackaging sensationalistic visions into a more neutral, broad-strokes plan. Conspicuously, an enlarged and replanted garden will be added to the next proposal. "Right now it seems as if it's heading right into the blades of design by committee, but most projects are like that" at some point, Ingels says.
One aspect of the Smithsonian project that is almost certain to endure is the underground architecture, a subspecialty that Ingels excels in. Burrowing is a way for designers to create new spaces without impinging on a delicate surface, but they rarely get it right. Curiosity about how BIG handles this challenge takes me to the three-year-old Maritime Museum in Helsingor, on the northeastern tip of Denmark, a marvel of radical preservation. Workers scooped out the soggy earth around a disused dry dock, leaving the concrete shell intact. BIG placed the below-ground museum galleries around that perimeter, and crisscrossed the ship-shaped cavity with angled ramps that never touch the floor. From above, which is the only way to view the complex's exterior, the ramps look like sutures that can't quite heal an industrial scar.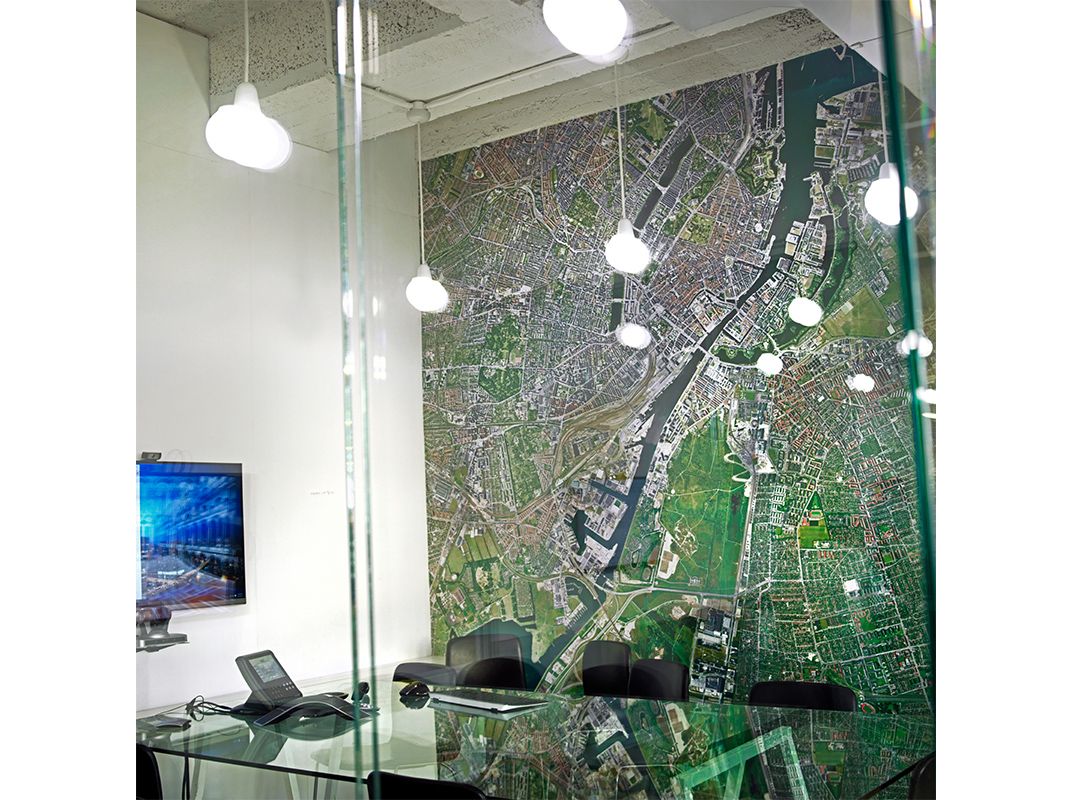 Dozens of details reinforce the contrast between old and new. Thick glass membranes divide smooth interiors from the tough-walled, pitted concrete dry dock. In the café, a solid steel railing changes directions, leaving a deliberate two-inch gap at the corner—a subliminal reminder that you can fuse the past to the present, but the joins will never be watertight. It was this project that convinced Smithsonian officials to entrust BIG with the task of bringing a 19th-century castle and a 20th-century warren into the contemporary world. I can see why they found the Maritime Museum so persuasive: Besides carving a spacious institution out of the earth and bringing daylight below ground, it also succeeds in making potentially arcane history seem vibrant, even to children. 
The day I visit falls during the sixth week of the year, or week six—"Week Sex" in the Danish school calendar—devoted to health education and, for many students, a field trip to the exhibition "Sex & the Sea." Kids of every age are sprawled on the ramps, each one poring over a presumably age-appropriate project. In one classroom, teams of teenagers collaborate on startlingly explicit drawings under the guidance of an only slightly embarrassed teacher. Of course it's Danish culture, not BIG's architecture, that creates this sort of nonchalance, which wouldn't fly in a federally funded facility in Washington. But the scene suggests that Ingels has developed an architecture of the future that is profoundly livable right now.
**********
I have another stop to make on my tour of underground architecture, out on the western shore of Denmark. During World War II, the German Army, having occupied its northern neighbor, tried to fend off Allied invasion by girding the coast with bunkers. Outside the village of Blavand, one such concrete monolith sits half-buried in
the dunes. Chunks of an immense German-made cannon lie on the ground, rusting in the briny air. I clamber inside the abandoned ruin, by turns awed and depressed by the engineering might of war machinery that obliterated so many lives. 
At first glance, this stretch of sand and windswept grasses a mile back from the sea looks like a blank slate, a low horizon bruised by the Germans' silo. In fact, it's a delicate ecosystem. When the assignment came to tuck a multipart cultural center, including a bunker museum, amber museum, local history museum and temporary-exhibitions gallery into the topography, Ingels and his firm decided against altering the landscape. But the wartime German military had already driven a passage to the bunker, and Ingels kept that exposed, and slipped the rest of his structures beneath otherwise protected dunes. The result is a steel-and-glass pinwheel, buried like some abandoned alien space-
craft glowing in the sand. You could hike across the roof and notice nothing artificial until you come to a glass-walled coulee below, where sunlight slants into a small open-air plaza and fills the galleries beneath their pitched ceilings. It's a small marvel, honoring the landscape while also evoking that James Bondian basement glamour that occupied Ingels' boyhood. 
On this blustery afternoon, Ole Elkjaer Larsen, Ingels' longtime associate, is pacing one of the rooms in horrified wonder, listening to the freshly installed wooden pavers crack beneath his feet like thawing ice. With the summer deadline for the building's completion bearing down, each new fissure feels like a small calamity. Elkjaer Larsen has tracked down the contractor: He's sitting on a beach in Thailand, trying to organize a hurried redo. "There's a reason you don't normally make those wooden cobbles so big," Ingels later remarks. That's why innovation in architecture is so hard. Even minuscule variations can wreak intercontinental headaches. 
It's Elkjaer Larsen's job to sweat such minutiae, not an easy task when you work for a man who combines perfectionism and flexibility. A narrow staircase twists deviously at the lower rungs, because even descending a single flight should come with a sense of adventure. And to preserve the Bunker Museum's raw, industrial vibe, Ingels has ordered the black paint stripped from the steel beams. In a sense, though, these touches are subordinated to a broader vision. "Bjarke's very clear about the story" that frames a design, Elkjaer Larsen says. At the Bunker Museum, it's about using crystalline shards to heal the wounded landscape more than 70 years after the war. "Sometimes it takes a little while to understand what he means, but once you get it, it guides you through all the moments where you might otherwise get lost in the details."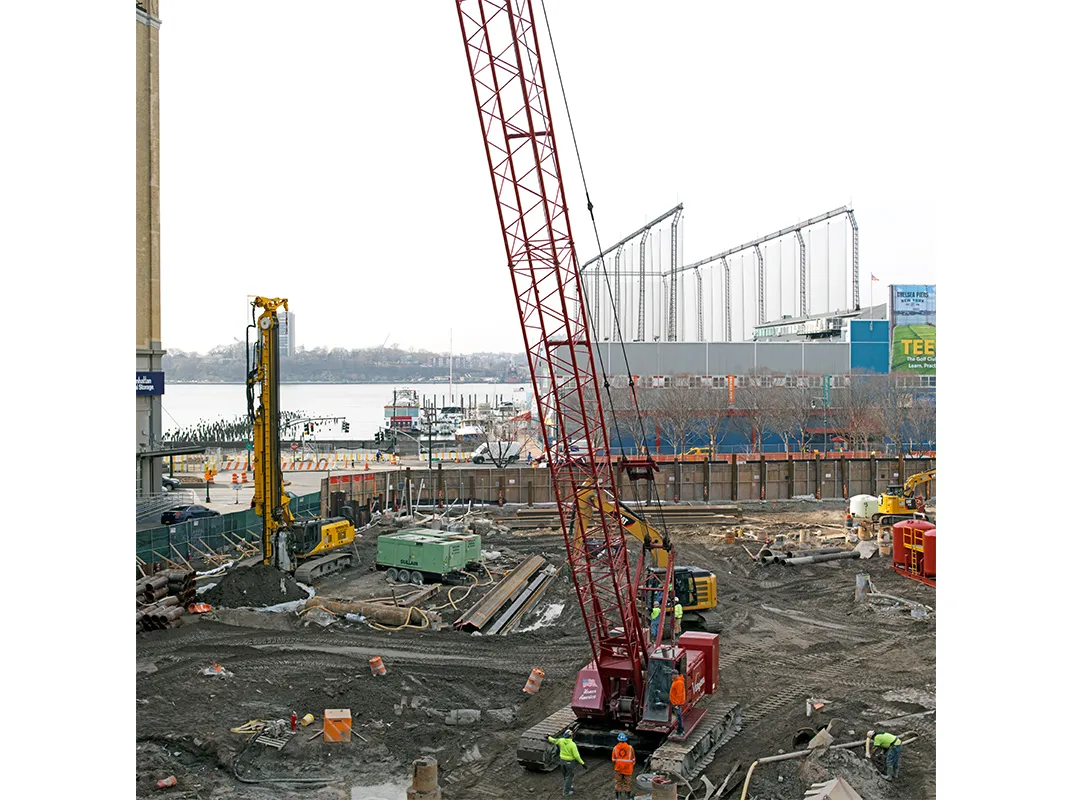 It's true: Ingels is a storyteller, a Power-Point virtuoso who loves an audience and is constantly spinning yarns and throwing out metaphors. He believes in architecture as a narrative art, as gripping as TV or graphic novels. Design discussions are flurries of pop culture references. At one design meeting, half a dozen architects huddled in a tiny conference room. Ingels invoked Lady Gaga's recent Super Bowl halftime show, which the pop star kicked off by dramatically jumping from the roof of the stadium onto the stage (she wore a kind of bungee cord harness). The chatter can seem flip, but the point is serious: to support a design with a conceptual framework. Ingels is enormously proud of 8-House, a self-contained urban village on the outskirts of Copenhagen, with stores, apartments and row houses knotted in a figure eight around two inner courtyards. The strength of the scheme, a fusion of density and small-town life, helped it survive the economic catastrophe of 2008, when construction was underway. "It was so far along we had to finish it, but as cheaply as possible," he recalls. "Anything that wasn't the most affordable option was immediately downgraded: finishes, joinery, landscaping. In the end, could it have been better? Sure. But would I rather we didn't finish it? You're crazy."
In the Copenhagen office, several teams of BIG architects spend the day on standby, waiting for a few moments of creative consultation, but the boss has to rush off to the Royal Opera House, a great luminous gadget perched on the edge of Copenhagen's Inner Harbor, where Ingels is scheduled to give a talk at a sustainability conference. After a quick on-camera interview, a run-through and a round of hellos, he joins me for a standing conversation amid the final flurry of setup and the arriving crowds. 
Architects are constantly rushing through the present to conjure a reality that doesn't yet exist, and now that Ingels is finally still, he can think more calmly about the future he hopes to design: What he has in mind is not the radical, grand-scale drama of invention but a laborious process of nudging the present along a little at a time. The technological revolutions that have shaped the past few decades—the internet, supercomputing, automation—have centered on airy data. Now, he predicts, comes the tangible, buildable stuff: roads, buildings, power plants, museums. 
"If you go back 50 or 60 years, science fiction was about physical exploration," he says. "Actually, though, the physical realm hasn't seen much innovation. The great leaps of the '60s"—he mentions the domed biosphere and Habitat 67, Moshe Safdie's modular, prefab concrete apartment complex that debuted at the Montreal Expo in 1967—"slowed down in the last half-century. Confidence that architecture could build the future disappeared. Now the physical world is again on the agenda." He reels off reasons for optimism: "Three-D printing is a maturing technology. You can assemble things at a molecular level. Denmark launched the world's most efficient windmill, which generates enough energy in 24 hours to power a typical American home for 20 years. The price performance of photovoltaic cells"—the technology behind solar panels—"is doubling every two years. Technologies that used to be luxurious are higher-performing than older ones." The combination of Ingels' engine-revving personality and long view of progress makes his architecture at once practical and bold. "Utopia is achieved step by step," he says.
A few weeks later, back in New York, I catch up with Ingels again, and he invites me to sit in on an early-stage design meeting for a resort hotel. An associate soberly lays out the constraints and parameters, but within minutes, Ingels has whipped the small group into a froth of expensive fantasy: flocks of drones, waterfalls, curly structures, room service by robot. Someone has fashioned a shape like a potato chip out of foam, which Ingels sets in an imaginary pool. "I like the idea of a tissue sample, like a fragment of the future that has been dropped in from somewhere else," he gushes. After an hour of this, he jumps up to meet the next pressing demand, leaving the staff to figure out what just happened—how to encode his restless imagination in a proposal that can be bought and built and will one day age with grace.  
Related Reads