Artificial Intelligence Could Help Generate the Next Big Fashion Trends
With a tool called Cognitive Prints, designers will be able to riff off of past styles and incorporate outside inspiration like never before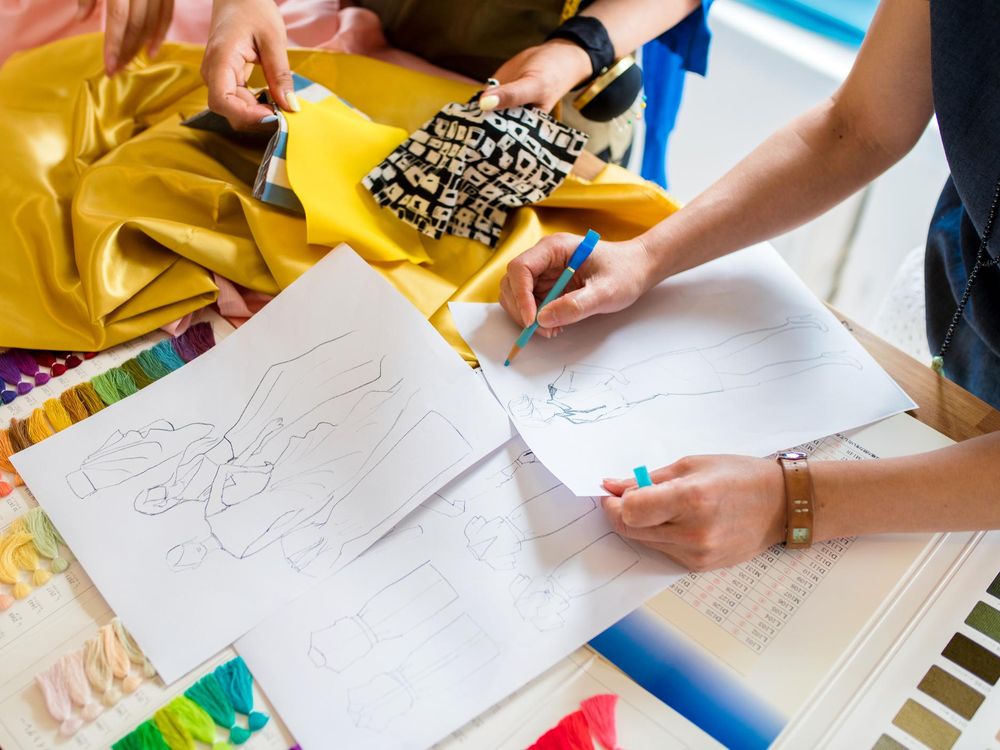 A fashion designer working on a new collection has an idea, but wonders if it's been done before. Another is looking for historical inspiration—1950s-style wasp waists or 80s-era padded shoulders.
Soon, they might turn to Cognitive Prints for help. The suite of AI tools IBM is developing for the fashion industry can take a photo of a dress or a shirt and search for similar garments. It can search for images with specific elements—Mandarin collars, for example, or gladiator laces, or fleur-de-lis prints. It can also design patterns itself, based on any image data set a user inputs—architectural images, amoebas, sunsets.
"Fashion designers arduously put in efforts and time in coming up with new designs which could potentially be trend-setters," says Priyanka Agrawal, a research scientist at IBM Research India, who has worked on Cognitive Prints. "Additionally, they have inspirations like architecture or technology, which they aspire to translate into their work. However, it becomes difficult to do something novel and interesting every single time. We wanted to make it easier for them by augmenting the design lifecycle."
The AI image search engine, a collaboration between IBM and the Fashion Institute of Technology (FIT), was trained using 100,000 print swatches from 10 years of winning Fashion Week entries. Users can filter results by year, designer or inspiration (say, "Japanese street wear"). Designers can get inspired, or can make sure their inspiration is really their own and not inadvertent plagiarism (Gucci was recently accused of ripping off designs from legendary Harlem tailor Dapper Dan; they've since launched a collaboration).
The Cognitive Prints team is looking at making several extensions to the tool's abilities. They want to enable designers to make custom edits to Cognitive Prints-generated designs, like changing the background color or, say, swapping spirals for circles on a fabric. They'd also like to teach the tool to design entire garments given just a few specifications, like "red one-shoulder dresses with ruffled hem."
The use of AI in fashion has exploded in recent years. Various online services use AI to peruse the internet or your own social media data to suggest new outfits it thinks might be to your taste. Indian designers Shane and Falguni Peacock used IBM's AI platform, Watson, to search a half-century of Bollywood and high-fashion images—some 600,000 in total—to help them create a new East-meets-West collection. Tommy Hilfiger partners with IBM and FIT to use AI to help identify trends in real time, for a quicker design-to-store time. Amazon has created its own AI designer as well, capable of generating new garments.
Agrawal thinks we'll be seeing much more of this in the near future.
"As AI progress continues to advance, fashion [will] see more transformations," she says. "For example, with the rise of conversational agents and virtual reality/augmented reality technology, it should not be long until users can not only query fashion catalogs but also interact, iterate and [be inspired by] the technology."
Muchaneta Kapfunde, founder and editor-in-chief of the technology and fashion site FashNerd, agrees. AI is becoming common at the retail end of fashion, she says, with stores using algorithms to predict customers' needs. It's also being used in attempts to create more sustainable materials, an important consideration in an industry that's one of the world's top polluters.
But Kapfunde thinks it will be a while before AI tools like Cognitive Prints are ready to design quality garments on their own.
"The idea of using technology to design a perfect dress, it sounds great in theory, but there's still a lot of work to be done. It's not so easy to implement," she says. "We still need the human touch."