Architects Reimagine Detroit
A new exhibition in Venice showcases how 12 teams would reinvent four sites in Detroit badly in need of facelifts
It's true that Detroit is in a grim state of deterioration. As much as 20 percent of the city's 139 square miles are now vacant. 
But that also makes it a community ripe to be reimagined.
That potential to help rejuvenate a major American city is at the heart of a thought-provoking exhibition unveiled late last month in Venice, Italy at the 2016 Architecture Biennale, an event that showcases innovative architecture from around the world. The show, sponsored by the U.S. State Department, organized by the University of Michigan and titled "The Architectural Imagination," focuses on new looks and purposes for four different sites in Detroit.  
"Detroit is a city on the brink of a new future and we felt architecture should be part of the conversation," says Cynthia Davidson, executive director of the New York nonprofit Anyone Corporation and editor of the architecture journal Log, who along with Monica Ponce de Leon, dean of the Princeton University School of Architecture, curated the exhibition. 
Together they formed an advisory board that included city officials and people involved with a number of Detroit-area nonprofits, and asked it to recommend sites whose makeover could have a real impact. From the original list of 20 suggested sites, Davidson and Ponce de Leon trimmed it down to four. They then selected 12 different teams of architects from the around the U.S. and assigned three of them to each of the four locations. 
One is the site of a huge dilapidated plant on the city's east side where the Packard Motor Company once built luxury cars. Another is a large, triangular lot next to a rail line, but also adjacent to a burgeoning immigrant neighborhood known as Mexicantown. Then there's a site near what's known as the Dequindre Cut, where a railway line once ran along the Detroit River. The final challenge was to rethink a 10-story mail-sorting facility that blocks a neighborhood called Corktown from the riverfront. 
Each team was instructed to come up with a clear purpose for a site, and only then create a design for how the land or the remains of any buildings would be transformed.
"We also asked them to try not to demolish anything, because there's already been enough demolition in Detroit," says Davidson. She pointed out that while the projects are all based in Detroit, the problems they attempt to address plague many cities that have lost much of their industrial cores. One of the exhibition's goals, she says, is to foster ideas that could be applied far beyond Detroit.
She and Ponce de Leon believed that Detroit was a particularly appropriate choice, not just because of its current problems, but also because of the city's past as the place that, as much as any, helped shape how America looks, a country that was largely designed in response to the automobile.
For all the exhibition's visions, it's certainly possible that none of these designs will ever come to fruition. "The Architectural Imagination" is less about designing actual buildings than it is about fashioning inventive ideas that can help people start to think differently about where they live.
"We are all for fixing leaking roofs and broken sidewalks," says Davidson, "but that's not everything. How can we raise the status quo for not just one neighborhood, but the city as a whole. Can architecture do that? We think it can be a catalyst."
"The Architectural Imagination" will remain on display in Venice until November, then it will move on to the Museum of Contemporary Art Detroit in February.
Packard Plant: Detroit Rock City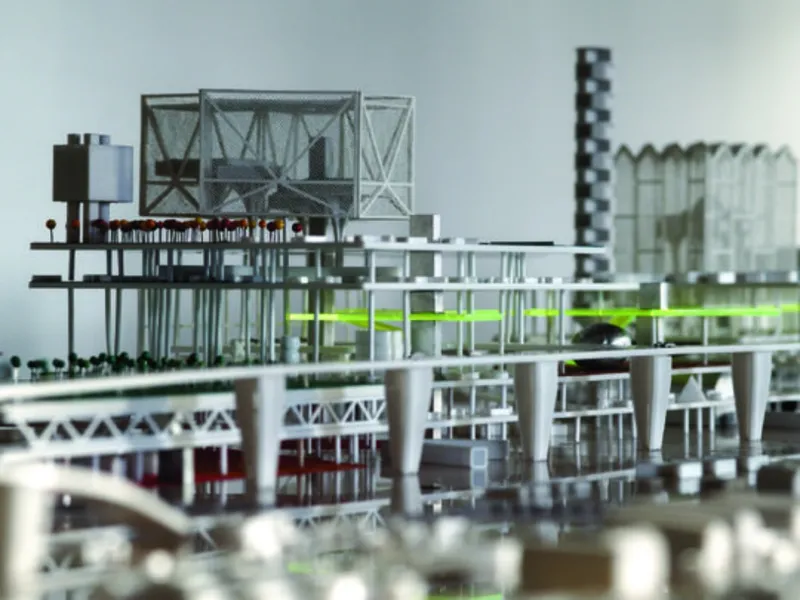 What remains of the once sprawling, but now abandoned Packard Plant provided a challenge to three architectural teams. Stan Allen Architect (SAA), based in New York, proposed using the old plant's remains as a platform for a vertical botanical garden that would serve as a scientific center, as well as an educational space. The project, called Detroit Rock City (above), is presented as a model for future development where the city is eventually repopulated as a "series of dense urban nodes—islands of urbanism within a larger matrix of open space."
Packard Plant: Detroit Reassembly Plant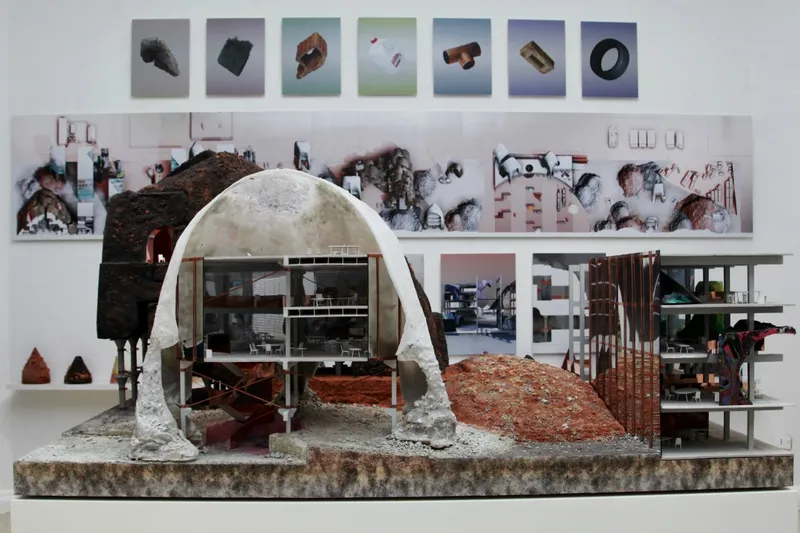 Curator Cynthia Davidson jokingly refers to this project as "the building that eats itself." Proposed by T+E+A+M, four professors at the University of Michigan's Taubman College of Architecture and Urban Planning, the plan calls for a facility that researches how to make new building materials from old ones instead of throwing it all into a landfill. "In other words," explains Davidson, "you would leave the structure still there intact, but rip out the floors, roofs and walls and use that material to create new building material."
Packard Plant: Center for Fulfillment, Knowledge and Innovation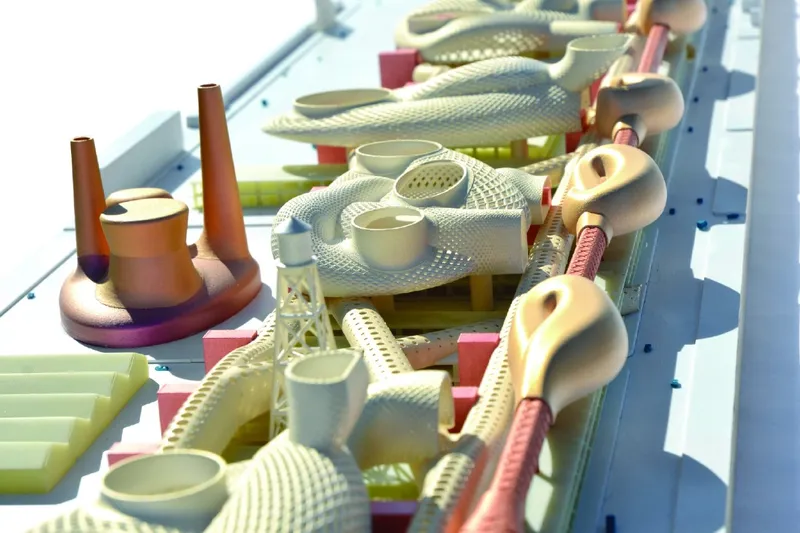 California architect Greg Lynn, of the firm Form, reimagines the old car plant as a new type of complex, one that's part university, part transport hub and part industrial park. His vision is in response to "accelerated developments in robotic manufacturing, autonomous transportation and online retail." The idea is to create a place that contains research centers, but also a retail fulfillment operation, a depot for autonomous vehicles and a port for aerial drones.
Mexicantown: Promised Air
Detroit's Mexicantown neighborhood is a vibrant community filled with immigrants from all over the world. The architects were charged with reimagining an empty triangular lot adjacent to a railroad line. A(n) Office, a Detroit firm, proposed a project titled "The Promised Land Air," which focuses on both the displacement of families for a new customs plaza being erected a few miles away and the problem of poor urban air quality. The plan calls for reducing truck traffic in the neighborhood by using air "both as a means of freight transport and building services and as a medium for construction with inflatable shells and double membranes." The project also would include pneumatic channels that carry waste directly to designated freight train cars, reimagining rail as a 21st-century sewer and waste system.
Mexicantown: A Liminal Blur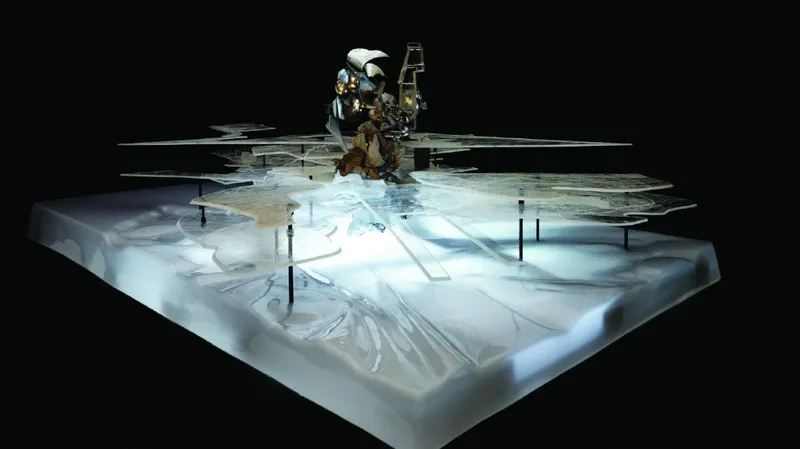 Mack Scogin, of Merrill Elam Architects in Atlanta, saw the Mexicantown site as an opportunity to create a multi-purpose environment that would include spaces for community organizations, open plazas of different shapes and sizes, a tower to "give residents a privileged view to the far horizon" and a grotto that could serve as a place to escape from the challenges of urban life. He describes it as the "conjoining of research and interpretation in precise physical form echoing Mexicantown's layered richness."
Mexicantown: The New Zocalo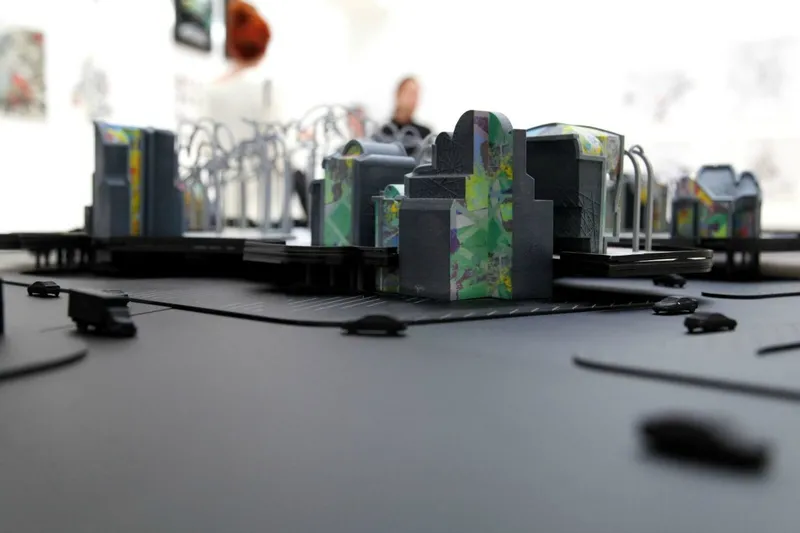 For its Mexicantown proposal, a team at Pita & Bloom, a Los Angeles architectural firm, came up with an "urban platform" it calls the "New Zocalo." It would be set 16 feet above street level, aligned with the adjacent rail yard and feature brightly colored, textured pavement, a series of gardens and broad walkways. The plan also calls for a theater with a restaurant, a recreation center, a winter garden with a cafe, a marketplace with indoor and outdoor retail, and a cultural center.
Dequindre Cut: Dequindre Civic Academy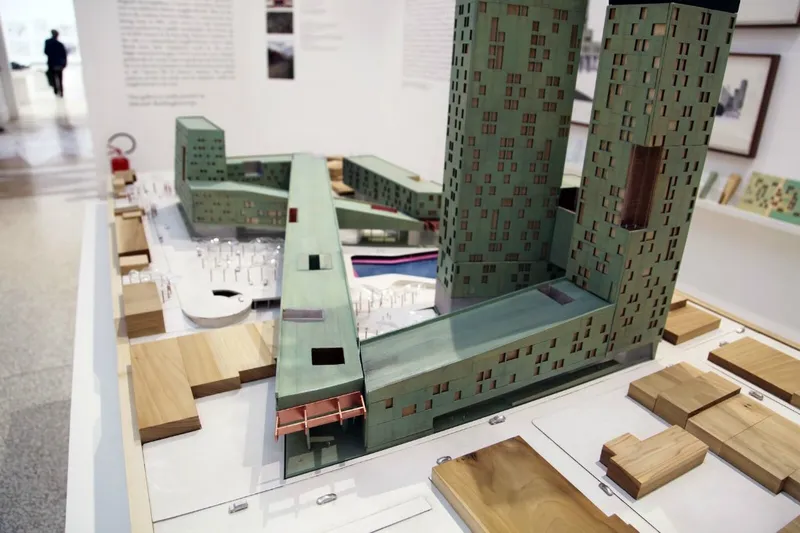 Dequindre Cut is an old railroad line running along the Detroit River that's been converted into a bikeway and pedestrian walkway. The challenge was to rethink the use of a nearby site on the periphery of the city's Eastern Market. Marshall Brown Projects, a Chicago-based urban design firm, proposed the creation of a Dequindre Civic Academy, an educational facility that not only would include a school, but also a community college. And, it would essentially be designed as a village for those involved with the educational process. There would be housing for faculty, a worship center, an observatory, dining halls, a clinic and a library.
Dequindre Cut: A Situation Made From Loose and Overlapping Architectural Aggregates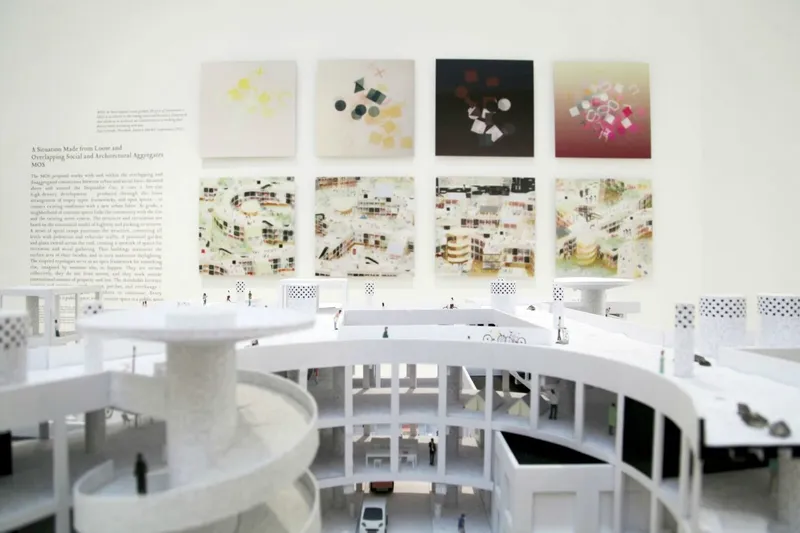 For its proposal, MOS, a New York-based architectural firm, designed a low-rise, high-density development, "produced through the loose arrangement of empty types, frameworks and open spaces to connect existing conditions with a new urban fabric." A series of spiral ramps connect all levels of the structure with pedestrian and vehicular traffic, and a garden and plaza extend across the roof, creating spaces for recreation and social gatherings.
Dequindre Cut: A New Federal Project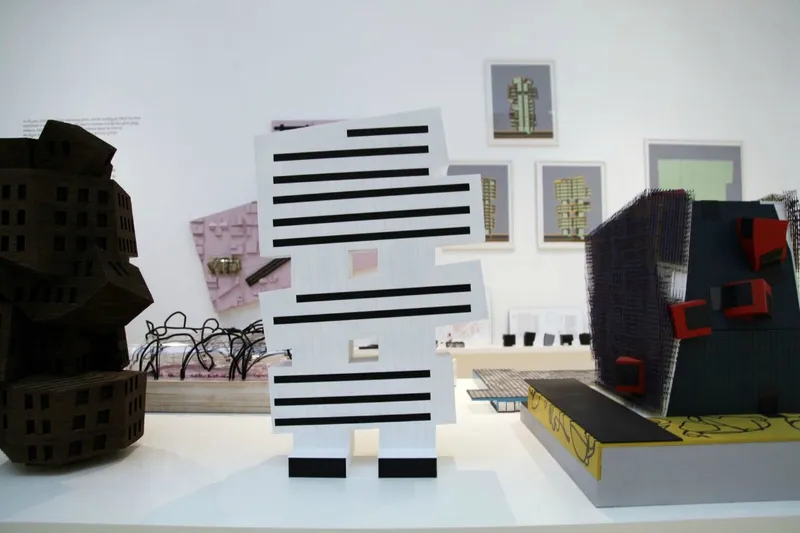 Zago Architecture, based in Los Angeles, took a different approach to how to use the space. It proposed construction of five whimsically-designed buildings that would fulfill a number of functions, including serving as a center for Syrian and other refugees coming to America, a library, a performance hall and a community center.
Post Office Project: Revolving Detroit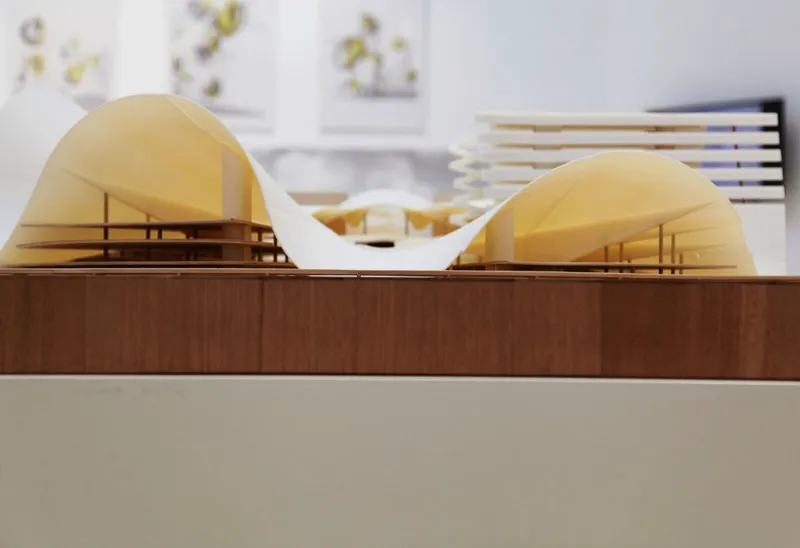 The challenge here was to reconfigure an existing 10-story U.S. Postal Service mail-sorting facility that may be shut down in the future. The building now blocks a section of the up and coming neighborhood known as Corktown from the Detroit riverfront. A team from the firm, Preston, Scott, Cohen, of Cambridge, Massachusetts, came up with "Revolving Detroit," which is essentially an undulating roof over open space around a renovated 10-story building. It's designed to connect the nearby neighborhood to the river.
Post Office Project: New Corktown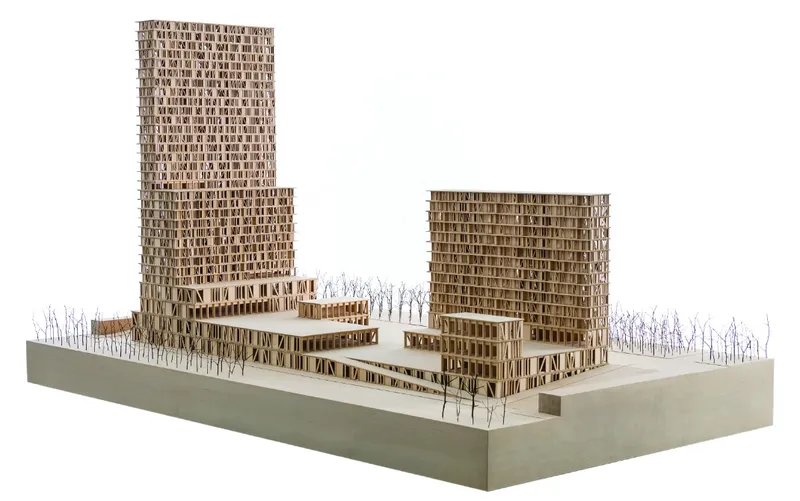 A team from Present Future, an architecture program at Rice University in Houston, took a particularly ambitious approach, extending its proposal beyond the the project site and calling for the creation of a new Corktown over the next 50 years in 10-year cycles. This pattern, as explained in its proposal, would be "synchronized with the typical five-year cycle of population shifts, the 25-year life cycle of trees and the 50-year life cycle of buildings." To provide low-cost housing while responding to the challenges of climate change, the sites would include tree plantations and prefabricated housing modules constructed of cross-laminated timber.
Post Office Project: Next Port of Call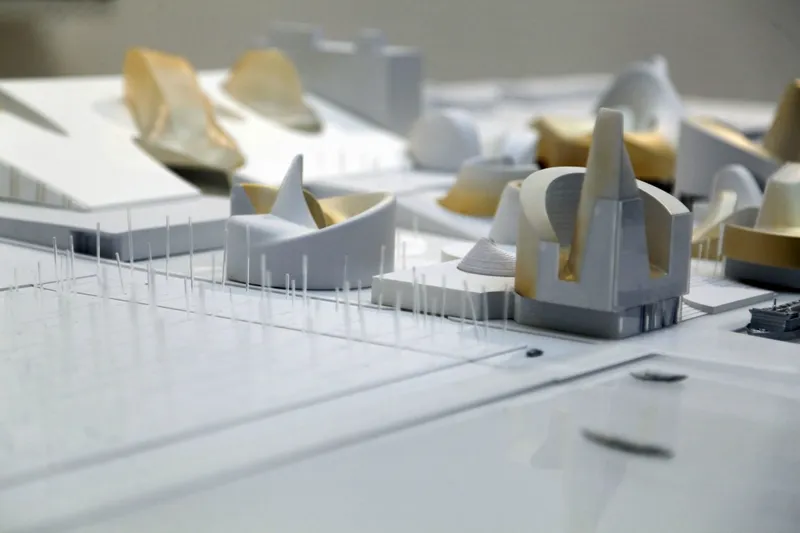 The architectural firm BairBalliet, with offices in Chicago and Columbus, chose yet another approach. While maintaining the Post Office building's administrative tower, it proposed boring through walls and floors of the building to create passageways, view ports and display windows that open up the building to the street and the riverfront to the neighborhood. Then a park between the post office and the river would feature pavilion-like structures, including an amphitheater, a dock and a port of entry between the U.S. and Canada.