A Preview of CES: When Cars Become Smartphones
Is the day coming when your car will talk to your alarm clock and also check your heart rate?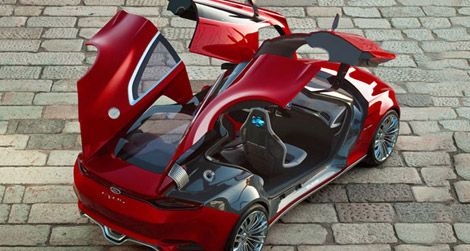 It's time again for the Super Bowl of Stuff.  Its official name is the Consumer Electronics Show (CES) and this is the week when Las Vegas gets its wonk on, filling up with people who prefer gizmos over G-strings and find nothing quite so ravishing as a TV screen big enough to need two zip codes.
CES brings its own kind of decadence to Sin City, one that cranks up consumption by making the gadgets you got last month already feel retro. But it also has been the event where we've taken our first looks at tech that quickly moved into our daily lives–the VCR in 1970, the camcorder and CD player in 1981, DVRs and high-definition TVs in 1998.
This year, though, CES is going through some changes. Yes, tonight, as usual, Microsoft CEO Steve Ballmer will kick things off with the opening keynote address. But it will be Microsoft's CES swan song; the company won't be back next year. At the same time, the keynoter tomorrow morning is someone who's never been there before–Dieter Zetsche, Daimler chairman and head of Mercedes-Benz.  And among the three speakers on Wednesday morning's "CES Innovation Power Panel" is Ford CEO Alan Mulally. Ford alone will have 20 models on display.
Bottom line: CES is turning into a mini-auto show.
What's driving this is the belief that modern cars need to be as much smartphone as vehicle, that  just because you're cruising down the highway doesn't mean you should feel any less connected than you do on your couch.  Auto execs talk about turning cars into "infotainment centers" and are promising that models of the future shouldn't be any less a personal assistant than Apple's Siri, the voice-controlled digital concierge on the iPhone 4S.  Why shouldn't you be able to ask your car to read you your email or have it know which tunes you like to hear when you're out on the interstate?
Daimler's Zetsche and Ford's Mulally will likely talk about cloud computing from inside your auto, how your car and smartphone will soon be talking to each other and how you'll one day be able control the temperature, the speaker volume and and plenty of other things simply by moving your fingers without your hands leaving the wheel.
Mulally also will bang the drums for a new smartphone app called MyFord Mobile, rolled out in conjunction with Ford's first electric car, the Focus Electric, which hits the market later this year. The app will let users check the charge level of their cars, find charging stations, warm up or cool down the interior and unlock the doors, all while they're away from their vehicles.
Talk about a dream car
But the Ford product at CES most likely to make gearheads gaga is its latest concept car, the Ford Evos.  Keep in mind that concept cars are meant to be way out of the box and sometimes can end up looking daft. (Consider the Ford Nucleon, a concept car unveiled in 1957 that was supposed to be powered by a small nuclear reactor in the back.)
As envisioned by Ford, the Evos would start its day while you're still sleeping, checking the weather, traffic reports, your email and work schedule, then, based on what it finds out, tells your alarm clock when you need to get up.  It would also know what you've been listening to and resume playing it when you get in the car.  If conditions are dicey, it can check your heart rate and switch your smartphone to Do Not Disturb mode. Or if you're stuck in bumper-to-bumper traffic, your buddy Evos would take over the driving and let you answer emails.  It could even direct you away from roads where pollution levels are high, then wrap things up by finding you parking space.
Nice concept, eh?
By the way, a few days ago Ford announced that it will open an R&D lab in Silicon Valley this year. Renault-Nissan, GM, BMW and Volkswagen are already there.
Gizmo alert
Here are some other gadgets that will get some attention at CES this week:
Video Bonus: Go along for the ride as Ford spins the tale of its Evos concept car.
CES Bonus:  Three places where you can get regular CES updates this week are The New York Times, Wired and CNet.