A Fine Fix or, All You Need Is Gov?
To start rebuilding our faith in government, we need to go local. And our smart phones will help us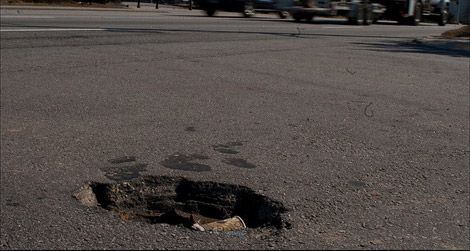 Greetings from the most hated town in America. No one has much good to say about Washington lately. I get that.
But for old times' sake, I'm here to nurture a little "gov love." Not for the feds here in D.C.—hey, I'm not a miracle worker. No, to start rebuilding our faith in government, we need to go local.
And yes, there's an app for that.
Actually, there are several. The one that's been around the longest is the beautifully simple SeeClickFix. It's the brainchild of a programmer named Ben Berkowitz , who grew frustrated with the graffiti sprayed on a house in his New Haven, Connecticut neighborhood. He got even more frustrated when he couldn't get a response from the local government.
So he did what so many people do these days—he turned to his phone for an answer. He figured that if you could take a photo of a neighborhood eyesore, send it to the appropriate local officials, but keep the request transparent so neighbors could chime in if a fix wasn't made, you might get action. He figured right.
Obviously, his idea had value way beyond cleaning up graffiti. Toppled street signs, broken lights, clogged storm drains, reeking roadkill, dicey intersections and, of course, gaping potholes—all were fair game. (You gotta love a guy–Berkowitz–who refers to potholes as "the gateway drug to civic engagement.") Today, SeeClickFix—with apps for iPhones, Android phones and Blackberrys—is in play in more than 25,000 cities and towns, and it keeps the pressure on by rating communities on how many of the reported problems are fixed.
And the idea has spread to Facebook through an app called Citizen Request Tracker. Produced by CivicPlus and now being tested in Burleson, Texas, a suburb of Dallas-Fort Worth, Civic Request Tracker adds a backend feature which sorts and categorizes requests for local governments.
Slowly but surely towns across the country are figuring out how to use QR codes to make community life easier, whether it's to allow residents to use their phones to get access to documents or to reserve parks or learn something they didn't know about local landmarks.
Now, if only we had a SeeClickFix app that worked when you took a picture of the United States Capitol. A person can dream, eh?