6 Projects That Make a Sustainable Future Seem Possible
From an algae-powered building to a playground of recycled steel drums, these spots give designers, urban planners and others hope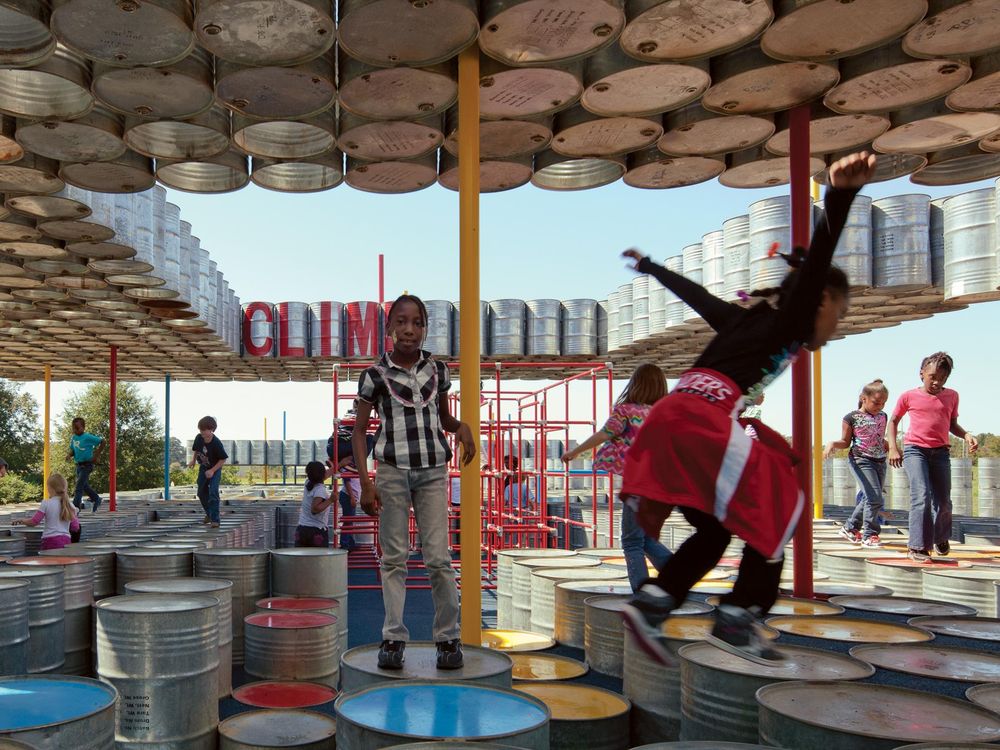 We can't give in to fatalism, or even pessimism, just yet. While we face incredible challenges—with climate change, biodiversity loss, and rising economic inequality at the top of the list—there are glimpses of a more positive, sustainable future here today. In Designed for the Future: 80 Practical Ideas for a Sustainable World, you'll find buildings, landscapes, plans and works of art—contemporary and historic, but all real—that point the way forward.
Here, six experts—a landscape architect, an urban planner, two professors, an urban designer and a journalist—answer the question: What gives you hope that a sustainable future is possible?
Christopher Hume: Sherbourne Common, Toronto, Canada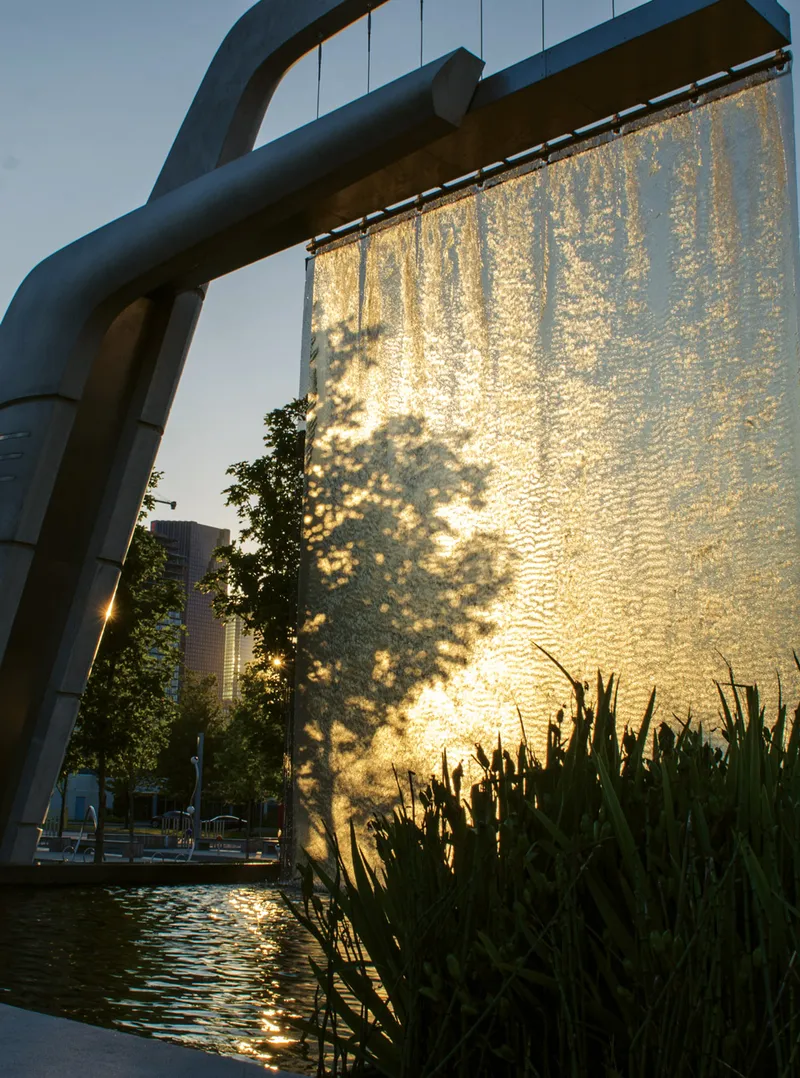 When land is at a premium, there's not a lot of space to waste. Sherbourne Common in Toronto shows how to use space to make infrastructure palatable. Sherbourne does double duty: it is both a new waterfront park and a water filtration plant.
For 50 to 60 years, this area of the Toronto waterfront was a wasteland. But soon, this new park will be surrounded by condos. Before, nobody wanted a water filtration plant in the neighborhood because "it smells and it's dirty." Now, people see how infrastructure can be an amenity.
Rainwater collects and drains into the park's underground filtration system, which then treats the storm water in a ground-level channel with large S-shaped, Russian Constructivist–looking sculptures. The system doesn't make the water treatment process invisible. People see the mesh and say, "What is this?" They then see how the system aerates the water as it flows through bulrushes.
For years, storm water was simply dumped into Lake Ontario. Now the water is cleaned before it goes into the lake. Sherbourne Common also anticipates the expected increase in the neighborhood's storm water runoff over the next 20 to 30 years.
Sherbourne Commons is a model because it turned a water filtration plant into an aesthetic feature that people can use and enjoy. It's incredibly useful for the future, as it meets both the physical and psychological needs of our daily urban life.
Christopher Hume covers urban affairs for the Toronto Star and is also the newspaper's architecture critic.
Excerpted from Designed for the Future: 80 Practical Ideas for a Sustainable World by Jared Green, published by Princeton Architectural Press, 2015. Reprinted with permission of the publisher.
Mikyoung Kim: Lion's Park Playscape, Greensboro, Alabama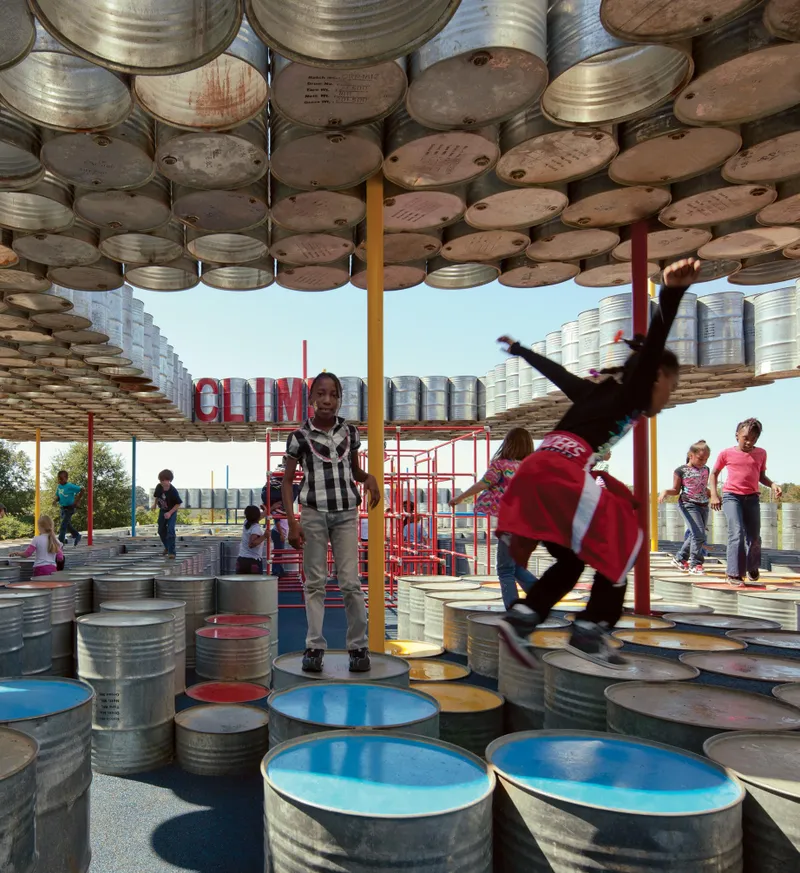 Lion's Park Playscape in Greensboro, Alabama, was designed and built by
 students of the Rural Studio, an off-campus collaborative design-build program at Auburn University that was started by two professors, Samuel Mockbee and D. K. Ruth.
I remember attending a lecture by Mockbee, who believed that "everyone—rich or poor—deserves a shelter for the soul." As a 21-year-old graduate design student, I was inspired to hear him talk about how design can change people's lives and about the importance of integrating social consciousness into the designed world we live in.
Lion's Park Playscape uses simple, recycled materials chosen based on the local climate, but it's also a very sophisticated design. Recycled 55-gallon galvanized drums are arranged in a modular system to create cellular forms to play on. The drums also create a canopy that provides shade for kids during the summer. Kids totally love this place because there is so much to explore, from sound tubes to hide-and-seek mazes.
Lion's Park, like everything created by Rural Studio, was designed and built through a collaborative approach with the students and faculty. Its projects thrive on bare-bones budgets, building homes with as little as $20,000.
Lion's Park Playscape exudes a soulful, regenerative message: We are not separate from the natural cycles of the world but part of them. This sensible and pragmatic model for sustainability is being applied one community at a time by this collaborative design group, offering a model for the future that is hopeful and ecological.
Mikyoung Kim is an award-winning landscape architect.
Blaine Brownell: Solar Leaf Project, Hamburg, Germany
Biomimicry and biodesign—which involve creating lifelike or living systems, products and technologies—give me hope about the future.

Several architects and engineers are using algae—living, photosynthesizing microbes—in building facades. The engineering firm Arup created a promising system for a German building expo: It has a living algae curtain wall, which harvests the building's algae as an energy source through a bioreactor.
Algae are pumped through the system and harvested for biomass, and then new algae are circulated in. As the algae circulate through the facade, they provide solar shading and thermal insulation. The advantage of the system is that it takes what is typically an eyesore in nature and makes use of its photosynthetic capabilities.
Why algae? Why use it in a high-tech wall? That's the intriguing part. This system is about synthesizing industrial technology with living organisms. It's about harvesting nature in a new way. In the industrial way, we mine and then process materials, essentially killing them. This is how we work with trees and other plant fibers. Now, we can allow natural materials to play out their natural lives. We can harvest materials on-site in a form of agricultural architecture instead of using the old energy plant.
Blaine Brownell is associate professor at the University of Minnesota School of Architecture and co-author of Hypernatural with Mark Swackhamer.
Paul Farmer: Before I Die, multiple cities across the U.S.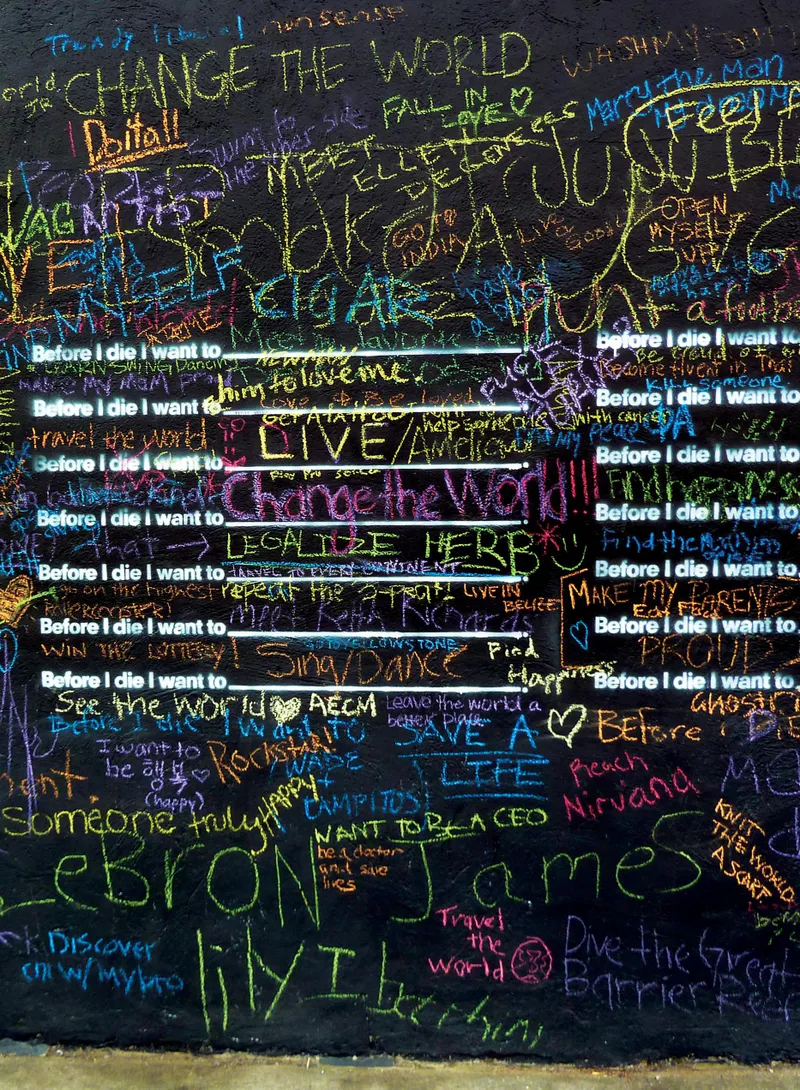 Candy Chang is a planner, journalist and artist. She became famous for her Before I Die project, which has been replicated in so many places, the way a building or landscape never is. In this project, Chang turned a wall into a blackboard and left chalk so people could write their own hopes anonymously.
Planning is about stories, and planners must be great storytellers. Planning is a conversation, not a monologue or even a dialogue. Chang has taken all this and come up with an artwork of civic engagement. She operates at the intersection of art and planning. Her work is one of the most remarkable examples of this that I've ever seen.
I've sat through more nighttime public meetings than I can remember. Attending those, I've found it's hard to reach people beyond the usual ones who show up. Before social media, I called them the people who don't watch TV. Planners also reach people through rotary clubs and interfaith groups. They use many ways to engage people. Chang has added richness to the options.
We want to engage people about their hopes, desires, and fears. But it has to be on their own terms, not those of the planners and architects.
If you ask people what you like or don't like, you can get to their gut feelings, which leads to honesty. They then speak in a way that's not foreign to them. Everyone knows what they like and dislike, where they are trying to go, what their hopes are for themselves and their neighborhood.
Chang's first wall in New Orleans conveys all those hopes. It's a technique for making very private thoughts public and creating a conversation about them. If you had a public meeting, people would be very guarded. A blackboard and chalk are simple but achieve a lot.
Paul Farmer is an urban planner and former CEO of the American Planning Association.
Timothy Beatley: Khoo Teck Puat Hospital, Singapore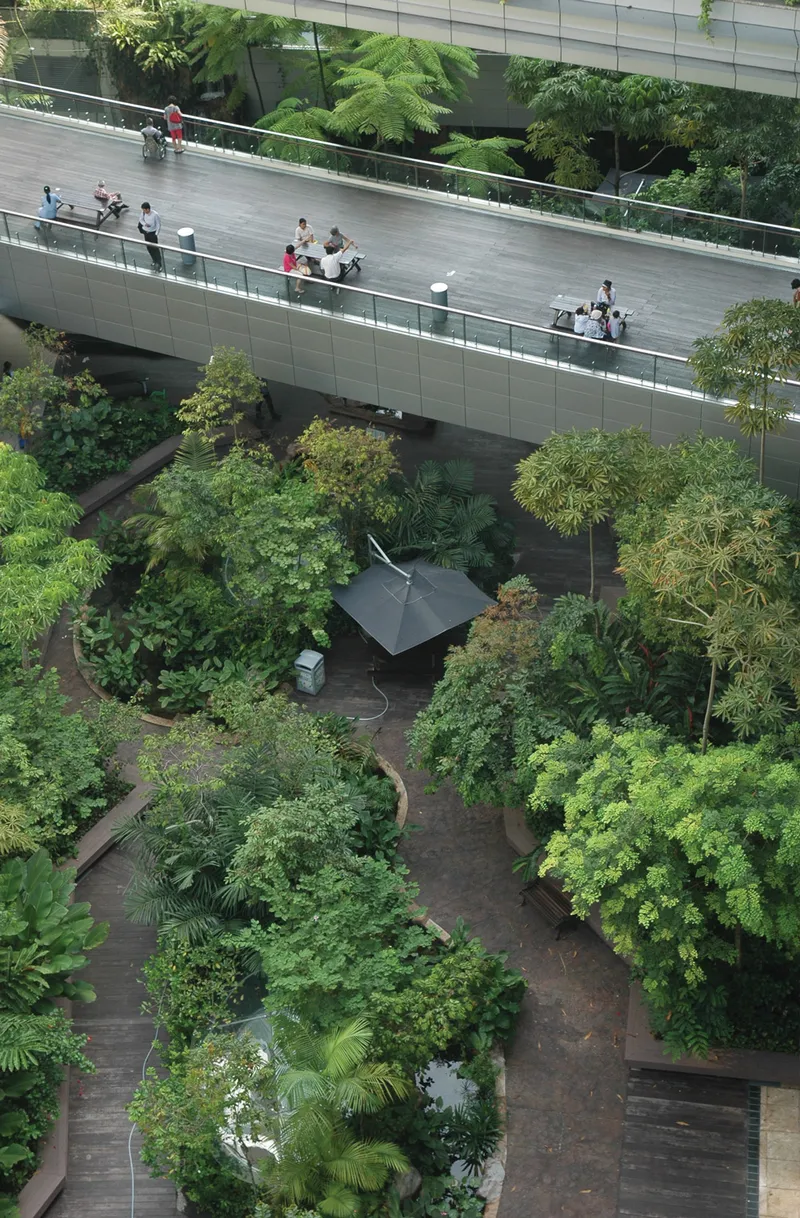 Khoo Teck Puat Hospital in Singapore is a biophilic building with a great abundance of green elements. It's a hospital in a garden.
Singapore is known as the garden city; its new motto is "We are a city in the garden." It believes everyone should aspire to live in a garden environment, surrounded by nature, and that every piece of empty land should be filled with nature. More than any other city, Singapore is also thinking vertically, creating buildings filled with nature.

Liak Teng Lit, the CEO of the Khoo Teck Puat Hospital, wanted a building where your heart rate and blood pressure go down as you enter. Hospitals are inherently stressful. You are there because you anticipate an operation or worse. Instead of stressing patients and visitors out, he built a hospital that acts as a partner in the healing process.
Patients look out onto multiple layers of green roofs, planter boxes along the windows and a courtyard garden. There is a set of healing spaces with a waterfall connected by water spaces and fishponds, which provide habitats to many species of fish.
One green roof is actually a dramatic urban farm where patients can watch food being grown and harvested. When Lit surveyed the patients to discover what they thought of the farm, they said, "We love watching it, we love seeing food being grown."
The building is an ark designed to partly restore lost nature. The hospital's level of success is judged in terms of how many bird and butterfly species the gardens attract.
The hospital is also a community center. In the United States, hospitals are high security, but this hospital attracts people from the neighborhood. Local students come here to study, and it acts as a park as well.
This place makes me hopeful because it shows how health care facilities can be designed to include nature. While there is no recorded evidence, my gut feeling is that this building does heal. This is a hospital that people want to be in.
Timothy Beatley is the Teresa Heinz Professor of Sustainable Communities at the University of Virginia.
Helle Lis Søholt : Copenhagen Harbor, Copenhagen, Denmark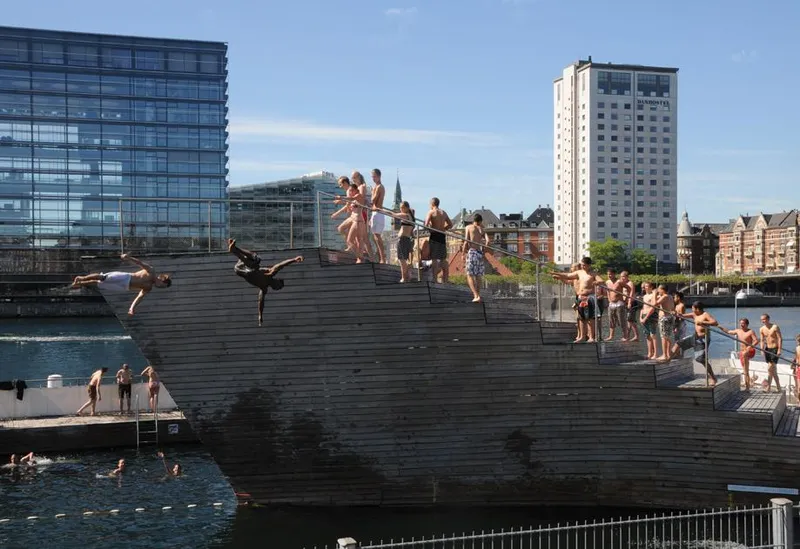 Copenhagen was a medieval city that looked inward, but recently it created a new relationship with its harbor. What was once an industrial area, the backside of the city, has become a source of recreation, the frontside.
One thing that helped achieve this was a series of public harbor swimming pools, filled with seawater, created by the Cophenhagen city government. One pool was designed by the Danish architect Bjarke Ingels. They are all free of charge, and the city maintains them and provides lifeguards.
These pools are the result of a 30-to-40-year process led by the national and city governments. Both governments collaborated on an inner-city clean up program to move polluting industries elsewhere and to create green storm water management systems. The harbor is so clean today that you can jump in and have a swim!

There are new bicycle bridges that connect Copenhagen to the harbor. One bridge, which is up in the air, is called the Red Cycle Snake. These bridges connect Copenhageners to places that were previously difficult to reach.
Copenhagen also just turned one stretch of industrial waterfront into a mile-long public park, with its own beach. This part of the city has become one of the most popular to visit and inhabit. You see people kiteboarding, jogging, paddleboating, sunbathing, or swimming—which they do even in the winter. This park is really one of the most democratic spaces in Copenhagen, attracting so many different ethnic groups.
Together, these projects show a new way of moving around and living with the harbor.
So many cities were built along waterways—to move goods and people. For too long we've used those waterways as an industrial zone instead of a recreation zone. The story of Copenhagen is about creating a good quality of life for people. Our story can be aspirational for other cities with waterfronts.

Helle Lis Søholt is a founding partner and CEO of Gehl Architects.