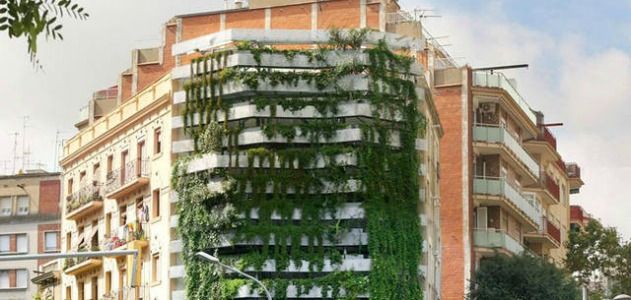 Over the next few days you're going to see a lot of the London Eye, the giant slow-spinning Ferris wheel along the Thames River, particularly since during the Olympics it will be portrayed as a massive mood ring, changing color every night to reflect what people have been tweeting about the Games. If tweeters are feeling good about what's going on, it will glow yellow. If not, it will turn morosely purple.
What you're less likely to see is the vertical garden covering the corner of the Athenaeum Hotel in Mayfair or the one at the Edgeware Road Underground station or the one climbing 14 stories up the side of an apartment building on Digby Road in Central London.
Which is a shame, because while none of these walls are able to change color to reflect the whims of Twitter Nation, they are choice examples of one of the more pleasing architectural innovations trending in cities around the world.
But they're much more than urban eye candy. Last week a study published in the journal Environmental Science and Technology concluded that green walls planted strategically could help cut pollution in cities by as much as 30 percent, almost 10 times more than previously thought.
The key, say the researchers, is that green walls can filter out pollution not just at street level, as trees can, but much higher up in urban canyons. Their computer models suggested that grasses, ivy and flowers attached to the sides of walls and buildings could be even more effective at cleaning the air than plants in parks or on rooftops.
Growing up
Some have taken to calling this "vegitecture." Not so easy on the ears, but the point is to give props to vegetation as a valuable component of architecture. It's how the firm Capella Garcia Arquitectura describes the vertical garden it built to cover an unsightly wall on a Barcelona apartment building last year. Using steel scaffolding erected next to building, they essentially created a stack of huge planters layered more than 60 feet high. And, thanks to an interior staircase hidden by the plants, a person can enter this hanging garden from the inside and take a break from the city's whirl on one of the wooden benches.
But for all the talk of urban canyons, you don't see many vertical gardens on the sides of skyscrapers. Most are still about style more than function, such as the verdant coating around the windows of the Musee du Quai Branly in Paris, or the wild, multi-layered facade of the CaixaForum Museum in Madrid. Both are the creations of Patrick Blanc, a botanist turned landscape architect whose hair matches his walls and who designed the system of metal frame, PVC pipe and nonbiodegradeable felt that makes it possible for plants to take root on vertical surfaces without the need for soil.
Architects in Mexico City, working for a non-profit called VERDMX, have taken a slightly different approach. They've erected three towering "eco-structures," shaped like upside down L's and U's and ringed with vegetation. The hope is that they will help clear Mexico City's notoriously nasty air. But pollution dies hard. Exhaust from cars on nearby streets already is causing some withering on the vines.
Leanin' green
Here are more recent examples of cities going natural:
Video bonus: See where it all started in this BBC piece on Patrick Blanc, the green-haired Frenchman who turned vertical gardening into urban architecture.
More from Smithsonian.com