The 5 Biggest Challenges to the Success of the Apple Watch
Even though wearables are on the rise, Apple's newest product has its obstacles, from limited battery life to a hefty price tag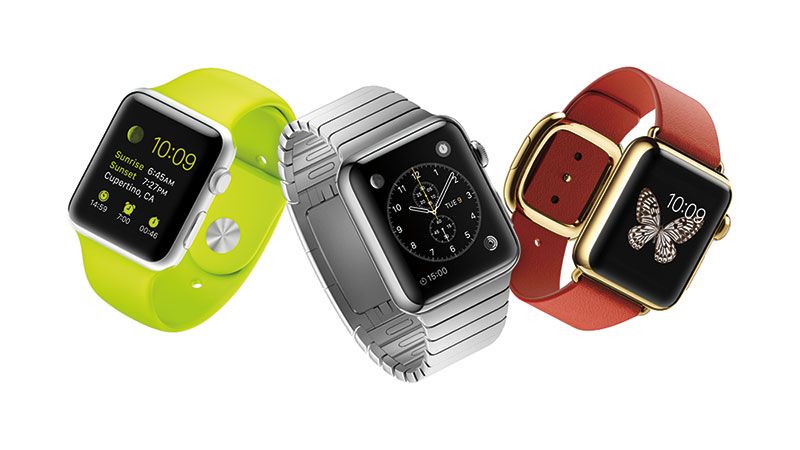 Editor's Note, March 9, 2015: Apple's CEO Tim Cook announced today that the Apple Watch will be available in nine countries starting April 24. The smartwatch, costing from $349 to more than $10,000 depending on the model, will have a battery life of 18 hours. Apple demonstrated several of the wearable's features, including "digital touch," which allows real-time screen sharing between users, and an ability to receive phone calls.
After roughly four years of speculation and rumors, Apple has finally officially taken the wraps off its first wearable, recently announcing three models of the Apple Watch. It's always a big deal when a company like Apple, still riding recent successes like the iPhone and iPad, decides to step into a new product category.

Wearable technology is seen by many analysts as an industry with huge potential. Research firm International Data Corporation, for example, expects that worldwide sales of wearables will hit 19 million units this year, and exceed 111 million in 2018.

But despite all the hype and legions of loyal Apple customers, the success of the Apple Watch is far from a sure thing. Let's consider the chief hurdles Apple faces in its attempt to bring the smartwatch to the mainstream consumer.
Battery Limitations

Mechanical and digital watches use very little power, so we're used to them lasting years without needing a new battery. But with its color screen and processor, combined with the need to send and receive data to and from your smartphone, the Apple Watch is likely to need a recharge at least every couple of days.

Apple hasn't said anything official about battery life yet, which likely means it won't stand out from the competition on the longevity front. Competing color-screen smartwatches, like Samsung's Gear line, need to be recharged every one to three days. The Pebble smartwatch can last four days or more between charges, but it has a simpler black-and-white display.

Given the limitations of current battery technology and the fact that there's little space for a battery inside a watch, the next few generations of smartwatches are likely to need charging more than once a week. And it's unclear whether most consumers are willing to put up with yet another device to frequently tether to a power plug.

Competition

There are several very recent smartwatches on the market that will be competing with the Apple Watch. Samsung alone has launched a staggering six smartwatches in the last year or so alone. Several new models run on Google's Android Wear OS and will work with several smartphones. The Pebble works with both Android and Apple devices. But, the Apple Watch, we're told, will only work with the iPhone 5 and newer Apple phones.

A couple of the new Android Wear devices, namely the Motorola Moto 360 and LG's G Watch R, have round screens, giving them a more traditional watch-like look compared to the square screen of the Apple Watch.

To be fair, none of these competing devices are seen as surefire hits either. But while Apple was content to develop their smartwatch behind the scenes, several companies have reached the market first. And with Apple losing smartphone market share globally, those thinking of switching to an Android device may be hesitant to invest in a watch that will further tie them to Apple.

Design

This is largely subjective, to be sure. But while the Apple Watch, which will actually be available in three models with two different screen sizes (1.5 and 1.7 inches), does seem to be pleasingly compact compared to some other smartwatches, the design of the watch arguably doesn't stand out from the competition. This, of course, is a bit surprising for an Apple device. Apple computers, for years, have been pillars of cutting-edge design. Take the original colorful iMac, for example, which is largely credited for turning the company around. For a more recent example, consider the latest model of the Mac Pro. Both are iconic designs that stand out in stark contrast to competing devices.

The Apple Watch looks nice enough—especially if you're partial to gold-accented electronics and jewelry. But does it look drastically better than the Moto 360 or Samsung's curved-screen Gear S? Again, there's no absolute answer, but the Apple Watch may not stand on design alone as much as many of the company's previous products.

Overcoming Prior Failures

Calculator watches have been around since the mid-1970s, but they didn't really catch on until about a decade later when Marty McFly wore a Casio calculator watch in Back to the Future. While they weren't entirely "smart," calculator watches can certainly be seen as a precursor to today's smartwatches.
In the past 15 years, technology has improved immensely, and still there have been loads of failed (or at least not substantially successful) smartwatches. Zdnet has a nice visual roundup, including IBM's WristPad, Fossil's Wrist PDA, Microsoft's Spot and a few forgotten models from Sony and Samsung.

Can Apple succeed where others have repeatedly failed? Sure. Tablet PCs had been around for several years, and their sales were tepid at best before the iPad launched in 2010. Now tablet sales are pushing 50 million globally per quarter, with Apple still leading the charge with about 27 percent of the market share. And don't forget what the company did for the MP3 player market. But the company has had its share of flops as well.

There's no doubt that Apple could kick off a smartwatch adoption wave with its first device. But it's hard to think of a market more riddled with failures than Internet-connected wearable devices.

Price

All we know from the company at this point is that the Apple Watch will start at $349. There will be three models available: the steel-banded Apple Watch, a workout-friendly Apple Watch Sport and the 18-karat gold Apple Watch Edition. Even if the two models that make do without precious metals land at $349, Apple's smartwatches will be some of the most expensive high-profile models on the market. Samsung's curved-screen Galaxy S smartwatch, which is slated to launch in October of this year, may carry a higher price. But it has a full-blown smartphone inside, so you can use it without being tethered to another device. You'll need your iPhone nearby to do most things with an Apple Watch.
On the other end of the spectrum, the Pebble smartwatch starts at $149, and LG's recently released G Watch got a (likely temporary) price cut to $180.
 
It's easy to argue that plenty of people pay thousands or tens of thousands on high-end watches. So $349 could be seen comparatively reasonable. Apple devices often come with a price premium over the competition. But will consumers, many of them fresh from purchasing a new iPhone (between $649 and $949 off contract, depending on model and storage), be ready to spend another few hundred dollars on a watch to pair with their new phone?

In the end, the answer to that may have as much to do with software as hardware. Apple's iOS app store is second to none, thanks to thousands of dedicated developers. If the Apple software army can crank out several truly impressive, must-have (or at least really want) Watch apps between now and the device's launch early next year, that could spur consumers to plunk down their plastic and dive in to the wearable realm.