360-Degree Cameras and Other Cool New Tech for Super Bowl 50
This year's game, held at San Francisco's Levi's Stadium, should be the most high-tech Super Bowl ever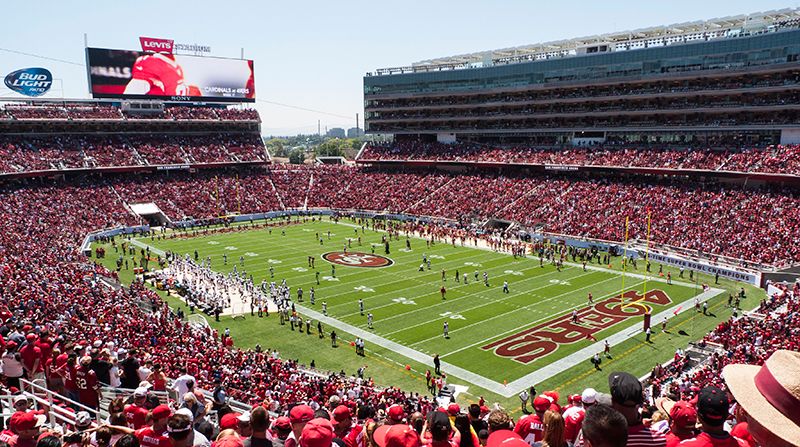 Super Bowl 50 will go down in the heart of Silicon Valley, so it's no wonder this game promises to be more tech-forward than any before. Held at Levi's Stadium, the shiny new home of the San Francisco 49ers, the game will feature several cutting-edge technologies, from cameras to apps. In addition to the game day tech, there's a full week of lead-up activities at Super Bowl City, a tourist-oriented theme park in downtown San Francisco, which includes a number of digital games and gadgets.
The most connected stadium in America
When Levi's Stadium opened in Santa Clara in 2014, Time Magazine declared it the "most high-tech stadium anywhere in the world." The 70,000-plus seat venue has far more bandwidth than any other stadium, with some 400 miles of cable, 70 of which serve the 13,000 Wi-Fi routers. There's a router for every 100 seats, giving the stadium 40 gigabits per second of available bandwidth. There are also 1,700 beacons, which use Bluetooth to give fans hyper-accurate directions to their seats, the toilets or other facilities, and can send promotions from concession stands. All this makes Levi's by far the most connected stadium in the country (as well as, some say, a potential target for game day hackers).
Replay in 360 degrees 
Fans and techies will perhaps get the greatest kick out of CBS Sports' new camera system, debuting at the big game. EyeVision 360 uses 36 cameras capable of giving viewers a 360-degree view of the action. Instant replays will be able to "freeze" a play and examine it from all sides before returning to the action. Fans will also be able to see the game from players' perspectives, thanks to 16 cameras housed in pylons—a technology less than a year old—all of them embedded with microphones to give the game's audio a richer, more natural feel.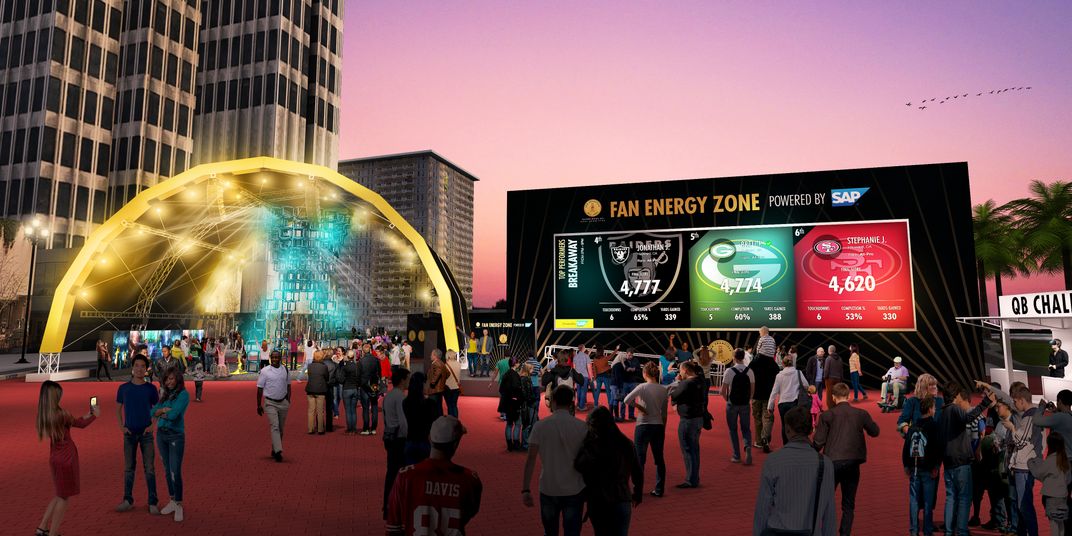 Interactive fun 
In Super Bowl City, a 40-foot tall "Fan Dome" lets spectators get a taste of the action through a locally-designed interactive digital football game. Motion sensors capture fans' movements, which are displayed inside the dome as avatars. A 50-foot-wide Fan Wall will display stats from the game, as well as live video feeds from around Super Bowl City and user-generated content. Another game area lets fans don virtual reality headsets to see the world as an NFL quarterback. If anyone at Super Bowl City has any tech needs, the area has 100 on-call "Wi-Fi coaches" to help connect your phone or set up an app. 
An app for replays…or nachos
Fans won't be bored for a millisecond at Super Bowl 50, thanks to a new Super Bowl Stadium App. While in the olden days commercial breaks were a time to stretch your legs or take a pee break, now you can use those minutes to watch instant replays from four different angles, laugh at Super Bowl commercials just seconds after they're broadcast on TV, or order snacks or merchandise. The app's detailed maps help spectators find their seats or the nearest nacho stand. Essentially a Super Bowl-branded version of a pre-existing Levi's Stadium app, it has potential public safety uses—it can notify fans about any incidents in the stadium or instruct them on evacuation procedures. It will also no doubt be used as a way for the stadium to track fan behavior and food and souvenir preferences.
Eco-friendly tech
Levi's Stadium earns high marks for greenness, with three solar-paneled pedestrian bridges and a solar-paneled roof deck, together producing enough energy to power home games. There's also a 27,000-square-foot green roof planted with local vegetation, watered using reclaimed water. Eco-minded fans can see a live display of the stadium's current energy usage (we're sure they'll be looking at that and not the Panther's touchdown). Over in Super Bowl City, Hyundai's sponsored area displays its Tucson Fuel Cell—a hydrogen fuel cell electric crossover—and Sonata Plug-in Hybrid. As a display of green energy (and, obviously, a way to draw attention to the cars), the area features a "human-powered selfie" station where fans can generate enough power doing a touchdown dance to snap a digital photo.