10 Ways Travel Is Getting Better
Sure, it can get aggravating, but here are some innovations that are making it easier and more enjoyable to take a trip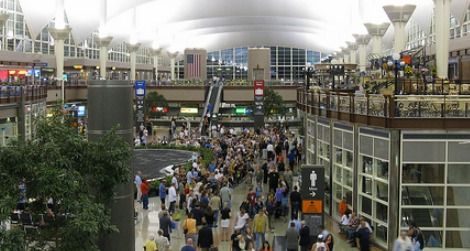 Most Americans have already kicked into Thanksgiving mode, looking ahead to Thursday when they'll sit down with family and friends, pile an unfathomable amount of food on their plates and then sleep it off to the soothing sound of supersized men smacking helmets on TV.
But between now and then madness lies. There will be traffic jams and long security lines and countless other aggravations that will make you wish that this year you had stayed home and opened a can of tuna.
Don't despair. Believe it or not, traveling is getting easier. Here are 10 innovations that can help you now or give you hope about the future.
1) You're the one who likes his cranapple juice shaken, not stirred: British Airways is breaking ground in showing passengers how much it knows about them. As part of its "Know Me" program launched last summer, the airlines is using data it has accumulated about its customers to allow flight crews to give them particularly personal service.
For instance, say a person is flying business class for the first time. That would be flagged 0n the crew's iPads and a flight attendant could offer a special welcome and make sure he or she knew how to use the seat. Or someone who usually flies business class might instead be in coach taking a vacation trip with his family. A crew member might offer a free drink and make a fuss in front of the whole gang. That'll score some points.
The big question, though, is when does knowing so much a customer slide from solicitous to creepy?
2) People you meet at airports can be so shallow: When they started showing up at a dozen or so airports around the world this summer, greeter avatars were by no means a sure hit. There was some concern that arriving passengers would be creeped out by holograms that go into a 90-second rap on airport info–location of baggage claim, bathrooms, etc.–as soon as anyone comes within 30 feet of them.
But generally the response has been positive, with plenty of passengers reaching for their cell phones to snap shots of these virtual women for the folks back home. And why not? They're happy to be on a first-name basis. (Hi, I'm Eva…or Paige or Emily or Heather or Carla.) And they no doubt they bring back memories of Princess Leia, only they're taller, have much better hair and are way too cheery to bring up anything having to do with Death Stars.
3) Because the real adventure starts after you leave the airport: Last year the Australian start-up Rome2rio launched its search engine designed to provide you with all the travel details for any trip–not just airport-to-airport, but door-to-door. So it includes train schedules and prices, driving routes, even ferry times, if that's part of the journey. And just last month, it came out with an iPhone app that digs up the same info for you.
4) But can it make the cheapest be the fastest?: Madrid-based Amadeus has been in the airfare search business for several years now, but next year it hopes to take a big leap forward in simplifying the process for travelers.
Using a technology it calls Featured Results, it will be able to do a high-speed search of all possible fares between two locations and, in a matter of seconds, provide the top option in three different categories–the cheapest, the fastest, and the most popular.
5) The next best thing to not having a layover: Another tech product that's been around for a few years is the mobile app GateGuru. It gives travelers the lowdown on the mysterious world beyond the gate–where you can find the best food, the best airport bar, the fastest security lines, a place to get a massage, the ATMs.
Now it's entered into a partnership with JCDecaux, a company that handles advertising at airports. Which means the GateGuru content will soon be showing up in digital displays in airports. The first will be at Baltimore-Washington Airport.
6) And then you shoot on down to LA: You have to admit that Elon Musk has earned some cred when it comes to transportation. He's co-founder of Tesla Motors–its Model S was just chosen Motor Trends' "Car of the Year"–and founder of SpaceX–which last month flew the first commercial resupply mission to the International Space Station.
So when he talks about a transit system that he says could move people from San Francisco to Los Angeles in a half hour, you can't dismiss him as someone who's been munching on a bowl of crazy. Musk's idea is something he calls "Hyperloop," which he described as a cross between the Concorde and a railgun. Based on the few details he's provided, it would be some kind of tube vehicle that would be able to leave as soon as you arrive and then get you to SF or LA in half the time a plane would take.
7) While you're in the neighborhood: Airbnb started out as an online service that hooked up people looking for a place to sleep in another city or country with people willing to have strangers stay over. And it's grown quickly–it has listings of 250,000 properties in 30,000 different cities around the world.
Now it's taken a leap toward becoming more of a full-blown travel service by launching guides to the lesser-known neighborhoods where Airbnb clients are more likely to be staying. So far neighborhood guides have been rolled out in New York, Paris, London, San Francisco, Washington D.C., Berlin, and Rio de Janeiro.
8) What did you expect in Vegas, a milk store?: Given the location, this seems long overdue, but now an operation called the Liquor Library is open for business in Las Vegas' McCarran Airport. It's just as it sounds, a place where travelers can pick up beer, wine or booze–and not in some duty-free shop, but in a real live liquor convenience store that calls itself a library.
9) Surprise! There's a Cracker Barrel in your future: Yes, we'd all like to be able to predict the future, but sometimes we'd settle for being able to know what's off the next exit. That's where mobile apps, such as Road Ninja, can make your life easier. It not only lets you know what's up ahead, but you can also call ahead or read a restaurant review, although there's only so much you can say about Denny's Grand Slam.
10) What, no free cocktails for the parents?: Early next year, Air Asia will start setting aside a kid-free zone on its flights. And now a California consulting firm, RKS Design, has gone even further by dreaming up how an all-family airline might work.
They've named it cAir and it would feature express check-in services, stroller rentals and play lounges to keep the kids amused. The seats would be arranged so parents would face their kids, bathrooms would be large enough for diaper changes, and sound curtains could be pulled around a noisy little tyke. A kid would even be able to pick out a toy to play with during the flight–which parents would have the opportunity to buy if they can't wrench it from his hands.
For now, it's only a concept–no one's sure if you could actually make a business out of the idea.
Video bonus: The Hobbit opens soon and fittingly Air New Zealand has started airing safety videos featuring a few flight attendants who look like they took a detour from Middle Earth. Sit back and relax, my precious.
More from Smithsonian.com
How Bad Is Air Travel for the Environment?
Is the U.S. Out of Love with Cutting-Edge Transit?