10 Inventions You Haven't Heard About
Apple's iPhone 5 will get all the attention this month, but here are some lesser-known innovations whose time has also come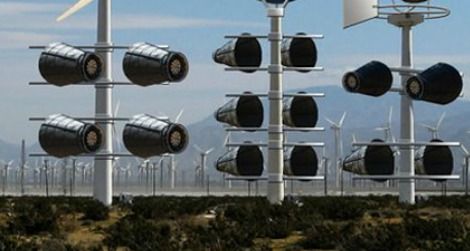 This Wednesday, Apple, with great fanfare, will present the iPhone 5 to the world. Much will be written about its 4G speed, taller screen, longer battery life, thinner shape and two-tone look.
And much will be said about whether or not it is Steve Jobs' final legacy. Was he actually weighing in on the new model until his dying day? Or is that story being floated to ensure the iPhone 5 cult classic status in the devout Apple community?
No doubt this will be the big tech innovation story of the month–although, as MIT's Technology Review pointed out last week, we've reached the point with smartphones that improvements are more incremental than revolutionary. Now all the talk is about how big the screen is, not that you can control your phone simply by touching it.
Now that's a good idea
But instead of joining the iPhone chorus, how about a little counter-programming. What follows are 10 recent inventions, none of which is likely to get much attention this week. But that doesn't make them any less inspired.
1) All we are saying, is give bats a chance: One of the raps on wind turbines is that they kill thousands of birds and bats every year. But an 89-year-old retired engineer in California named Raymond Green has taken it upon himself to create a device that may lead to a solution. His invention, which he calls "Catching Wind Power," is basically a large drum in which all the movable parts, including the killer blades, are contained. That would make them considerably less dangerous for flying creatures, and also, Green claims, quieter than what's out there now.
2) Forgetting something?: As I noted in a recent post, hospitals are a bacterial war zone where one of the key weapons of the good guys is frequent hand-washing. But research suggests that health care workers wash their hands half as often as they should. Now an Israeli company named Hyginex is producing wristbands that wirelessly remind those wearing them that to scrub down. Sensors in soap dispensers track the movements of doctors and nurses, and if they approach a patient without washing their hands, their wristbands light up and vibrate.
3) The roads less traveled: Yes, there are apps out there that alert you to backups and accidents, but a group of German students has ratcheted traffic apps up a notch. Their Greenway app, now being tested by drivers in Munich, uses algorithms to predict where and how traffic will flow and gives its users directions to "traffic-optimized" routes. It also closely monitors the alternate routes and scales back its recommendations if they're getting crowded. Greenway's creators claim their directions, on average, get drivers to their destinations twice as fast as on their usual routes.
4) Say good-bye to helmet hair: It's still Fashion Week in New York, so allow me to introduce the Hovding bike helmet. It's the brainstorm of two Swedish women who have managed to do the seemingly impossible–merge fashion and bike safety. Their helmet actually looks like a collar, but if it senses impact, it inflates like an airbag around the rider's head.
5) Go ahead, walk all over me: Scientists at the University of Manchester in the UK have developed a smart carpet. That's right, a smart carpet. The rug's backing contains optical fibers that distort when they're stepped on and send a signal to a computer. That's impressive, but to what end? First, it can, in the case of elderly person, determine if someone has fallen. It can also serve as an intruder alert if it detects unfamiliar footsteps near a window. Its inventors think it even has potential as a physical therapy aid able to predict mobility problems if it notices changes in a person's walk.
6) Got juice?: If you drive a lot and need to keep your iPad charged, do I have a gadget for you. It's a device that turns your standard car cup holder into a charging station, allowing you to juice up your tablet and your smartphone at the same time.
7) You've been drinking. I can see it in your nose: Two Greek computer scientists say that by using algorithms and thermal imaging, they've devised a way to spot inebriated people in public. Their method, in which they combine an infrared image with algorithms related to what happens to blood vessels in a person's nose when they have too much to drink, would allow police to identify a drunk on more info than that they're acting like one.
8) Flashlights are so over: You can have the biggest, shiniest belt buckle ever and it won't help you much on a walk in the dark. But the Walker's Path Illuminating Belt is custom-made for such occasions. It's a hands-free LED safety light that wraps around your waist and can be adjusted to serve as either a wide-angle floodlight or a narrowly-focused spotlight.
9) Why shouldn't bikes have growth spurts?: It's one thing for your kids to grow out of their clothes and shoes, but you move into a whole other price range when they keep getting too big for their bikes. The Spanish bicycle designer Orbea has taken on the challenge, creating a bike that grows with a kid, appropriately called the Grow bike. The crossbar, stem and seats all can be lengthened, and since other components also are designed to last longer, Grow bikes, says Orbea, need to be replaced every five to seven years instead of every two to three.
10) Video bonus: Sugar kills: As much practice as we get, most of us just aren't very good at knocking flies out of the air. But soon BugASalt could change all that–when flies comes buzzin', it's just the weapon for the job. It's a toy gun that acts like a shotgun firing just enough salt to bring down a fly. Seeing is believing.
More from Smithsonian.com
Welcome to the Feel Good Future
What's the Most Important Invention?