Editor's Pick: Michigan's Spectacular Upper Peninsula
There are few places in the United States more picturesque than Michigan's Upper Peninsula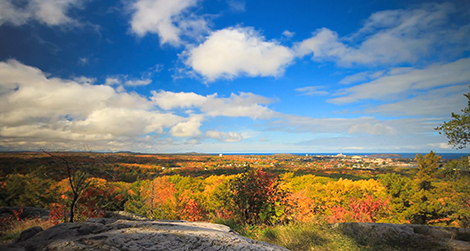 Every week on this blog we will feature one video that Smithsonian.com selects as an "Editors' Pick." In the weeks since the contest launched, we've already been blown away by the high quality of the submissions. Note: these videos are not selected by the contest judges and have no bearing on the final result of the contest.
The featured videos are meant to inspire and encourage.
There are few places in the United States more picturesque than Michigan's Upper Peninsula. In fact, in 2011, we named the UP one of our "Destination America" locations. When Northern Michigan University student Mike Kvackay submitted his timelapse video of the UP we were instantly captivated. We recently had the chance to talk with the cinematography major about his video and what inspired him.
What made you get into cinematography?
I guess I just wanted to explore the world that I live in, in the UP. It was my first time in the UP when I went to school here, and it's sort of a hidden treasure. Not too many people know what's up here. They kind of associate Michigan with down-state in Detroit. It's a beautiful area up here, and the nature and wilderness that I live in is what brought me into photography and timelapse more specifically.
Are there certain subjects or locations that you prefer to shoot?
For photography, I primarily do timelapses and nature and landscapes. As far as my videos go I center myself around action sports. I've done a lot of shooting with professional ski and snowboarders, and that's where I would like to take my career.
What kind of gear do you use?
I use a Canon 7D, which I purchased two-and-a-half years ago. For timelapses, I started using a 6-foot dolley slider made by a company called slidetracked.com. I was one of the first people to buy their product. It's fairly cheap and works really well.
How did your UP timelapse come about?
I've been in the area for the last three years and I've always wanted to explore when the fall colors are at their peak. This year I started to invest in better equipment and I thought it would be a good opportunity to show people there is beauty in the UP. It's a beautiful area and nobody really seems to know about it. I wanted to put the UP on the map.
How long did it take you to shoot the video and how many photos did you take?
It took me about three weeks. I started shooting when the fall colors were at their peak, which is the first week in October and ended towards the end of the month. I probably spent two weeks driving around in between class and work to go to these locations and shoot. Overall, I shot about 15,000 pictures.
What makes a good timelapse in your opinion?
I think flow. You have to worry about composition and how the shots come together. A key aspect for me is saturation, hue and lighting. If you have the right light you can make any shot look beautiful.
What's next for you?
I'm graduating in about three weeks and I plan to move to Bozeman, Montana, with my girlfriend. I want to explore Big Sky Country and start a career in Montana or somewhere out in the Western United States.
Feeling inspired? Head over to our submission page and upload your video for a chance to win our grand prize.