"I send you the remainder of The Scarlet Letter and hope you will like it as well [as] the preceding part. Thank God, it is off my mind! My next story shall not be such a h[e]ll-fired one. Yet I deserve some credit for refraining from making this half so ugly as I might."
With these words to his editor, James T. Fields, in February 1850, Nathaniel Hawthorne washed his hands of the manuscript that would become his most famous novel. Set in 17th-century New England, The Scarlet Letter follows Hester Prynne, whose love affair with a clergyman—and subsequent pregnancy—lead her hypocritical Puritan neighbors to shame and shun her. That full handwritten draft, famously, no longer exists. When Fields' wife later asked about it, Hawthorne's response was simple: "I threw that in the fire, put it up the chimney long ago [and] never thought anybody would care for it." Composition had not been a happy task, as Hawthorne struggled mightily to imbue a fundamentally moral tale with some of the wisest, most heartfelt narration in the history of the novel.
Unlike that manuscript, the letter to his editor that accompanied it did survive—and it's going on auction at Christie's in June as part of an extraordinary collection of Hawthorne memorabilia from Bruce Lisman, a former Wall Street executive who ran for governor of Vermont in 2016, losing in the Republican primary. Lisman began collecting rare books in the 1980s, assembling a remarkable wealth of rare American literature, particularly from the post-Revolutionary period through the mid-19th century. (Lisman previously sat on the Smithsonian Libraries and Archives Advisory Board.)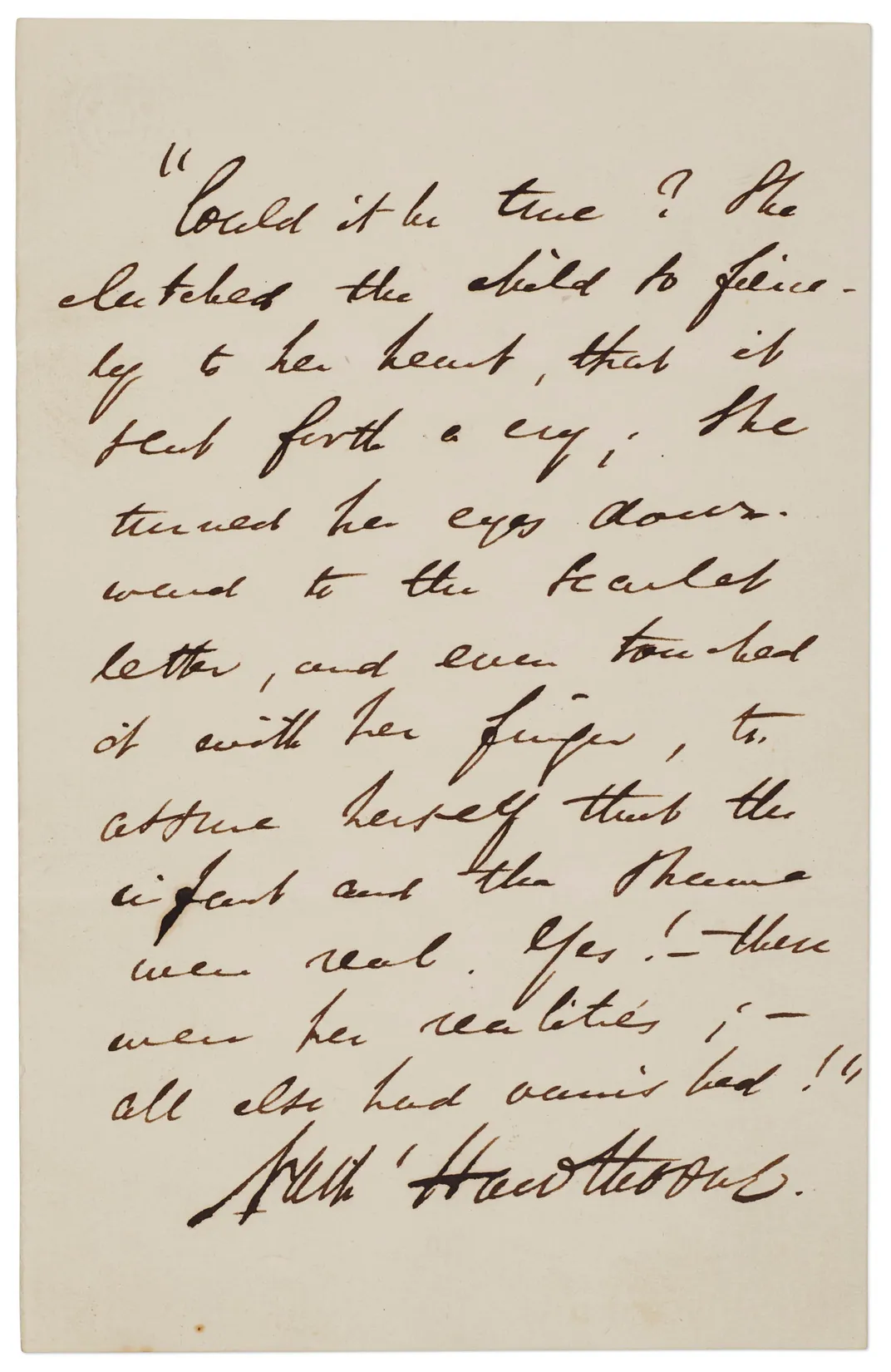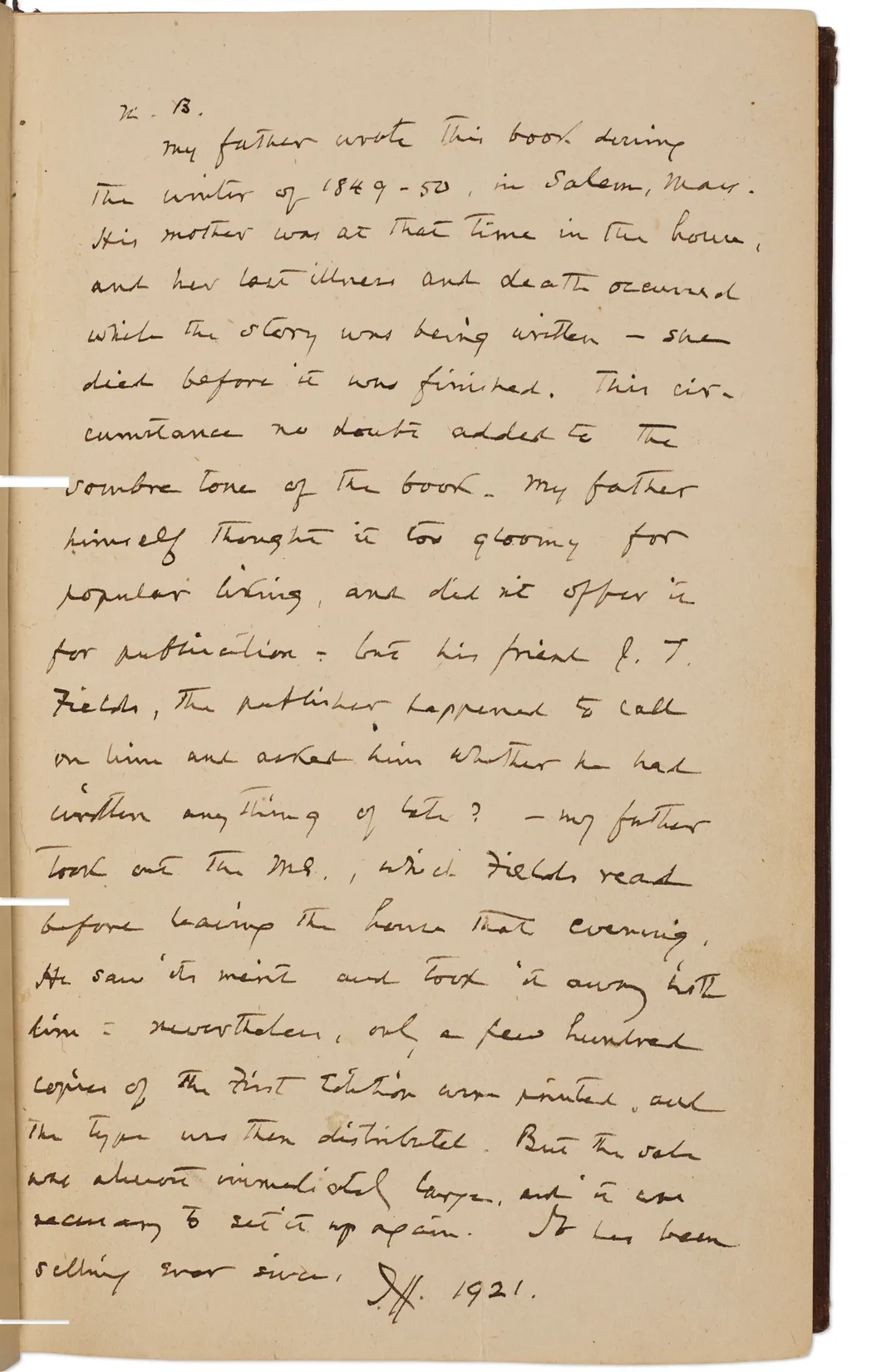 Ahead of the main auction on June 15, Smithsonian magazine is offering an exclusive sneak peek of the treasures on offer. The in-person sale will feature more than 160 items expected to fetch a collective $3 million to $4 million; an online auction running June 2 to 16 contains around 170 items estimated to sell for $450,000 to $750,000 in total.
The auction will have three main stars, each of which is expected to sell for six figures, and one possibly for more. The first is a manuscript fragment from The Scarlet Letter, hand-copied by Hawthorne as a memento for an unnamed friend after the novel was published. It comes from chapter two, when Hester stands on the scaffold to face the accusing eyes of the townspeople. The second is a set of pre-publication annotated proofs of the novel, arguably the single best source for anyone curious about Hawthorne's creative process. The document features notes in Hawthorne's handwriting on 140 of its 192 pages; in 2004, at a Christie's auction in New York City, Lisman bought these same page proofs for $545,100, setting a record for 19th-century literature.
The third highlight of the auction is an 1850 copy of the novel that Hawthorne sent to George Mullet, who turned out to be a consequential figure in American literature. It was Mullet who in 1846 helped the novelist snag a job at the Salem Custom House—a position that afforded Hawthorne the financial security (and some of the material) that writing his novel would require.
Other letters, illustrations, presentation copies and a Latin textbook round out the glittering inventory. The sale is by far the largest, and certainly most significant, auction of Hawthorne papers in history. According to Christie's, the last auction to even approach this one took place 99 years ago, when the collection of Stephen H. Wakeman sold in April 1924.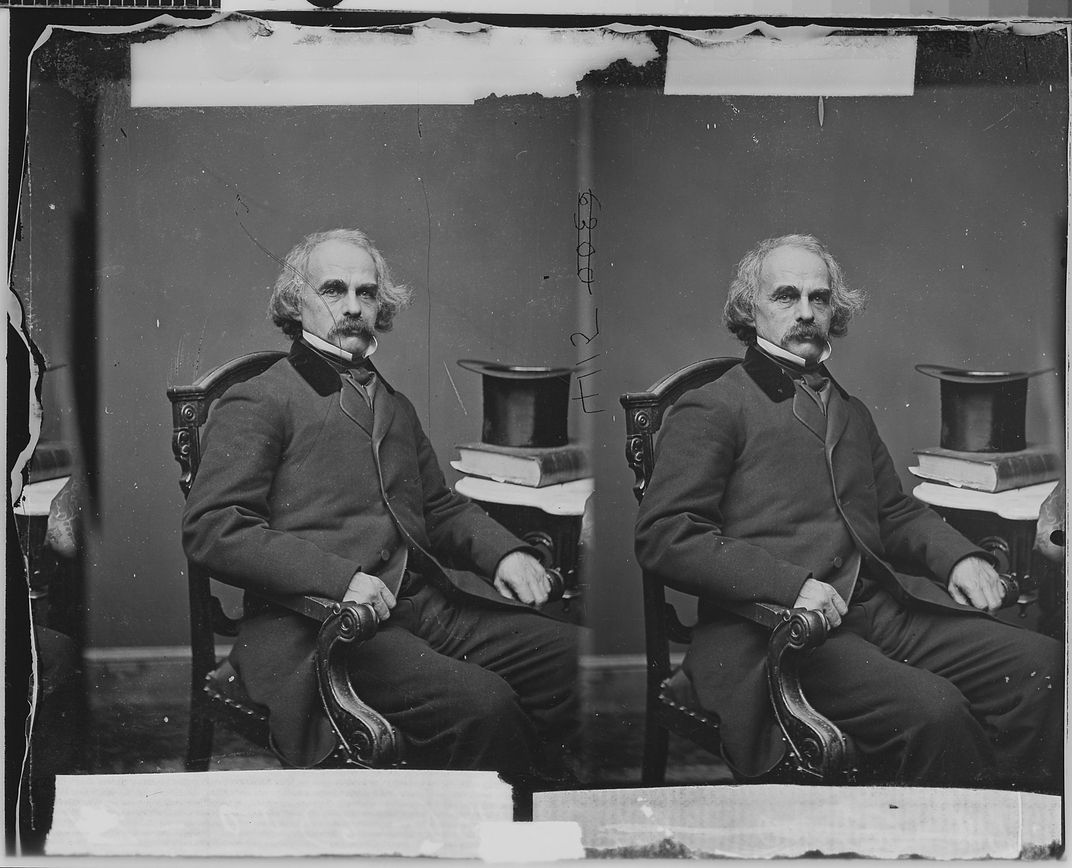 Hawthorne fans could lose themselves for a year in this material, poring over examples of the author fretting over word choice in the novel proofs. They might even tear up at first editions of poignant personal writings.
Perusing these many papers reminds us of another important truth about Hawthorne, long known and comprehensively demonstrated in these holdings: The man's handwriting was atrocious. (An "infernal hand," he once called it.) It's one thing to know this fact. It's another to see Hawthorne fretting in the margins of his page proofs, convinced that the coarse script of his manuscript would cause trouble for the printers.
"Hawthorne regularly apologized for his handwriting and was always keen to edit printed galley proofs, because he was sure the printers were misreading his manuscripts," says Peter Klarnet, a senior specialist in Americana at Christie's. "Just look at the only known autograph manuscript fragment from the novel in private hands, which is in this sale. It is hard to read." (Klarnet is being polite.)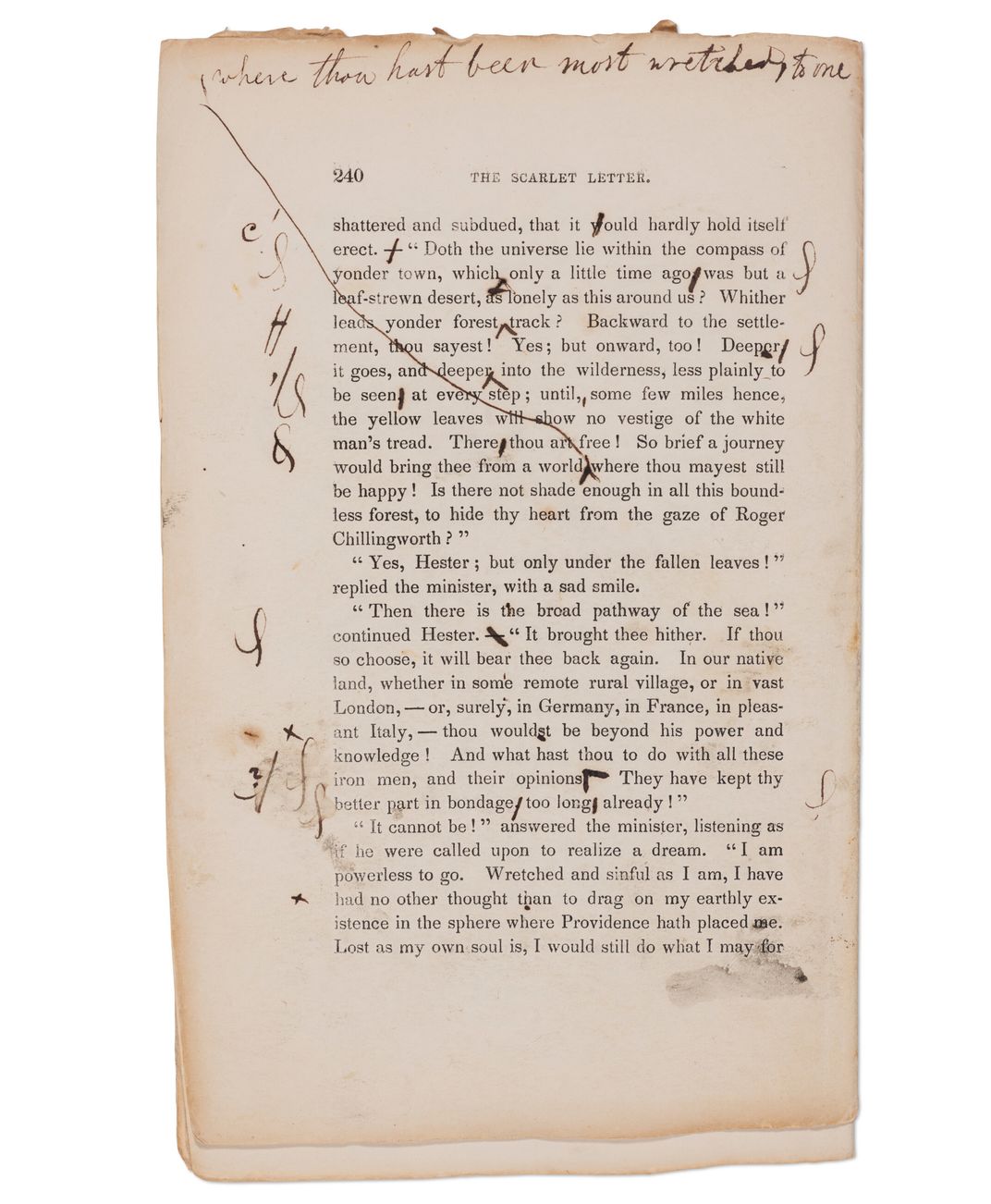 Hawthorne's juvenile marginalia are similarly revealing, as seen in his childhood Latin textbook. "Nothing brings an author's humanity to life in quite the same way as one of their used books," says Heather Weintraub, a specialist in books, manuscripts and archives at Christie's. "And this one is very used, the flyleaves covered with his name; the name of Salem, where he lived; and the poetry he was reading. Hawthorne's schoolboy copy of [Roman historian] Sallust is one of my favorites."
Another highlight of the auction relates to Hawthorne's friendship with Franklin Pierce. The two attended Bowdoin College together and became lifelong friends. Ahead of the 1852 presidential election, Pierce tapped his now-famous literary pal to write a biographical sketch of him for distribution during the campaign.
In a June 1852 letter to Charles O'Conor, a political ally, Pierce is clearly excited when discussing this forthcoming sketch. As Klarnet says, "The letter shows the pride Pierce took in having a literary celebrity write his campaign biography." Pierce, of course, went on to win the presidency that year—and he rewarded his biographer with a venerable and lucrative post as U.S. consul at Liverpool in England, a role Hawthorne held until Pierce left office in 1857.
Other items help illuminate the great author's working life, including his relationships with editors. These include the manuscript original of an August 1862 letter, published in the Atlantic Monthly, expressing mock complaint after Hawthorne's editor at the magazine removed a passage from a recent essay in which he seemed to mock Abraham Lincoln. (The president was "about the homeliest man I ever saw, yet by no means repulsive or disagreeable," in the novelist's estimation.) The original manuscript of this letter is expected to go for mid-five figures at auction.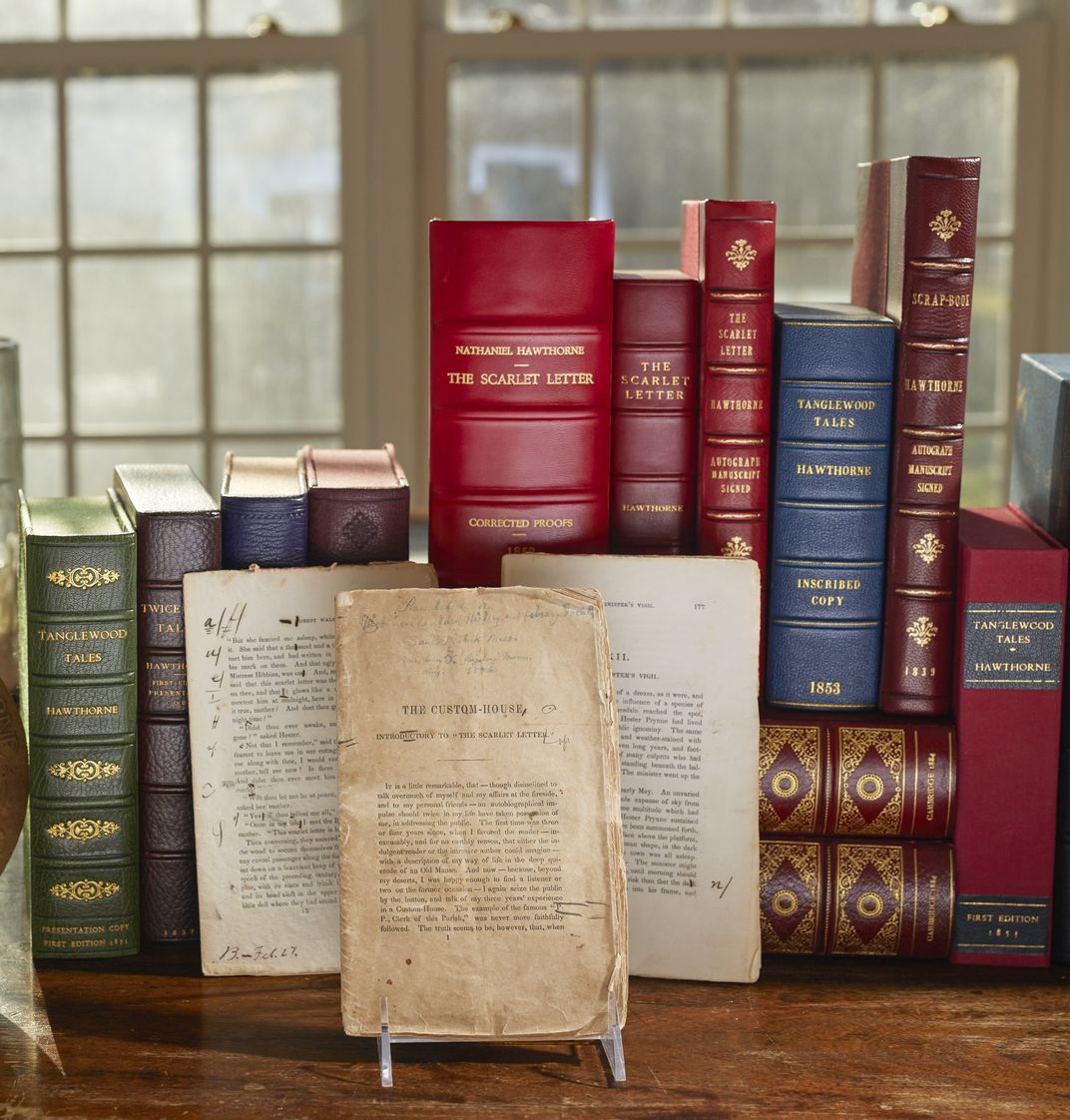 "There is something truer and more real, than what we can see with the eyes, and touch with the finger," says the narrator in Hawthorne's "Rappaccini's Daughter," a short story published in 1844. Yet among archives and manuscripts, the eyes and fingers are the very things that allow us a measure of communion with the unseen—with literary ghosts. Weintraub says it's particularly transporting to watch Hawthorne thinking, and editing himself, on the page.
"It's thrilling to hold one of just two known autograph portions of the novel, and the portion we have is so moving," Weintraub says. "It's the final paragraph from chapter two, depicting Hester on the scaffold, wearing the 'A' and holding her baby. Nowhere else than in Hawthorne's own hand is the immediacy of these final sentences of the second chapter more palpable. Lastly, the quotation bears a textual difference from the published version: Here, Hawthorne writes 'heart,' where the first edition prints 'breast.' It's subtle but striking."
To quote the handwritten manuscript, "She clutched the child so fiercely to her heart that it sent forth a cry; she turned her eyes downward at the scarlet letter, and even touched it with her finger, to assure herself that the infant and the shame were real. Yes these were her realities—all else had vanished!"
Editor's Note, May 9, 2023: This article previously suggested the Christie's auction included letters about Hawthorne reading the novel to his wife. The sale does not, in fact, contain these accounts.