The Year Montana Rounded Up Citizens for Shooting Off Their Mouths
During World War I, the powers that ran Montana sought any excuse to silence dissent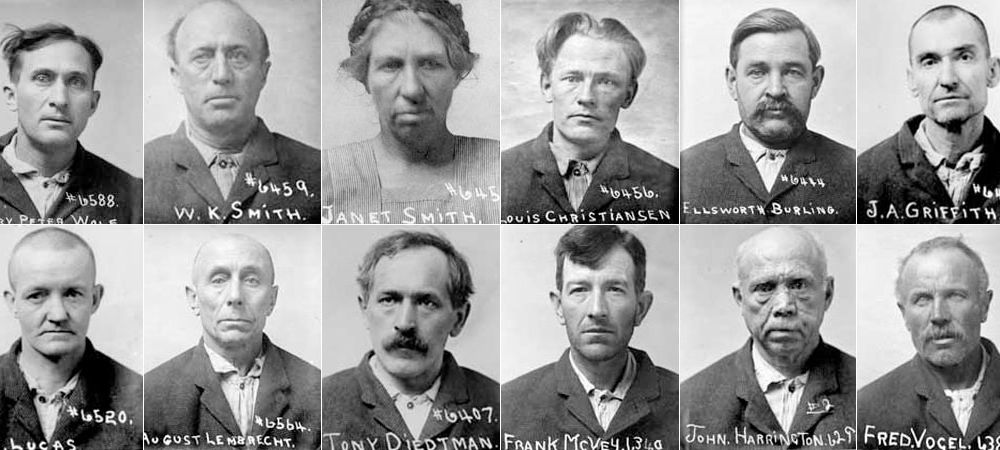 In 1899, 16-year-old Herman Bausch immigrated to the United States from Germany and landed in Montana in 1915, where he had a small farm in what is now near downtown Billings. Founded in 1882 by the Northern Pacific Railroad, and named for past company president Fredrick Billings (a Vermonter who never called his namesake home), the city, now the state's most populous, was initially a prairie hub for the railroad as it pushed on towards a transcontinental connection. Surrounded by farms and ranches, Billings would become a major agricultural shipping point by the turn of the century. The population grew from 836 in 1890 to more than 10,000 in 1910 the year after Congress passed the Enlarged Homestead Act, allowing people to lay claim to 320 acres, double the previous size. Congress targeted lands suitable for dry farming, and downtown Billings became a boomtown as local sheep, cattle, apples, alfalfa and sugar beets were shipped out on multiple railroad lines.  
Bausch embraced his new country, taught himself impeccable English, became an American citizen and believed in the ethos that with hard work, he could get ahead in the United States. In a short time, he had a successful farm. His Bavarian roots led him to oppose American intervention in World War I, thoughts that endangered him in a Montana subsumed  by one of the harshest sedition laws in U.S. history.  On April 13, 1918 a "third degree committee," comprised of many of the leading citizens of Billings, came onto his property, demanding that since Bausch was flush, he should buy Liberty Bonds. These local committees were formed throughout the state to unearth those who didn't support the war effort.  Bausch refused, allegedly saying, "We should have never entered this war and this war should be stopped immediately and peace declared." The vigilantes decided this amounted to treason and threatened to hang Bausch from an apple tree in the family's yard. Bausch's young wife, Helen, thwarted the attempt, confronting the rabid group while holding her infant baby.
A few days later, after a trial that lasted a day-and-a-half, Bausch was convicted under Montana's weeks-old Sedition Law and sentenced to four-to-eight years. He would serve 28 months in the state prison in Deer Lodge, during which his infant son died during the 1918 -1919 influenza pandemic. Helen petitioned the warden to allow Bausch to see his ailing son to no avail. 
"My father came out of prison a broken man," says Fritzi Bausch Briner, 82, of Lake Tahoe, California. "In Deer Lodge, he spent his days with a pick and shovel working for the Anaconda Copper Mining Company, so he was beaten down physically, and although he rarely spoke about it, I know my father had a sad heart. To not be considered an honorable citizen was a huge disappointment to him and he suffered mentally because of it. He was depressed and it all went downhill after that. We did not have a happy family situation." Helen and Herman eventually separated and he passed away from complications of Parkinson's in 1958. 
Some 200 people were arrested, and approximately 125 people went to trial, under the Montana Sedition Law, which criminalized nearly everything said or written against the American government and its conduct when it passed in February 1918. The penalties--a maximum of 10-to-20 years in prison and up to a $20,000 fine--were tough, and the pressure on "disloyal" citizens was relentless. The vast majority of people were rounded up for casual statements, off-the-cuff remarks deemed pro-German or anti-American. Citizens turned against one another, joining "patriotic" organizations like the Montana Loyalty League with its stated goal of keeping the Treasure State from "going over body and soul to the Kaiser." 
Montana's law fortified the restrictions in the Espionage Act, which Congress passed with the full support of the Woodrow Wilson administration in June 1917, two months after America entered World War I. It was intended to root out saboteurs, making it a crime to interfere with U.S. war efforts or to promote the country's enemies, but that wasn't enough for Montana. Paranoia rippled across the state, fueled by newspapers like the Billings Gazette and the Helena Independent with the latter featuring an October column asking:
Are the Germans about to bomb the capital of Montana? Have they spies in the mountain fastnesses equipped with wireless stations and aeroplanes? Do our enemies fly around our high mountains where formerly only the shadow of the eagle swept?
The anti-German fervor of the day wasn't unique to Montana, but what lead to the Sedition Law was deeper and shadier than simply misguided notions of patriotism. The majority of the state legislature, and newspaper editorial boards, were beholden to the Anaconda Copper Mining Company. One of the largest mining companies in the world, Anaconda Copper sought to quash political dissenters and union organizers such as the Industrial Workers of the World. (In the summer of 1917, anti-war labor organizer Frank Little was dragged out of a Butte boarding house and lynched from a railroad trestle.) In February 1918, Governor Sam Stewart called an emergency session of the legislature and within days the Montana Sedition Law passed. There was little opposition to the harshest law in the country, one that criminalized vague notions of "disloyal, profane, violent...or abusive language." It passed unanimously.
The state's far-reaching edicts went beyond the Sedition Law. The Montana Council of Defense outlawed German textbooks, and banned usage of the language, even from the pulpit. Other states were having similar debates, but they didn't have to pass separate laws because in May, the U.S. Congress passed the Sedition Act, an amendment to the Espionage Act. It was almost a verbatim copy of Montana's version, only three words were changed when President Wilson was signed it into federal law.
Although the criminality of speech seems aberrant by modern definitions, First Amendment freedoms were much narrower at the time. The most important judicial ruling limiting speech came in 1919, when the Supreme Court heard Schenck v. U.S. Charles Schneck, a prominent socialist, was convicted under the Espionage Act for attempting to distribute leaflets that urged World War I draftees to refuse service. The Supreme Court unanimously upheld Schneck's conviction. Justice Oliver Wendell Holmes wrote the opinion, allowing for greater restrictions on free speech during wartime based on the "clear and present danger" standard, which would be in place for 50 more years.
It would have been too late for Herman Bausch either way, By the end of 1918, he was one of 79 people convicted (of whom 41 did hard time) under Montana's Sedition Law. His fellow scofflaws included: 
World War I ended on November 11, 1918, so prosecutions under the state's Sedition Law were short-lived (although convictions continued after the war's end and the last prisoner wasn't released until 1921), but the long-lasting damage was done. "In our research, we found few instances of people's lives returning to normal," says Clemens P. Work, a journalism professor emeritus at the University of Montana who wrote Darkest Before Dawn: Sedition and Free Speech in the American West and founded the Montana Sedition Project. "Much more common was what happened to the Rumsey family who couldn't hold onto their small homestead after father Fay was convicted and had their ten children sent to orphanages or let out to other people. The children didn't reconnect for decades."
Nationally, more than 1,000 people were convicted under the Espionage Act, but not a single one for spying. Many of the targets were members of leftist groups, most notably American Socialist Party leader Eugene V. Debs (who was given a ten-year sentence, commuted after two-and-a-half years), and nearly half the prosecutions came in Western states where the Industrial Workers of the World were active. It outlasted Montana's law, but the federal Sedition Act wasn't long for the lawbooks either; it was repealed in 1921.
Montana's Sedition Law came on like an avalanche, but considering how powerful and dangerous it was, it was quickly buried to history. The personal stories of the unjustly convicted fell by the wayside. Many of the law's victims were uneducated immigrants, transients, and low-level workers, and these forgotten men (and woman) wouldn't receive justice for the better part of a century.
In 1998, Work moved to Missoula to teach journalism. He'd been in Washington, D.C., working for the Reporters Committee for Freedom of the Press and later as a First Amendment expert for U.S. News & World Report. At the University of Montana, he began reading what he could find about the Sedition Law, which wasn't much, but enough to spark his interest about the folks sent to prison for expressing opinions about the war. "It struck me as deeply wrong," he says, "I don't think any of those people should have served a single day in Deer Lodge."
In the summer of 1999, Work began going from courthouse to courthouse looking through old leather-bound record books that most likely hadn't been opened since the end of World War I. As Work started piecing together the lives of the convicted, he realized there was a bigger story about free speech during wartime and spent four years writing his book. It was published in 2004, during the early days of the Iraq War, and a couple of years after many of the same questions were raised with the passage of the Patriot Act. 
"The timing wasn't intentional, but the themes of Darkest Before Dawn resonated with people and struck a nerve," Work says. "Jeff Renz, a friend of mine from the law school, came to my first reading at a local bookstore with his wife, and afterward said, 'I think we can get pardons for these people.' Here we are in a state of war with a very conservative legislature and I thought, 'How in the hell am I going to get these people pardoned?'"
Renz was running a legal clinic with his students and he set them looking into the legalities, such as, Can the governor issue 78 posthumous pardons? (One person had been pardoned in the 1920s.) Meanwhile, Work and other students started digging deeper into the families, in case they had to be the ones to bring the petition. Governor Brian Schweitzer, himself a descendant of Germans who emigrated via Russia, was favorable to the idea. In May 2006, 88 years after the fact, pardons were issued for all those convicted under the Sedition Law at a ceremony at the State Capitol in Helena.  
One man in attendance was Steve Milch, 57, an attorney in Billings whose great-grandfather Joe, and great uncle John, had both been convicted after a paid informant (believed to be working for Anaconda Mining) named Eberhard Von Waldru got them talking in a saloon. Waiting for German immigrants to get loose with the tongue after a few pilsners at the beer hall being a common tactic for rooting out enemy sympathizers.
"I wasn't aware of the Sedition Law, so when I first learned about the convictions I was blown away. It sounded like something that would happen in a more populated state," says Milch. "We were so pleased when Gov. Schweitzer issued the pardons, I have them in a cabinet in my house, but I think now that you mention it, I will frame them and hang them on my wall." In an O. Henry-esque twist, Milch came to realize that the great-grandfather of a fellow lawyer in his firm was the prosecutor who hired Von Waldru in the first place. 
The efforts of Work, Renz, and the Montana Sedition Project brought the sordid events of 1918 to light. Work says the archive will remain open, but for the most part, his work is done. 
One friend he made along the way is eternally grateful.   "It was 75 years too late for my father," says Fritzi Bausch Briner, "But getting a pardon with his name on it... That was a very uplifting day."