Worldwide Economic Collapse: Orson Scott Card's Predictions for 2012
The author of Ender's Game envisioned the imminent end of American power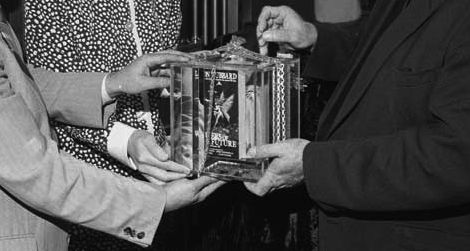 In 1985, author Orson Scott Card made a name for himself with the publication of his now-classic science fiction novel Ender's Game. His book would go on to win the 1985 Nebula Award for best novel, the 1986 Hugo Award for best novel and would become required reading around the world (I remember reading it in a middle school English class). 
But Card is perhaps better known today for his socially conservative political activism. The celebrated author is a National Organization for Marriage board member and has repeatedly spoken out against same-sex marriage, most recently supporting North Carolina's controversial Amendment One.
Two years after the publication of Ender's Game, Card contributed to a time capsule which was compiled by the L. Ron Hubbard Writers of the Future contest and filled with predictions for the future. Specifically, the organizers asked contributors, "What will life be like in the year 2012?" The 1987 time capsule was opened this past April in Los Angeles and included contributions not only from Card, but 23 other science fiction writers, including Isaac Asimov, Frederik Pohl, and Jack Williamson.
However you interpret Card's 1987 predictions ideologically, his vision of the future seems pessimistic to say the least—including worldwide economic collapse and human life without leisure. You can read his time capsule entry in its entirety below.
We must count ourselves lucky if anyone has leisure enough in 2012 to open this time capsule and care what is inside. In 2012 Americans will see the collapse of Imperial America, the Pax Americana, as having ended with our loss of national will and national selflessness in the 1970s. Worldwide economic collapse will have cost America its dominant world role; but it will not result in Russian hegemony; their economy is too dependent on the world economy to maintain an irresistible military force. A new world order will emerge from famine, disease, and social dislocations. The re-tribalization of Africa, the destruction of the illusion of Islamic unity, the struggle between aristocracy and proletariat in Latin America — without the financial support of the industrialized nations, the old order will be gone. The changes will be great as those emerging from the fall of Rome, with new power centers emerging wherever stability and security are established. The homogeneity of Israel will probably allow it to survive; Mexico and Japan may change rulers, but they will still be strong. If America is to recover, we must stop pretending to be what we were in 1950, and reorder our values away from pursuit of privilege.
The location of the time capsule ceremony points to how much can radically change in 25 short years. The ceremony took place in April 1987 at the Windows on the World restaurant on the 107th floor of the World Trade Center's North Tower, which was destroyed by the September 11, 2001 terrorist attacks. The time capsule was kept in a bank vault until it was opened at a ceremony this past April in Los Angeles.
We can probably expect Orson Scott Card to be making headlines in the coming year, though less for his politics and more for his creative output, as Hollywood is currently working on bringing Ender's Game to the big screen. With director Gavin Hood (Rendition, X-Men Origins: Wolverine) at the helm and actors Asa Butterfield, Harrison Ford and Ben Kingsley starring, the film is set to be released in November 2013.
Reading through the various 1987 predictions for the year 2012 gives us a fascinating peek at the minds of authors who spent a lot of time thinking about the future, and we'll no doubt look at other predictions from this capsule of yestermorrow in the coming weeks.