Women Who Shape History: Education Resources
For use in the classroom or your community, a list of lesson plans and other teaching materials on women's history in America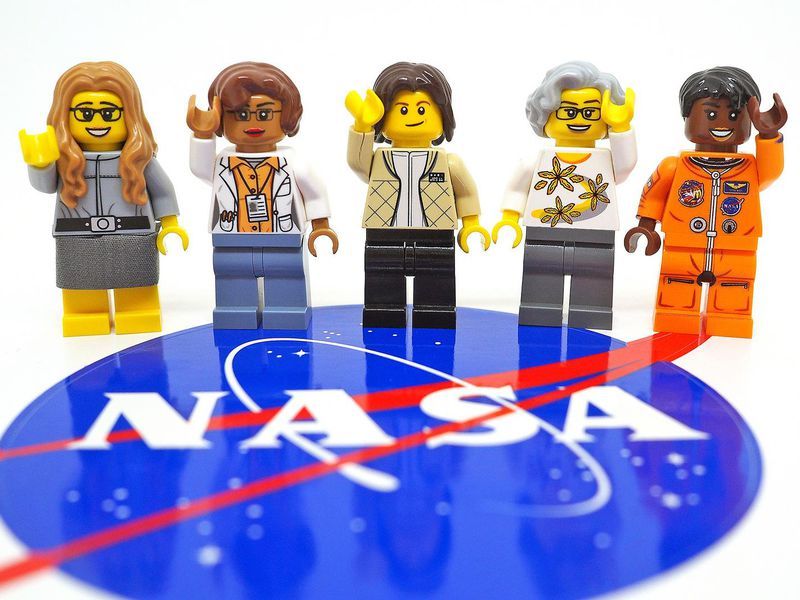 These resources, compiled by the education teams across the Smithsonian Institution, feature lessons, activities, exhibitions, videos and tools that can be used to teach students about women's history in America.
Use this Learning Lab collection as a response to the National Museum of Women in the Arts in Washington, D.C.'s social media campaign asking, "Can you name five women artists (#5WomenArtists)?" The artists featured are Yayoi Kusama, Frida Kahlo, Barbara Kruger, Alma Thomas and Elaine de Kooning with short biographical notes, selected works and learning resources.
Women have been and continue to be an important part of the aerospace industry. In this episode of STEM in 30, students will explore the women who are helping pave the way to Mars.
This collection teaches students about the changing role of women during World War II: their role in the workplace, increasing presence in the military, and participation in voluntary organizations that supported the war. Students should think about how these activities reinforced traditional notions of gender divisions while they also allowed women to experience new activities.
Students will identify famous women, categorize them into groups and conduct research to learn more about them. They will use what they learned to create a classroom museum focused on women's history.
Students will identify all of the statues of women in a selected area, plot the statues' locations on a map and explain why the statues exist. Then they will select another historical woman with a connection to that place, decide where a statue honoring her should be erected and create a sketch of a statue honoring her achievements.
Students will create presentations and encourage classmates to compare the candidate's qualifications to the list of leadership traits and characteristics the class has identified. After all candidates have been introduced, poll the class to see which of leaders they would most like to have in charge. Challenge students to explain why this candidate rose above the others.
Students will brainstorm ideas for a student-led organization that is all-inclusive. They will iron out the details for how it will work and design a logo and other items that reflect their "brand." Then they will create a brochure that will entice fellow students to join their group.
Students will select a field of engineering and conduct research to learn more about it. They will write a summary telling what surprised them the most. Then they will create a brochure to teach others about their chosen field of engineering.
Students will write a comic strip or graphic novel about a historical topic that features someone whose contributions have been forgotten over time. Their plots will incorporate related objects found at Smithsonian museums.
In this activity, children will take a close look at a photograph of Martha Graham, then collaborate with a partner or family member to create their own dance photographs.
Genealogy is the study of family ancestries and histories, and a great way to learn women's history. In this activity, students will learn about the methods and tools needed to conduct a genealogical interview.
This OurStory module, entitled Great Women of Our Pasts, includes links to hands-on activities and a list of recommended readings related to the topic of women's history.
This teacher's resource challenges students to think about the Lincoln-Keckley as an object that has multiple symbolic meanings.
Students will recognize a female role model in their lives by creating a special symbolic pin.
Students will learn about women's struggles in the United States to obtain the right to vote. They will learn more about the 1920 suffrage movement and how women finally achieved victory with the ratification of the Nineteenth Amendment to the Constitution.
This activity challenges students to think about the 1898 Standard Voting Machine and the democratization of the voting process in the United States.
In this online exhibition, students will learn about Gear and Lever voting, meant to ensure the confidentiality and efficiency of the election process.
Students will learn about Louisa Susannah Wells, a female colonist who was loyal to King George III, who was banished from America and returned to England after the War of Independence. They will take what they learn and answer questions objectively without judging her decisions.
Students will gain an understanding of the role women played in the Civil War. They will appreciate the ways in which museums use objects to study how people in the past did their jobs.
Kick-off a research project on gender roles on the World War II home front with two brief video clips and selection of primary sources.
Maria Isabel Solis Thomas moved across the country to work in a shipyard on the World War II home front. Listen to her story, and then study the supporting primary sources to answer the discussion questions.
Students will analyze images and objects relating to Celia Cruz and create an exhibition using personal objects.
Students will learn more about First Lady Claudia "Lady Bird" Johnson, wife of President Lyndon Baines Johnson and her work to protect the environment and bring beauty to every community.
Students will examine examples of persuasive writing from Rachel Carson's Silent Spring, then compose persuasive statements about an environmental cause.
Quilts do more than just keep us warm; they preserve history by telling us stories about the people who made them. In this hands-on activity, students will learn about women's history by studying quilts.
Smithsonian women scientists are an adventurous group: from hunting meteorites in Antarctica, exploring the farthest reaches of the Universe from remote mountain tops, to measuring mercury levels from the depths of the ocean to the canopy of the rain forest. Learn more about a few of these amazing women.
For Women's History Month, Smithsonian Folkways offers free audio tracks and videos featuring women around the world who "break musical barriers." Lesson plans and student activities are included.
This website explores the historical accomplishments of women inventors and includes a video, activities, and a teacher resource guide about eight female inventors. 
This website features women's contributions to flight, their stories, and claims to fame throughout history. This guide leads to all the women that have artifacts or photographs in the National Air and Space Museum.
This virtual tour introduces four exceptional American women who succeeded in business in the twentieth century. The website features biographical information, timelines, games, and historical background for each of the women. 
The Anacostia Museum and Center for African American History and Culture prepared this annotated bibliography on African American Women Artists. 
A list of recommended readings about Native American women prepared by the National Museum of the American Indian Resource Center.
The Anacostia Museum's Office of Education offers a reading list for children about Harriet Tubman and the Underground Railroad.