Wild Thing
For 100 years, Harleys have fueled our road-warrior fantasies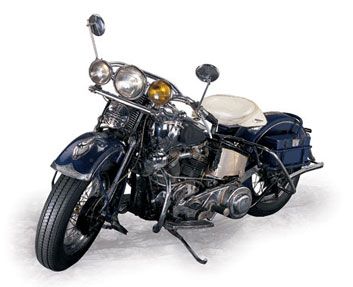 Young woman in a bar to "Johnny," played by Marlon Brando: "What are you rebelling against?"
Brando: "Whad'ya got?"
​—The Wild One (1954)
The guys—and a few women dressed in tight slacks and tighter sweaters—were just having a little fun. At first. No one quite recalls when things got out of hand. Prodded by boozy dares, bikers raced one another down the main drag. Others spun rubber doughnuts on the pavement, or popped up their front tires and balanced on their back wheels. Water balloons and beer bottles rained down from second-story windows, and just for laughs, a couple of men motored straight into local saloons to the cheers of pleased patrons.
At the end of the day, a San Francisco Chronicle account reported breathlessly, Fred A. Earin, chief of the town's seven-man police department, surveyed the damage and had this to say: "It's just one hell of a mess."
That July 4th holiday in 1947 put the farming community of Hollister, California, 40 miles southeast of San Jose, on the map. Newspapers claimed that as many as 60 were injured, that police needed tear gas to tame the enthusiasts and that a night court had to be convened to process all the arrests. Though in truth, property damage was minimal and no one was badly hurt. "There were a few crazy guys running around, some got to drinking too much," recalls Jess Bravo, 82, then and now a member of the local Top Hatters Motorcycle Club. "There might have been some fistfights, but really, it was nothing serious."
Still, the 1947 media coverage, especially a staged Life photograph of a slovenly motorcyclist with beer bottles gathered at his feet, caused a sensation and branded bikers as lawless rebels. Then Hollywood piled on, re-creating its version of Hollister in the 1954 classic The Wild One, and following up with dozens of B-grade biker flicks.
"Had Hollister not happened, had Life magazine not written their article, had Hollywood not glorified it, I don't know if we would be here today," says Tom Bolfert, head of archives for the Harley-Davidson Motor Company. With or without a cause, the rebel has always been a quintessentially American archetype; all that publicity helped firm up the link between a Wild West ethic and the freedom represented by the motorcycle.
The Harley, as it turns out, has evolved into an American touchstone—which is why the Smithsonian National Museum of American History happens to own Harley-Davidsons of various vintages, four in all (including the 1942 model shown on the previous page). Curator Paul Johnston, who himself commutes to work on a motorcycle, says the Harley-Davidson firm has proved adept at "tapping into nostalgia—it's the bad-boy image."
"We're the oldest, we've survived wars and we've survived depressions," says Willie G. Davidson, grandson of one of the founders and the top design executive at Milwaukee-based Harley-Davidson. Indeed, the finishing touches to the first Harley-Davidson motorcycle were applied precisely 100 years ago, a fact Harley began commemorating last year with an elaborate multimedia touring show. The firm's centennial celebrations will culminate August 28 in Milwaukee with a three-day festival of arts, music, food and, one can only assume, libations. Thousands are then expected to gather August 31 at the city's VeteransPark for one last blowout.
That may conjure up fearful visions of a Hollister repeat. Not likely. The landscape of motorcycling has evolved considerably since Brando roared into town (mounted, by the way, on a British-made Triumph). The typical Harley buyer last year was a man in his 40s; half of the purchasers claimed an annual income of more than $75,000. And while men still dominate the sport, women are saddling up like never before: "In the past you saw the tattooed biker chick almost exclusively on the backseat," says Ann Ferrar, author of Hear Me Roar, a 1996 book about women's role in motorcycling. "Now you're seeing women at the controls of their own motorcycles." Last year, Ruth Fredericks, 34, bought a 2003 Harley in San Francisco. "I'd just been through a divorce," says the American Airlines pilot, "so I traded in the husband for the Harley—it's more reliable and more fun."
But for all its success, Harley-Davidson's ride through history has hardly been without a few speed bumps, starting with its modest beginnings. Arthur Davidson and William Harley, amateur inventors who worked at a local sheet metal factory, first strapped a motor onto a bicycle frame in Davidson's basement in 1902 and finished a prototype the following year.
The early models gained traction with consumers because they were practical—and fun. A motorcycle could navigate the rutted dirt roads that often stranded cars, plus outrun and outlast most horse-drawn carriages.
Nowhere was the practicality of motorcycles so quickly understood as in the field of battle. During World War I, Harley and its main competitor, the Indian Motorcycle Company (maker of such models as the Chief and Arrow), furnished cycles to messengers and scouts at the muddy Western Front. Harley got the call again during World War II, producing 90,000 bikes for the United States and its allies.
After the war, plenty of Harley-riding vets came home wanting to cut loose. They formed motorcycle clubs and spent weekends roaring into towns, downing a few beers and then hitting the highway. No one thought that much about it until Hollister.
The rise of such rabble-rousing groups as the Hell's Angels, who embraced Harleys from their early days in the 1940s, gave further currency to the rebel cliché. Ralph "Sonny" Barger, a founder of the Oakland chapter, claims that Angel modifications, such as moving the foot brake to the middle of the bike and increasing the horsepower, were quickly appropriated by the manufacturer. "When the rubber meets the road," Barger boasted in his 2001 autobiography, Hell's Angel, "the yuppies and the RUBbers (rich urban bikers) will want what we want."
But Harley lost ground in the 1960s and '70s when the Japanese—Honda, Kawasaki, Suzuki—invaded, flooding the U.S. market with less expensive, lighter and faster bikes. In 1969, manufacturing giant American Machine and Foundry bought the company and invested millions in retooling a plant. By the late 1970s, however, AMF had lost patience waiting for a turnaround; when 13 employees, including Willie G. Davidson, scraped up enough money—$80 million—to buy back the company in 1981, AMF was happy to oblige. "My decision was more emotional than financial," says Davidson. "If there was a chance to save this great institution, I wanted to be a part of it."
Harley cut costs and revved up sales; by the mid-1980s, the firm was cruising again. Today, even people who find motorcycling repellent know a Harley when they see one—or rather, hear one.
Of all its distinctive characteristics none is more familiar than the po-ta-to, po-ta-to, po-ta-to sound of the idling engine. That's not by accident. It is the carefully engineered result of a design in which the pistons fire unevenly. The company could change it, but the emotional attachment is far too strong. "Not only can you hear it," says Bolfert, "you can feel it. It has a primal sound, like a heartbeat." And the beat goes on.