Why Are Native Groups Protesting Catholicism's Newest Saint?
Nearly 250 years after Junipero Serra founded California's first missions, questions linger about his legacy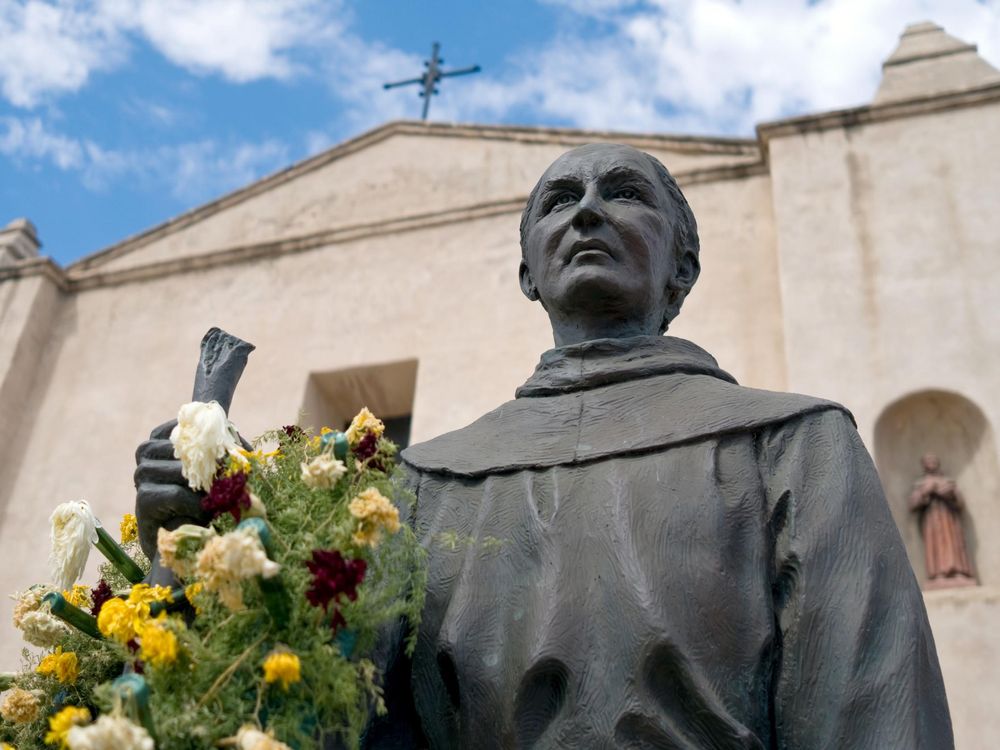 Sometimes a saint may be all too human.
Junipero Serra, the missionary who brought Catholicism to California, is set to be canonized this week on the occasion of Pope Francis' visit to the United States in a Spanish-language ceremony expected to draw tens of thousands of worshippers. But some Native American groups think the event is cause for outcry, not celebration.
Serra's story is the West Coast incarnation of some of the founding myths of the United States. Just as the stories of Columbus, Pocahontas and the Puritans are incomplete without including the fate of displaced and mistreated native populations, so too is that of the settlement of the Pacific Coast.
The mission system lasted over 60 years and was integral to Spain's colonization of the recently conquered California land mass. Serra's canonization, meanwhile, is stirring up controversy about whether the system he founded was holy or horrible. Between 1769 and 1784, Serra formed nine Spanish missions. Many were massive in size; Mission San Luis Rey had 60,000 head of cattle at one point. Each mission was a closed Catholic community that offered native nations, like the Kumeyaay, Chumash and Cahuilla, Spanish citizenship and education in exchange for their conversion, labor and permanent residency.
The mission system lasted long after Serra's death—21 missions were formed before newly independent Mexico abandoned the project in 1833. The missionaries' promises to entrust mission lands to the native people who built and turned them into self-sustaining communities were broken: Most of the land was "secularized" and distributed to non-native owners. Though many mission lands were eventually regained by the Catholic church, they were never returned to the people who built them.
To Serra's supporters, the missions were forces for good, spreading Catholicism, settling the state and building beautiful sanctuaries. But for many others, Serra's legacy is much darker than the whitewashed plaster of California's iconic missions.
Jeffrey M. Burns, a Serra scholar who directs the University of San Diego's Frances G. Harpst Center for Catholic Thought and Culture, says that Serra and his fellow missionaries measured success in terms of souls saved. "Serra offered the native people membership in the missions in exchange for eternal life," says Burns. "He would have seen everything at the mission as the native people's property, something he was holding in trust for them. It may not have worked out that way, but that's how he understood it."
Though native peoples could hypothetically decide whether to enter the missions, some were lured in when the missions needed more manual labor. Others felt they had no choice—as animals imported from Europe changed the ecosystem and diseases threatened the native populations, missions became a more attractive (but by no means ideal) option.
Mission life exacted a high cost from native peoples, Serra biographer and University of Riverside history professor Steven W. Hackel says. As they farmed, labored and went to church, "Indians were expected to give up most of the important aspects of their culture in return for what the missionaries promised them was salvation," says Hackel. Confined inside the missions among a diverse group of mission-bound Native Americans, says Hackel, indigenous people were encouraged to abandon both their cultural practices and traditional farming techniques.
"Indians who challenged the mission's authority were flogged," says Hackel. The Indians' "spiritual fathers," he continues, "punished them as children even when they were adults." Those who tried to escape were hunted down by Spanish soldiers and forced to return. Crowded missions were also hot spots for diseases like pneumonia and diphtheria. One missionary wrote that an epidemic of measles "has cleaned out the missions and filled the cemeteries." According to the Huntington Library's Early California Population Project, 71,000 burials were performed in California's missions between 1769 and 1850. And the University of California's Calisphere notes that though there were an estimated 300,000 native people living in the area before Spanish colonization, only 30,000 remained by 1860.
"There were no easy answers" for Native Californians, says Burns, who notes that converts had to weigh their survival against a mission system that "didn't have cultural sensitivity." And according to some tribal leaders, modern-day conversations about Serra are no better.
Though Pope Francis has asked forgiveness for mission-era crimes against native peoples in July, some see the canonization of the system's figurehead as a slap in the face. The Pope is "evidently unaware of the deadly toll and devastating effect that the Catholic Mission system had on our nations and peoples here in California," wrote Robert Smith, chairman of Pala Band of Mission Indians and the Southern California Tribal Chairmen's Association, in a letter of protest.
"Neither the missions nor Serra's methods are worthy of secular or state pride," wrote Valentin Lopez, chairman of the Amah Mutsun Tribal Band in an open letter urging California governor Jerry Brown to protest the canonization. Nonetheless, missions still have plenty of visibility in California: Serra's name can be found on everything from high schools to highways. A fourth-grade project on the missions has been part of the state curriculum for decades, and the mission system's legacy is present in California's architecture, statuary and even sports teams—San Diego Padres, anyone?
"The missions were an unmitigated disaster for the Indians of California," says Andrew Galvan, museum curator at Mission Dolores in San Francisco. "There's no denying that." But Galvan, whose Ohlone ancestors were forcibly baptized and brought to live in the missions, also sees a silver lining in Serra's canonization. "This negativity is an opportunity for transformation," he says.
Galvan, who served Serra's canonization cause, doesn't see a contradiction between admiring the man who brought Catholicism to California and condemning the system that he helped found. Instead, he is alarmed at church and museum officials' furthering of what he calls "the mission myth"—a romanticized version of mission life that erases the struggles and contributions of Native Californians.
"There's an opportunity to tell the true story now," says Galvan—the story of a man "on fire" with missionary zeal and at the helm of a system that had fatal consequences for Native Californians. He calls on the Catholic Church to go beyond canonizing Serra and begin to reweave native contributions and stories into the story of the missions. "They're Indian missions," he insists. "They're our places. Indian people are still here."