Who Discovered Machu Picchu?
Controversy swirls as to whether an archaeologist's claim to fame as the discoverer of Machu Picchu has any merit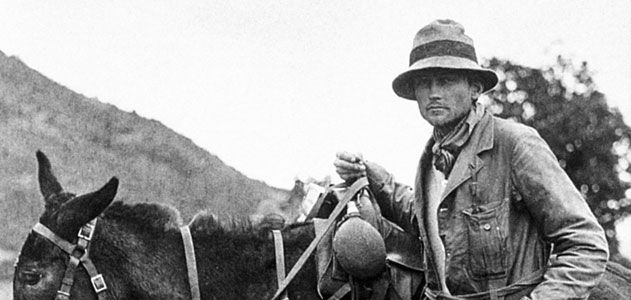 Harry Bingham's father's crowning achievement was his exploration of Machu Picchu almost 100 years ago. Yet Hiram Bingham III's status as the "discoverer" of the ruins is in dispute, and the Peruvian government has demanded that Yale University, where Bingham taught, return all the artifacts he took home from Inca lands.
Bingham's persistent search for the fabled Incan capital culminated on July 24, 1911. Weary from hiking for hours, directed by a friendly pair of local farmers, he marched into the mountains accompanied by a local guide and a Peruvian policeman until "suddenly we found ourselves in the midst of a jungle-covered maze of small and large walls," he wrote in an account published in Harper's Monthly in April 1913.
"Surprise followed surprise until there came the realization that we were in the midst of as wonderful ruins as any ever found in Peru," he wrote. He had come upon Machu Picchu ("old peak" in Quechua). While there was evidence of graffiti left by a local mule driver, he added, "It is possible that not even the conquistadors ever saw this wonderful place."
Bingham's chronicle brought him acclaim ("The greatest archaeological discovery of the age," the New York Times called it), but now archaeologists in Peru contend that he was not the first outsider to come upon the 15th-century Incan city's ruins, as well he should have known.
"The presence of several German, British and American explorers is recognized, and that they had drawn up maps," says Jorge Flores Ochoa, a Peruvian anthropologist. Bingham "had more academic knowledge.... But he was not describing a place that was unknown."
The contention is not new. For example, in a September 8, 1916, letter to the Times, German mining engineer Carl Haenel said he had accompanied the explorer J.M. von Hassel to the area in 1910, though he offered no documentation of such a journey. But even Bingham admitted that "it seemed almost incredible that this city, only five days' journey from Cuzco, should have remained so long undescribed and comparatively unknown."
Richard L. Burger, a professor of anthropology at Yale, where Bingham taught Latin American history from 1907 to 1915, says he's skeptical of the Peruvian assertions. If others did visit, he says, they either came to pillage or didn't recognize the site's importance. Besides, he adds, Bingham "never claimed to have been the first modern person to have set foot in Machu Picchu." In Peru, some people have called Bingham the "scientific discoverer of Machu Picchu," Burger says. "I think that is fairly accurate."
Yale, for its part, is embroiled in a dispute with the government of Peru over the artifacts and bones that Bingham brought home. In 2007, the university agreed to return most of them in exchange for keeping some for further research. In a lawsuit filed last December in federal court, however, the government of Peru said Yale must return the entire collection.
Thomas Conroy, a Yale spokesman, said the university respects Peru's interests. "We still have the same goal, to seek an ongoing collaboration which reflects Peru's interest in the material and the rest of the world's interest," Conroy says. "And Yale does think such an agreement could serve as a model or an example of how [similar] disputes could be settled."