Where East Met (Wild) West
Excavations in a legendary gold rush town uncover the unsung labors of Chinese immigrants on the frontier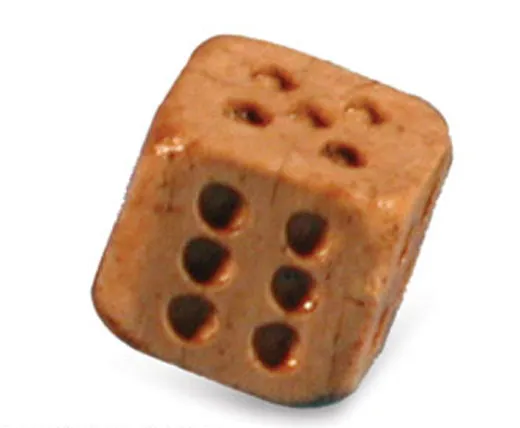 In a small lab on the outskirts of Rapid City, South Dakota, Donn Ivey, an itinerant researcher whose business card reads "Have Trowel, Will Travel," swiveled in his chair and peered into a small pile of dirt. With his left hand, he adjusted his trucker's cap. With his right, he nudged a pair of stainless-steel forceps into the dark earth. "I found a pair of tweezers, right there," he said, pulling out a rusted, V-shaped strip of metal and carefully putting it aside.
Last summer, Ivey drove his RV to this lab, run by the state's Archaeological Research Center, to participate in the excavation of a 19th-century Chinese neighborhood buried under the fabled Wild West boomtown of Deadwood (once home to Wild Bill Hickok and Calamity Jane). State archaeologists have been working at the Deadwood site, in the Black Hills 50 miles northeast of Rapid City, for three years. In August they closed down the dig and shipped the final box-loads of bone, wood, metal and glass to the state's lab for analysis.
The excavation is South Dakota's largest: a half-million-dollar project that began in May 2001, after a developer announced plans to tear down a former restaurant to build a parking lot. The city of Deadwood is a National Historic Landmark, so an archaeological assessment had to precede the demolition. When researchers examined the property, they realized that the Chinese residents, who first arrived in the frontier town in 1876, had left behind thousands of significant artifacts. The discovery has helped fuel interest in Chinese-American history, already the subject of recent books and a PBS documentary. Even HBO's gritty period drama "Deadwood" uses the city's Chinatown as an important setting.
Inside the Rapid City lab, located in an office park behind a hardware store, archaeologists are sifting through the city's turbulent past. A table near Ivey's desk displayed newly labeled specimens, including two tattered fedoras, an opium smoking kit and an 1860 Army-issue Colt 44. On Ivey's lap rested a 19th-century Sears catalog, to help him identify objects. "The Chinese would never shave," he said, studying the metal strips on his tray. "They would pluck their hair. Tweezers were also used for smoking opium, but this one looks like it was for grooming."
Deadwood's Chinatown, like so many others throughout the West, was built during one of the country's great gold rushes. In 1874, Civil War general George Armstrong Custer scouted the Dakota Territory and observed, "It has not required an expert to find gold in the Black Hills." Prospectors, adventurers and outlaws soon flooded the region. The dirt trail into Deadwood was beaten hard by "ten thousand venturesome, excited gold seekers," one pioneer wrote. The first settlement was a jumble of canvas tents, clapboard shops and saloons clustered near a muddy creek.
The several hundred Chinese immigrants who made the journey to this lawless frontier were no strangers to gold fever. In the villages of southern China, people called America "Gold Mountain," a place to find one's fortune. The California gold rush of 1849 had triggered America's earliest wave of Chinese immigration, with some 66,000 people, mostly men, arriving over the next decade. (About half of them stayed.) Chinese workers pursued opportunities eastward into Nevada, Montana, Wyoming and elsewhere. In 1870, they made up nearly 30 percent of the Idaho Territory's population.
By the time the Chinese began migrating to Deadwood, most had learned to negotiate the Wild West's fierce rivalries and racism. White miners held deep prejudices against the Chinese, and many Chinese chose to avoid the highly contested world of gold digging in favor of heavy labor or service work. During the 1860s, at least one out of every six Chinese immigrants living in the United States worked on railroad construction; others became cooks, farmers, merchants, blacksmiths and innkeepers. In the early days of the Black Hills gold rush, more than 100 labored as laundrymen in and around Deadwood—a monopoly that earned them the title "knights of the washtub" from one contemporary newspaper.
The fortunes of Deadwood's Chinatown grew along with the town. Locals soon took to calling the Black Hills "the richest 100 square miles on earth." The boom eventually generated a billion dollars in gold. But by 1918, with the town's major gold deposits tapped out, Deadwood's economy went into a sharp decline. The Chinese left for other parts of America or returned to China; by 1935 none remained.
Barely any serious attention was given to the history of Deadwood's Chinese community until recently, says Rose Estep Fosha, director of the excavation. At the Rapid City lab, she spreads out an old insurance map across her cluttered desk. "We've got here an emporium, a gaming house, three homes, a boarding house, a bakery, hay barns and a laundry," she says. "The gaming house and emporium are the only buildings still standing."
During the dig, archaeologists carved a web of trenches—some as deep as nine feet—across an eighth-of-a-mile stretch of land along Main Street. With shovels and brushes, they uncovered old stone and brick foundations of Chinatown's lost buildings, and traced interior partitions and floors, including some made from hand-hewed wood. The many artifacts they unearthed are now kept in 630 large boxes in Rapid City, where Fosha's team is cataloging them. "For every year in the field, it takes two to three years to sort through everything," she says.
So far, the archaeologists' tentative findings underscore the influence of Western culture on Deadwood's Chinese: French cleavers are buried beside Asian-style spoons, beer bottles beside porcelain jugs for rice wine, gambling dice beside mahjong tiles. Deadwood had its share of ethnic tension; in the 1870s, whites called for limits on Chinese immigration. Some historians, though, believe that relations between whites and the Chinese were better in the Black Hills than elsewhere in the West. "What makes Deadwood stand out is that the Chinese were able to achieve economic mobility," says Liping Zhu, a historian at Eastern Washington University in Cheney, Washington. Local papers editorialized against national anti-Chinese laws, and whites purchased Chinese lotto tickets—an act of trust, since the tickets were in Chinese.
Zhu, who is writing a book on Chinese immigrants in the Black Hills, isn't yet sure why they fared so well. But Eileen French, a researcher who scours local archives for clues to the town's past, speculates that one pioneering Chinese immigrant helped ease tensions. Fee Lee Wong arrived in the Black Hills in 1876 as a cook and, according to an oral history taken from his descendants, was traveling in a convoy of miners when they were attacked by outlaws. Wong fought well, and for his bravery the miners awarded him two mining claims. He sold one for $75,000 and would become one of Deadwood's leading businessmen—he owned the emporium and gaming house—and he worked as a broker between the white and Chinese communities.
Wong died in 1921 while visiting China. His family in Deadwood soon left, along with the rest of the Chinese community. "But the town still celebrates Chinese New Year," Fosha added as she stood before Wong's abandoned brick emporium on a recent trip to Deadwood. She hopes to excavate the building this year. "Look at that," she said, gazing at a set of washed-out white letters that read "provisions" painted above the door. She adjusted her sunglasses and fell silent for a moment. "I want archaeology to come alive in this project," Fosha added. "These people had names. They had faces. These people were alive."