When the Country's Founding Father Is Your Founding Father
The descendants of American presidents are the athletic trainers, lawyers, salesmen and executives of everyday life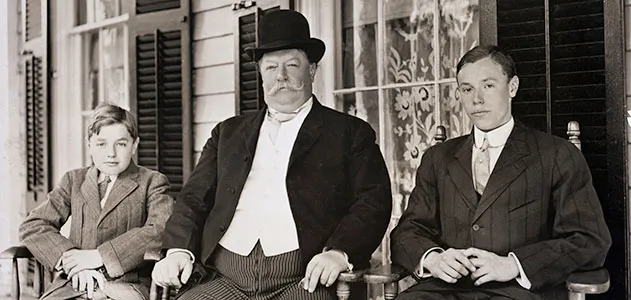 Descendants of American Presidents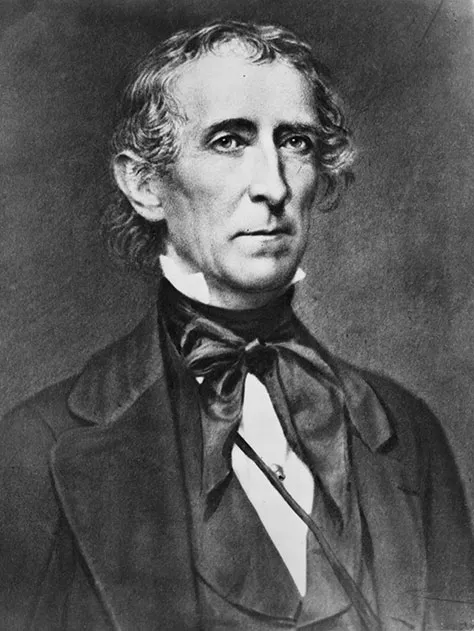 Earlier this year, Mental Floss published a brief article explaining how it is possible that the tenth president of the United States, born in 1790, has two grandsons who are still alive. President John Tyler (above) fathered a total of 15 children—more than any other president—with two wives, the second of whom was 30 years his junior. Lyon Gardiner Tyler, born in 1853 when the president was 63 years old, also married twice and had children late in life. Lyon Gardiner Tyler Jr., of Franklin, Tennessee, was born in 1924 and Harrison Ruffin Tyler, of Charles City, Virginia, in 1928.
After the addictive bit of trivia popped up on Yahoo, the Huffington Post and Politico, a blogger at New York magazine got Harrison Tyler to comment on the news that he was, well, alive. "Thank goodness," said the 83-year-old, who lives at Sherwood Forest, President Tyler's former home. The retired chemical engineer plays tennis regularly to stay fit.
Like Tyler, there are many direct descendants of presidents going about their lives as usual. The extent to which they publicize or actively preserve their family's legacy varies. The following 11 descendants, however, all have one thing in common: They are honored to have a famous forefather.
Shannon Lanier New York, New York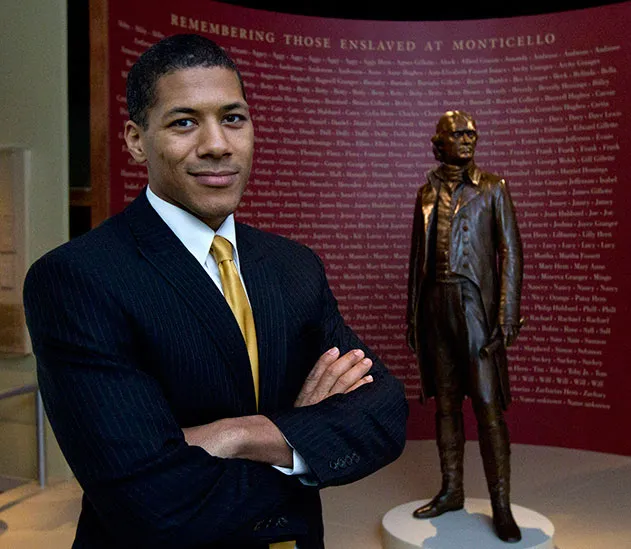 When Shannon Lanier, 32 and a national correspondent for Black Enterprise, was in first grade, he told his class that he was related to Thomas Jefferson. "The teacher said, 'Sit down and stop telling lies,'" he recalls. She doubted Lanier, surely in part, because he is black. "I was taken aback because that's the life I've known. My mother taught my brother and me a lot about staying true to who we are and believing our stories," says Lanier, a sixth-great-grandson of Thomas Jefferson and his slave Sally Hemings, through their son, Madison Hemings.
In May of 1999, just months after DNA analysis linked Jefferson and Hemings through their youngest son, Eston Hemings, the Monticello Association had a reunion attended by descendants of Jefferson and both his wife, Martha Wayles Jefferson, and Sally Hemings at the president's former home in Charlottesville, Virginia. Lanier, then a freshman at Kent State University, attended. In addition to many new family members, some welcoming and others not, he met photographer Jane Feldman. He and Feldman traveled the country interviewing four generations of Jefferson descendants, the result of which was Jefferson's Children, a book published in 2000. "Everything changed," says Lanier. "I became an ambassador for the family."
Lanier is curious about Jefferson's relationship with Hemings. "I think it was love. But regardless of how it happened I am here because of him," says Lanier. "I don't think it belittles or takes away from anything that he did for this country. It actually enhances who he was as a person—the fact that he was in love with somebody for 38 years, the fact that he helped father this country in more ways than one."
Lanier is a new father himself. His 1-year-old daughter, Madison, is named after Madison Hemings.
Richard Emory Gatchell, Jr. Baltimore, Maryland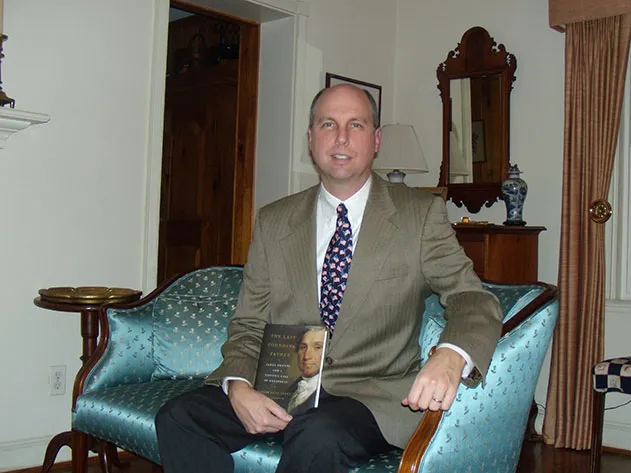 For five of the past seven years, Richard Emory Gatchell Jr. has attended the Marshfield Cherry Blossom Festival in the tiny town of Marshfield, Missouri. The event, inspired by a year that its organizer Nicholas Inman spent in Washington, D.C. for an internship, draws presidential descendants from upward of 20 administrations.
"It is the most bizarre and enriching weekend," says Gatchell. "There are two halves of the room. There is the group that lives in anonymity and the other that wears it on their sleeve." Gatchell is of the former set. Although his name doesn't overtly show it, he is a fifth-great-grandson of James Monroe.
Gatchell, 46, is descended from Maria Hester Monroe, the youngest daughter of President Monroe and Elizabeth Kortright Monroe. He recalls his grandmother, Elizabeth Kortright Monroe Emory Gatchell, having family heirlooms in her home. Before her death in 1996, she donated a quilt to the James Monroe Museum in Fredericksburg, Virginia. Maria Hester Monroe set aside the quilt, never to be completed, when the president came to spend his last year of life with her.
Gatchell, who lives in Baltimore and sells video-conferencing equipment, does not share his lineage story with many people out of concern that his intent in doing so would be misconstrued. "My neighbors don't know," he says. He does, however, remind his two daughters at certain teachable moments of the decision-making that runs in their bloodline—without hammering it in too hard. Through their mother, the girls are also descendants of the famous Frenchman the Marquis de Lafayette.
Andrew Jackson VI Knoxville, Tennessee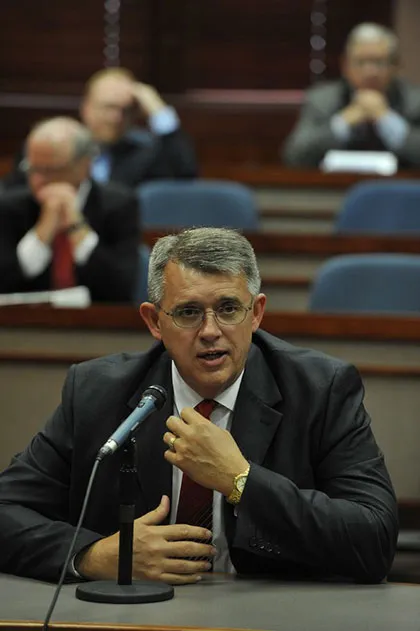 Andrew Jackson VI, a great-great-great-grandson of President Andrew Jackson, first visited the Hermitage, the president's plantation home in Nashville, Tennessee, on an eighth-grade field trip. He returned again in 1985, when about 120 Jackson descendants gathered for a reunion, and has frequented the site ever since. "It kind of gives you an anchor for your family," Jackson told James Yasko, director of education at the Hermitage,
in an inverview
[MP3] last year. "You actually know where your roots are."
President Jackson and his wife, Rachel, did not have any biological children, but they did adopt Rachel's nephew Andrew Jackson Donelson, who took the name Andrew Jackson Jr. The moniker has survived in the family for nearly 250 years. "It is certainly an ice breaker," said Jackson, in the interview.
His relation has affected his career choice—up to a point. "Andrew Jackson was a lawyer, and I think that may have influenced me in my decision to be a lawyer. He worked for the attorney general's office, and I worked for the attorney general's office. He was a judge, and I am a judge," said Jackson. "And he was a general and president, and I am not." Jackson, 55, lives in Knoxville, Tennessee, and is a Knox County General Sessions Court judge.
Jackson had planned to name a son Andrew Jackson VII but instead had two daughters, Rachel and Rebekah. The name, he says, was "daughtered out."
Mary Leigh Pell Whitmer Fairfield, Connecticut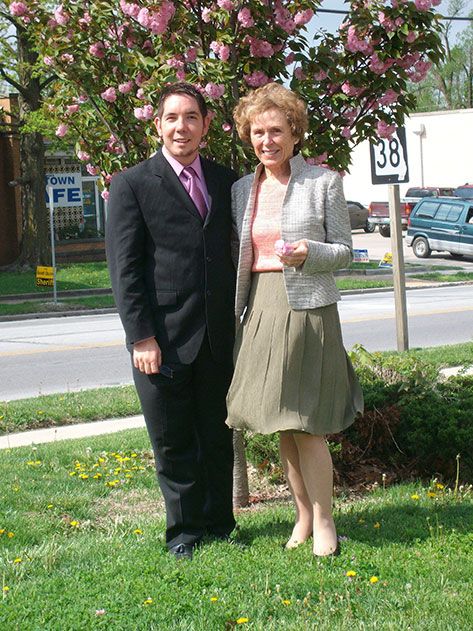 Mary Leigh Pell Whitmer, 78, did not know that she was a great-great-great-granddaughter of Martin Van Buren until her teenage years. Whitmer's father, Walden Pell, was tight-lipped and reserved about his ancestry. But on family vacations to Long Island, her grandmother Ellen Van Buren Morris Pell would tell quirky stories about the eighth president that had been passed down through generations. One "Granny Story," as Whitmer calls them, involved President Van Buren being chastised by a clergyman for wearing a woolly cloth on his head in church one chilly morning. From her grandmother, Whitmer also received a pair of pearl earrings made from the president's cuff links.
Ulysses Grant Dietz Maplewood, New Jersey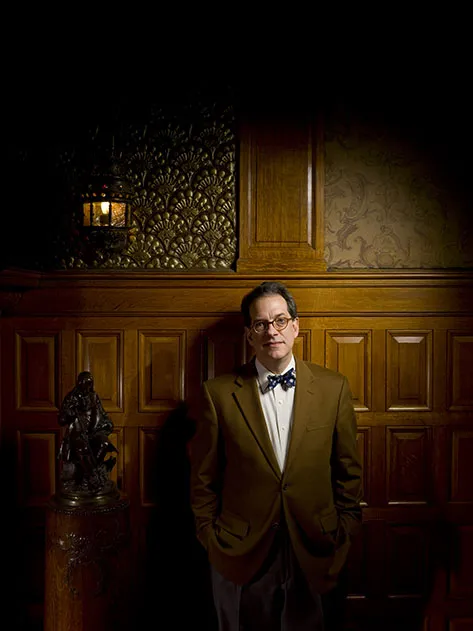 As a kid, Ulysses Grant Dietz went by Grant. "I made the decision to call myself Ulysses when I hit my teen years and went to boarding school and decided that having a weird name was cool," says the great-great-grandson of Ulysses S. Grant.
It was in the 1990s that Dietz really took an interest in the president though, lending his support to the restoration of Grant's Tomb in New York City's Riverside Park. "At that point, I realized it behooved me to actually know something," says Dietz, now 56. He has read Grant's memoirs and several books on him and gives a speech at Grant's Tomb every year on the 18th president's birthday, April 27.
"People assume that because you are a descendant and you have the name that therefore you are an expert on the Civil War," says Dietz. His expertise, however, is in 19th-century decorative arts. He is a curator at the Newark Museum, where he oversees the Ballantine House, an 1885 residence of a Newark beer baron. "It is not so much Grant's presidency and generalship but his and his wife's life as an archetype of the American family in the 19th century that fascinates me," says Dietz. "They are both born on the frontier. They both come from upwardly mobile middle-class stock. They both hit the big time and the big city. They live in a mansion on Fifth Avenue. Then, they suffer through bankruptcy and Ponzi schemes. They live the whole 19th-century saga in their one lifetime together."
Dietz has studied the decorative history of the White House and written a book on the topic, Dream House: The White House as an American Home. He argues that first lady Julia Grant really began the transformation of the White House from a middle-class villa to an upper-class mansion. In 1865, the first lady purchased a set of silver flatware, each piece adorned with a Roman warrior on the handle. "Clearly she picked that because of her husband being a warrior. I always thought that was really funny," says Dietz. There are only two spoons from the set still within the family. "I use one to eat cereal with," says Dietz. "That I am never going to give away. I love that spoon."
Stephen Hayes Potomac, Maryland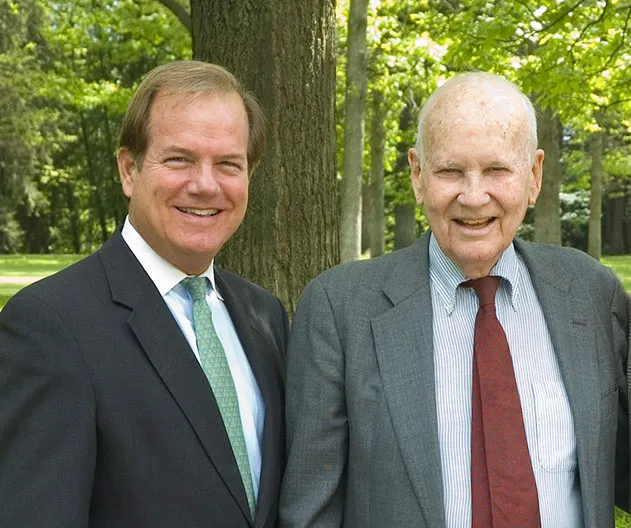 Stephen Hayes, a great-great-grandson of Rutherford B. Hayes, was born in Washington, D.C., where he works as president and vice chairman of the executive search firm DHR International. But from age 5 to 15, he lived for part of each year in President Hayes's former home at Spiegel Grove, a 25-acre estate in Fremont, Ohio.
Hayes, 58, has fond memories of playing with his three brothers in the 31-room, red-brick mansion, where the 19th president lived with his family from the end of his term in 1881 until his death in 1893. In the president's bedroom, on the first floor, Hayes recalls there being a tall bed with a bed skirt. "My little brother and I would play hide-and-go-seek all the time, and we would go hide under that bed," he says. Then, near the front door was a telephone installed by Alexander Graham Bell. "That was kind of fun," says Hayes. (Rutherford B. Hayes was the first president to have a telephone in the White House.)
Today, the Rutherford B. Hayes Presidential Center consists of the residence, which was deeded to the state of Ohio by Stephen's father, Webb C. Hayes III, in the 1960s; the gravesite of the president and his wife, Lucy Webb Hayes; the presidential library; and the museum, all on the same property. Stephen Hayes is the president of the center's board of trustees, a position that his uncle and his father held before him.
James A. Garfield III Cleveland, Ohio
James A. Garfield III, a 42-year-old athletic trainer at Notre Dame College in South Euclid, Ohio, never lived at Lawnfield, his great-great-great-grandfather President James A. Garfield's home in Mentor, Ohio. The home was donated to the Western Reserve Historical Society in 1936 and declared a National Historic Site in 1980. But he has cut the front lawn.
For two summers in the mid-1990s, he and his brother, along with their grandfather, did landscaping work on the two-acre property. He also gave occasional house tours, which he could spice up with anecdotes his grandfather shared on the job. One of his favorite tales to tell was about how he and his brothers had once, as wily kids, painted a marble bust in the library blue. "They got the paint off of it, obviously, but you can still see a little bit of a blue hue to it if it is sitting in the right light," says Garfield.
At his own home in Cleveland, Garfield has an 1881 lithograph of President Garfield, his namesake, in its original frame and glass hanging proudly in his living room. His parents, he explains, defied a verbal pact made by the older generation of Garfields to not name anybody else after the president. "My mother got a very stern letter from James A. Garfield II," he says. But, bearing the name has encouraged Garfield to learn more about the 20th president, who was in office for a short stint in 1881 before being assassinated. "The depth of him is something that people don't know. He was a preacher. He was a lawyer. He was a teacher," says Garfield. "He was a triple threat."
Garfield's studies and continued involvement with events at the James A. Garfield Historic Site allow him to answer most questions that his name elicits. "It surprises me actually how many people do put the connection together. He was only in office for seven months, so he didn't have a lot of fame, as far as being a president goes," says Garfield.
George Cleveland Tamworth, New Hampshire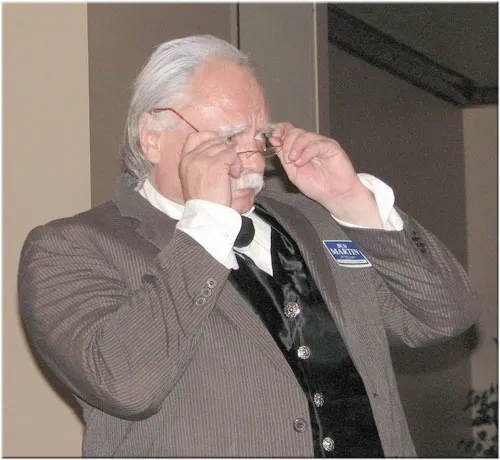 George Cleveland, 58, is often mistakenly identified as the great-grandson of Grover Cleveland, who was born in 1837, when, in fact, he is the president's grandson. In a situation similar to the Tylers', two generations of Cleveland men fathered children late in life with much younger wives. "That basically drops two generations," says Cleveland. "I was born an uncle."
Cleveland is the executive director of the Gibson Center for Senior Services in North Conway, New Hampshire, but he moonlights as a historical interpreter. In other words, he impersonates President Cleveland. "We resemble each other, though I still have to put on a Mrs. Doubtfire suit and dye my hair white," says Cleveland.
Most of the president's writings, he says, are as dull as dishwater. "He never used five words where he could use 50," he says. But Cleveland tries to use interesting tidbits plucked from the president's writings and speeches in his performances that his audiences can relate to in some way. In Tamworth, New Hampshire, where Cleveland lives and Grover Cleveland owned a summer home, he might relate a story about the president's love for hunting and fishing. He has also done skits on Cape Cod. "He complained about the traffic on the Cape on the weekends—in the 1890s," says Cleveland. He worked that into an act. "That was pretty funny," he says.
Rick Taft Pepper Pike, Ohio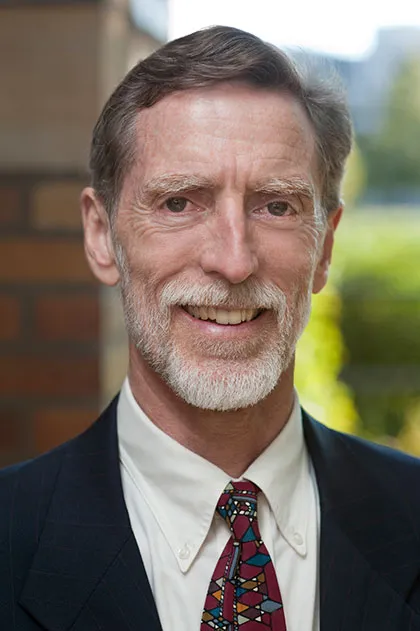 "It is not a simple business to have a famous ancestor," says Rick Taft. "There is always a ghost in the house, who is saying, 'You know, I was able to do some pretty dazzling things. What have you done lately?'"
The 66-year-old great-grandson of William Howard Taft, who served as president from 1909 to 1913, says he has never let his family history dictate his path. But, he graduated from Yale University like his great-grandfather. He is a lawyer, as was the president, and civic-minded too. He has served on the city council in Pepper Pike, Ohio, for about 15 years and last November ran, albeit unsuccessfully, for mayor of the affluent suburb of Cleveland.
When people ask about his relation, Taft likes to joke about their difference in weight. William Howard Taft was a big, burly guy. "But you take a person who weighed 350 pounds and you blend the genes for three generations with high-energy women and what you get is a skinny guy," says Taft.
It is through portraits that Taft feels like he has come to know the president best. He has two in his possession. "He had a wonderful face, a big handlebar moustache, an easy, open appearance. He is beefy and strong-looking, self-confident. His personal aura as captured in portraits is, to me, a wonderful one," says Taft. "I really like that."
Thomas Sayre Raleigh, North Carolina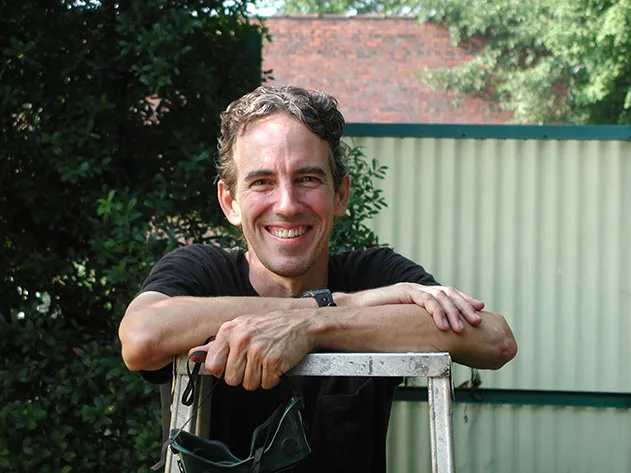 Thomas Sayre, 61, is an accomplished sculptor of public art projects and a founding principal of the Raleigh-based design firm Clearscapes. "What I do has everything to do with how I grew up," says Sayre. His father, Francis Bowes Sayre Jr., was the dean of the Washington National Cathedral in Washington, D.C. for nearly 30 years. Thomas lived on the cathedral grounds and attended St. Albans School there. "At the National Cathedral, I knew all of the stone masons, carvers, stained-glass windowmakers, mosaic-tile setters, sculptors and thinkers. What that tribe of people did was build over many decades a building which expresses important human values," he says.
Further back in Sayre's family tree, however, is another prominent leader. His great-grandfather was President Woodrow Wilson. Coincidentally, Wilson, who died in 1924 a full 27 years before his grandson took his appointment, is the only president to be buried at the National Cathedral.
As a young boy, Sayre had the chance to know "Granny Edith"—President Wilson's second wife, Edith Bolling Galt Wilson. One of his earliest memories is of visiting her at the Woodrow Wilson House, now a museum, on S Street NW in Washington. "She was a very austere woman. I was quite scared of her," says Sayre. Edith has sometimes been referred to as the first female president of the United States because of her amplified role in the administration after Wilson suffered a stroke in 1919. "There were these crossed Samurai swords in the living room. I remember being very taken by those," he adds. But, Granny Edith did not share many stories about the president with Sayre.
"I remember hearing from other family members who knew him, probably my grandfather, that he was humorous and sort of devilish with jokes and things. He has this reputation of being this severe, academic and judgmental guy," says Sayre. "With the family, he was surprisingly loose, singing songs and playing games with his three adoring daughters and his son-in-law, my grandfather." Sayre's grandfather, Francis Bowes Sayre Sr., married Jessie Wilson, the middle of Wilson's three daughters.
Sayre now owns his grandparents' house on Martha's Vineyard, where he discovered several trunks in a locked attic closet containing family documents, some typed and handwritten letters from President Wilson to his daughter, Jessie, even Jessie's entire wedding ensemble "down to the underdrawers" neatly folded. "I have become much more interested," says Sayre. "I think I am obligated to know a whole lot more about what that stuff really is."
Jennifer Sayles Harville Westmoreland, New Hampshire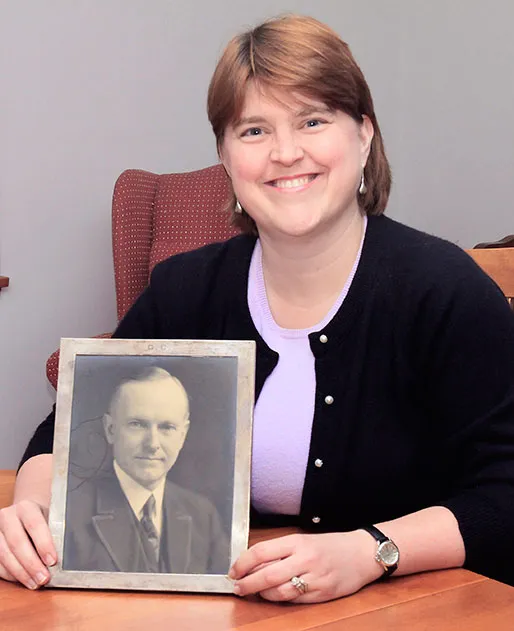 Jennifer Sayles Harville's grandfather, John Coolidge, was her closest relative to have known her great-grandfather, President Calvin Coolidge. But John was quiet—"like his father," says Harville—and did not share many firsthand accounts.
Harville, 41, grew up in Massachusetts and Georgia, but she regularly visited her grandparents in Plymouth Notch, Vermont, where Coolidge was born and raised. "My grandfather would wander around town and get his mail, but nobody knew who he was," says Harville. "He just kind of blended in."
During her teenage years, Harville's mother, Lydia, worked as a waitress at the Wilder House, a restaurant in the village in the childhood home of President Coolidge's mother. "There were a couple of times when my mom was caught asking for money to get her picture taken," says Harville. "My grandfather found out about that, and she got into big trouble."
In 1956, John and his wife, Florence, donated the Coolidge Homestead to the state of Vermont. To this day, the house is furnished just as it was on August 3, 1923, when then-Vice President Calvin Coolidge received word while on vacation that President Warren Harding had died. His father, a notary public, administered the oath of office. The couple purchased other properties in the village, including the Plymouth Cheese Factory, built by the president's father, and a one-room schoolhouse. Those landmarks and others are now part of the President Calvin Coolidge State Historic Site, maintained by Vermont's Division for Historic Preservation.
"I definitely know the basics," says Harville, of Calvin Coolidge's life. "But, if you were to ask me a really specific question about a certain time period or a certain policy that he worked on, I would still have to research it like anyone else."
Harville, a stay-at-home mom, gives presentations about the Coolidge family and Coolidge's administration to historical societies and senior groups in southwestern New Hampshire, where she lives. She and her cousin, Christopher Jeter, 44, also take turns serving on the board of the Calvin Coolidge Memorial Foundation. They make up—with Harville's brother John, 37—the oldest living generation of Coolidge descendants.